I walked into Ratner at around 2:50 p.m. on Saturday with my UChicago backpack stuffed—filled to the brim with SOSC readings, my laptop, and old notebooks I always tell myself I'll take out tomorrow, but never do. In my right hand I held a bag of Five Guys, packed with their infamously savory fries and a bacon cheeseburger.
Why am I telling you this? Because I didn't want to make a mess at the Chicago United Hoops Classic and disturb the families who were there to watch their son or their neighbor or their friend from across the block compete in the city's premiere all-star game. 
So, I climbed up the Ratner bleachers into a lonely spot up in the top left hand–corner of the stands and set my lunch on the seat to my right and my laptop for note-taking to my left.
I took a big bite of my burger and anxiously awaited tip-off, to watch the best high school basketball players from Chicago's South and West Sides go at it, with my feet up and fries spilled across my napkin.
As I sat there, mess on my lap like the starved kid at recess, I didn't expect to have to stand until I'd finished my burger. But when the MC got up from his chair at the scorer's table to introduce one of the city's prominent pastors, I got the feeling I just might.
With his voice as smooth as Chi-town jazz this MC introduced the message behind the game we were about to witness. He talked about how this was "a rivalry with a purpose." How it was a contest and a pledge to promote keeping violence off the streets and kids in the gym. And how it was a game to show the young ones in attendance the rewards of dedicating effort to basketball in the city of Chicago.
What followed at Ratner was what hit me hardest on Saturday. After the MC handed the pastor the mic, the pastor asked the fans for a simple request—to "look at the person next to you and give them your hand."
Now, I went to a Jesuit school and I've been to my fair share of high school, college, and professional games, but I've never seen what happened next before. The entire arena—South Siders, West Siders, Hyde Parkers, and UChicagoans—looked to their the left and looked to their right and reached out. And the stadium stood still, as one.
I took the food off my lap and stood up in my corner by myself, but a West Side fan who slightly resembled Urkle with his thick glasses and jean shorts turned to me and said, "Come here, brother." A kid with blonde hair to his left, no older than eight, turned back and smiled too.
I reciprocated a grin and stepped over the seats. I put my hands on their shoulders and they put their hands on mine. And all together the arena listened to the pastor's prayer for Chicago's youth. You could feel the city in that moment—religious or not. And I honestly felt a like a piece of the community.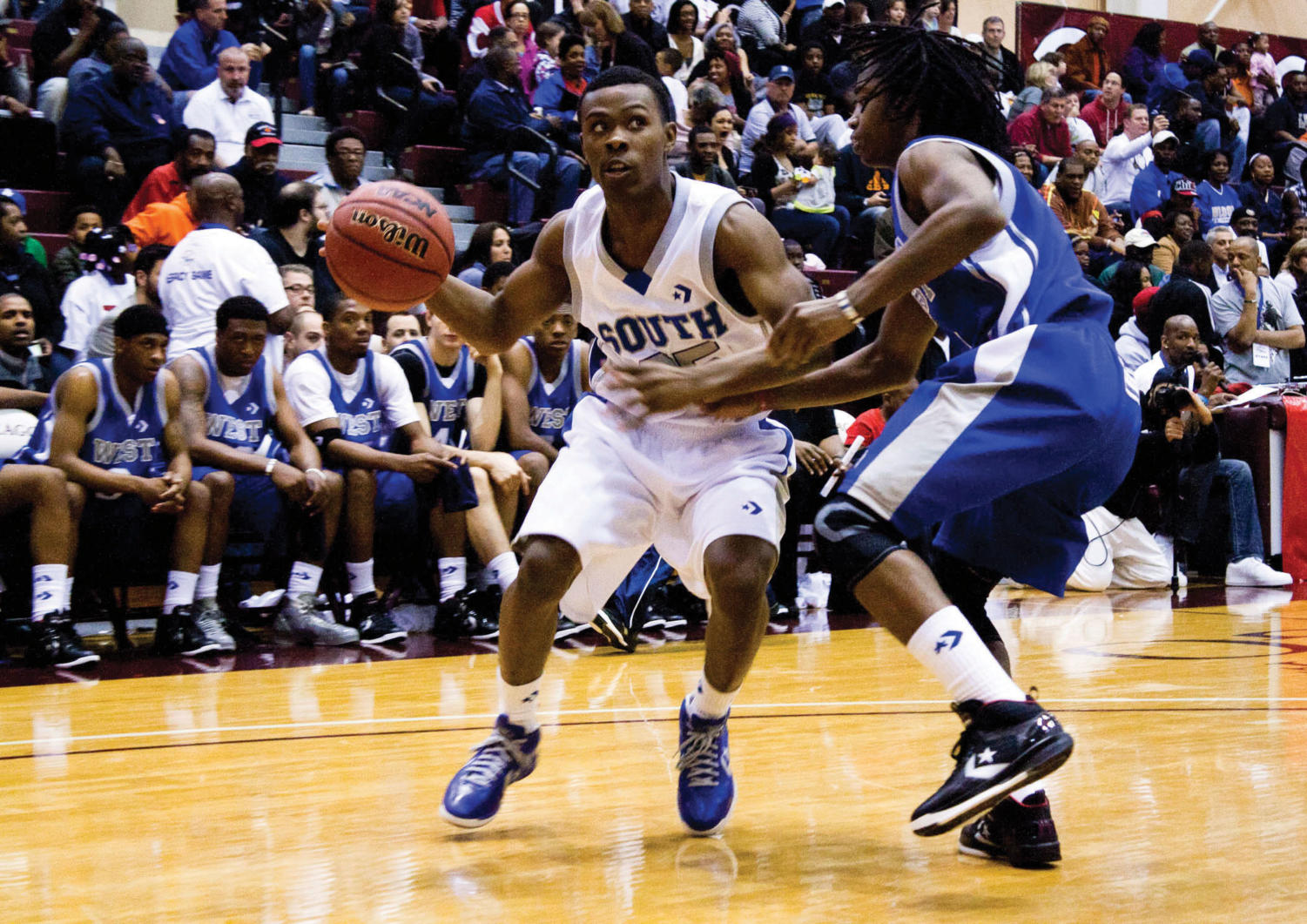 On the court, I didn't see what I'd expected either. I didn't see high school ball hogs or kids trying to push stats. I didn't see a lazy defensive effort in an all–star game and I didn't see bickering between cross–town rivals. I saw basketball the way it's played best—the way Chicago plays it.
There was something very hip-hop about the game and the representation Chi-town is putting out. Even through warm-ups every player's dribble bounced to the beat, whether it was Kanye blaring or Common. Watching between-the-leg passes made to look easy and up-and-under lay–ups, it was like listening to old school rap.
Once the game tipped-off, play swayed with the rhythm of the city. Every dime and handle flowed like lyrics. On Saturday it became evident to me that Chicago pumps out a certain type of basketballer, a player that encompasses the city's values, its toughness, and its flair.
Watching the likes of Rashaun Stimage, Steve Taylor, and Michael Orris I couldn't help but notice how the game looked pretty, even despite the fact that these players only had a week to practice together. Ball movement was their motto, ingrained in them like the unity in the stands and the city.
Their defense didn't slack, though. Big men and guards were blocking shots in all directions. And whenever a player went down someone was there to help him back up—no matter what jersey color. Smooth on offense and tough on defense, even in all–star games, it doesn't get much better than that.
With the "I love Chi" shirts filling Ratner, more halftime and postgame awards given out for sportsmanship than stat lines, and the occasional kid running onto the court for a shot between breaks, Chicago's message resonated in Ratner on Saturday—in the stands and on the hardwood.
It proved that basketball, one of the city's most momentous trophies, is more than just a game for its people—it's a way of life. And that was an emotion all of Ratner felt. All it took was looking to our left and to our right.