Rapper Danny Brown looks back, moves forward with Old
On his third album, "Brown doesn't want you to have it so easy."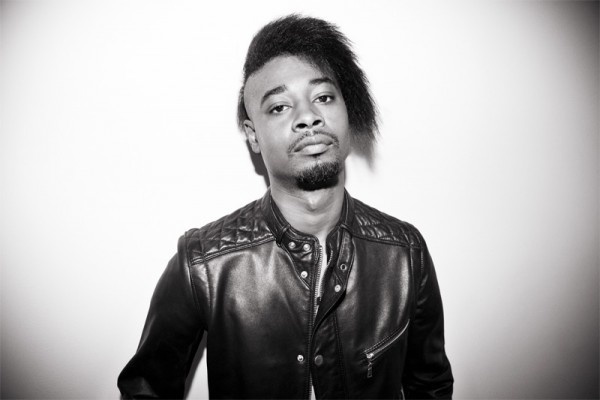 After the success of his second studio album, XXX, Danny Brown could have gone in a number of different directions with his followup, Old. The previous record had a bifurcated vinyl-nerd structure, masterful pacing, and cohesive and appealingly old-school production. Had he now gone further towards either the chilled-out neo-Dilla of that record's second half or the bug-eyed trap of the first, it would have made a lot of sense and probably been very successful. What he has done instead, doubling down on the bipolarity and weirdness, boring his focus further inward on himself, is a testament to both his musicality and his restlessness. For Brown, being weird is serious business.
"Side A (Old)" ominously and matter-of-factly introduces Brown's concerns about the record-at-large in much the same way that XXX did. Most of the record's more subdued first half focuses in one way or another on Brown's "street" past, the traumas and effects of which are at the front of his mind.
The first half manages to be both dark and compulsively listenable as we've come to expect from Brown. "The Return" is a riff on Outkast's "Return of the G," which takes a classic hip-hop beat and provides the most accessible highlight for Tribe fans. "Gremlins" has a washed-out Detroit soul vibe and might be the most at home on XXX. There's a ridiculously strong run towards the end of the half, where "Lonely," "Clean Up," and "Red 2 Go" have him rapping about the elusiveness of sobriety and happiness in a powerful way over flawless beats. "Lonely," in particular, spins out solid gold as Brown waxes about the isolating effects of his lifestyle over a Neil Young-esque guitar sample, classic rock backing vocals, and an effing Rhodes piano. Even as the subject matter is downbeat, there's plenty of incredibly accessible, satisfying material here.
But Brown doesn't want you to have it so easy, and the first half is littered with weird asides and breaks in the flow. "25 Bucks" finds Brown frenetically rapping about his hood over a stock Purity Ring beat, making it work surprisingly well as he wrestles hooks out of his breathless flow. "Wonderbread" has a beat to rival "Radio Song" in weirdness, but the cartoonish whimsy (there are flutes) is undermined by Brown narrating a harrowing story about being attacked by dope fiends when he was a kid. "Dope Fiend Rental" is loud and legitimately unpleasant as Brown and Schoolboy Q trade verses about fellatio that veer well into self-parody.
The conflation of Brown's true music-nerd proclivities, his insistence on trad-rap purism and rattling trunks, and his restless, weird, druggy creativity are what make him so appealing to different swaths of listeners. Brown has enlisted a ton of producers like A-Trak, Rustie, SKYWLKR, and Darq-e-Freaker to go along with XXX architect Paul White. The focus is less on cohesiveness than it is on boldness, and the result is a more schizophrenic-sounding record even within its vinyl-pandering Side A/Side B framework.
On Side B, Brown unleashes his turnt-up party rap side. This means pushing the boundaries of obnoxiousness. Brown screams, howls, pants, and barks his way through a bunch of acid-trap bangers—almost all of which wear a pronounced U.K. grime influence—that make "Bruiser Brigade" sound like a Wiz Khalifa song. This stuff is so aggressive and over-the-top that it feels designed to scramble critics' radars. But it isn't Wacka Flocka—there's a weird sense of streamlined clarity to all of this, a purity to the thumping rush. Brown's music nerdism is still pushed to the fore, even in the midst of songs that are basically only designed to melt faces at festivals. "Dope Song," "Handstand" and "Smokin' and Drinkin'" are huge, detailed, frantic blasts of fuck-you energy that Brown stays completely on top of—he drives the beats rather than succumbing to them. Brown isn't afraid to be grating, which is what makes his moments of subtlety so effective, and this is exactly what happens in the clinching final pair of songs.
Once again, the dude knows how to stick a landing, giving us two clear highlights to shut things down. "Kush Coma" takes a skittering, shimmering, minor-key club beat that feels like the soulful, sad climax to everything that preceded it and allows Brown to go insane. "My brain going on vacation," he says. This being Danny Brown, there has to be a comedown, and the Charli XCX–featuring "Float On" is the best one possible. This is one of the best songs he has ever recorded: In three and a half minutes he makes the case for everything that came before it. "Pray I get old just to hear I been the future/ Just to see my influence in this genre of music," he muses over production that combines the laid-back darkness of the first half with the electronica of the second, and provides something completely singular in his catalogue and a strangely moving conclusion to this bizarre, invigorating trip of an album.
Where XXX was a narrative, Old is more of an unfiltered, all-over-the-place voyage into Brown's psyche. Where the former album bore the local influence of J Dilla on its sleeve, the latter is worldlier, more forward-looking, and more experimental. While it may not be quite as perfectly sculpted as the earlier record, it's no less ambitious or unified in sensibility. What strikes me most about it is how big, thorny, and risky a piece of work it is. It feels like a major text from a major artist, unafraid to be jarring or alienating, in a way that makes it a worthy follow-up to XXX. Brown is extremely conscious of how he is perceived in the media and by fans. It's right there in that last song—he wants to make music with staying power, like the classics, and he thinks he knows how. The beauty of Old is that it shows that he's only ever going to do it his own way.