South Siders begin UAA road play this week at Rochester
The men's soccer team is seeking revenge this weekend as they come off a 0–1 double overtime loss at the hands of Emory last week. They will face off against 4–2–3 Rochester on Saturday.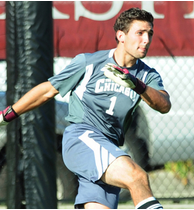 As the second week of the academic year comes to an end, the men's soccer team will head to Rochester, NY this Saturday to face the Yellow Jackets in their second conference game of the season. Last week, the Maroons (7–3–1 overall, 0–0–1 UAA) faced a tough loss against Emory.
Third-year defender DJ Weis said, "We do not feel good after our loss to Emory. It's the third game in a row we've failed to win and given up a late goal. We're angry and we should be."
It was with this vengeance that the South Siders approached practice this week. "The first thing worked on is competitiveness. We lack a little bit of character and soccer intelligence to pull out tough results," Weis said. "We need to stop being ok with losing. The other things were working on are set piece marking and attacking movement as we see them as our biggest deficiencies."
The Yellow Jackets (4–2–3 overall, 0–1–0 UAA) are coming off of their first conference tie last week against Washington University in St Louis (7­–1–3 overall, (0–0–1 UAA). Players to look out for include second-year goalkeeper Redd Brown, who made three saves last week, and fourth-year forward Andrew Greenway, who was the only scorer against the Bears.
"We know that every team in UAA is very good," Weiss said. Yet instead of focusing on the opposing team, the Maroons tend to take a different approach. "[We] choose to focus mostly on our own play and do a quick scout on opposition the day before. If we play to our potential, we should beat all of our opponents," Weiss said.
This confidence is reflected across the board for Chicago in spite of the extra workload that school starting has provided student-athletes. Weis said, "Class obviously has an impact but the important thing is to minimize it, [but] as soon as it's time to practice, we have to forget about everything that has happened and anything you have to do afterwards. You have to focus on, or escape into, the games."
Even then, according to Weis, the team still has time to have fun and joke around with the new first­–years, many of who come from much warmer states and are having trouble adjusting to the colder weather as autumn sets in. The squad hopes that the northern New York environment won't be too much for the newcomers to handle.
However, Weis, from Southern CA, says that he has played there before and that "Rochester has a very nice turf field and the game will be under the lights. It's a pretty exciting atmosphere in my opinion."
It will be a great game as the UAA men's soccer teams start to differentiate themselves and set the conference tone, game by game.
Weis concludes, "This is a must-win game for our team. Despite our healthy record, our play has been disappointing for most of the season. We have to find a way to play better and get results. We need to come together here or face the reality of not winning conference and possibly not making the [NCAA] tournament."
Tune in to the game, which will be streamed online from Rochester at 6:30 PM on Saturday, October 10.