Whether you love the thrill of finding your new favorite piece in the unlikeliest of places or want to find new clothes without contributing further to mindless consumerism, thrift shops are the place to go. Fur coats and grandfather's clothing aside, thrift shops can be a low-cost (but high commitment) way to add to your wardrobe. 
Last weekend, your friendly neighborhood Arts editors took to Milwaukee Avenue in Wicker Park to sniff out the thriftiest places to shop. Of course, this is Wicker Park, home to a Free People and $15 crepes—"thrift" doesn't always mean cheap. The stores we went to all sold used clothing, but each had a special twist that made them worth a visit, at the very least to walk off a Stan's Donut or two.
Here's what we found…
Crossroads Trading Co.
Not only is Crossroads Trading Co. not unique to Wicker Park, it's not even the only one in Chicago—Crossroads has outposts all across the United States. Still, if one forgives the fact that Crossroads is technically a national chain rather than just a surprisingly clean Wicker Park boutique, there are plenty of goodies to be found.
Perhaps Crossroads' most exceptional feature is its shoe selection: while all are gently used, there are plenty of shoes from trendy brands, like a $65 pair of flower-patterned Doc Martens. This reviewer walked out with a faux-silver index-finger ring ($9), as well as a black sweater with mesh arms from Evil Twin ($20). Both items could easily go for double the purchase price; mid-range retailers like ASOS and Urban Outfitters both sell clothing from the Australia-based Evil Twin label. This writer inadvertently figured out the secret to Crossroads' low prices while trying to sell back a wool sweater: they pay a pittance for gently-used clothing.
However, that's a problem easily solved: Don't sell at Crossroads, just buy.
—Miriam Benjamin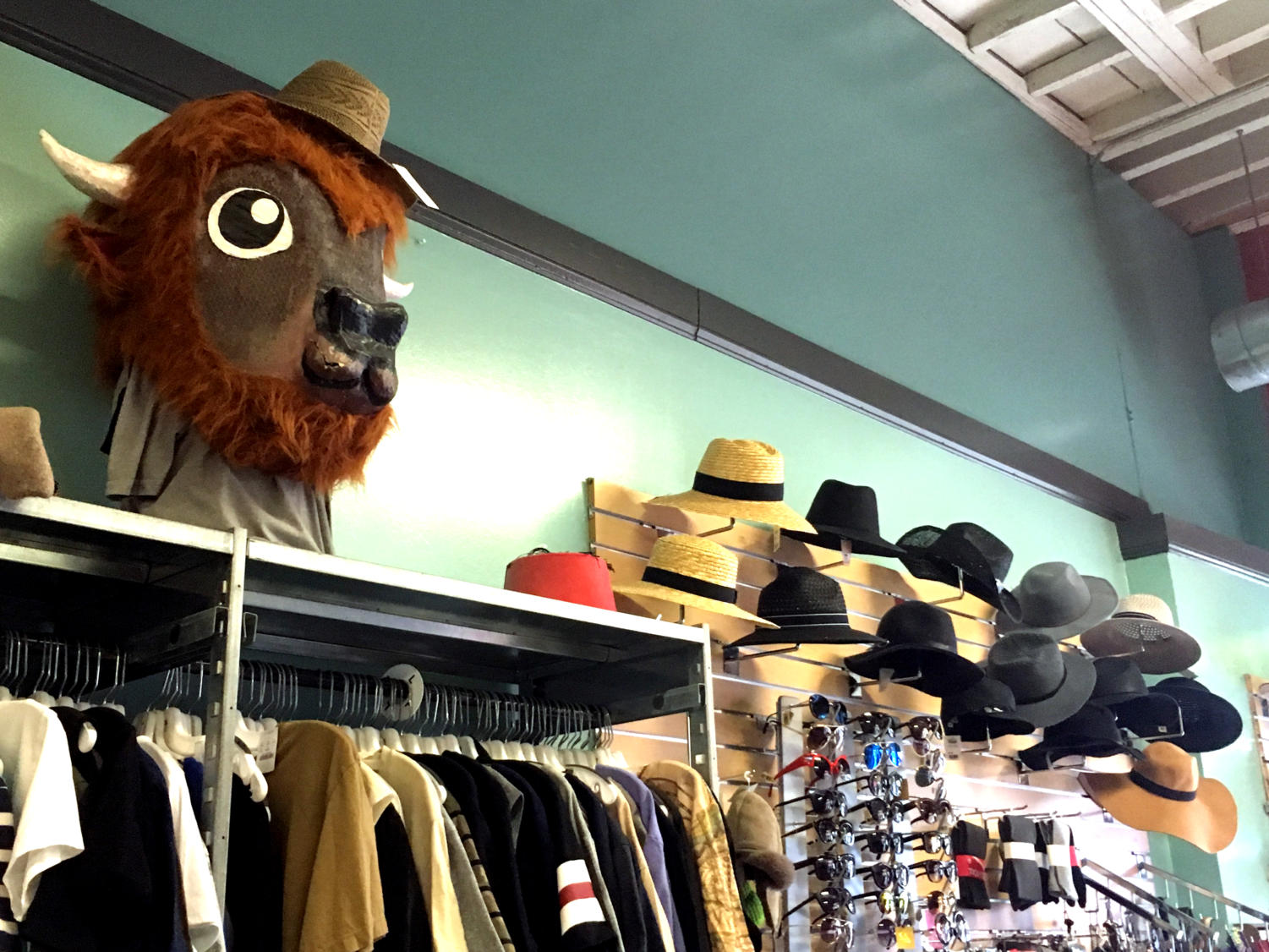 Buffalo Exchange
A well-known pillar of the thrifting community, Buffalo Exchange can prove overwhelming to the inexperienced thrifter. Racks and racks of clothes organized by type and then vaguely by size crowd the small store. Much of what is on offer is run-of-the-mill, gently used pieces and shoes from high street brands offered for $5–$20. Those looking for true vintage pieces from a certain era might be disappointed. But for the patient shopper, there are nearly brand new Kate Spade and Coach handbags, mint-condition Ray-Ban aviator sunglasses, and Diane von Furstenberg wedges.
What got this reviewer's heart racing was a high-slit black tuxedo-style dress with gold heron embroidery on the shoulders from Altuzarra for $15, which she proudly brought home with her, never mind that she'd never have an occasion to wear it at UChicago.
The fitting rooms are cramped but equipped with full-length mirrors; the staff was attentive, offering to set up a room when they noticed how loaded down with items this shopper was.
What Buffalo Exchange may lack in amenities, it makes up for in quantity. Buyers beware—it is easy to get sucked in and spend hours perusing the racks for buried treasures.
—Alexia Bacigalupi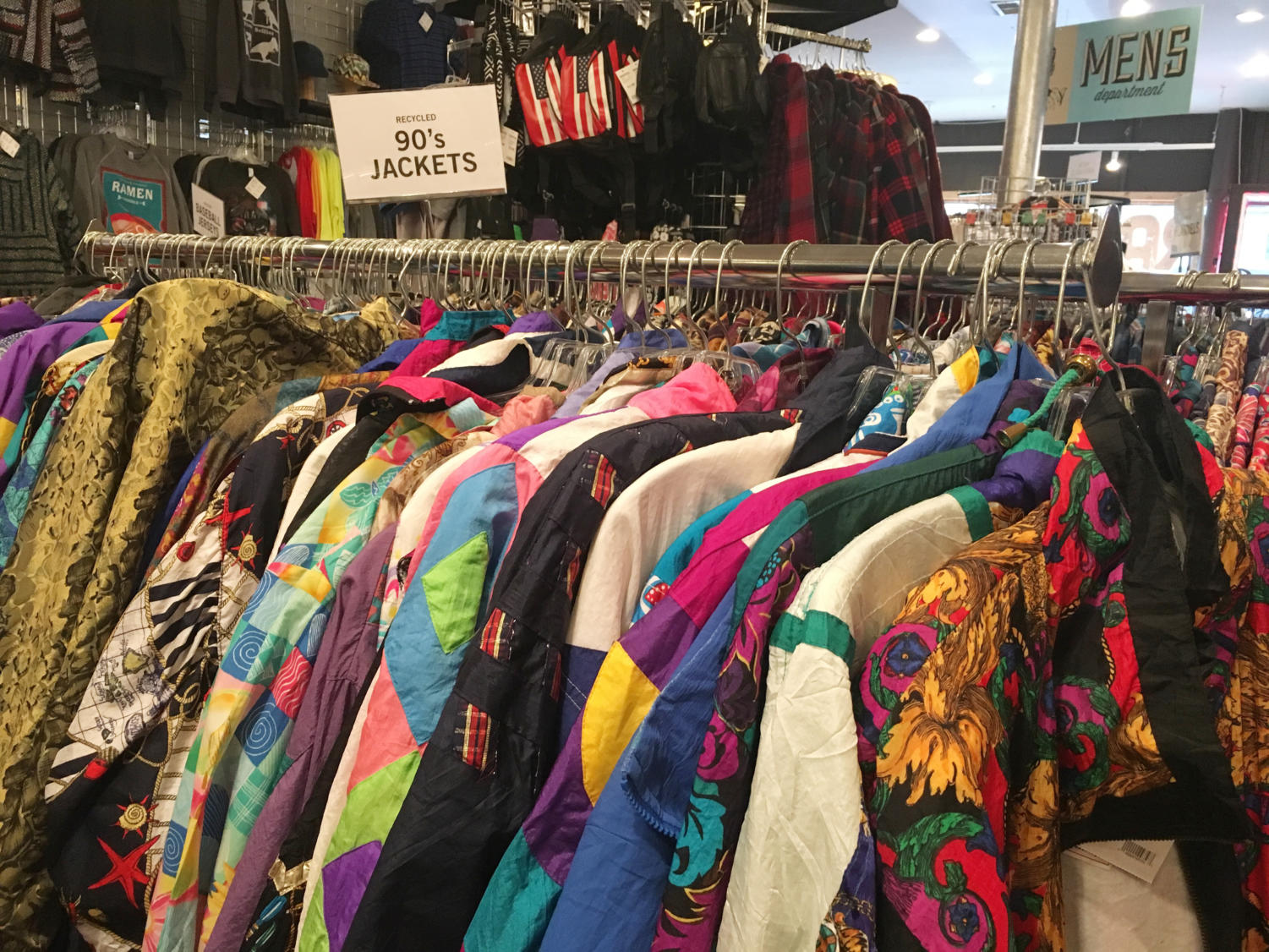 Ragstock
Okay, so it's a little bit of a stretch to call Ragstock a "thrift store." It actually deals in "new and recycled clothing," all at thrifty prices—think a cross between Forever 21 and a carefully-curated Salvation Army. The layout is antithetical to most thrift stores: open, organized, and complete with not one, but two levels to explore.
Needless to say, walking into Ragstock was like a breath of fresh air after our visit to crowded, hectic Buffalo Exchange. Ragstock purveys graphic tees, flannels and vintage clothing galore in neatly organized sections. The ware tends to be bright and whimsical; if you're looking to channel The Fresh Prince of Bel-Air, Ragstock's sizable '90s jacket rack is the place for you. If you're specifically looking for modern but used clothing, however, Ragstock may not provide the same stock as other stores on our list. But if you find yourself on Milwaukee Avenue, it's worth a peek inside, whatever your shopping goals—you'll find plenty to peruse that's easy on the eyes and the wallet.
—Hannah Edgar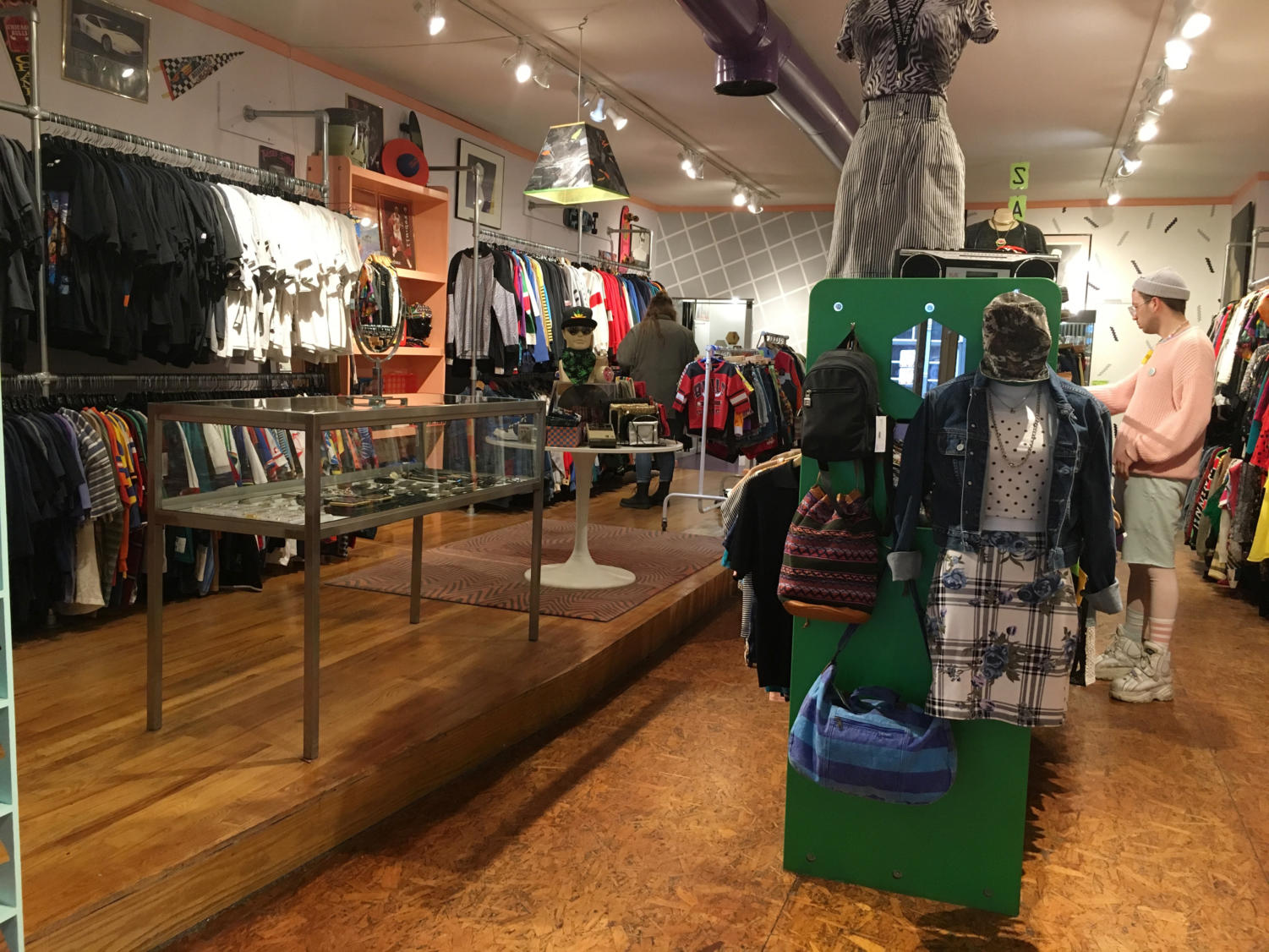 Kokorokoko
Kokorokoko, in addition to having an abundance of syllables, has an abundance of things you didn't realize you missed from your '80s or '90s childhood. From Keith Haring memorabilia and Sony Walkmans to those little rubber Smurfs you used to play with on your dad's desk, Kokorokoko is a trip down memory lane. This small shop towards the end of Milwaukee tugs at the heartstrings of the millennial crowd. Gone are the days when 20-somethings have to pretend to identify with bell-bottom pants in consignment stores—now you can thrift shop as a college student and actually feel nostalgic. Granted, that nostalgia comes at a pretty penny. An Adidas quarter-zip athletic jacket was marked at $50, and the platform-sneaker-clad cashier was not willing to give in after one Arts staff member made a valiant haggling attempt.
That being said, Kokorokoko's charm and the sheer fun of shopping here outweigh the hefty prices. It's impossible to walk in and not smile when you see the wall of cassettes (I guess vinyl records are old news now?) or the '80s- and '90s-inspired sweatbands. Oh, and who could forget the Spice Girls poster in the fitting room? The walls are color-blocked in a way that is reminiscent of the sweater your mom wore in college, but hey, when the Backstreet Boys are blasting, there's no reason to complain.
—Rebecca Julie