University Remembers Christian "Myles" Johnson
"There's this cliché, that someone brightens the room when they enter it. Myles swept up everything in the room into a joyful tornado."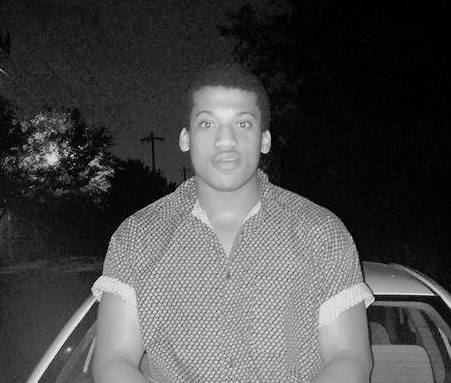 Since his passing, the spaces that he roamed and ran are less substantive. The reading room in Harper Library is blander without him furiously writing philosophy papers in the early morning. The quad looks wrong without him passing through casually in his trademark trench coat and over-ear headphones. And everybody who knew him remembers his deep cackle, which always travelled far beyond his physical location.
In addition to a funeral in his hometown of Plano, TX, several student groups and university organizations in which he had participated during his years on campus held vigils and services in his honor. Hosts included College Housing, the Sigma Phi Epsilon fraternity, of which he was a brother, and the Alpha Delta Phi fraternity, at which he regularly attended Bar Night on Wednesdays. All were attended by crowds of hundreds.
Yet one of his close friends, third-year Daly Arnett, emphasized that none of the organizations he participated in defined him as a person.
"I would find out way into our friendship that he was in certain clubs, doing different things. It was because he was fiercely independent, and had so many complexities and dimensions to him, that you really couldn't put him in a box of what RSO he was in, or what his major was or anything like that. He truly lived outside of limits, larger than life, defied all odds in that way, and was kind of ineffable and untraceable in a great way, except you could always hear him coming," Arnett said.
On the afternoon of Monday, April 25, third-year philosophy student Myles Johnson passed away in Crown House in Renee Granville-Grossman Residential Commons, where he lived. He is survived by his parents, Vadrina and Sterling Johnson Jr. of Plano, TX; a brother, Sterling Johnson III; a paternal grandmother, Shirley Berry of Moreauville, LA; and numerous aunts, uncles, cousins, and friends.
Johnson's passing was in conjunction with self-inflicted injuries, according to Thomas Sweeney, news affairs officer for the Chicago Police Department (CPD). The investigation conducted by the CPD is now closed. Johnson's older brother, Sterling, confirmed the findings of the CPD investigation in a phone conversation with The Maroon.
"A Microcosm of Who He Was"
Sterling, who said that he spoke with his brother frequently and that the two "were like confidants to each other," noted that Johnson wanted to pursue law after college, as "it could have led to the impactful work that he believed in." He also said that while Johnson often appeared to be "really cynical" in discussion, he also maintained a certain optimism. He believed, for example, that systemic change was possible in American politics.
"He was a really hardcore Bernie [Sanders] supporter. I support Bernie, but not as intensely. Myles thought that Sanders getting the [Democratic] nomination would bring about a better future. He thought that there was hope for bigger, systemic change, and that was a microcosm of who he was…he searched for the light in whoever he was talking to," Sterling said.
Sterling added that his brother combined optimism with an intense work ethic, and cited his determination to lose weight the summer before college and his competitive golf play as examples, noting that he eventually made the same team as renowned golfer Jordan Spieth, before the latter went pro.
"Myles was a hard worker, to the point of stubbornness, who believed that he could accomplish whatever he set his mind to. The summer before college, he realized that he was a little chub, and started hardcore working out, eating nothing but lettuce and protein…. He also took up golf in middle school. He wanted to play competitively, and he wanted to beat who he called the 'Country Club Kids,'—[children] from very rich backgrounds who started practicing when they were two years old. After Myles started, he practiced almost religiously," he said.
Sterling also said that he was proud of his brother's academic accomplishments, particularly the depth and breadth of his studies in the intensive philosophy track, and his ability to skillfully debate graduate students and Ph.D. candidates on questions of moral philosophy.
"The Master of the Creative Roast" and "A Man of Letters"
Johnson's intelligence was also evident in the jokes and references that he inserted into conversation. Arnett said that Johnson could "[riff] about anyone," and "make a joke about a basketball player and Nietzsche in the same breath."
Second-year Noah Abramovitz, Johnson's roommate, added that Johnson posted the images of six personal heroes in his room: Hannah Arendt, James Baldwin, Corinne Bailey Rae, El-P [producer], Chloë Sevigny, and Nas.
Like Arnett, Abramovitz said that the two spent "a lot of time roasting people."
"Myles was the master of the creative roast. He roasted everyone, including me, a lot. And you just couldn't take it personally because you had to appreciate it for how funny it was, instead of what he was saying. If Myles roasted you, he liked you. A lot of our discussions were based on who could have cleverer wordplay and express some sort of cutting point more creatively. Everything Myles said was speaking in connotations and metaphors; he did not like to be literal, and thought that speaking literally was just boring," Abramovitz said.
He added that "sometimes it would take you 30 seconds to understand what he said, so you'd just nod along and pretend to know what he was saying, and then, when you understood it, you realized he made a lot of fucking sense, and that whatever he said was a genius point."
Sometimes, the roast was delivered as a one-liner. In one instance, Abramovitz remembered, Johnson poked fun at a mutual friend who had recently lost 50 pounds.
"There was never an elephant in the room when you were talking to Myles; he never left anything unsaid…. The first thing he said was 'Nice! You beat childhood obesity!' He just went directly to the point."
Arnett said that while Johnson's comments to others could be biting, they were grounded in honesty and an uncanny ability to "see through everyone's bullshit." In one encounter, he told the prep-school-educated Arnett not to apologize for what she claimed was her "chicken scratch" handwriting in loaned academic notes, as he knew that she was "on that Montessori shit."
"He could say what you would think was the meanest thing to your face, but somehow, because it was coming from him, it always ended with the sweetest smile, and him laughing at his own jokes. He wanted you to laugh with him. He would never make a joke at the expense of another person, and he would never say something that he wouldn't say straight to your face. Within that, his comedy was so biting and clean and smart. He was whip smart," she said.
Third-year Jonathan Morris said that Johnson was very well-read, and although he could never be seen reading on campus, he could always be spotted writing. He remembered that one of his first interactions with Johnson was evidence of both his literary interests and his outsize personality.
"I remember the first joke he made [during our friendship]. It was O-Week when I met him. He was walking down 59th Street with a suitcase full of handles of vodka, and he was flipping them for 50 bucks. He was like, 'Yeah, I'm on that Marcus Aurelius vibe.'…. He was very much a man of letters, without any of the tweed or the pretensions," he said.
Morris added that as an academic, Johnson did not "deal in absolutes," and was able to laugh about and not take a clear stance on contentious political and social issues, such as the Israeli-Palestinian conflict—while staying fully informed of many such debates.
At the same time, Johnson was intellectually generous with his friends. Abramovitz recounted that when he took summer quarter courses in order to switch majors, Johnson was there to offer counsel and to demand that Abramovitz show him his grades. He ended up getting an A in every class. However, Johnson also lived a rich life outside of academia.
"A Fucking Music Snob"
Among other activities, Johnson participated in the on-campus radio station WHPK, and curated a very specific taste in music. He particularly enjoyed hip-hop supergroup Run the Jewels, as well as Kanye West's most recent album, The Life of Pablo. From that album, his favorite song was "Ultralight Beam," featuring Chance the Rapper. Abramovitz said that Johnson's preference in music fit his personal philosophy.
"Even more so than Kanye, Run the Jewels was his favorite group…their style of rapping really fit his personality. Very overtly political, but also expressed in not patronizing ways, which was kind of a good description of Myles. He realized that he was highly educated, and many people are not educated, and that is not their fault," he said.
He added that Johnson was insistent on the music selection and equipment in his presence.
"He was such a fucking music snob. He literally made it so that I can only listen to music in hi-fi quality now. If I was playing something with low sound quality or with not good speakers, he'd literally be like, 'Noah, shut this off.' There was a very specific type of music that you could play in the room, and if you disobeyed that, he was going to yell at you. It was annoying at some points, but it also made you realize what good music and not good music was," Abramovitz said.
Arnett added that she and Johnson had bonded over their shared enjoyment of Delta blues.
"I grew up listening to blues music, because my dad is really into it, and then, when he found out about that, he made fun of me a lot for being a white girl that listens to blues music, but we would listen to Delta blues music together," she said.
Abramovitz also recounted how Johnson's interest in music led him to make social connections with local musicians and producers from around Hyde Park.
"He knew Hyde Park DJs, and people in the music industry locally, that you would have never known how he knew them. This one time, it was like 3:30 in the morning during mid-winter quarter, and he just calls up this dude named Track Master Scott [a local DJ]. He calls him into the room, and they show each other what they're listening to. Track Master Scott shows us this electronic artist named Jihad Muhammad, and Myles shows [Scott] some stuff that he'd been listening to, and they just shoot the shit and talk for a really long time, and when he leaves, I asked Myles, 'who the fuck was that dude, and how do you know him?'" he said.
"A Joyful Tornado"
Johnson also made many friends through the sheer force of his personality, and the "physicality" of his humor. Kenya Smith, a cook at Arley D. Cathey Dining Commons, recalled Johnson's energy at Fourth Meal, including one time when he entered the cafeteria after finishing finals, and let out a yawp.
"It was like the last night of Fourth Meal, so you guys were done with your finals. There might have been three of them, and they swiped their cards, and he just said, 'AHHHHHHHH!' because they were done with their finals. Then, I remember him, when he first got here, being kind of serious, and then, as the years went along, he eased up…. I remember him laughing a lot at Fourth Meal when he was done with his studies. He blew off steam at fourth meal," Smith said.
Often, said Arnett, Johnson also physically broke things in excitement, but never out of malice.
"There's this cliché, that someone brightens the room when they enter it. Myles swept up everything in the room into a joyful tornado, and he just left his stuff behind, always. There was never a time he came to my apartment and didn't leave something there, and there was never a time that he came to my apartment and didn't break something, but he was the only person that I just couldn't be mad at for breaking things. He can't control his limbs! It was constantly unfolding person, in that his spirit, also, would just flow out of him. But not with any sort of elegance," she said.
Abramovitz said that though Johnson's antics sometimes shocked others, he always managed to win them over.
"Everyone, when they're talking about Myles, says that 'at first I hated him, and then two months later, I realized that you're really cool, I like you.' The hate for him would usually stem from him doing outrageous shit like pulling a stop sign from out of the ground and smashing a blue light. He did that one time. Running across Mansueto, shooting golf balls across 62nd Street from Sig Ep, and smashing a car's windshield. And so you'd get this initial impression that he wasn't a good person, and then you'd realize how fucking generous he was. The lengths he'd go to talk to people and learn things about them…he took a lot of my stuff, but also shared literally all of his shit with me… his own world was this little commune where everything was shared," he said.
Morris added that even campus law enforcement appreciated Johnson's practical jokes.
"We were outside Phi Delt one time, and he just grabbed a chair off their back porch, and smashed it in the street, Office Space style. There's a UCPD officer standing on the corner, laughing his ass off, who [didn't] say a word to us," he said.
However, in social settings, his friends remarked that Johnson was most renowned for his regular presence on Wednesdays at Alpha Delta Phi's Bar Night.
"He Was Bar Night"
Second-year Nico Aldape, who noted that Johnson "was Bar Night," also remembered the unique sense of style that he brought to the ground floor of the event.
"He was Bar Night, and he was the UChicago aesthetic of 'work hard, play hard,' encapsulated in a person…. I'd always remember him from Bar Night smoking a pipe, one of those classic old-fashioned curvy pipes like the one in the Magritte painting. He'd just be there smoking tobacco or weed, and he'd just tap me on the shoulder and be like, 'Yo, tryna smoke!'" Aldape said.
Arnett said that while Johnson loved smoking and music, he could not dance.
"He would just put people on his shoulders, if Run the Jewels or Kanye West came on, he would be the first person out on the dance floor, screaming along to it. He didn't really dance; he just sort of walked and bounced. He couldn't dance to save his life, except for some fancy footwork sometimes," she said.
At any given Bar Night, Abramovitz said, Johnson could be seen mingling with an incredible number of people, and sharing the smokes he had on hand.
"If you ever saw Myles at a bar night, he would just rotate between groups of people, talking, spliff in hand, and handing the spliff to someone as an excuse to start talking to them. And Myles made so many goddamn friends at bar night just by doing that shit," he said.
Abramovitz added that while Johnson was not "defined by the drugs that he used…. they influenced a large part of his life… [and] also made him into the weird kind of Cobain, Winehouse, Kanye type person he was." He also said that the core of Johnson's personality was on display at Bar Night, including an instance when he commandeered the music selection.
"I remember the week after Kanye's new album came out, The Life of Pablo, he took the aux cord on the top floor, and played the whole album through, and would not let anyone change it. People were like 'I don't want to dance to this,' and he said, 'I don't care. We are listening to this,' just fighting off an audience of people. That was the kind of person he was, he could just stand tall against a mob of people against him—be fucking strong," Abramovitz said.
Morris described the moment of silence for Johnson at Bar Night on the evening of April 27 as "one of the most powerful things I've ever seen in my life."
"Everybody at the same time, and in the same room, was thinking of him, and the weight of that memory all at once was very palpable and very powerful, in the shitty Bar Night kind of way. Still encrusted in filth, still with cigarette smoke hanging in the air and drifting over people's heads, but it was a very pure moment. No bullshit, nobody trying to get laid, for a few minutes. That was it," he said.
"He Just Thought It Was Really Funny"
Johnson was also known for his outspoken commentary against incidents in which he argued others had treated him poorly, and he was active in on-campus protests. He attended several protests for the Campaign for Equitable Policing (CEP), which is "a campaign of Southside Solidarity Network (SSN) that works for accountability and equitable policing practices in the UCPD," according to its website. In one memorable Facebook post dated February 3 of this year, he recounted an incident in which two students refused to let him back into Harper Library after he had stepped outside for a cigarette.
"To the two students passing by who refused to buzz me back into Harper after I left my ID there, insisting that 'I should call the UCPD and that 'they did not know whether I was a student' (after telling them my school major and depts. in sight), lay face down in a puddle for a little while. Especially the black one," Johnson wrote.
In response to comments on the post, Johnson replied with a joke: "lolol I don't feel harmed by it its just that shit is annoying. You know im a student. You guys seriously trying to play paul blart rn? I got in immediately afterwards."
For Arnett, the response was typical of Johnson's stance on social issues, particularly one that affected him.
"It wasn't any sort of situation where he felt hurt, or felt like he was specifically being marginalized, or that the situation was unjust. He just thought that it was really funny, and he wanted to get back to work, wanted to do his stuff, wanted to live his everyday life. He was active on campus with some of the groups that are under the umbrella of SSN, and…he took the issues seriously, but with his friends who weren't involved in that scene, he presented it to us [as] something that he should do…because he believed in it. But he also thought that the way that a lot of the people in SSN organize on campus and present themselves on campus, he just thought it was deeply ironic and funny that Southside Solidarity Network is a lot of white people. And I think that was the way that he looked at a lot of stuff on campus," she said.
Aldape added that Johnson was a mentor to him, and the two bonded over shared experiences as black men.
"He was as close to a big brother as I ever had…. One thing that I always point out in reference to my bond with Myles is I grew up in Dallas, and he grew up in Houston, and being black isn't easy in Texas. It's not easy anywhere, and it's especially not easy in Texas, and being liberal is not easy there. But he was there, and we would talk about that, and…. if I had to say 'that's what we talked about,' that's what we talked about. And he was just so fucking unapologetic about it," he said.
For Arnett, Johnson's laugh was a salve for both complicated moral questions and university culture.
"He was also the first person to laugh at himself, and he could also get you to laugh at yourself, which is just so delightful and refreshing to be around, particularly at this school. He was someone who could really pull you out of everything, and could get you to look at the hilarity and the ridiculousness of your own situation."
Author's Note: I am a resident of Crown House, and considered Myles Johnson a friend. Before I began to get his sense of humor, I wanted to fight him. Afterwards, I enjoyed hearing his thoughts on Martha Nussbaum's Frontiers of Justice in private discussion, and savored his distinctive cackle.