Tough Questions for Provost Isaacs at Assembly
Student activists came prepared and demanded yes or no answers.
Provost Eric D. Isaacs, flanked by several employees of his administrative office, stood at the center of the Student Government (SG) meeting on Monday night to field questions from the audience in a scheduled half-hour Q & A session. The administrators, including Isaacs, noted that the University plans to add a deputy Title IX coordinator for students by midsummer, presented counter arguments to students' calls for a $15 minimum wage for all on-campus workers, and emphasized their limited availability for meetings with students.
From the onset, the discussion was tense. Student activists affiliated with IIRON Student Network (ISN) attended as a group, and asked questions in rapid succession. IIRON is a Chicago-based social activism coalition that "organiz[es] to build student power to create social change in the public arena," according to its website.
When posing questions to Isaacs, the IIRON student activists prefaced their queries with "this is a yes or no question," which visibly irritated the Provost.
"You know that none of these questions are yes or no questions…. We're the University of Chicago; we're really about discussion and debate—we're not about yes or no questions," Isaacs said.
On the subject of Title IX staffing, the administrators and students agreed that the University ought to make additional hires. Title IX Coordinator Sarah Wake, who is also Assistant Provost & Director of the Office for Equal Opportunity Programs, said that the hiring of the incoming deputy Title IX coordinator reflects that "we need to increase the staffing."
Regarding minimum wage, Isaacs said that he believes in a "fair wage," and emphasized that the University has established several recent financial aid initiatives to assist students. He also said that there is "no fixed minimum wage" on campus and advised students to contact their supervisors if they find their pay insufficient.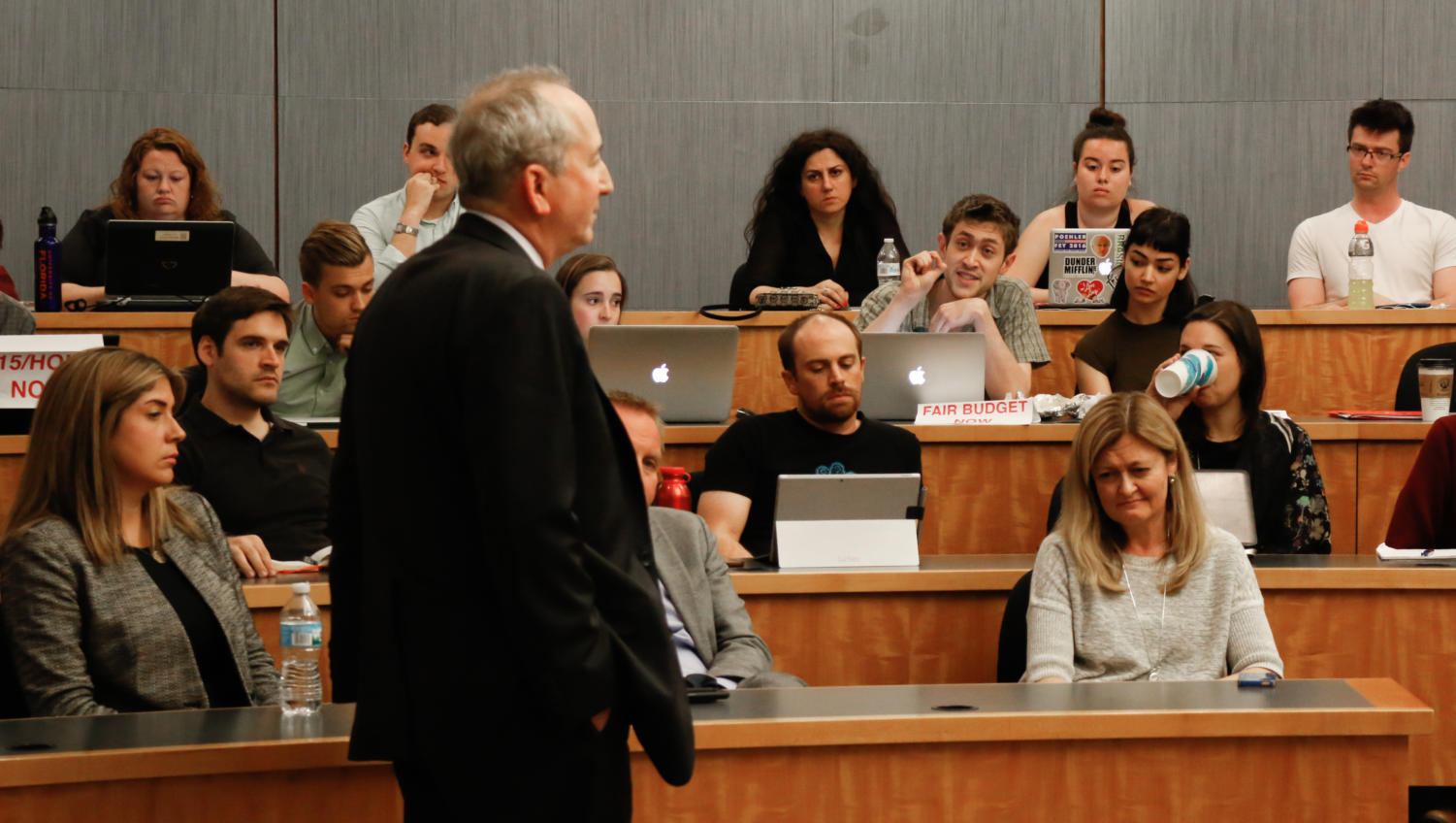 Fourth-year IIRON member Spencer McAvoy responded by clarifying that the IIRON Fair Budget UChicago (FBU) campaign is "talking about all campus workers," in addition to students. In response to Isaacs's comment that campus workers, on average, make "considerably more than $15 an hour," McAvoy argued that the provost's position disregards workers who make less than that. He also said that what campus employees earn is insufficient to pay for their health care costs.
"Do you know what happens to people who don't have insurance, when they don't have enough money to pay [their medical bills]? They die, or they bankrupt their families, or they usually do both. I know people, I have multiple friends whose parents had to work while they were dying of cancer in order to pay for their treatment. Now, do you feel comfortable with having workers on campus who need to do that?" McAvoy said.
"The truth of the matter is that if I was getting paid $15 an hour, I would actually be able to focus on my studies and be a student here…you say a lot that the University doesn't have the money to pay a living wage, but it spends tens of million dollars on hedge funds…so would you say that spending money on new buildings, hedge funds, and endowments is more important than human beings?" second-year Anna Meera Wood said.
Isaacs responded by stating that "we spend a lot more on financial aid than we spend on hedge funds, or on any of the things you just mentioned."
The Q & A session was also peppered with a fundamental disagreement between the IIRON activists and Isaacs on the frequency, length, and forums of their meetings. Last year, Isaacs answered questions at SG for one hour.
"I get a lot of requests to meet with students, with faculty, with many people who live off-campus…with students, and particularly the student government…I have come to meet with [SG], and I think this is the right group for me to meet with. There are only so many meetings every year that I can possibly schedule, so I come to meet with Student Government, and I'm happy to do it," Isaacs said.
A fourth IIRON member, second-year Sofia Butnaru, questioned the provost on whether the meeting was long enough.
"Last time, you spoke for an hour, and so that would mean that we only have one hour and 30 minutes to ask you our questions and concerns…. Do you think that's enough time?"