Uncommon Interview: Barbara Schubert Reflects on 40 Years With the USO
"I'm conducting, and hopefully bringing some insight and hopefully a great deal of joy to a lot of people, and that is my purpose."
On Friday, June 3 and Saturday, June 4, the University Symphony Orchestra (USO) will be performing Shostakovich's "Festive Overture," Ravel's "Daphnis et Chloe," and the world premiere of Ricardo Lorenz's "Catálogo Fantástico," which was inspired by the UChicago course catalog. The concert also marks Music Performance Program Director Barbara Schubert's 40th anniversary with the USO. Schubert, a graduate of the University's music theory and music history Ph.D. program, also conducts the DuPage Symphony and the Park Ridge Symphony. The Maroon sat down with Schubert to discuss her thoughts on music, conducting, and her time as the USO's conductor extraordinaire.
Chicago Maroon: I saw from your bio that you studied music and math in undergrad. What ultimately led you to pursue music at the graduate level [at UChicago]?
Barbara Schubert: My heart, my passion…. And I think that I had some really extraordinary opportunities in music that really captivated me, and I felt that would continue to challenge me as a lifelong endeavor. I didn't really feel that way about math. Some people say that conducting is like a fatal disease; that once you get bitten by the bug, you can't do anything else, and certainly that it is sort of an all-encompassing endeavor—that when you decide that is what you want to do it is really hard to think about committing yourself to anything else. And there are good aspects and bad aspects to that. It's not exactly a 9–5 job, so you don't get away from it, ever. There is always more to study; there is always more to learn.
CM: Do you find that you ever miss being on the other side of the podium?
BS: Oh, I definitely miss being on the other side of the podium. And, when I do have the chance to either sing in a group or play in a group, I love it. I think it's important for a conductor to remember what it's like to play in an ensemble. It's important for me as a conductor to understand how little information each player has, and so that I really have to help them through that process of understanding the totality of the music as opposed to just their individual line of the notes on the page.
CM: Would you say that being a student here in the graduate program helped you to better understand how to communicate best with the UChicago ensemble?
BS: I think that in some ways—shall we say for better or for worse—that I'm sort of a UChicago type. I'm not sure I learned that in graduate school how to communicate with other UChicago types, or [if] the fact that I sort of naturally am one is the reason I've stayed here. I certainly did look and thought about other types of jobs and other types of conducting environments. Ultimately, I feel that this provided me with the most opportunity for growth; it provided me with the opportunity to learn, but also to program much more interesting repertoire than I would get to in the real world. Many conductors have to respond to box office pressures, and do the same thing every couple of years. [Here], some people in the orchestra joke that I don't consider repeating a piece until I haven't done it in 20 to 25 years! And in general, that's sort of true. I'm more interested in exploring and learning new, and the different treasures, rather than just doing my yearly Beethoven symphony. There's nothing wrong with a Beethoven symphony, I love it, but there is just so much more out there that I want to explore.
CM: Do you find that the "life of the mind" atmosphere here influences the way you go about conducting the USO as opposed to the other ensembles you conduct in the area?
BS: Yes, it is different.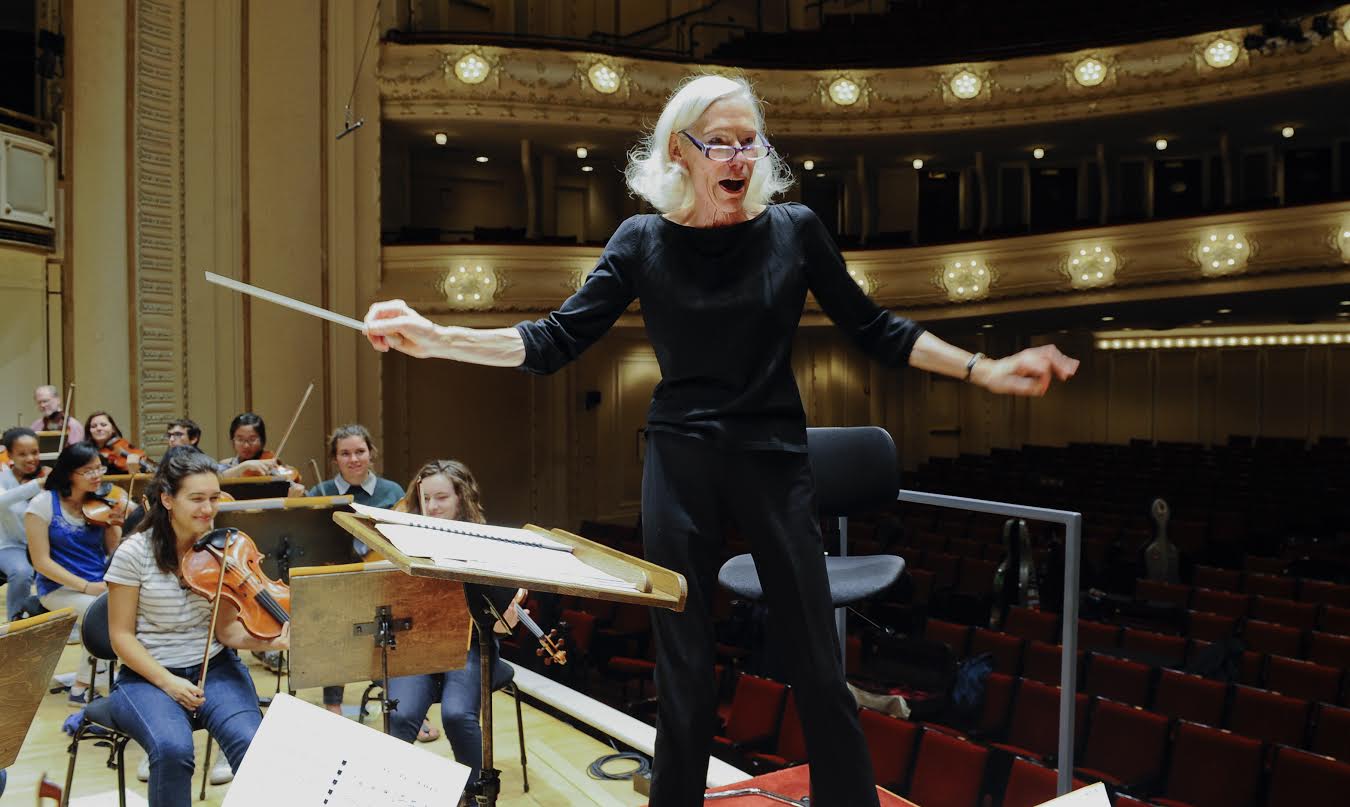 Of course the student participants here have different stresses. They're very talented, and they respond to having a big challenge ahead of them. And we have very little rehearsal time. So my job here is to pack as much as I can into a few short rehearsal hours and to maximize their growth in the short rehearsal time that we have available. I do set the bar pretty high, sometimes maybe a little too high, but I actually find that UChicago students respond quite well to that. The couple of times that a program has not been sufficiently challenging, I find that the musicians lose interest. They think, "This is not going to teach me anything, this is not going to open any new horizons of insight." So because I, in terms of my personality and inquisitiveness, I want to keep on this journey of discovering new things, I think most Chicago students do as well. And it's a good match. I think it's important for a conductor to recognize the personality of the group of which he or she is working and then target your approach to that.
CM: And also music benefits the musicians who don't play music in their daily life as well, right?
BS: Oh, absolutely. The commitment that musicians have is something to be admired and something to be cultivated, I think. And it's my hope, too, that for people who are here in all of the ensembles in the [UChicago] performance program that when they leave the University of Chicago, they're also able to find a place to sing or to play and to make music. That's getting hard these days. It's my hope that people will have that opportunity so that they can have a lifelong involvement in music.
CM: Going off of that, with the performance program here, how have you seen the musical culture shift on campus, if at all?
BS: Well, aside from conducting the USO, I'm the director of performance programs, so I've sort of nurtured this whole growth. Now, we have 18 different ensembles and 750 students involved. When I came here there was an orchestra that was really not so good, one chorus, and an early music group and that was it. And they each did six, seven, eight concerts a year at most. We didn't have a separate chamber orchestra, we didn't have multiple choirs, we didn't have a jazz group, we didn't have the Spektral Quartet in residence, we didn't have any of this stuff. Gradually we've been able to add [to the program] with a number of highly specialized and highly skilled part-time directors of the ensembles. I think we do well, very well in fact, at providing music development for students. I think there are ways we can grow, and we're working on that, to enhance the opportunities that are available on campus.
CM: The construction of Logan was probably a huge catalyst, too.
BS: It's wonderful to have the facility, but we were already in the process of building [before the construction of Logan]. Actually, our growth was one of the reasons why they built Logan. We were bursting at the seams—we didn't have the facilities to accommodate our different ensembles. So we were one of the catalysts for Logan as much as Logan has been a catalyst for our subsequent growth.
CM: The USO's upcoming concert, which will be your 40th anniversary concert, includes a premiere of a work by a Ph.D. student from UChicago who graduated here in 1999. Tell me a bit more about that collaboration.
BS: He is a very talented composer, with whom I worked when he was a graduate student. He studied conducting with me, and I've done a couple of pieces over the years here and with other orchestras. I think the idea for the piece is just marvelous: to try to—rather than just do a sort of tribute, abstract piece—to try to connect it to the University of Chicago. So he perused the catalog for intriguing course titles that would then set off his imagination to think about the symbiotic relationship between the life of the mind and the life of the soul. He then used each of these course titles as a jumping-off point for each of the four movements. It's very complex music, and in some ways, that's also typical University of Chicago. I worry a little bit about how it is going to appeal to the casual listener. For me and for the orchestra, it's taking a while progressively to be able to play it, because it's not simple, and then to understand and appreciate it. The first rehearsal was just chaos, but then it slowly comes through. And in some cases maybe that's like some courses—you're totally baffled after the first lecture, you have no idea whether you're going to survive. And then slowly, through working, it starts to make sense, you start to uncover the richness in it, and you start to really appreciate it.
CM: The tribute concert is going to feature music from the 20th century. Is there a reason in particular that you chose more modern music for this concert?
BS: When you commission a piece, you never know what you're going to get. So [programming the concert] was like picking the bookends without knowing what was going in the middle. I thought that the Shostakovich was right—I needed a fanfare, something that is celebratory. The Daphnis I'm doing in part for the orchestra. This year we haven't done any other French music. Part of my goal with the USO is to expose people to different styles. We've done the usual Germanic and Russian music. I tend to do a lot of that, and this year we did things that are more standard repertoire. But the type of playing you do in an impressionistic score is different. The contribution that each individual instrument makes to the texture is different. To understand and appreciate that is important, so I think this is part of their important learning experience.
[When I create the program for a concert], I think of training the musicians, I think of appealing to the musicians, I think of what would be a good "menu" for the concert, what would the audience find intriguing, and then there's this certain subjective aspect: what do I feel like doing? So the appeal is part of it as well as the educational aspect. You put all those factors up in a blender and see what comes out.
CM: I saw that you went to Tanglewood Music Center to study conducting. Was there anything that you learned there that has really stuck with you?
BS: I spent one summer at Tanglewood. It was toward the end of Bernstein's life, so I had a couple of weeks of being around the master and that was really illuminating. One thing that came across for him was his innocent, almost childlike love of music. And love of doing what he was doing. It was just overpowering. I think with Ozawa too, just the conviction behind what they do is so sincere, and so comprehensive. In most cases I do feel that the people who have made it as conductors really deserve to be where they are. They have prodigious knowledge and this commitment and intensity for doing what they are doing. I'm obviously way down here in terms of the pantheon of conductors, but that doesn't matter, either. I'm conducting, and hopefully bringing some insight and hopefully a great deal of joy to a lot of people, and that is my purpose.
CM: Do you have any highlights from your time here? I'm sure there have been so many great moments.
BS: There have, it's really hard to say. There have been so many good experiences and so many wonderful students that I've met. Not too many disasters on the podium, though I've had a few. Your baton goes flying out of your hand, your baton breaks. There was one time I forgot my shoes, and I conducted in my bare feet. Those kinds of things. But I'm always looking at the next score. It's sort of abstract. Even though what I do is very concrete and has to be to the moment, there are also abstract goals. Vissi d'arte, live for art.