At IOP Event, Trump's Press Secretary Says It Is "Insulting" To Question His Boss's "Desire To Be Truthful"
One protester briefly interrupted the event; administrators had tried to preempt disruptions.
On Wednesday, the Institute of Politics (IOP) hosted President-elect Donald Trump's choice for press secretary, Sean Spicer, and President Obama's first-term press secretary, Robert Gibbs, in conversation with IOP Director David Axelrod.
The announcement of the event over winter break drew criticism from students opposed to the incoming Trump administration. Two students who had threatened to disrupt the event in Facebook were called into the Dean of Students' office last week. At least 10 UCPD officers were stationed around Ida Noyes Hall in preparation for the event, and the two rows nearest Spicer were reserved for members of the College Republicans.
After introductions by IOP Executive Director Steve Edwards and second-year Josh Parks, a protester from the anti-Trump organization Refuse Fascism stood up and loudly addressed Spicer. "You are a press secretary for Trump who threatens the press, denies facts, suppresses science…. This is not normal, people," he said. He was escorted out of the room by University employees.
As the protester was led to the door, Spicer joked, "I think he follows me on Twitter."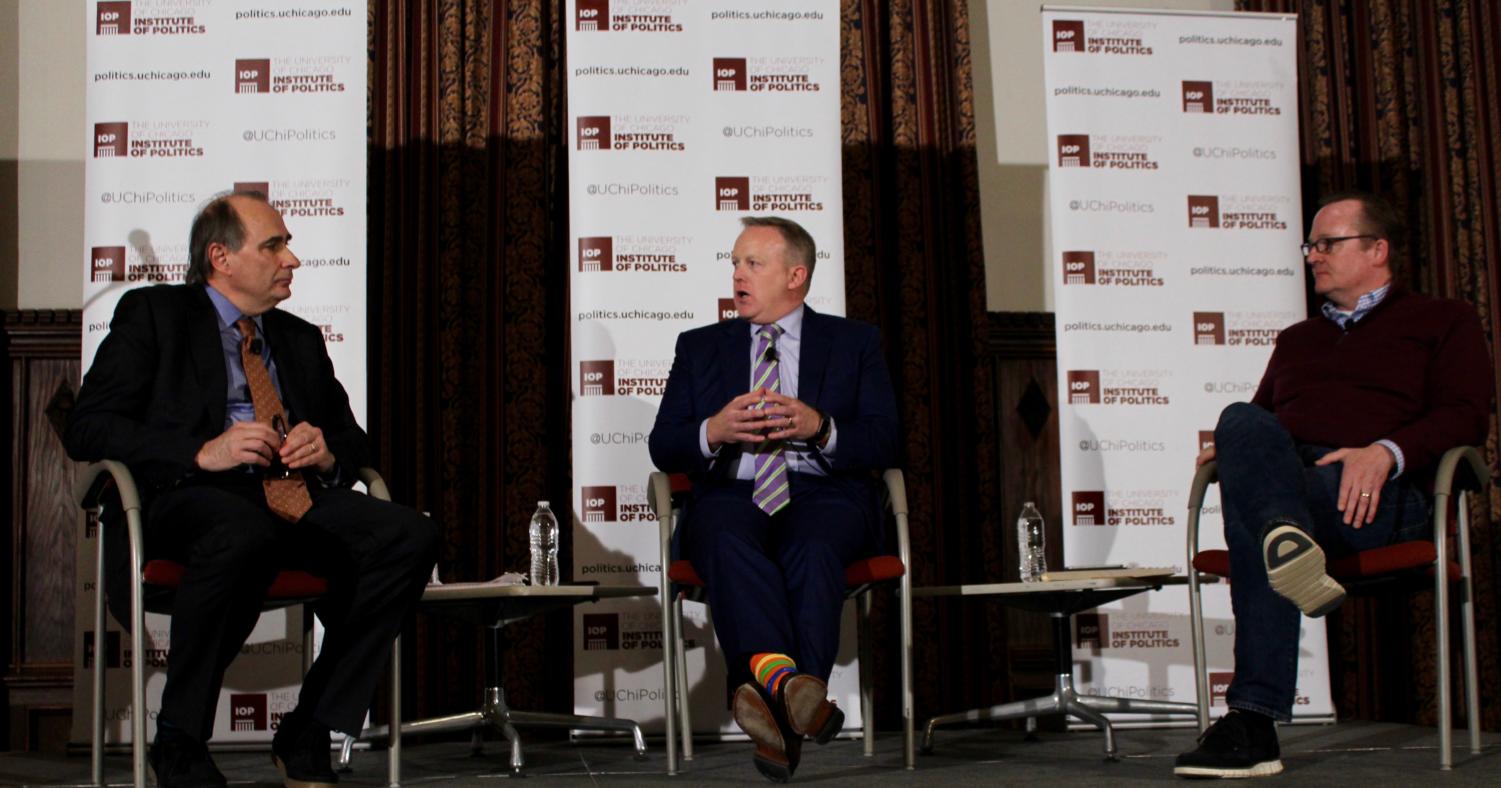 Axelrod asked whether the incoming press secretary knows ahead of time what Trump plans to tweet. Spicer said that while Trump receives input from his advisers, he writes and publishes his own tweets.
Spicer dismissed speculations that not all of the tweets come from Trump (because some are posted via Android and some via iPhone), saying that Trump simply uses multiple electronic devices. "The Clinton folks know about that," he added.
He said that although Trump's tweets may seem impulsive, Trump "is a very, very strategic thinker," whose tweets are meant to forward his policy goals.
The panel next addressed the proliferation of "fake news." Spicer said that the mainstream media is guilty of publishing "stories that have no intention of seeking out the truth." He pointed to both the Washington Post and Politico as examples of mainstream news outlets that have published what he considers "fake news." Spicer referred to an article Politico published earlier this year that reported, based on an anonymous source, that Spicer had denied Twitter CEO Jack Dorsey an invitation to a meeting of tech leaders after Twitter refused to pair a bespoke money bag emoji with the "Crooked Hillary" hashtag. Spicer denied the report, and said the reporter had not reached out to him for comment.
Spicer said mainstream reporters were more eager to publish a story than to get the facts straight. When a reporter calls asking for comment on an issue, he said, he often needs more time than he is given to provide a substantive response. "I'm like, it's gonna take me 40 minutes to look up half these terms," Spicer said.
"Too often these days, it's become a clickbait fest," he said. "There are some good reporters…and there are some bad reporters."
"Mr. Trump is kind of the clickbait king," Axelrod responded, to applause.
Several students asked Spicer to describe his role as press secretary with regard to the president-elect's often controversial assertions.
"I believe that he fundamentally believes what he says he believes is best for this country, so I think to question somebody's desire to be truthful is insulting…. My job is to represent his beliefs and articulate them to the press," Spicer said.
"When he says 'millions of people voted for [Hillary Clinton] illegally,' I believe that you're telling me he believes it…but that doesn't make it truth," Axelrod replied. Trump has provided no evidence for his claim that illegal voters deprived him of a popular vote majority.
Fourth-year and former White House intern Chase Woods asked why the American people should trust Trump.
Spicer responded, "Trust is earned, and I think that hopefully over the next four years, potentially the next eight years, that he earns your trust…. When you walk into the classroom on the first day, why do you trust the professor knows what they're talking about, knows what they're teaching?"
Asked why Trump has expressed doubt in intelligence agencies like the CIA and FBI, Spicer said the president-elect's comments were meant to call into question the methodology of studies, not the data itself. "If you watch two weather stations at night, one station can say they don't think it's going to rain, and one does. That doesn't mean their data was flawed…. You can look at a situation with a set of facts and come to your own conclusion, and [Mr. Trump is skeptical about] why some of this raw data is being interpreted the way it is. This Friday, he's going to sit down with Director of FBI Comey, Director of National Intelligence Clapper, and Director of CIA Brennan…. The data's not being questioned, per se."
A recording of the event can be viewed here. Spicer appeared on David Axelrod's podcast, The Axe Files, on Thursday.