Protesters gathered outside the Quadrangle Club on Wednesday to protest Corey Lewandowski, former campaign manager for President Donald Trump.
Institute of Politics (IOP) Fellow Robert Costa of The Washington Post hosted the conversation with Lewandowski, which was closed to press, as are all IOP Fellows seminars.
An hour before the seminar was set to start, a crowd of students, faculty, and demonstrators associated with various organizations including UofC Resists, Fascism Now, and Graduate Students United (GSU) assembled in yard of University Church, across the street from the Quadrangle Club.
Although the event was closed to press, several students spoke about the conversation as they left.
After attending the event, third-year Calvin Cottrell told The Maroon that Lewandowski's most interesting comment was his description of White House Chief Strategist Steve Bannon's relationship with President Trump.
"Bannon will have two-second comments, he'll just be like, 'Oh, maybe think about this,' and kind of lead Trump down a different path. And apparently Trump has a very one-track mind about how he's thinking about policy, and Bannon will slightly tweak the direction or framing of questions, and apparently that's very helpful for Bannon," Cottrell paraphrased Lewandowski saying.
Third-year Samuel Leiter was impressed by the questions audience members asked Lewandowski.
"I think people were generally pretty combative with Corey Lewandowski, which was good," he said.
A student who spoke on the condition of anonymity said he was surprised at how much Lewandowski was willing to share about his time as campaign manager.
"He admitted that Trump doesn't understand how his tweeting has global impacts. He said that. I thought another remarkable moment was when he said he had absolutely zero communication with Russian officials, anybody in Russia, at that time," the student said.
First-year Ridgley Knapp said that it was unnecessary to make the event closed to press. "It wasn't really anything I haven't heard before, frankly. It probably could have been on the record," he said.
Outside the event, demonstrators held signs with messages including "Students against bigotry" and "Go home Pooandowski." A group of children broke apart a piñata made to look like Donald Trump.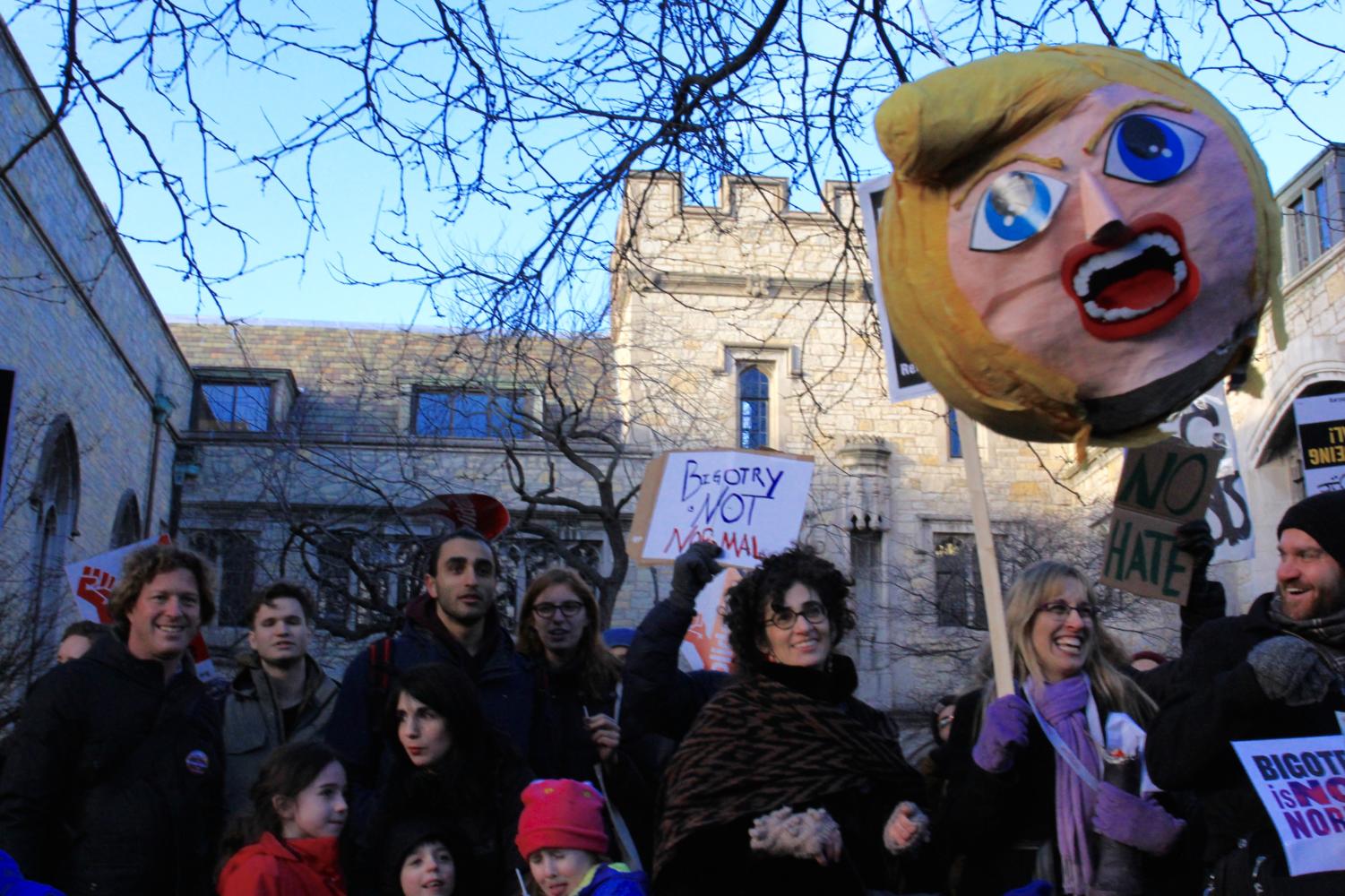 Veronica Vegna, a senior lecturer of Italian language and literature, was one among several faculty members present. Comparing Trump to former Italian Prime Minister Silvio Berlusconi, she said it was important to her as both an American and Italian citizen to oppose Trump's administration.
Daniel Hirschfeldt, a professor in the math department, said that it was wrong of the University to invite speakers like Lewandowski for an off-the-record conversation without giving people the opportunity to publicly challenge them. According to Hirschfeldt, "If we're going to bring these people here to really challenge and to really bring them to account for all of these outrages that this regime has been committing, then okay, that may make sense," he said, referring to open meetings. "But this kind of cozy conversation just says, 'Oh, no, these people's opinions are just another one in this big buffet of available opinions' and, you know, I don't really think it should be."
A group of demonstrators wore masks and played rap music on a large speaker. At one point, a member of the masked group spoke over the microphone and encouraged the protesters to do more to support undocumented students and others who have to conceal their identities at protests because of deportation or other potential consequences. "If you're part of this campus, if you're part of the resources here, if you can get away with more actions, we need more bold actions."
Asked whether he is affiliated with the University, a member of the masked group responded, "Some of us are. We're everywhere." He said that the group was associated with more than 200 anti-fascist protesters arrested in D.C. at Trump's inauguration. "We aren't here to talk about it, to kindly voice our opposition, we want to shut it down, we want to disrupt," he said.
The demonstrators chanted slogans including "No CPD, no KKK, no fascist USA," "Fuck Corey Lewandowski, fuck white supremacy, fuck the bourgeoisie," and "Shame on U of C, sold out for publicity."
Shortly after the event began, second-year JT Johnson encouraged the crowd to enter the building and stop the event. Demonstrators approached the entrance of the building en masse, but Chicago Police Department (CPD) and University of Chicago police blocked the doors.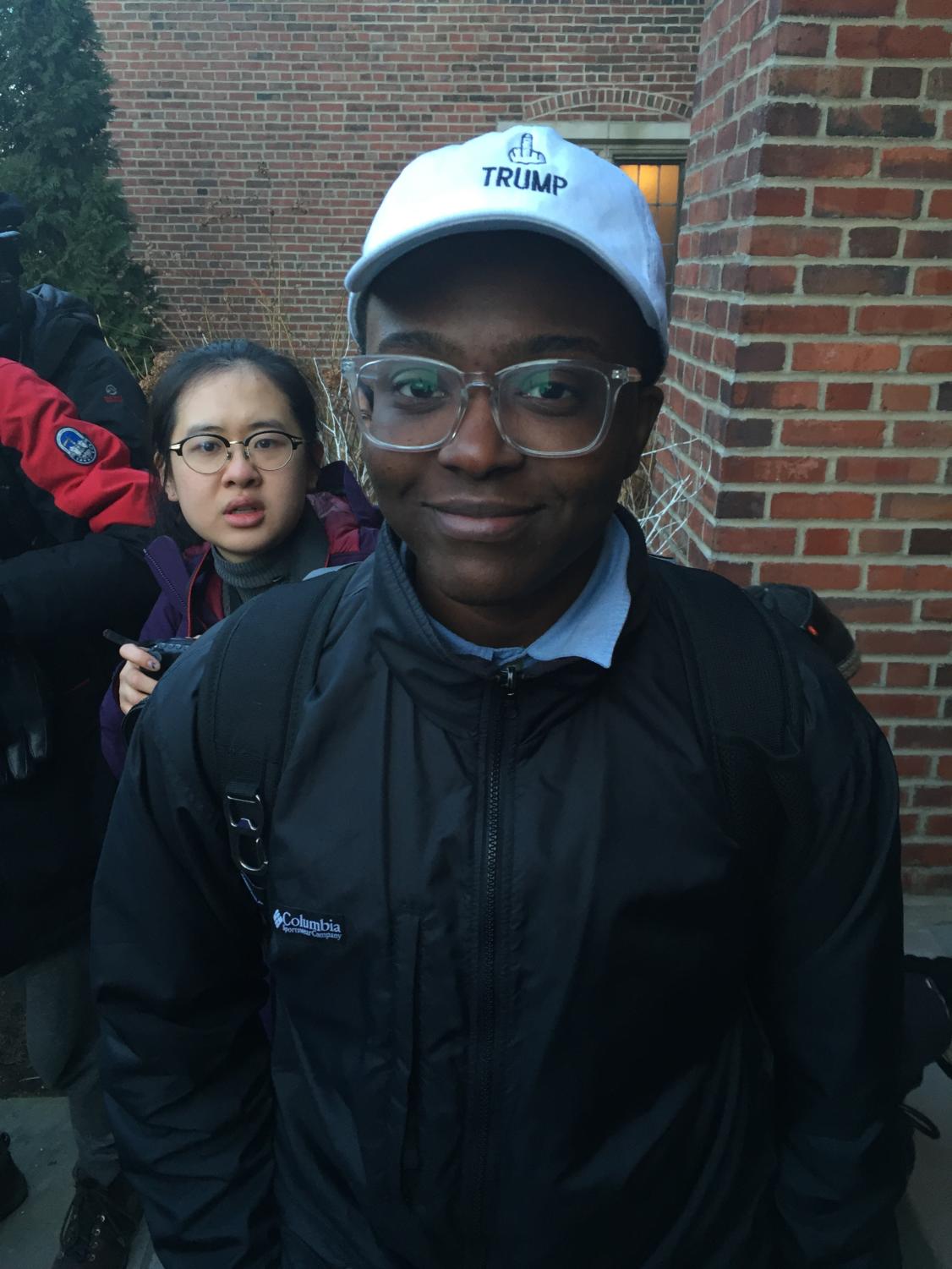 Seven students entered the event with concealed posters, and were asked to leave after holding up the signs minutes into the talk. Third-year Ryn Seidewitz held a pink poster that read "Hate Speech ≠ Free Speech," and was asked to leave after holding up the sign. After she came out, she spoke to the crowd, saying that the people in the event could hear the protesters outside. "They keep patting themselves on the back for how great they are at free and open discourse, but they just kicked us out of the meeting," she said.
"This kind of event makes it clear where the University stands on Trump, and we wanted to show them that they can't hide behind this idea of free and open discourse and neutrality, because in times like these there's no such thing as neutrality," Seidewitz told The Maroon.
IOP Executive Director Steve Edwards addressed the walk-out in an official statement.
"[The event] offered our students the chance for a vigorous and constructive exchange. A few chose to protest by leaving the event a few minutes in. The vast majority stayed and had the opportunity to hear from Lewandowski and Costa and ask tough and insightful questions, in the best spirit of our democracy. We are grateful to all for their participation," Edwards said.
Other students also expressed frustration with the IOP's platform of nonpartisan neutrality.
"It's time that the University get rid of its neutral bullshit dedication to free speech and neutrality, when in reality there's nothing neutral about inviting a speaker to your campus that represents hate," second-year Mary Blair said.
"It's a dangerous normalization of Trump and his ideas to extend an official platform to someone like this," first-year Philip O'Sullivan said.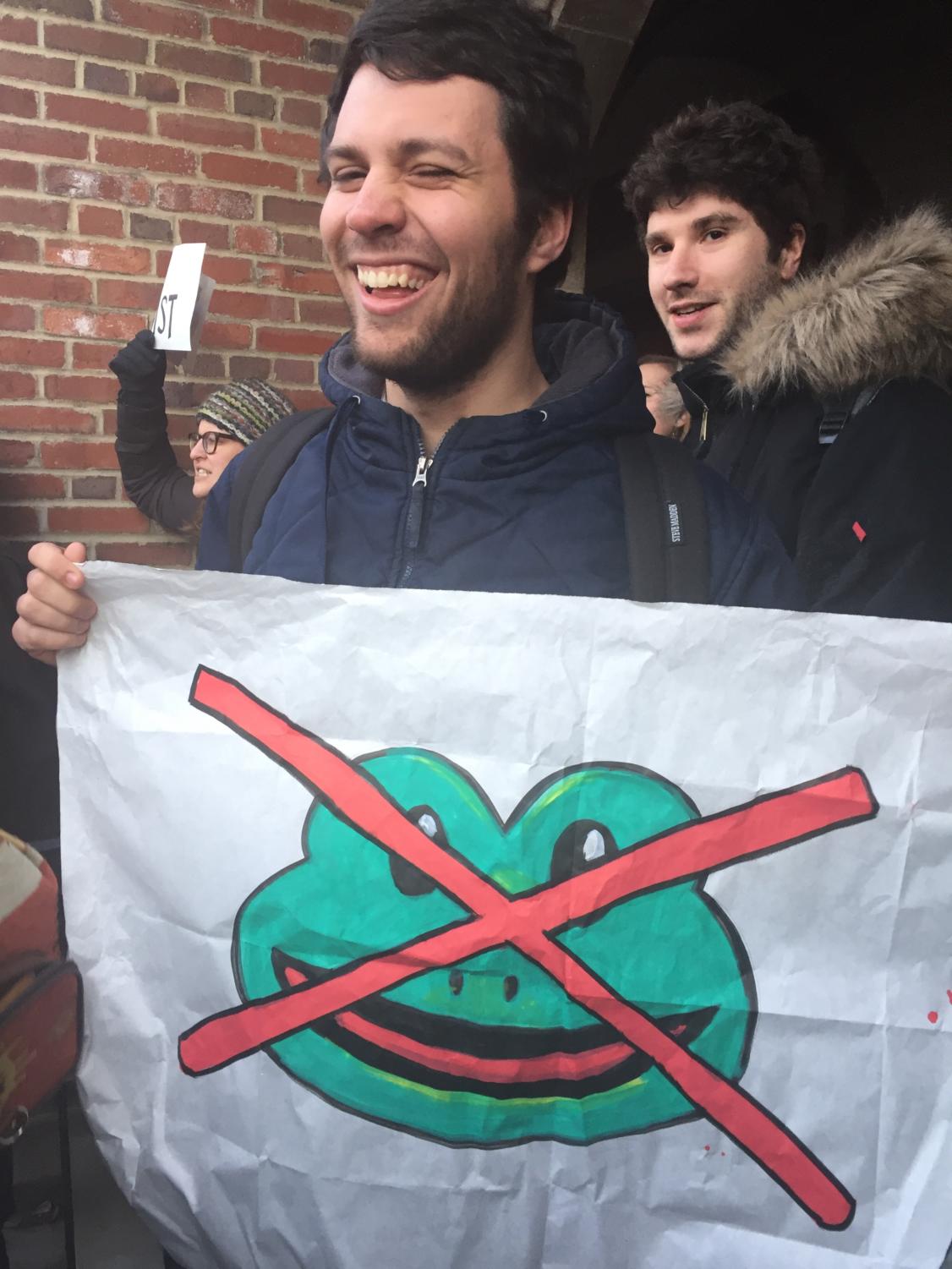 Fourth-year Jake Bittle held a sign crossing out white nationalist symbol 'Pepe the Frog,' and told the crowd that "the IOP is garbage."
Many students did not take issue with Lewandowski's being invited to campus, but were concerned that the event was closed to press. The IOP told The Maroon that the event's being off the record should not be considered a "decision" on their part, but has been standard for all Fellows seminars since the founding of the program.
Asked about the implications of an off the record conversation, Costa, who interviewed Lewandowski, told The Maroon he was simply following IOP convention, and that there are benefits to both on- and off-the-record talks.
"I think a lot of this is imperfect because it's healthier to have public discussions on the record. But I do see the value in having controversial figures have candid discussions with students as well. And so it's something everyone has to grapple with. The more the merrier in terms of public discussion. But that doesn't mean you can't have discussions…that are a little more private and personal," Costa said.
Costa emphasized that his participation in a conversation closed to press was informed by his career as a journalist, and that he treated the conversation the same way he would an on record event. "As a reporter, I had no expectation that it was off the record. I assume everything's recorded," he said.
Not all students outside the event were protesting Lewandowski's presence. Paul Alves, a second-year, wore a "Make America Great Again" hat and held a sign that read "Cucks go home." "All of this is manufactured. All the 'no fascism' signs, that's manufactured," said Alves, suggesting that the crowd of protesters—many of whom were, in fact, students— came as an organized group intended to fake organic opposition.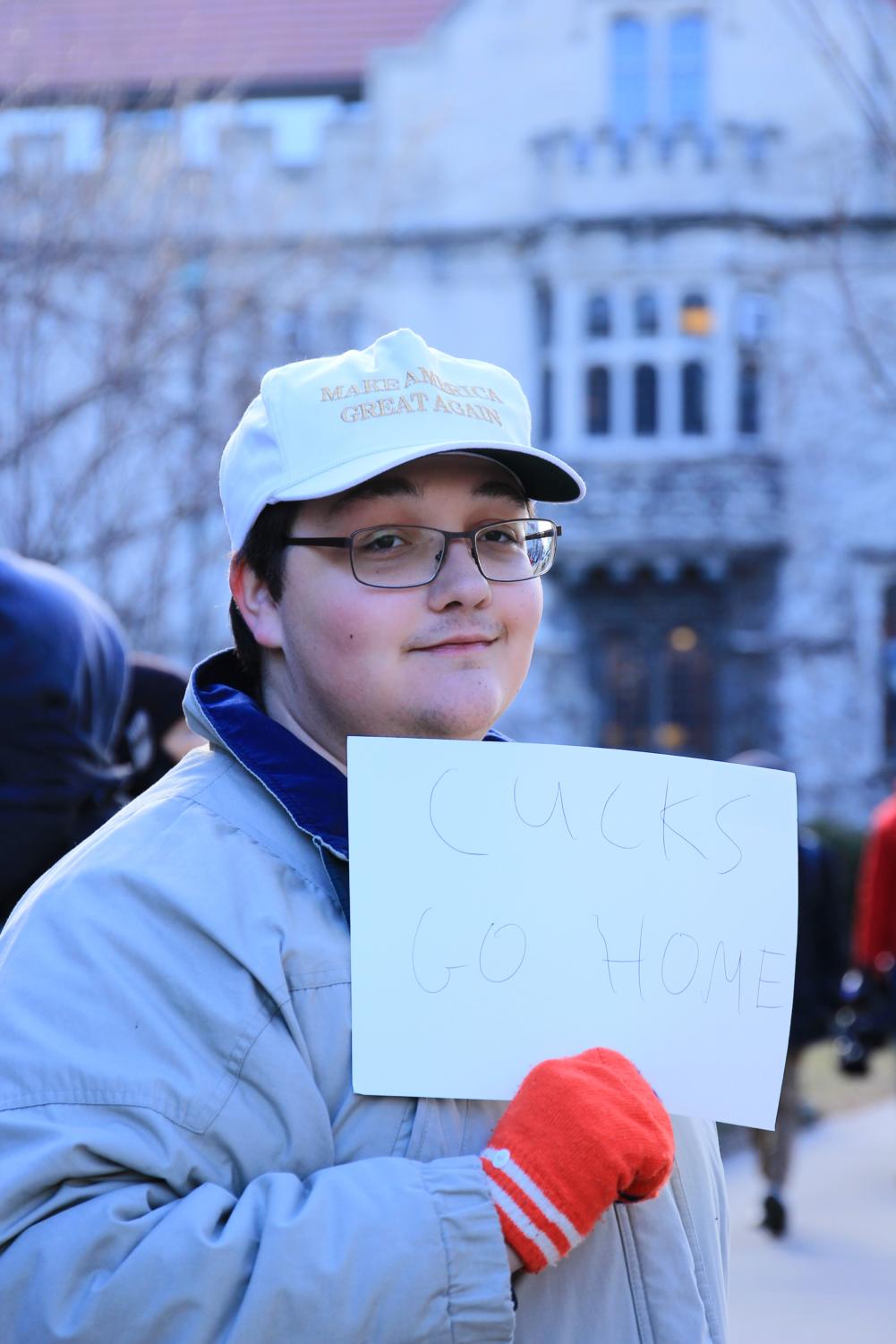 Alves described the group of masked protesters as a "black bloc," a term used for groups of demonstrators who wear dark clothes and cover their faces to prevent identification. He said he thought they resembled the group that sparked violence at a protest at UC Berkeley on February 1. "People wear all-black clothing and go and commit crimes and cause havoc. Why is the University not investigating this?" Alves said.
Second-year Patrick Mulkerrin held a sign directed at the protesters that read "We don't want to hear your nonsense," and told The Maroon he worries about the anti-police rhetoric of the protesters, as his father is a police officer. "I definitely encourage people to force their political beliefs, but when you start preaching violence to combat violence, you've reached a pretty destructive point," he said.
Anton Ford, a philosophy professor and one of the demonstration's organizers with UofC Resists, said that the event was intended to be a protest that people from all elements of the local community could attend. "This is the first of many, many protests that there are going to be in the coming years, and so we're figuring it out."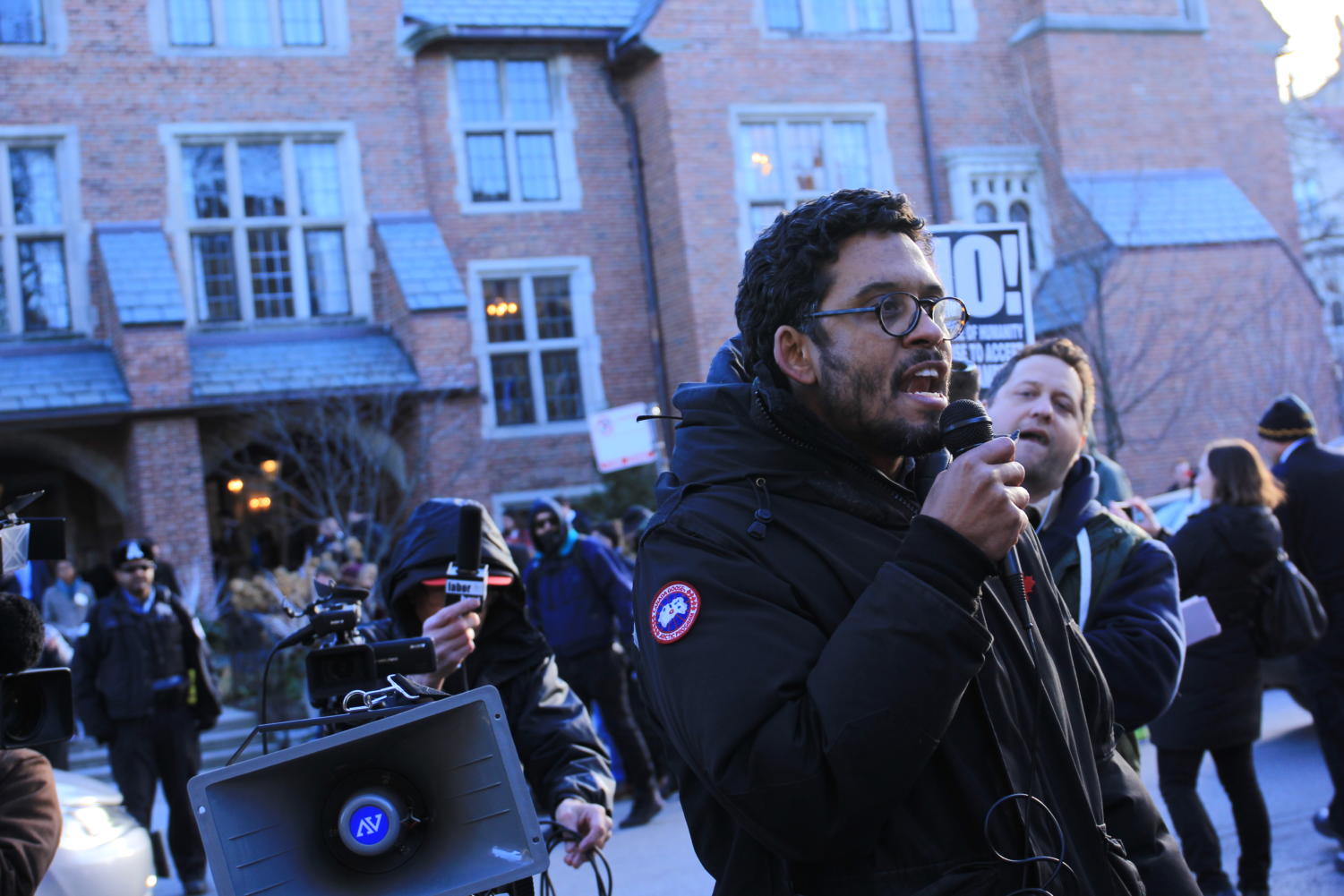 Ford also referred to a letter he and other members of UofC resists had sent to the IOP staff who had invited Lewandowski, asking them to uninvite Lewandowski and stop inviting Trump-affiliated speakers. Ford said that the IOP's response unfairly portrayed the letter and other opposition to the seminar as censorship. "There is nothing censorious about asking somebody to not invite people. It's a request. We did not ask the University to prevent these people from coming, we did not appeal to any higher authority over the IOP or over the specific people who invited [Lewandowski]. We asked the people directly, we appealed to their reason, we made an argument, they ignored it, as is their right, and fine. But there's nothing here that could be construed as banning speakers or coercing anyone or limiting free expression."
Third-year Matthew Foldi, president of the College Republicans club at the University of Chicago, stood at a distance from the protesters throughout the protest, wearing a blazer with an American flag pattern and a T-shirt showing the cartoon character Snoopy holding an American flag. "There is a lot that can be learned from the Trump campaign…. to say that Corey can't speak here to me is absolutely crazy," Foldi said.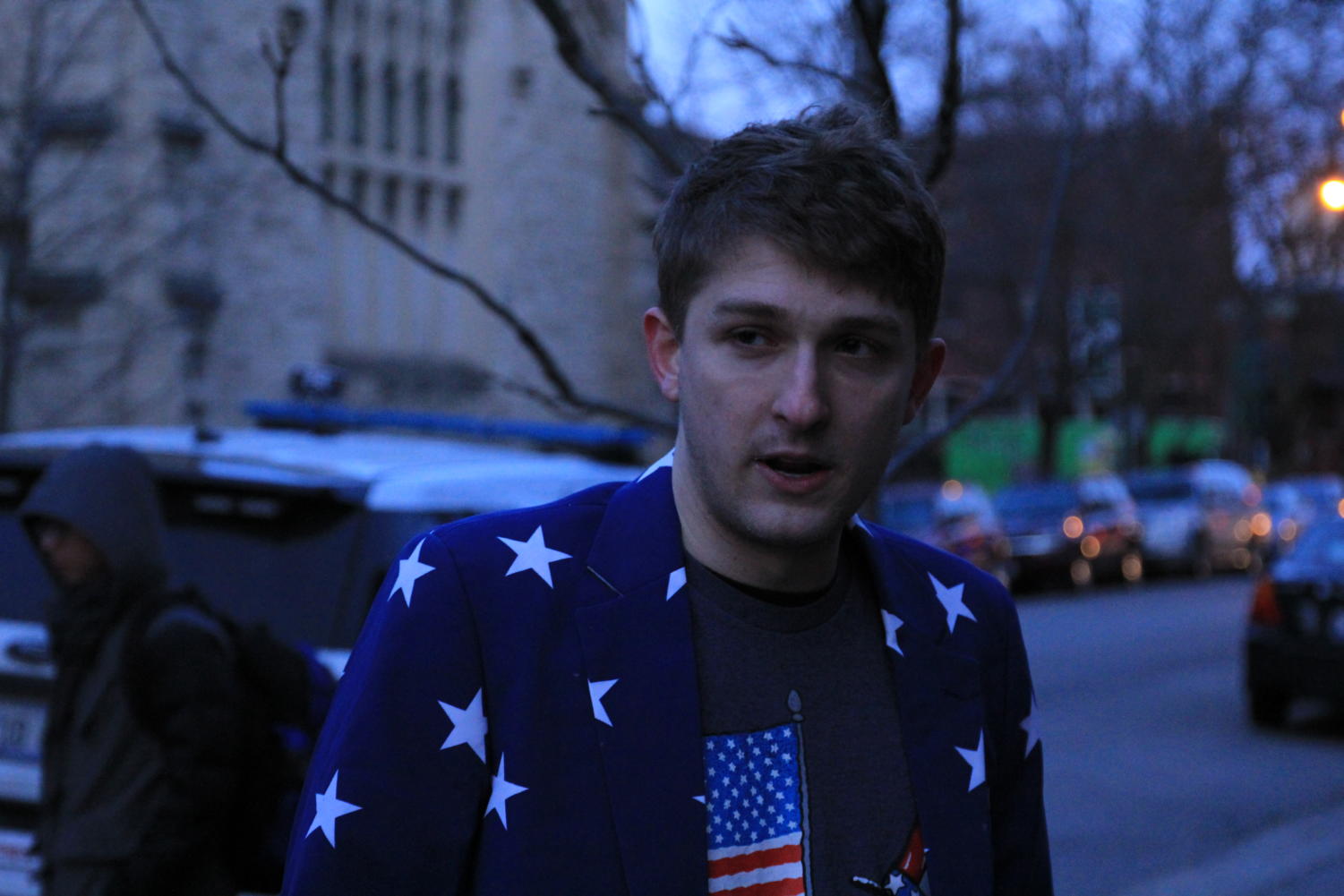 "I think most students at UChicago agree with me that people should be able to speak here.… I see very few students here at this protest, this is very much a lot of outside groups coming here to a relatively small protest anyway…. Almost every first-year supports Dean Ellison's letter..it's just a small contingent lot of people trying to make you think otherwise," Foldi said.
"Last year, for example, we had Hillary Clinton's campaign manager from her 2008 campaign, Patti Solis Doyle, meet with College Republicans and we didn't protest that…. It was a fantastic conversation… I don't think these people are interested in learning from someone with whom they disagree…. As a matter of fact, I know they aren't interested, as we can see," Foldi said.
Yang Xiang, an international graduate student studying sociology at the University, told The Maroon that he did not find Lewandowski's answers to students surprising. "I think he's trying to be very candid," Xiang said.
Xiang told The Maroon that at a former IOP event, he witnessed students shouting at the speaker for about five minutes. "Students, young people [in the United States] tend to have too much antagonism towards the speaker…. Democracy needs a full level of communication, but if people shout down speakers, people have too much emotion and don't have this coolheadedness…. I think that's the worst thing that America has at the moment."