ALEXANDRA LYNN / FOURTH-YEAR
My name is Alexandra Lynn and I'm an environmental studies Major. I play hockey for the Maroons and I'm a sister in Pi Beta Phi.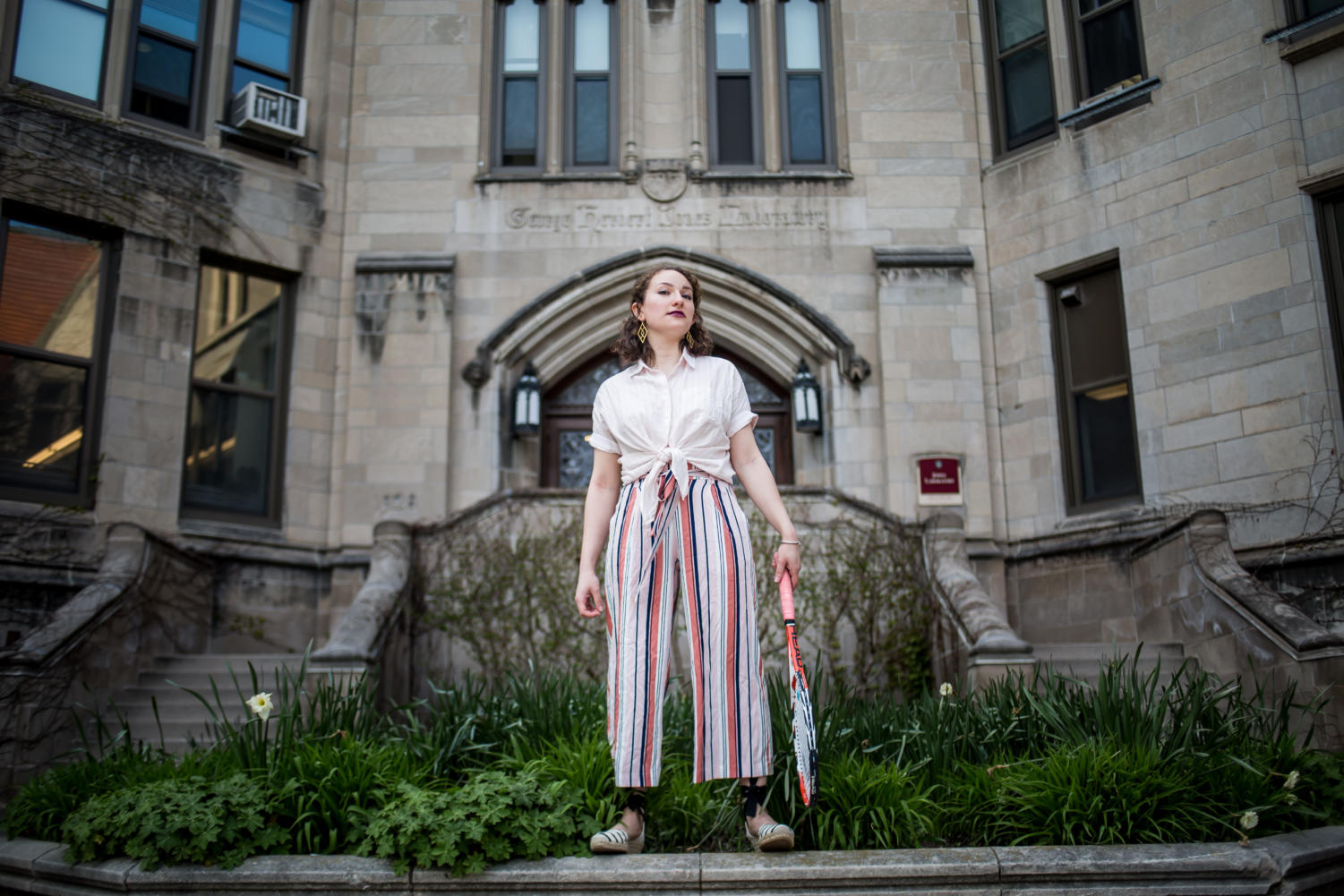 My style is "classic with a twist"—the twist being how I feel when I wake up. I come from a lot of different influences including New England prep, Jewish New Yorker humor, Southern proper. So I'm inspired by a lot of things, but also pull separately from each cliché.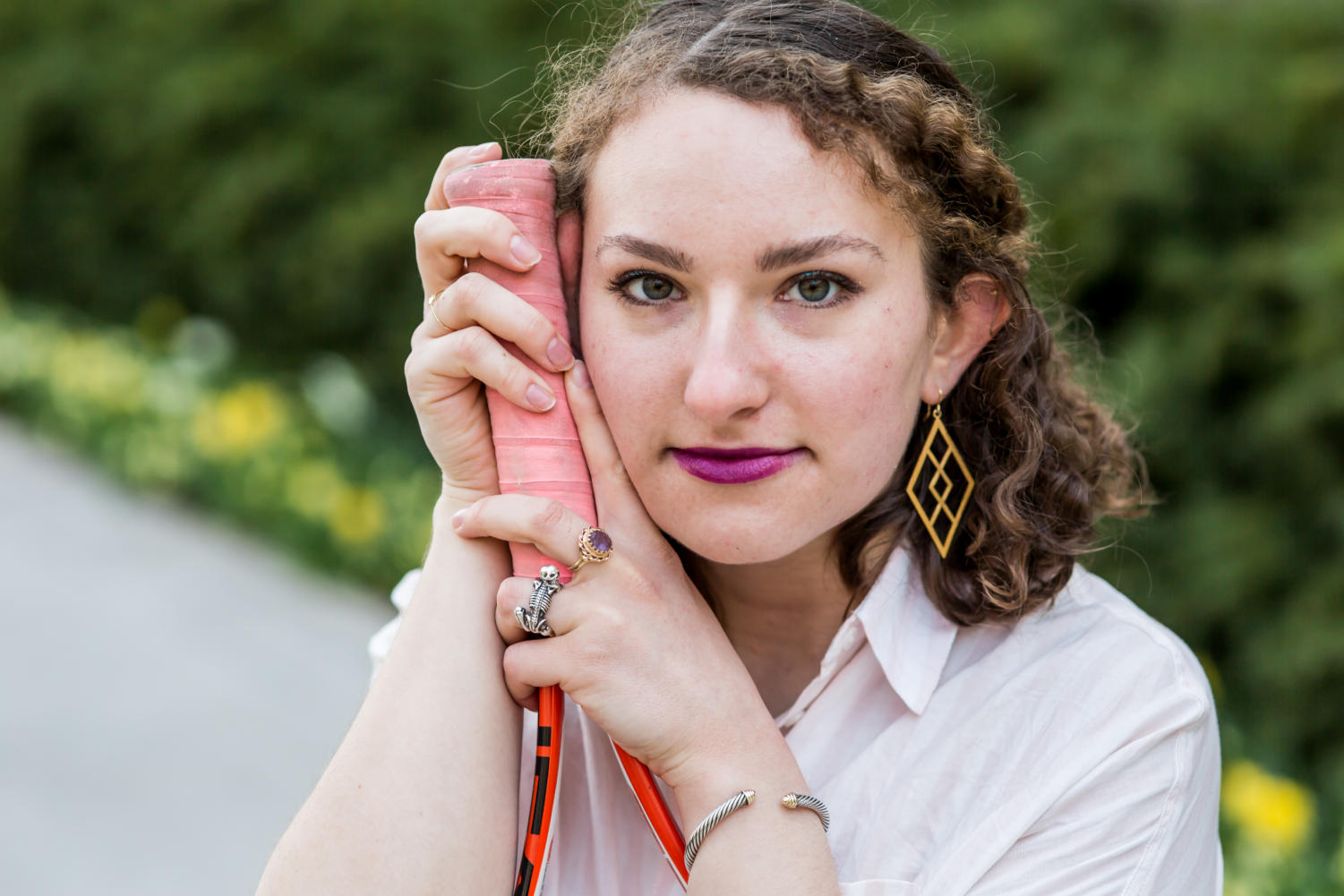 I see and think about color 24 hours a day. Just like objects have resonant frequencies at which they vibrate, I think that aesthetics have resonant hues—a color that feels just right. I had a camper once tell me my aura was tangerine. Sounds kind of silly, right? I never thought I'd believe in auras—I still don't—but I've grown really fond of how right the color tangerine feels. I like to incorporate little touches of it here and there: in my room; I repainted my bike with tangerine accents; I incorporate it in little, eye-catching ways in what I wear.
"Fashion is the skin for my body's organic machine."
I'm most conscious of the way I dress when I go shopping. Because most of my family is French, I subscribe to ideal of having 20 perfect pieces rather than a closet that overflows with trends. I shop for very specific things. Right now I really want a mustard velvet dress—I love the color, I love the texture, and I think that they blend well. Mustard is another color that's just right, in that one hue darker and it'd look terrible. And velvet has that great sheen. Textures really impact how you feel when you wear something. I love making shapes with crazy colors, because you're being very clean with your style while showing your personality.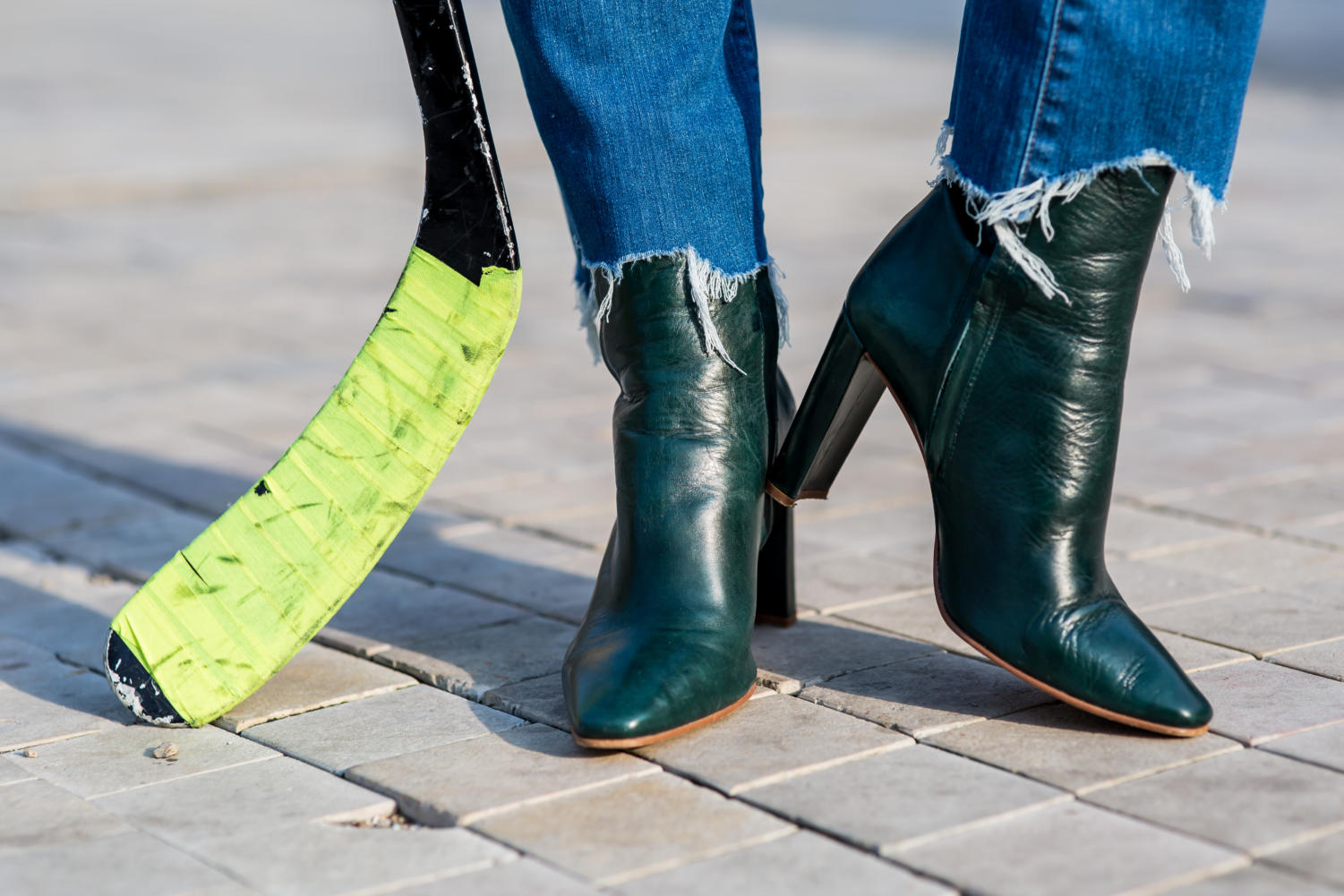 My mum encouraged me as a child to join the crew team—I had never done team sports before, and falling in love with it made me rethink my relationship with sports. Sports emphasize the body as a machine—and fashion can accentuate the effort that people put into their bodies. I was also born deaf, and have a computer in my head that helps me hear. So in another way, I've always thought of myself as a cyborg. Just like my body is the skin for the computer in my head, fashion is the skin for my body's organic machine.
I love rings—I like to wear really big rings and pretend I'm a boxer. One of the rings I'm wearing is a skeleton that clings to my finger with a head that rotates 360 degrees. People might say that's morbid, but for me the death imagery isn't dark—it's cheerful. There's nothing else to do until we die, so we may as well be happy! That's why I'm wearing sparkle glitter, blue sparkle eyeliner, and little gold eyebrow pencil in the corner of my eye.
Even though I love sports, I've been trying to stay away from activewear. I used to wear it a lot more—I still do love it, don't get me wrong—but the way you dress changes the way people perceive you. When I'm dressed up and in a cute outfit, people respond positively. I was hiding from my BA advisor by dressing up so they wouldn't recognize me. —ALEXANDRA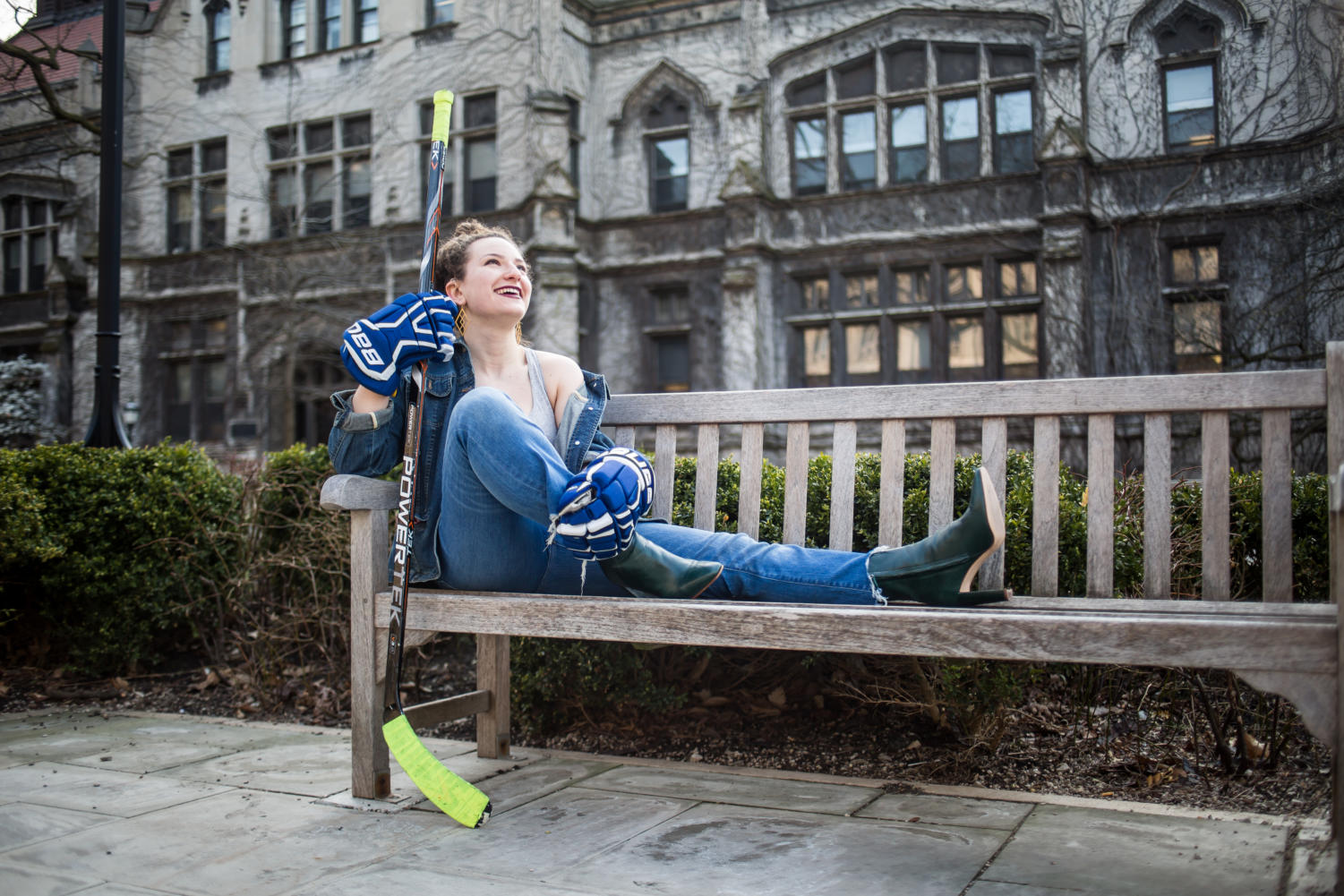 ---
ANYA MARCHENKO / FOURTH-YEAR
My name is Anya Marchenko; I'm an economics major with a minor in philosophy. On campus I'm involved in Peer Health Exchange and work at Grounds of Being.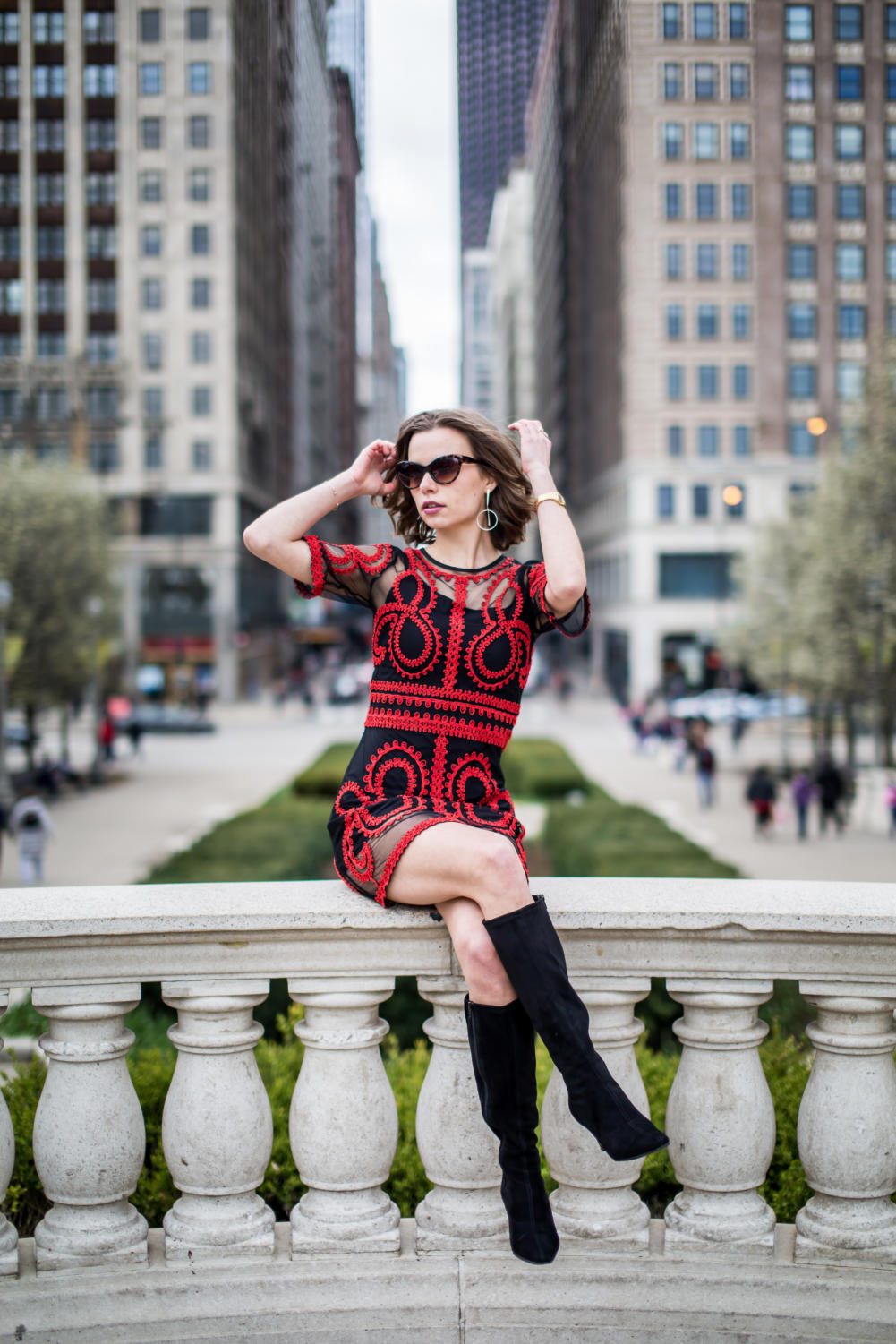 I want to fuck people up when they see the clothing I wear—that's the way I like to wear pieces. I really like statement pieces, whether it's big swishy pants or a bold red outfit. I also want to feel comfortable and unconstricted. Both outfits I picked are very easy to wear, but the pieces themselves have such quality and beauty that combining them takes little effort.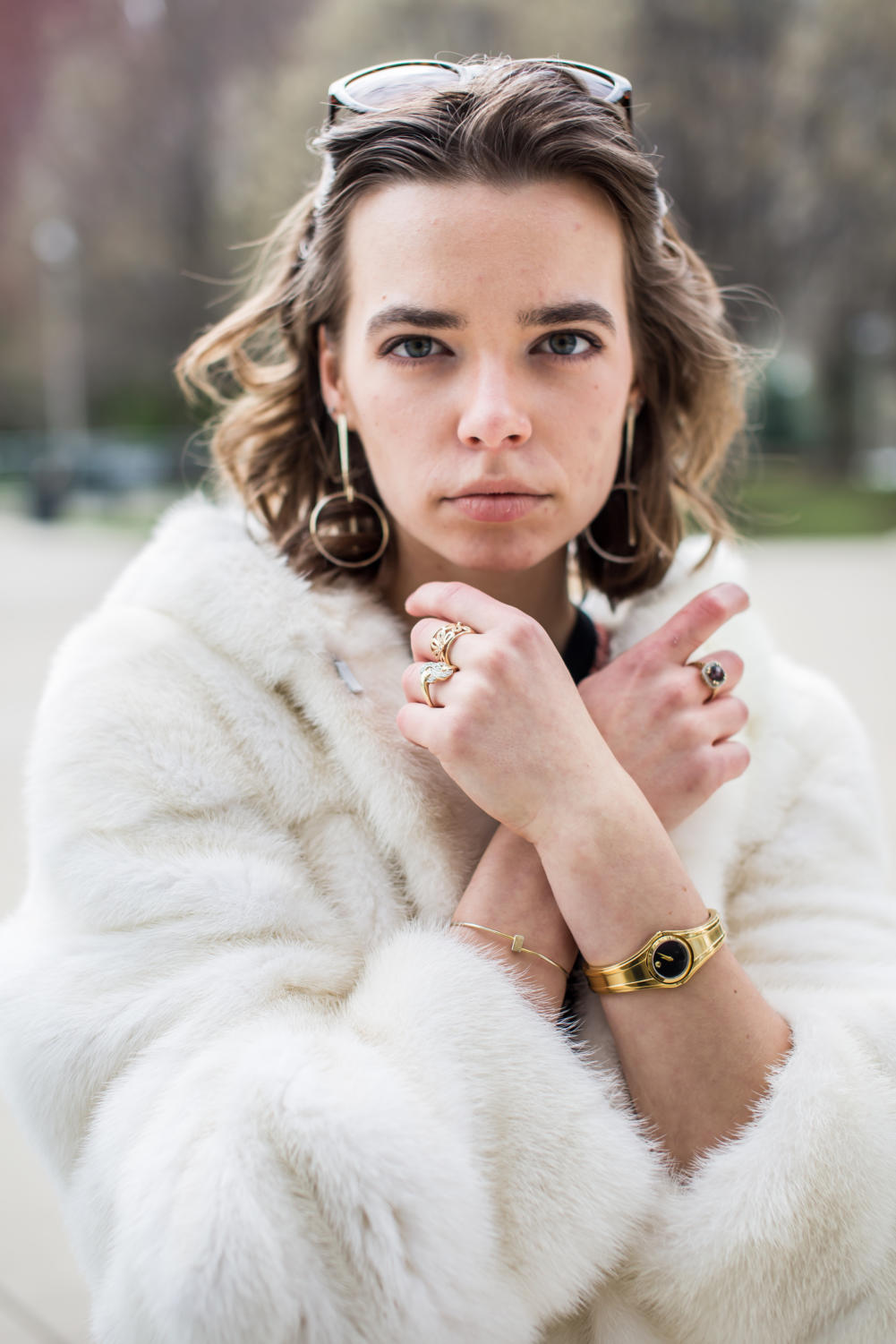 People always wonder: "Why does this simple black dress from Dolce & Gabbana cost $3,000?" That's because of the detail and craftsmanship in the dress. I don't necessarily own pieces like that, but I really like the intent of detail. Look closer and you notice, for example, intricate black folds or that the seam is sewn a certain way. Those kinds of details bring me happiness because I can feel the thought that the designer put into it. Chanel designed her ladies' tweed suits with a weight in the back of the jacket, so it won't ride up when the woman hailed a cab. To me, details like that make clothes into pieces rather than just pieces of fabric.
My family has influenced my approach to style by handing down pieces from older generations that I wouldn't be able to buy elsewhere. They've also passed down an appreciation for things that people perceive a little bit differently in America. Sometimes I tie a scarf around my head when it's cold and people say, "You look like a babushka!" I'm like, "No, this is just what women wear in Ukraine."
"Details make clothes into pieces rather than just pieces of fabric."
I was born in the Ukraine and moved here when I was eight years old. My grandmother gave me a fur coat when I was 16. I'm pretty sure that's why MJ asked me to model, because he loves that coat so much. It's actually very common for women to have fur coats in Ukraine and Russia. It gets very cold, it's part of the culture—in Moscow, you're not considered a real society woman unless you have two or three fur coats. At first I didn't appreciate it because it looked different from the coats people would wear here. Now, though, people stop me every time I wear that coat and say "Oh my god, that's an incredible coat." It's so easy—you put it on, and instantly it's an incredible piece no one else has.
A lot of things that I have were given to me by my grandmother. My family had a lot of jewelry from weddings and birthdays back in the Soviet Union, which they gifted to me as they got older. You wouldn't find these things in stores these days, so they're very special to me.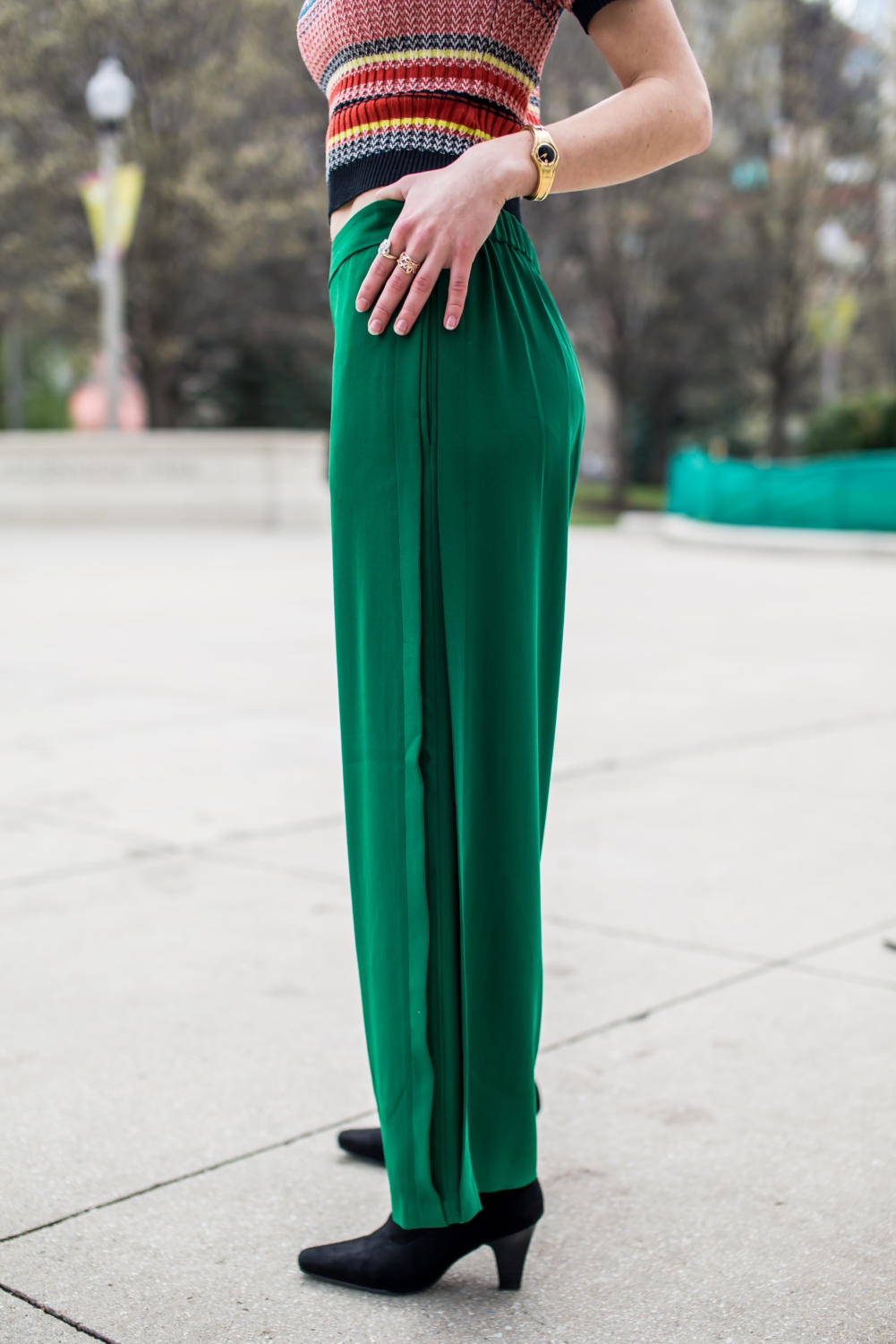 My style is very sleek and chic. I try to do hipster-grunge sometimes, but I fail pretty spectacularly. I try to come off as somebody who knows what she's doing, somebody you don't mess with. You're not going to mess with somebody in this coat. If you were to map these clothes to stereotypes of people, that's what I think the feeling would be. When I worked in consulting last summer, I was very keenly aware of how easy it was to look bland in the business world. I was trying to balance dressing appropriately for the environment with standing out. I even wore those green Armani Exchange pants to work—with a blazer. This Movado watch is probably my favorite piece of jewelry. My parents gave it to me when I was 16 and said, "This is a watch you're going to have for the rest of your life." You invest in something that will last the rest of your life. Of course, you have constraints—not everybody can afford luxury items like these, and it's a great privilege to be able to do that.
"When I look good, I have a presence…"
I like wearing these pieces because people don't perceive clothes as art or expression to the extent I think they should. The ability to mold people's perceptions of you based on what you're wearing is a powerful one. As the saying goes, "Wear perfume because it introduces you before you even walk into the room." Fashion is the same concept: when I feel like I look good, I have a presence that I don't even have to craft. —ANYA