The MCA Explores Myriad Depths with Takashi Murakami's "The Octopus Eats Its Own Leg"
The exhibition will be on display until September 24.
The Octopus Eats Its Own Leg, a new exhibit at the Museum of Contemporary Art (MCA), gives visitors a glimpse into the creative reinvention of Japanese artist Takashi Murakami.
Despite formal training in Nihonga, a traditional painting form, Murakami grew up with a keen interest in manga and anime. His combination of classical training with modern themes and techniques led to the creation of "superflat," an art movement that focuses on Japanese consumerist culture after the Second World War.
Murakami's exhibit at the MCA is bookended by catastrophe. His earlier artwork is influenced by the nuclear devastation of Japan after the Second World War, and his most recent work is inspired by the Japanese earthquake and tsunami of 2011. Walking through the exhibit gives an idea of the spiritual transformation of Murakami's art over time.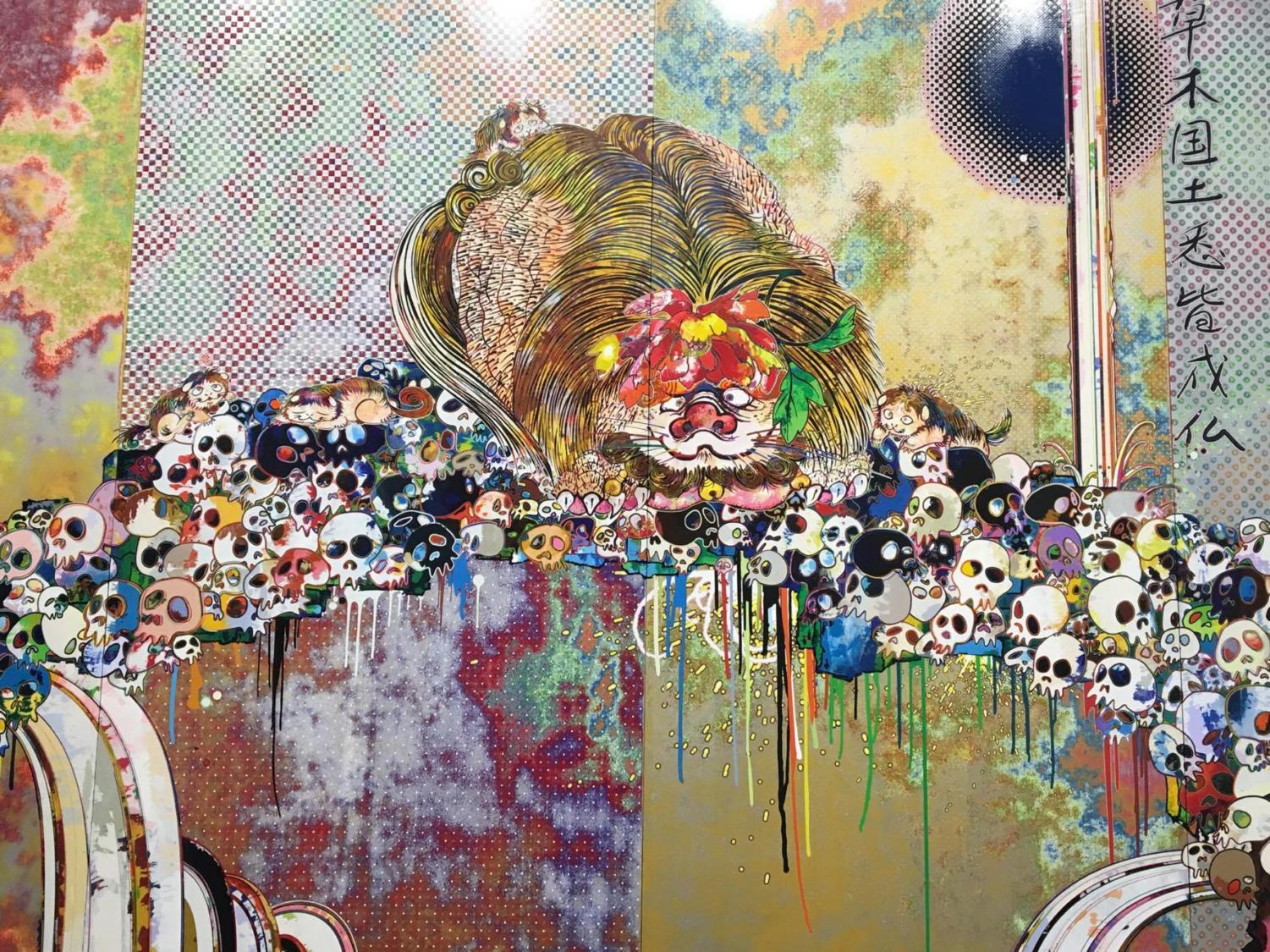 The first gallery is done almost exclusively in the Nihonga style, with pronounced brush strokes and muted colors. Murakami presents natural images of turtles and fish against the ominous background of nuclear reactors, making a statement about man's encroachment on natural life.
The next gallery shows a shift from earth tones to bright, striking colors, signalling Murakami's move away from Nihonga. Here, we see some remnants of Murakami's meditations on Japanese history—a mushroom cloud with a skull motif ominously looms high above, taking up an entire wall. Yet we also see Murakami's popular original icon, Mr. Dob. A mouse with two huge ears, Mr. Dob's resemblance to Mickey Mouse is uncanny.
The scale of much of the exhibit's work is almost overwhelming, with many panels of canvas spreading across multiple walls. Later galleries feature images nothing short of psychedelic. A fanged and grinning Mr. Dob glares down at viewers from vast wall paintings; many-eyed mushrooms look out at viewers. Later, Mr. Dob and the mushrooms are dissected and rearranged until we see a mash of body parts, eyes, and spiked teeth. There is even some play in the three dimensional: a statue of Mr. Dob wanders through a field of many-eyed mushrooms, his mouth open in awe.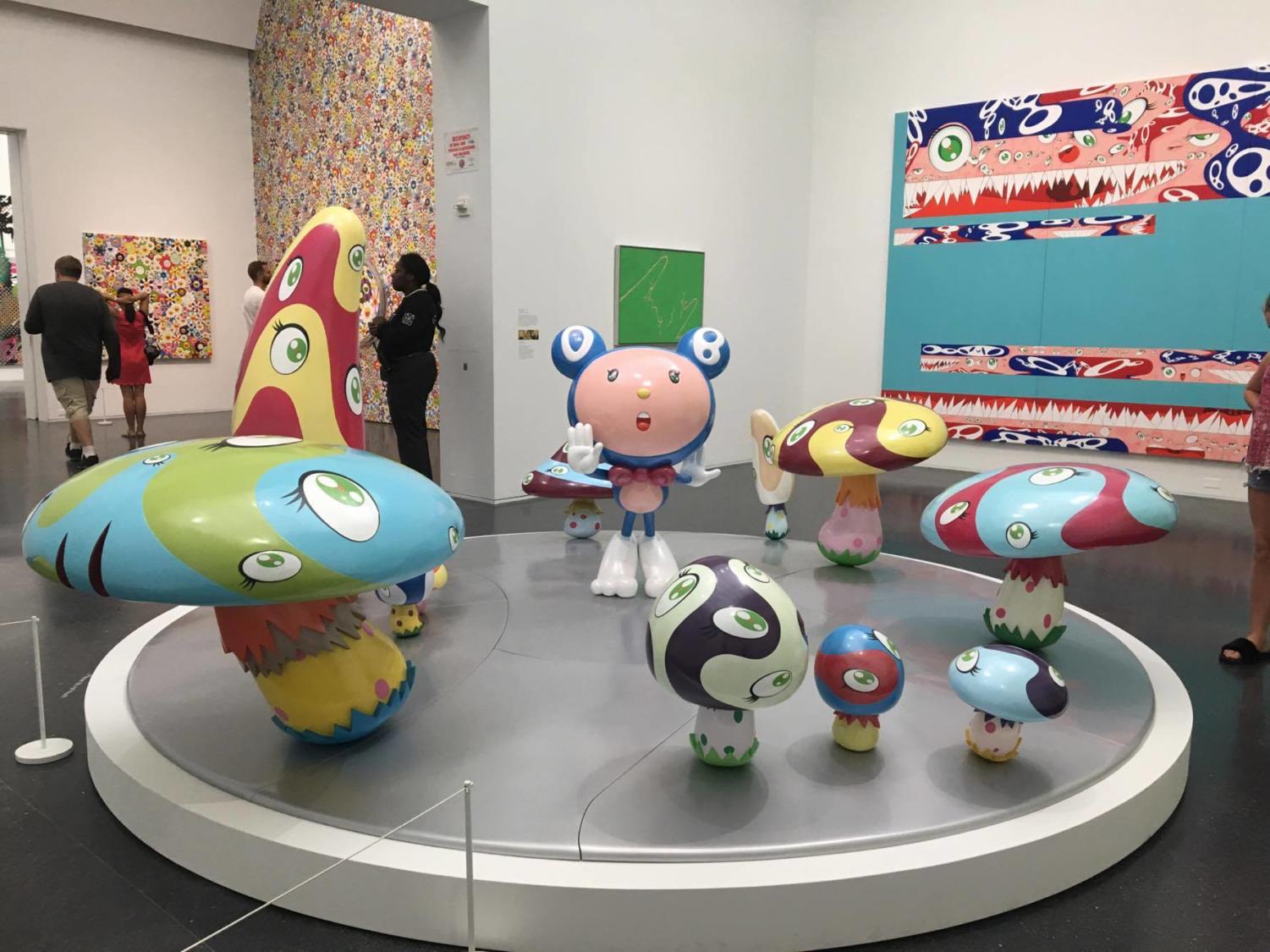 After the monstrosities of Mr. Dob, there are many smiling flowers, painted in both bright colors and the muted style of Nihonga. This room of flowers is a welcome relief from the previous two galleries.
An entire room is devoted to Murakami's collaboration with Kanye West. There is a statue of "Dropout Bear," an anthropomorphic bear seen on the cover of several of West's albums. Pictures of the cover art for West's album Graduation, also created by Murakami, are in this room as well.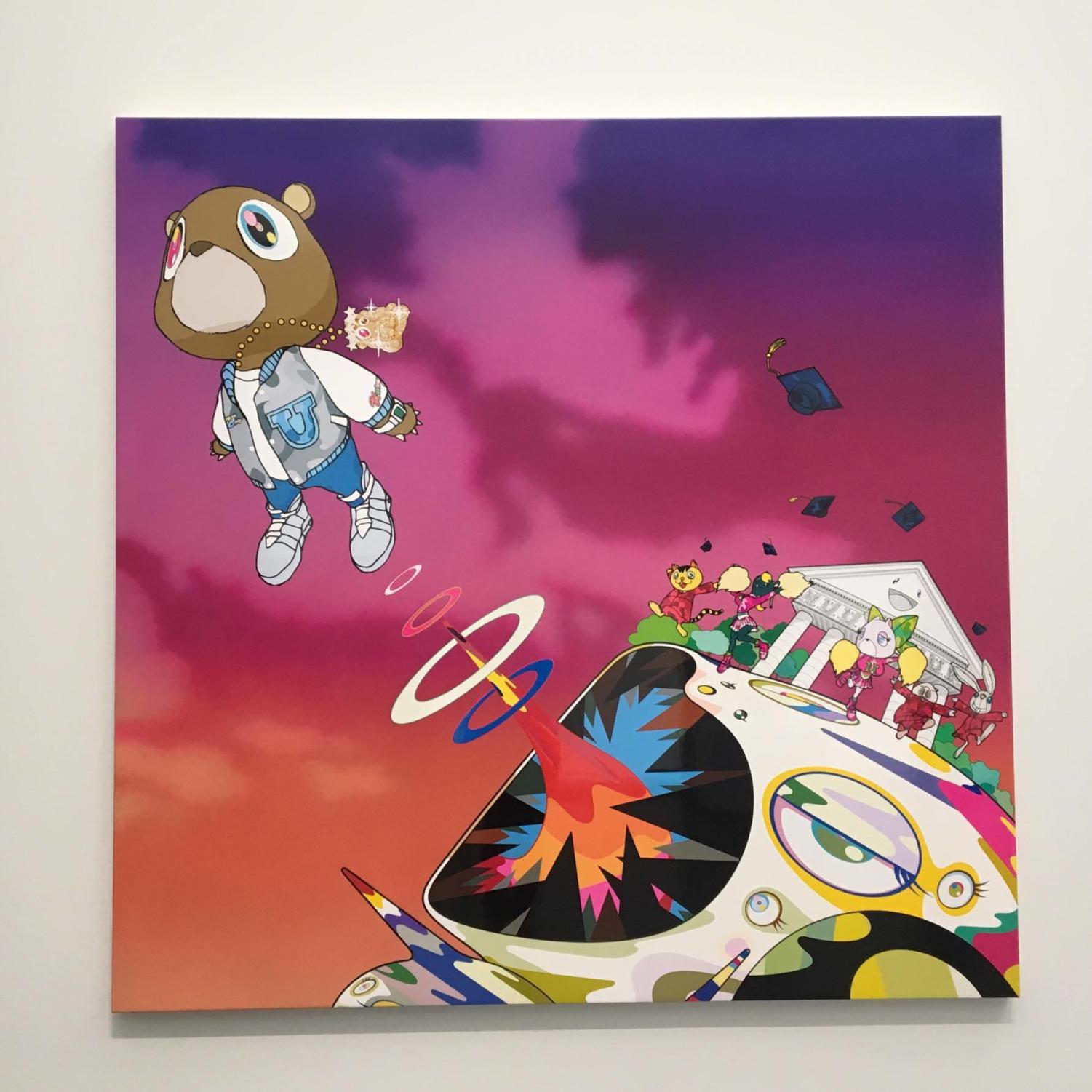 The final three rooms of this exhibit are markedly different from those prior. After the Japanese earthquake of 2011, Murakami turned to spiritual and artistic Japanese tradition in order to come to terms with the tragedy. Several sculptures and paintings in these concluding rooms reflect this shift. After the earthquake, Murakami created a painting,100 Arhats, that depicts nomadic Buddhist monks that are capable of healing. The work is painted in a combination of traditional and modern techniques. Another gallery in this exhibit walks viewers through the process of creating this gigantic painting.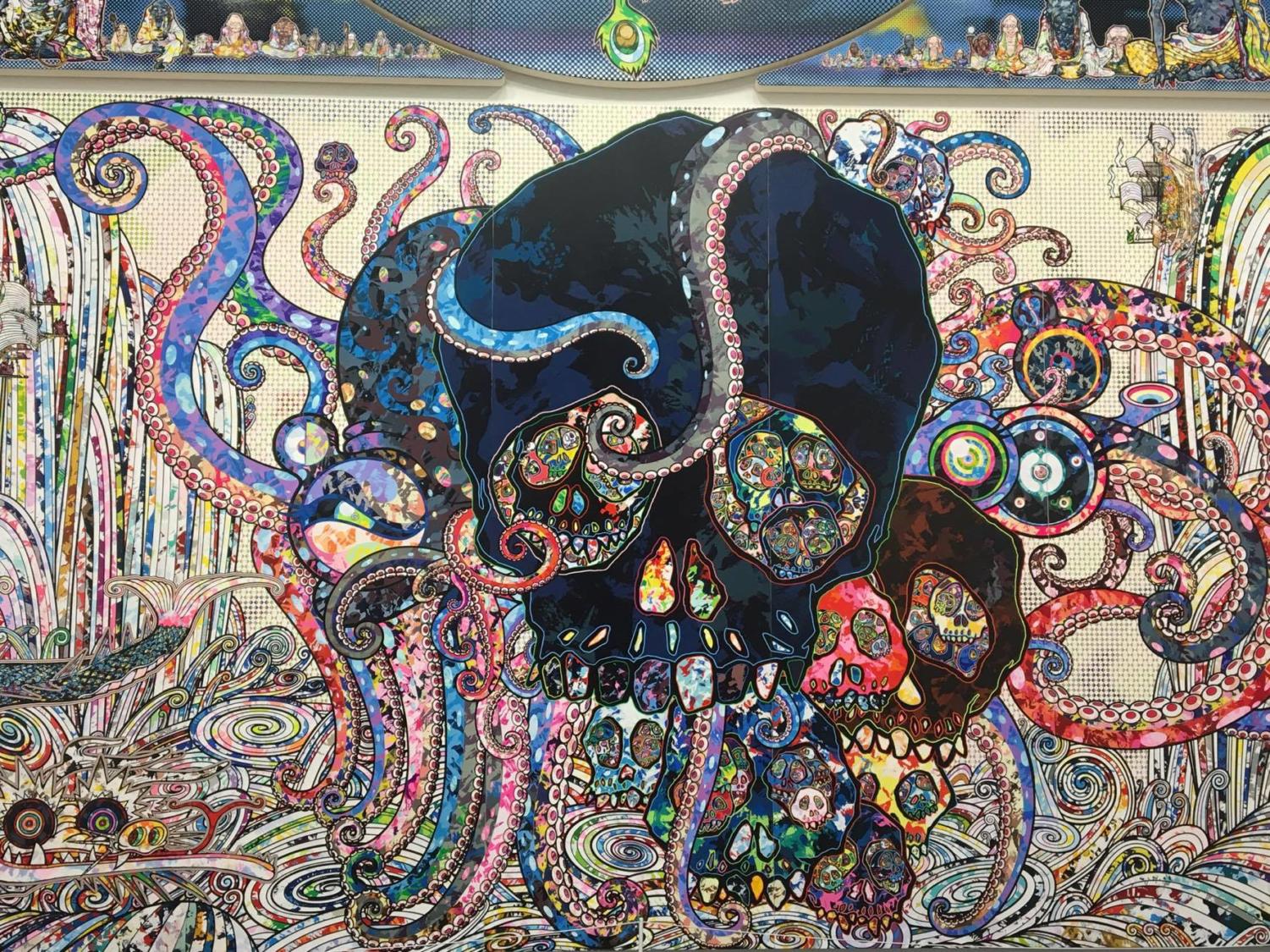 The last room features the exhibit's namesake, "The Octopus Eats Its Own Leg." What is most striking about this room is Murakami's incorporation of Buddhist symbols. In addition to images of krakens viciously frothing in the ocean, a large sculpture of an octopus, or the eponymous painting of a skull festooned with tentacles, there is also a white elephant, an important Buddhist symbol. In this room, one can see that this artwork is unmistakably Murakami—the paintings are on an epic scale, and the swirling colors and strained tension of the figures are an homage to the wild mushrooms and the monstrous forms of Mr. Dob.
However, Murakami's deliberate choice of using Buddhist and Japanese spiritual themes in his artwork suggest that he is entering another phase of his artistic career. Murakami weds the spiritual with the material, combines traditional painting styles with more modern techniques. Like an octopus eating its own leg, Murakami's artwork is a sign of his regeneration.
The Octopus Eats Its Own Leg runs at the Museum of Contemporary Art until September 24. Admission is free for UChicago students.