Previewing Pitchfork 2018
Pitchfork Music Festival will take place from July 20 to July 22 in Union Park.
Pitchfork's annual music festival in Union Park runs from Friday, July 20 to Sunday, July 22. I'm here to highlight a few sets scheduled for the weekend to let you know which artists are worth seeing and which (playing at the same time) are worth skipping. You can check out the full lineup here and listen to a playlist with the featured artists here.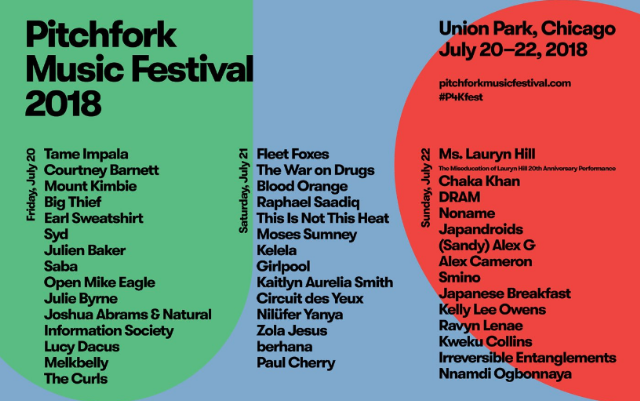 FRIDAY
Open Mike Eagle
Best Song: "Dark Comedy Late Show" from A Special Episode – EP
Chicago native Mike Eagle is an eclectic MC whose raps are as lyrically dense as they are artistic. Few can match his storytelling abilities and poetic tenderness. Eagle's most recent album, Brick Body Kids Still Daydream, is a told from the perspective of a child living in one of the South Side's housing projects. It is a landmark accomplishment met with high critical praise that highlights his musical acumen and socially conscious message. This set is one to capture some imagination.
Artist playing at the same time: Saba

Earl Sweatshirt
Best Song: "Guild" from Doris
We haven't heard anything new from Earl Sweatshirt in almost three years, his last project being I Don't Like Shit, I Don't Go Outside. Of the Odd Future collective, Earl's solo career has always been the most confusing. His verses are dark and brooding, especially when cast against the downtempo grimy instrumentals that often feature in his tracks. Earl has teased a new album a number of times on twitter, and he's been known to try out new tracks live, so perhaps the 24-year old rapper will show us something new at Pitchfork. It's worth going to find out.
Artist playing at the same time: Big Thief
Artist: Mount Kimbie
Best Song: "We Go Home Together" from Love What Survives
Mount Kimbie's 2017 album Love What Survives is being touted as one of the year's best. And for good reason. The duo was not even in the same city while recording this album, so that alone is reason enough to see them perform it live. If the group thrives on the staggering distance between them (London to LA), will the intimacy of the stage be their downfall? Probably not.
Artist playing at the same time: Courtney Barnett
Artist: Tame Impala
Best Song: "Disciples" from Currents
Get ready to dance! Friday's headliner, Tame Impala, is another group that hasn't released a complete project in a while. Since 2015, the band has only been releasing remixes and b-sides. For this set, expect the group to take some liberties with mixing and blending their songs. We're likely to hear something live we won't hear in the studio. Check it out.
SATURDAY
Artist: Moses Sumney
Best Song: "Lonely World" from Aromanticism
The always-exploring and ever-inventive mind of Moses Sumney has this going for him: no one else at the festival will be playing anything like him. Not only are his studio performances understated, but the ambient sounds that fill his tracks might make his set feel more like background music than a full-fledged set. If you're looking to just chill and listen to music, this is the set for you.
Artist playing at the same time: Circuit des Yeux

Artist: Blood Orange
Best Song: "Clipped On" from Cupid Deluxe
With a mix of indie rock bonafides and undeniable songwriting talent, Dev Hynes brings variety to the stage with his R&B group Blood Orange. It will be interesting to see how Hynes curates the sounds from his wide-ranging albums. Time will tell whether he hones in on something cohesive, and it is bound to be better than the gaudy, noisy, aimless set that This is Not This Heat will be playing.
Artist playing at the same time: This is Not This Heat
SUNDAY
Artist: Smino
Best Song: "Netflix & Dusse" from blkswn
Rap-funk-soul fusion artist Smino released his first full-length album last year, blkswn, after quickly becoming a Chicago favorite as a part of the Zero Fatigue collective. His blend of catchy melodic phrases and laid back demeanor is the definition of "playing in the pocket." Like the artist himself, Smino's set will be cool and collected.
Artist performing at the same time: Japanese Breakfast

Artist: Chaka Khan
Best Song: "I'm Every Woman" from Chaka
"Electric," "danceable," "soulful," are all words to describe Chaka Khan's music, and her Sunday set will be, above all, "fun." Her music is characterized by her unmistakable voice and incandescent rhythmic beats. I can't recommend this set enough if not just for the chance to see a generational talent perform in front of such a large crowd. It will be exciting to see her perform a discography that spans decades, and you won't regret stopping by for this set.
Artist performing at the same time: Japandroids

Artist: Ms. Lauryn Hill
Best Song: "To Zion" from The Miseducation of Lauryn Hill
Sunday's headliner, Lauryn Hill, is another historic MC despite having only one solo album to her name. Her lyrics are as wide-reaching as they are deep and meaningful, embracing themes of femininity, love, religion, and more. Her musical repertoire is equally as varied, innovating multiple genres such as neo-soul, rap, hip-hop. Her work has and continues to inspire artists performing today and fans alike. Stick around for this one.