Bill and Chelsea Clinton Speak at Opening of 11th Annual CGI U
Chelsea Clinton spoke about "a desire to make the world a better place."
Over 1,100 students from more than 100 countries, and representing 300 colleges and universities, gathered in Ratner Athletics Center on Friday evening for the Opening Plenary Session of the 11th annual Clinton Global Initiative University (CGI U). Former President Bill Clinton, founder and chair of the Clinton Foundation, and Chelsea Clinton, vice chair of the Foundation, spoke at the event.
More than 150 of the participating students are from UChicago, including students of UChicago Laboratory Schools and UChicago Charter School.
The stated mission of CGI U is to engage the next generation of leaders on college campuses around the world. It hosts an annual gathering of students and leaders who discuss and develop innovative solutions to current global challenges. Participants are selected through a competitive application process in which they are asked to present actionable commitments addressing specific problems in one of five policy areas: education, environment and climate change, poverty alleviation, peace and human rights, and public health.
Friday's Opening Plenary Session centered on the theme of "Expanding Civic Engagement." It highlighted five notable students and their commitments to action.
One was Cornell University fourth-year Dejah Powell, a former resident of the South Side of Chicago, who is planting community gardens and providing affordable fresh produce to her former neighborhood. Another was Akshay Kamath, a fourth-year at Rutgers University, who created the Nutrifier, a product to combat global malnutrition. It functions akin to a pacifier, except it is enhanced to dispense micronutrients vital for infant survival.
The session included a panel, moderated by Bill Clinton, that highlighted past participants and their accomplishments. The panelists reflected on their experiences and potential roadblocks that could obstruct societal progress.
Astrid Silva, the executive director of Dream Big Vegas, crossed the Rio Grande on a raft with her mother and entered the United States at the age of four. She spoke frankly about the challenges of her daily work at the nonprofit, which provides direct services to immigrant families.
"You have to expose yourself. You have to be vulnerable," she said. "People will come out and threaten you."
D'Angelo McDade, executive director of the Peace Warrior Organization, said he was inspired to enact change after his grandfather and cousin were shot when he was 17. His organization seeks to help students graduate from college by training them at leadership camps and partnering them with mentors from Chicago's business community.
"Being an 18-year-old from the West Side of Chicago, surviving was the only goal I had," McDade said. However, his mentors challenged him to seek higher aspirations. "It became my goal to challenge our students to get out of the mindset of being a minority, to understand that you have been minoritized, but that you are a priority."
Chelsea Clinton was the first speaker to address Friday's crowd. "You all have one big thing in common, and that's a desire to make the world a better place," she said. "You all refuse to accept the status quo."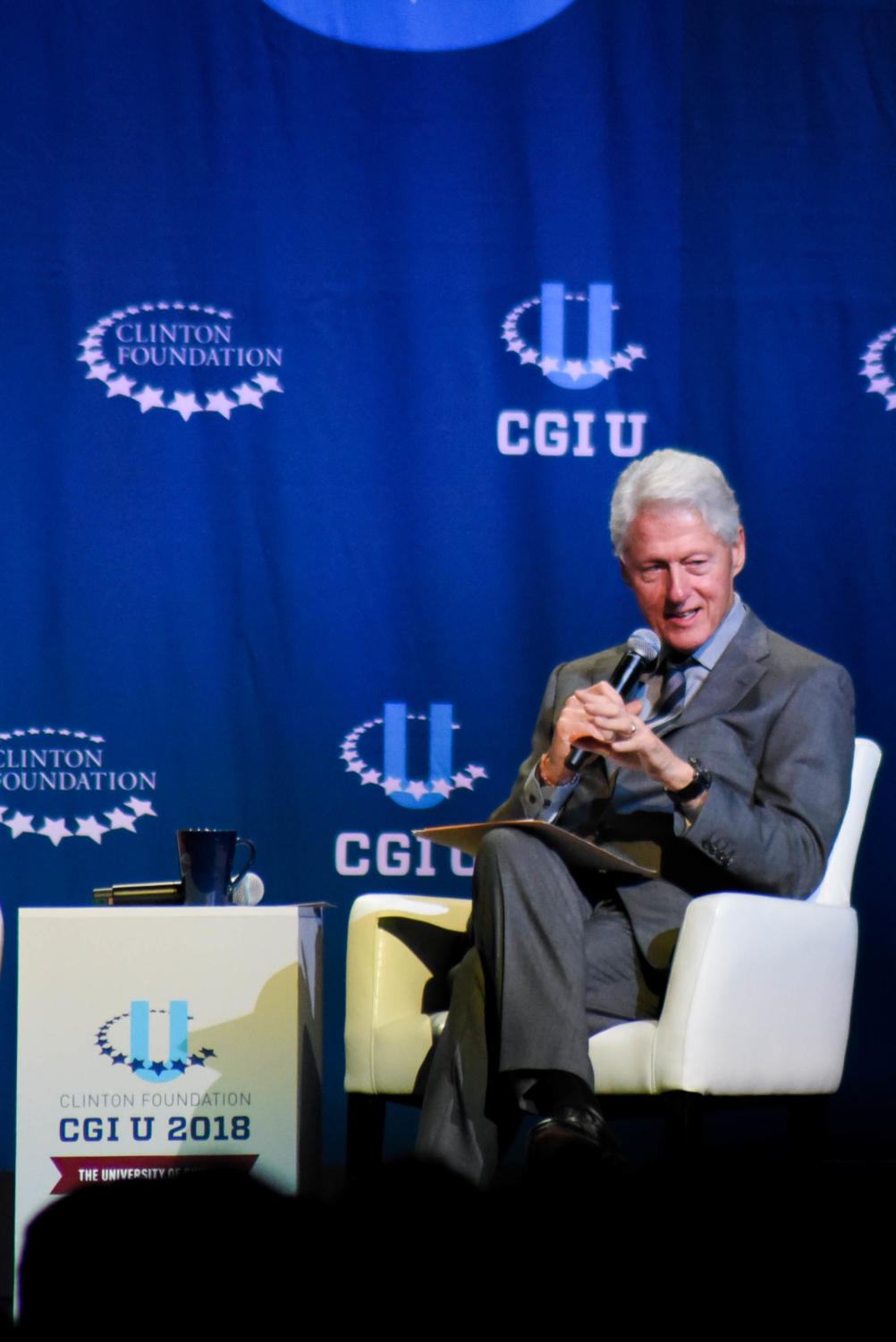 Her speech was followed by words from Bill Clinton. He denounced the increasing ubiquity of separatism and tribalism, instead advocating for "inclusive tribalism."
"Diverse groups make far better decisions than homogeneous ones," the former president asserted. He later added, "What makes it all possible is our common humanity."
In his comments, University President Robert J. Zimmer emphasized the significance of civic engagement. "A realization that improving our society and the lives and opportunities of all the individuals in it is an obligation that we must all recognize and a task that we must all take on," he told the crowd.
On Saturday, students will meet with community leaders to discuss a range of issues, from gun violence in the United States to the importance of critical thinking in an age of fake news and political polarization. Saturday's events will conclude with a conversation between Bill Clinton, former Secretary of State Hillary Clinton, and Chelsea Clinton. Sunday is the Day of Action, where participants will engage in community service with select partner organizations in the Chicago area.