Activist Turned Mayoral Candidate Wants Police Monitoring App, City-Wide Wellness Centers
Ja'Mal Green is the youngest candidate running.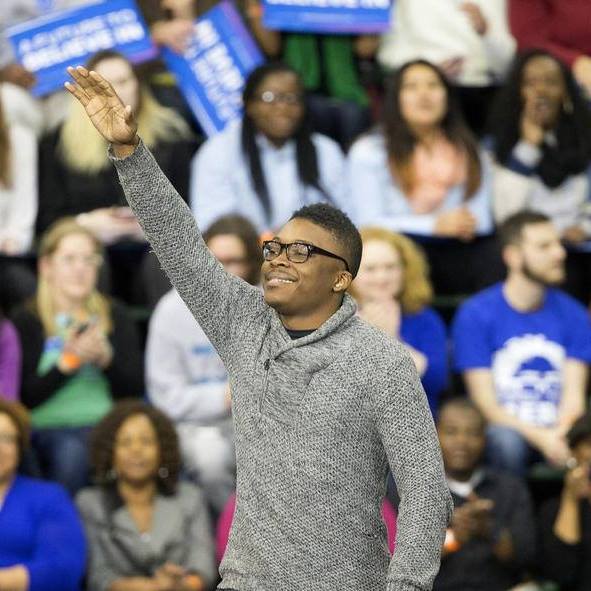 "Rahm Failed Us." The biting slogan first made waves plastered on T-shirts at a Bernie Sanders campaign rally in 2015 and has since become the refrain of Chicago's many progressive activists.
It is only fitting, then, that the man who coined the slogan, Ja'Mal Green, a 23-year-old activist, entrepreneur, community leader, and now mayoral candidate, has never been one to mince words.
Green entered the city spotlight as an ardent gun violence activist, pushing for the release of the infamous police dashcam video of the shooting of Laquan McDonald. His social media base has grown rapidly, and he now has the largest Twitter following out of all the mayoral candidates.
The Maroon sat down with Green to learn more about his candidacy.
Background and platform
Having grown up in Chicago, Green has aimed to improve community relations since his early teenage years. At 15, Green founded the youth program Skyrocketing Teen Corps, later called Majostee Allstars. It aims to promote financial literacy, entrepreneurship, and assorted life skills, from gardening to money management.
After founding Majostee Allstars, Green went on to make waves as a progressive activist. Leading up to the 2016 election, Green worked for Bernie Sanders's presidential campaign, while also serving as a leading player in the Black Lives Matter (BLM) movement. At a campaign rally in December 2015, Green appeared in his iconic "Rahm Failed Us" shirt, contributing to the popularization of the slogan.
In March 2016, Green led a group of counter-protestors at a Donald Trump campaign rally, prompting Trump to cancel the event. In July, Green made national news when he was taken into custody during a BLM protest of Mayor Rahm Emanuel's response to the murder of Laquan McDonald.
Today, this fervent desire for more transparency and improved relations between communities, the police, and government fuels Green's candidacy. "If Rahm Emanuel was transparent about what happened at Laquan McDonald's situation and did not cover it up to get reelected, he wouldn't be in the horrible mess, and this city wouldn't be in the horrible mess that it's in today," he said.
Green suggests that an improved police oversight board to deal with abuses of power by police officers would ameliorate Chicagoans' relationship with the police. He said that members of the committee would come from all walks of life, ranging from retired officers to attorneys to regular civilians.
On his campaign website, Green also proposes a mobile app called Excuse Me Officer, which would be used to observe and analyze behavioral trends in police interactions.
"Transparency is important so that you can get communities to understand government, to be a part of government, to be a part of politics, to love their police officers in the community, and want to call 911," he said.
Youth empowerment, the motivation behind Majostee Allstars, has also manifested into a key component of Green's campaign. For instance, Green believes that Chicago Public Schools (CPS) needs to undergo significant reforms to be workable.
"You can't have a kid come from a broken home, dodge bullets on the way to school, have a mental health problem, and then stick them in class and think that they're going to learn with 40 other kids around them," he said. "It's not going to happen."
Although CPS has made improvements in recent years, especially in terms of four-year graduation rates, minority students have not seen the same improvement as white students, with more than a third of black males still dropping out.
The promotion of mental health is also a pressing issue for Green. He plans to begin by rebranding clinics as "wellness centers" to change public attitudes about mental health.
"It has not been a priority in this administration, and mental health correlates to crime in our streets," he said.
Green added that this priority extends to not only youth, but also other community groups that are flagrantly underserved by Chicago's mental health services, noting high depression rates among veterans and the elderly.
To combat this, Green has devised a holistic plan.
"As far as my wellness centers [go], it's not just psychiatry, but yoga, boxing, karate, [and] massage therapy," he said. He plans to train dogs and cats to be service animals for veterans and people with disabilities.
Green also believes that mental health is a critical issue for police officers, noting that several officers have committed suicide in the last few months. He said he will ensure that every officer has a mental health evaluation each year.
The road ahead
As a first-time politician and the youngest candidate in the race, Green has hit some bumps in the road, saying, "It has been hard, stressful at some points, being looked down on by some older leaders." All in all, however, he said he's enjoyed the journey, describing the mayoral race as "an experience of a lifetime."
When asked about the process of promoting the campaign, Green said that it has been "difficult," but also noted that social media has been extremely effective in promoting his message, saying, "We haven't been shut out completely."
In the future, Green plans to continue growing Majostee Allstars, which he said may move into a permanent facility soon. Now, however, his focus is entirely on the campaign: "You know, of course I can have dreams and goals, but I gotta see how this goes first."