Obama Reflects on "Common Hope" at Second Annual Obama Foundation Summit
Other high profile speakers included singer-songwriter Janelle Monae and actress Diane Guerrero.
"I set up this foundation just so I could hang out with cool people like you," Barack Obama joked to a crowd of youth leaders on Monday afternoon.
The talk marked the closing session of the second annual Obama Foundation Summit, which took place at the Marriott Marquis in downtown Chicago. The summit gathered 650 youth participants from the Foundation's international programs, including Harris Public Policy's Obama Foundation Scholars and Foundation Fellows. The theme of this year's event was "Common Hope. Uncommon Stories."
Obama spoke with author Dave Eggers about an array of topics, from enacting meaningful societal change to his community organizing in Chicago.
He then delved into the challenges of making a positive difference, iterating the importance of community. "There are few human endeavors that are worthwhile that you can do by yourself," he said.
"The idea of each of us having very unique, specific stories, but that, if we bother listening to each, that those stories merge and blend. There's a community to be unearthed there," he said. "I think the reason we don't see that or feel that now is because it does require you to listen to others."
The former president was frank in his criticism of current institutions in modern civil society today.
"You get to the U.S. Senate—and you're looking around like, oh man, you got all these jamokes here. Then when you're president, you're sitting in these G20 meetings with all these world leaders, and it's the same people," he quipped to the crowd. "What I'm trying to say is the nature of human dynamics does not change from level to level."
Obama also did not mince words in his discussion of obstacles to societal progress.
"What prevents us from implementing most of the things that we would probably collectively agree would make the world better is not an absence of technical solutions. It's because there are humans involved," he said. "The reason we don't do it is because we are still confused, blind, shrouded with hate and anger and racism."
He continued, "It's going to be up to you to figure out how to refashion those institutions so they work. And that is a big project, and it is a heavy burden, but what a joyous burden that is."
He closed his remarks on an optimistic note. "If you had to be born at any moment in human history, and you didn't know ahead of time whether you were going to be Black, white, Asian, Latino, that you didn't know what country you were from, whether you're male, female, gay, straight…you'd choose now.
"Or maybe two years ago," he concluded to laughter.
During the two-day summit, attendees discussed how to advance community leadership in today's society, participating in guest lectures and group breakout sessions. Other high-profile guest speakers at the summit included Olympic fencer Ibtihaj Muhammad, singer Janelle Monae, and bestselling author Tara Westover.
Mario Mazic was an attendee and is part of the inaugural cohort of Obama Foundation Scholars at UChicago. The program combines a Master of Arts degree from the Harris School of Public Policy with a scholarship covering tuition, expenses, and opportunities to pursue civic engagement outside the classroom.
Mazic is the founder and program board president of Youth Initiative for Human Rights Croatia, a non-governmental organization that supports victims of human rights abuses in areas affected by war. He discussed his hopes for his Obama Foundation Scholarship experience with The Maroon.
"I think it's very valuable to have an opportunity to dedicate some time to actually thinking and planning what I'm going to be later," he said. "Because what we often miss in civil society is actually the time to sit down and think about the approach."
Upon graduation, Mazic plans to return to Croatia and advocate for a stronger judiciary and presence of the rule of law in his home country.
The summit also featured a variety of other speakers including Diane Guerrero, an Orange is the New Black actress and ardent immigration activist whose undocumented Colombian parents were deported from the U.S. when she was 14. Fatima Zaman, also an Obama Foundation Scholar at the University of Chicago, shared her work with combating violent extremism in her home country of the United Kingdom. 15-year-old Esperanza Rivera discussed her experiences with 826CHI, a non-profit organization that amplifies Chicago's youth voices through creative writing.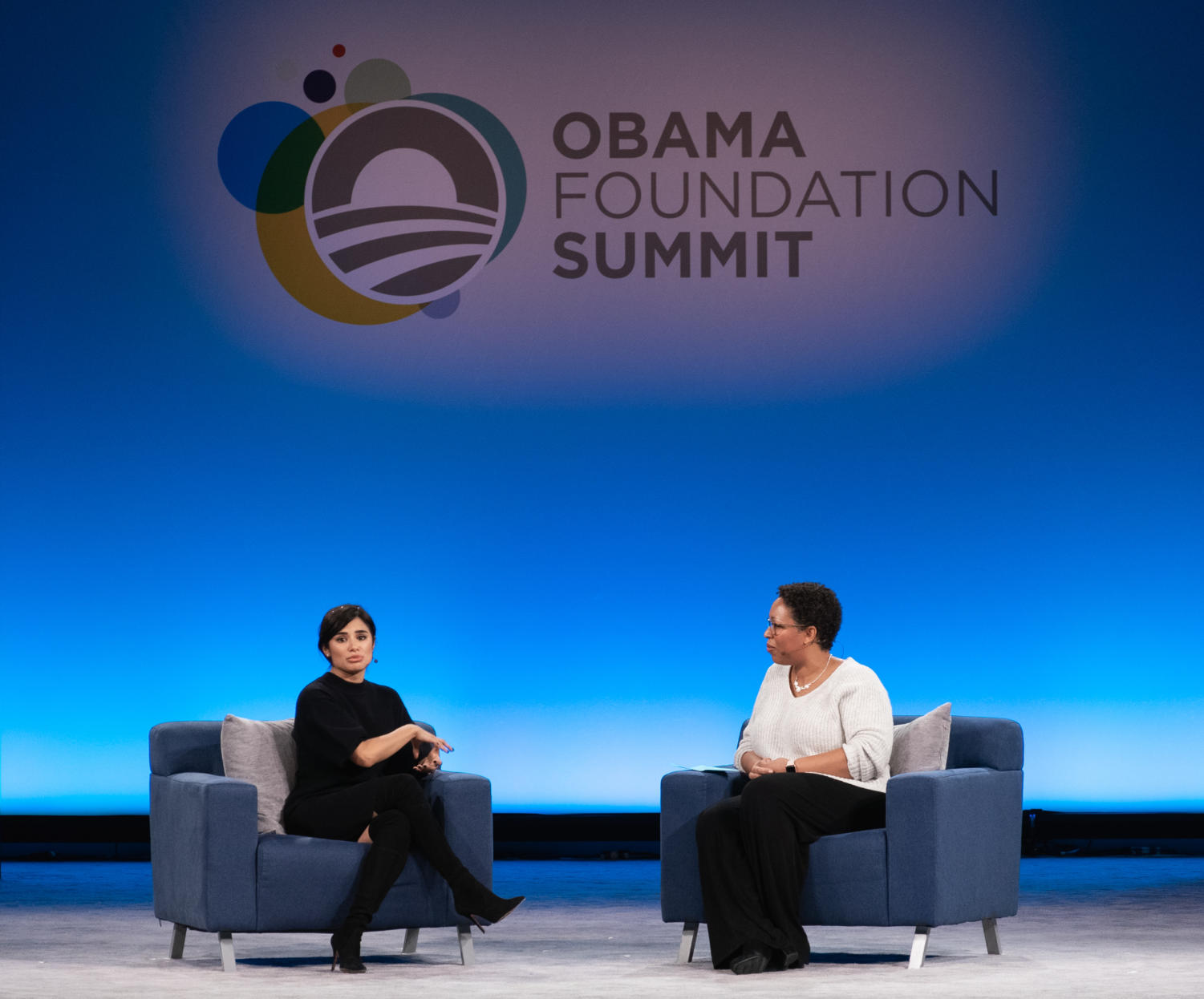 National Poet Youth Laureate Patricia Frazier performed three original spoken-word poems chronicling her personal experiences in Chicago. One memorable piece decried negative media portrayals of the South Side, titled "71st and Wabash," the location of the first apartment she moved into.
"Since I moved here I walk twice as fast/ because of what my family tells me/ about this patch of Chicago land, a city/ caught in the wrong throat. I walk like I don't/ know how quickly saliva decomposes. like/ I don't know how quickly a mouth can swallow/ a whole people before even checking/ for nutritional value."