A "Familiar" Tale of Family and Love
"Hilarity and drama ensue" as a family attempts to perform a tradition wedding ceremony.
Not everyone comes from "one big happy family." Every family has their own baggage and their own burden to bare. This imperfectness is perfectly portrayed in Danai Gurira's Familiar, now playing at the Steppenwolf Theatre Company.
A Zimbabwean-American family gathers at their comfortable suburban home in Minneapolis to prepare for the marriage of Tendikayi and Chris. The matriarch of the family, Marvelous, seems intent on keeping signs of their Zimbabwean heritage out of the household, surrounding her children, Tendi and Nyasha, with American culture.
But the family is thrown for a loop by the sudden arrival of Anne, Marvelous's sister, who insists on performing a traditional Zimbabwean wedding ceremony that involves the groom bartering for the bride. Hilarity and drama ensue as tensions rise and family secrets come to light.
Best known for her roles as Michonne on The Walking Dead and General Okoye in Black Panther, Gurira is also an accomplished playwright. Her play Eclipsed was nominated for a Tony Award for Best Play in 2016. In her latest play Familiar, Gurira crafts a domestic drama that addresses complex questions of both familial and cultural identity.
There is something recognizable about every member of the Chinyaramwira family, from the parent who desperately tries to assimilate into American culture, to the tipsy aunt who won't take sides in family conflicts. Though the script is filled with petty squabbles and daily routines, the subtle, humorous tensions take a while before they boil over into legitimate drama: most notably, the constant back-and-forth of swapping a wreath for a giant map of Zimbabwe when Marvelous isn't looking. Gurira does a good job of capturing universal family themes while keeping it very specific to Zimbabwean-American families, offering insight into traditions with which most audiences presumably aren't familiar.
Realistic set design and astute costuming complement the acting and direction. The stage is set with a very much lived-in house, complete with pictures lining the staircase; a messy but mostly hidden kitchen; and a partially obscured dining room with food for the wedding ready to be picked up at any second. Perhaps the most intriguing part of the set is a clearly visible second-story window leading into Marvelous and Donald's bedroom, through which we can occasionally see Marvelous having her own moments. Much like in a real house, we are given a sense of space such that when the family members leave the room, they are never really far away. Costumes by Ntokozo Fuzunina Kunene capture the personalities and attitudes of the characters, most significantly Anne's loud and colorful dress that take cues from traditional Zimbabwean fashion.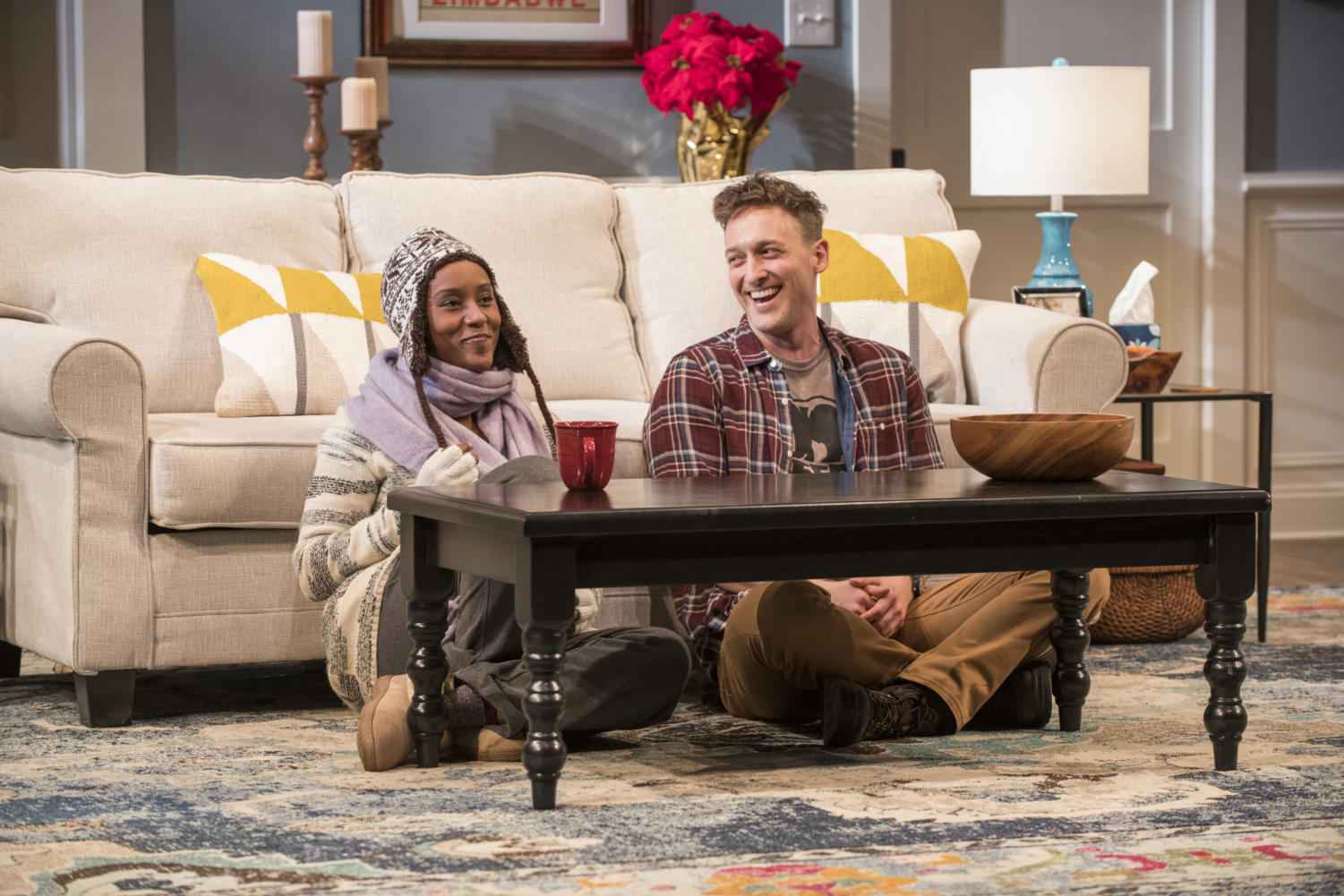 Celeste M. Cooper and Lanise Antoine Shelley as Nyasha and Tendikayi give subtle yet effective performances; they artfully present their characters' inner conflict between their Christian upbringing and their Zimbabwean heritage. Chris is more of a background character who almost acts as an audience surrogate along for the ride, but Erik Hellman gives us a sympathetic—and a bit in over his head—man who is truly happy to join the family. As Chris's well-meaning but "a little brash" brother Brad, Luigi Sottile pulls off some of the funniest moments in the entire show. Sottile perfectly portrays the over-the-top younger brother who tries his best without always succeeding, but he is also given a chance for more subdued moments.
But the most powerful performances come from the adult sisters and the husband of the family. As the fiercely traditional Anne, Cheryl Lynn Bruce has the challenge of making the case for following family tradition. Her sometimes-frivolous attention to detail in the ceremony is always entertaining, but her fear that her family is losing touch with its culture is heartbreaking. Ora Jones captures a stern but loving immigrant, Marvelous, who has spent her life trying to assimilate in order to avoid the heartbreak she associates with her homeland. Donald, played by Cedric Young, is the typical father-figure who seems almost uninvolved in the drama as it ramps up, befriending Chris and Brad and comforting his daughters when called for. The audience may be surprised when he gives an impassioned monologue towards the play's closing that captures his own inner tensions with the family's loss of identity.
Under the careful direction of Danya Taymor, this production succeeds in giving the audience a voyeuristic view of a family in the middle of a major event. As a domestic drama, it would be very easy for the play to become a bunch of people in a room talking to each other. Under Taymor's direction complemented by keen design elements and careful casting, not a single moment in this play drags as the audience ponders if the family will be able to resolve their drama.
The story at the heart of Familiar is uniquely Zimbabwean-American, and any audience member will benefit from learning about the culture. At the same time, the play's Zimbabwean family could very much be any immigrant family living in America, going about their day-to-day lives while coming to terms with their own identity. We are given the unique position of watching a very important day, where tensions flare and conflicts are unearthed and not everything wraps up neatly. But in the end, everyone comes together for the sake of the family.
Now, doesn't that sound familiar?