Fired Lab Schools Teacher Claims Anti-Gay Discrimination Over Texts, Admin Retaliation
Daniel Bobo-Jones charges that the administration retaliated for his earlier complaint of discrimination on the basis of sexual orientation.
A teacher recently fired by the Lab Schools believes he was dismissed in retaliation for claiming the school administration committed anti-gay discrimination by scrutinizing his texts with a student. The administration told faculty that he was terminated for falsifying a grade and for an alleged FERPA violation.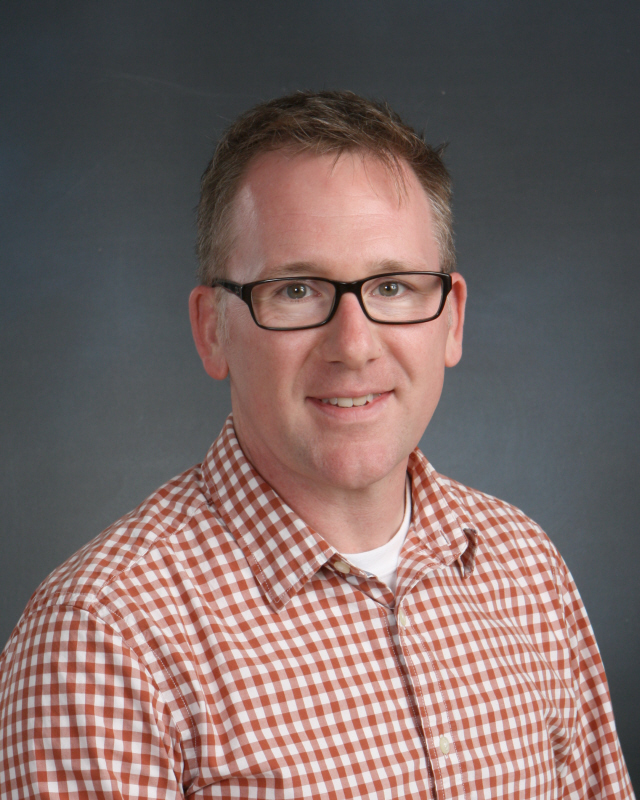 Daniel Bobo-Jones, a widely-beloved high school biology teacher at the Lab Schools for over 13 years, was fired in early January. He had filed a complaint with the Equal Employment Opportunity Commission (EEOC) two weeks before his termination, for an incident in which he claimed the principal insinuated that his text exchanges with a male student could have been sexual in nature. The teacher has since filed a federal complaint alleging that his firing represents retaliation for filing the earlier complaint.
Shortly after Bobo-Jones's termination, the Faculty Association, the union representing the Lab Schools' faculty, submitted a complaint to the National Labor Relations Board, claiming the administration retaliated against Bobo-Jones for a separate incident in which he publicly criticized Lab Schools director Charles Abelmann.
The union, in a memo to faculty members, said that it also filed a grievance with the Lab Schools administration for violating the union's collective bargaining agreement by firing Bobo-Jones without just cause.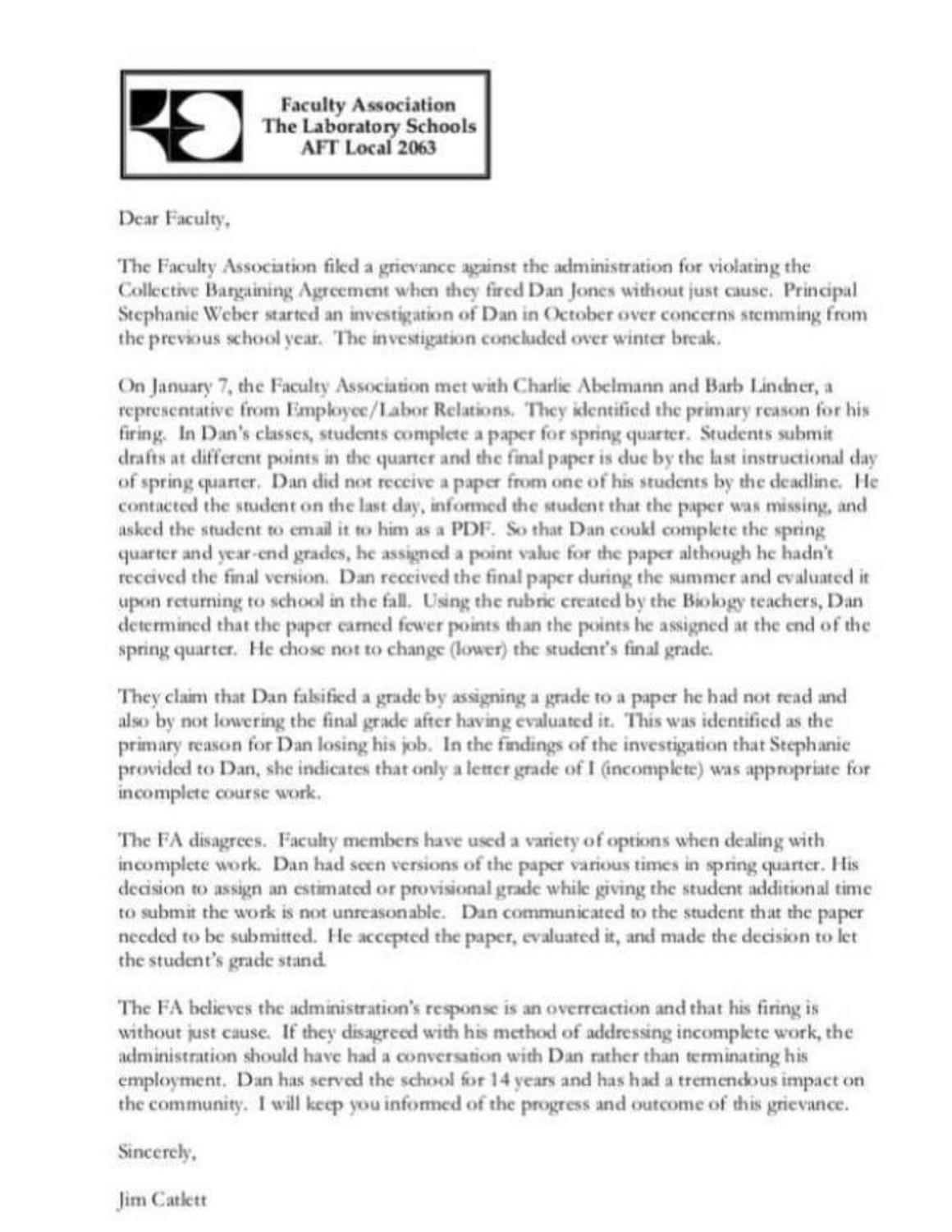 According to the union's memo, administrators claimed that Bobo-Jones wrongly assigned a letter grade to a final assignment that had not been turned in, so that he could submit a final grade for the student. The union defended Bobo-Jones in the memo, saying that "faculty members have used a variety of options when dealing with incomplete work," and suggested that Bobo-Jones's decision to put down a provisional letter grade was not inappropriate as he had seen drafts of the final assignment.
A statement released by the high school faculty on Tuesday said that Abelmann, in faculty meetings and e-mails, attributed Bobo-Jones's termination to allegedly falsifying a student's grade and to an alleged "violation of FERPA" for asking a student to remind his classmate to hand in a paper. FERPA is a federal act that protects the privacy of student records.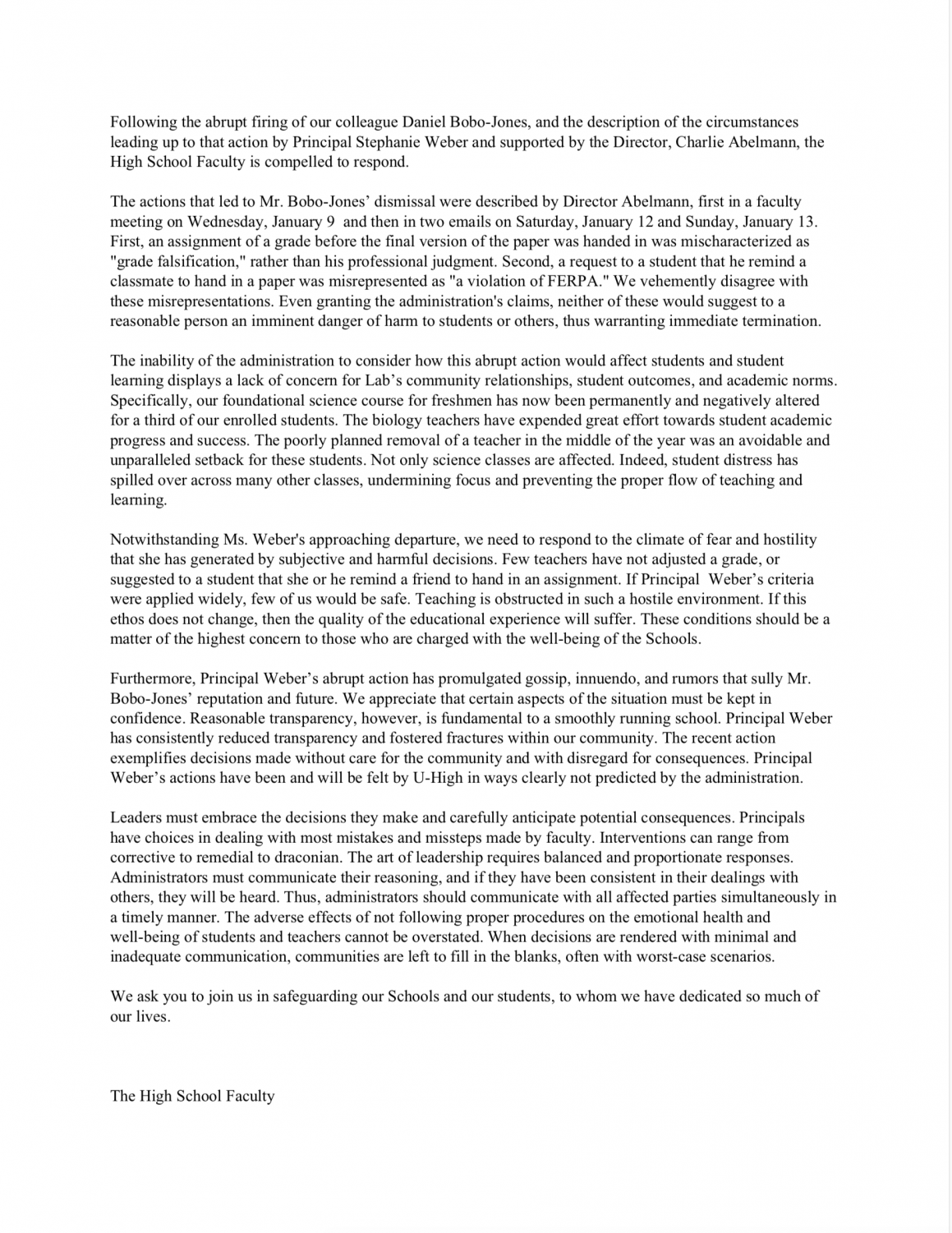 In the statement, the faculty also defended Bobo-Jones, stating that Abelmann has misrepresented Bobo-Jones's actions and that termination was too extreme a measure.
Bobo-Jones told The Maroon that he believes the administration's scrutiny of him is not about grade falsification. He said that, in October, the Lab Schools high school principal Stephanie Weber confronted him in a faculty meeting about the student whose grade is under question. Bobo-Jones said that instead of asking about the grade, Weber instead asked whether Jones was texting the student. Bobo-Jones said that, though he was texting the student to discuss assignments, most faculty members also texted their students.
"No other single teacher at Lab has ever been asked about texting except for me, and I'm one of a handful that are openly gay," he said. That, in addition to what Bobo-Jones saw as Weber's "insinuation that something possibly sexual was going on" with the male student, led Bobo-Jones to believe that he was being discriminated against for his sexual orientation. He then filed a charge with the EEOC claiming discrimination.
The Maroon spoke to a current student and a recent alumna who said that Lab teachers do not commonly text students outside the context of extracurricular activities or trips. The current student also said that the administration began to "crack down on" texting between teachers and students this school year.
In Chicago's public schools, texting has been increasingly scrutinized in recent months. Over the summer, the Chicago school district, in response to the revelation of its systematic failure to address student sexual abuse cases, enacted new rules aiming to better protect students, including a policy that bars teachers from texting students.
Asked why Bobo-Jones was fired and whether Bobo-Jones's characterization of the October faculty meeting is accurate, Abelmann did not explicitly address the claim of retaliation nor the October incident. He said in a statement that Bobo-Jones's termination was "a well-considered decision based on a number of problematic issues, including some related to academic integrity and professional responsibilities."
"[Bobo-Jones's] claim that his departure was related to any other issue is absolutely untrue," the statement continued.
Students have expressed anger over Bobo-Jones's departure. Many have hung posters around the school claiming the administration is not responsive enough to students, and have also spread an online petition to reinstate Bobo-Jones. Parents have voiced concerns, including that the abruptness of the firing will affect students' mental well-being.
In the wake of the firing, the high school faculty voiced opposition toward Weber. In their statement, they said she has generated a "climate of fear and hostility…by subjective and harmful decisions."
This is not the first time Weber has been subject to faculty criticism. In 2017, the Lab Schools under Weber did not renew the contract of a young science teacher. The decision, which many faculty members claimed they had not been consulted about, prompted the then-faculty chair David Derbes to resign in protest.
Weber announced in late November that she will be leaving the Lab Schools after this school year.
According to the U-High Midway, the union has given Abelmann a deadline of January 28 to respond to its grievance. If Abelmann chooses not to reinstate Bobo-Jones, the union will have until February 4 to send a letter to the administration asking for a ruling from a private judge.