Student Government Begins Stocking Free Pads and Tampons
Free pads and tampons are now available in the A-Level vending machine as part of an SG initiative that has been several years in the making.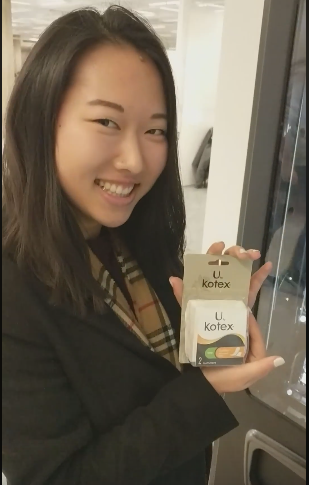 Students can now access free tampons and sanitary pads through a vending machine on the A-Level floor of the Reg, Student Government (SG) announced in a Facebook post on Wednesday afternoon.
The project is sponsored by the current Executive Slate: SG's president, third-year Sat Gupta; vice president for administration, third-year Natalie Jusko; and vice president for student affairs, second-year Malay Trivedi. Library facilities manager John Carey worked with them to plan and advertise the program.
Mark Vend, the supplier for the Reg's vending machines, is providing the tampons and sanitary pads and restocking the machine. Mark Vend will supply the products for free during its first month, Gupta said, as the company collects data on student usage. After that, Executive Slate will use their earmarked discretionary funds to fund the program for the remainder of the academic year. They expect the program to cost a few hundred dollars each month, according to Gupta.
He added that the Slate hopes to include the program in next year's SG budget in order to make it permanent.
The program is a long time coming. It follows an SG initiative spearheaded by Gupta during the 2016–17 academic year, when he was Class of 2020 College Council Representative. In spring 2017, University administration agreed to pay for tampons and sanitary pads to be placed in the Reg, Harper, Reynolds Club, Saieh Hall, and Ratner Athletics Center, but did not take a role in replacing the supplies.
"The fact that I had to [replace the supplies] all on my own was a bit much and meant the program was not as sustainable as we originally intended it to be," Gupta said on Thursday.