Mick Jenkins's Poetics Are a Concert Downer
Song after placid song, the audience was driven to a weary lull from which Jenkins struggled to regain their lost energy and enthusiasm.
There is no doubt that Mick Jenkins is an exceptionally talented lyricist and rapper, but when it comes to performing, he unfortunately lacks the charisma and magnetism needed to be a stimulating entertainer. Concluding the last leg of his Pieces of a Man tour at Thalia Hall on February 2, Jenkins asked his audience at the end of his set, "Y'all have a good time under the sound of my voice?" Although an odd turn of phrase, it accurately describes the tranquil means by which Jenkins performs his music. Jenkins's raps are soothing, relaxing—comforting even—almost as if his voice were a large blanket enveloping the audience in one warm embrace. And yet, song after placid song, the audience was driven to a weary lull from which Jenkins struggled to regain their lost energy and enthusiasm.
Basing the title of his latest album Pieces of a Man on Gil Scott-Heron's album of the same name, Jenkins seems to be taking musical inspiration not only from Scott-Heron himself, but also from blues, jazz, and poetry in general—and it shows. Seeing Jenkins live is like being at a smoky jazz club or an open mic. The opener "Stress Fracture" is perhaps the most emblematic of his work, combining a jazzy instrumental with brooding raps about his insecurities and inability to be truly vulnerable. Meanwhile, songs like "Reginald" and "Grace & Mercy" are full of punchy raps, and Jenkins took great care to deliver each line with the right vitality and spirit. The live instrumentation provided by Jenkins's band was critical in adding extra weight to Jenkins's already powerful lyricism. Every fierce drum beat and cymbal clash strongly accentuated Jenkins's articulation, such as on "Ghost" and "Reginald."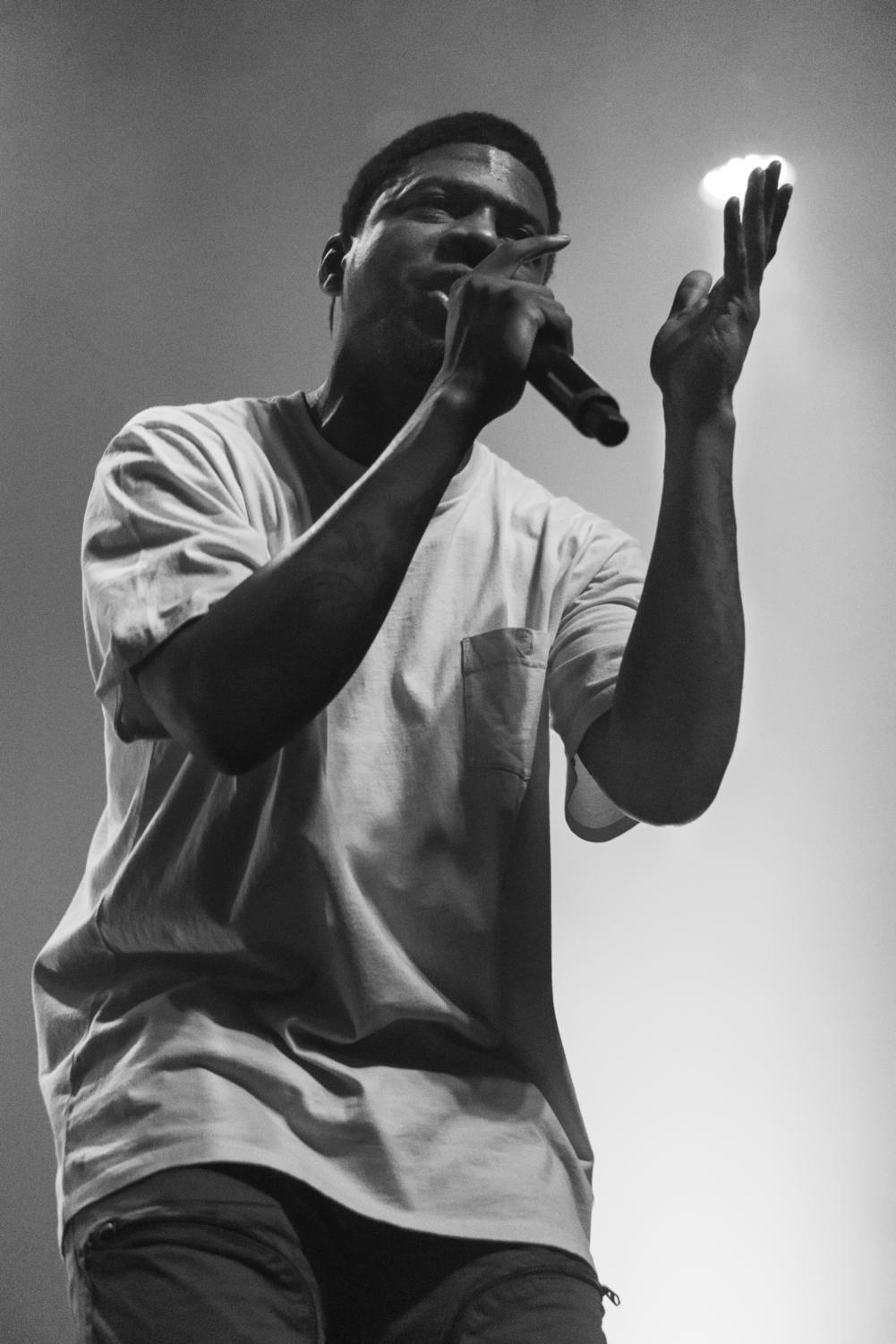 It is no wonder then that Jenkins is a poet himself, with his raps acting like introspective meditations rather than upbeat club hits. Following his debut album The Healing Component, which explored the various ways in which people understand and define love, in Pieces of a Man, Jenkins turned his analytical lens onto himself. The album is a self-reflection whereby Jenkins tries to discover for himself what makes him Mick Jenkins, deconstructing his identity via his culture, career, and upbringing. On stage, Jenkins explained that in any given interaction with a stranger, one only sees a specific piece of that person based on a first impression. These impressions are typically terrible representations of a whole personality and, as such, Jenkins rallied the audience to keep an open mind with new people.
Keeping this in mind, I'd like to believe that behind the monotonous performance I saw last week lies a performer of enormous talent. Jenkins is definitely a creative wonder, as evidenced by his poetic, resonant lyrics. In fact, the more I listen to the album, the more I wish I had listened to it at an open mic where there would have been a more fitting atmosphere and a more receptive audience. Numerous times throughout the night, Jenkins approached his DJ trying to find a song that would turn up the crowd, to regenerate that same level of excitement as when he had first walked on stage. Alas, Jenkins's raps failed to rouse or inspire as he meant for them to do, with his poetic musings being completely lost on his somnolent audience. Pieces of a Man is a terrific listen, but you might want to find it on Spotify rather than listen in person.