The lights dimmed. The crowd buzzed with excitement as 18 people filed on stage, taking position in a formation that grew steadily into a formidable huddle. They bowed their heads, visible only by the electric blue shards of color punctuating their outfits. The lights came up and they snapped to attention, launching into their 12-minute set comprised of Rationale's "One by One," Fleetwood Mac's "The Chain," and a mashup of "breathin" by Ariana Grande and "Last Hope" by Paramore. This was the Ransom Notes' opening at the Great Lakes Quarterfinal of the International Championship of Collegiate A Cappella (ICCA). Placing second place, the Ransom Notes earned a spot in next month's semifinals. Along with Run for Cover and Rhythm and Jews, the Ransom Notes was one of three UChicago a cappella groups competing that night.
Gaby Sterkowicz, a second-year member of Unaccompanied Women (UW), said that she always knew a cappella was the activity for her. "I stumbled across collegiate a cappella on YouTube in the middle school," she said. "Before I was even thinking about where I wanted to go to college, what I wanted to study, what I wanted to do, I was thinking, 'I want to do that!'"
Sterkowicz even went so far as to research the audition process before coming to UChicago. She went on, "I always knew that I wanted to do a cappella really seriously because I've been singing all my life. It's my thing. And I wanted to not let go of it once I left high school."
Sterkowicz isn't alone in using collegiate a cappella to stay involved with music. Ben Donvan, a fourth-year and a member of Run for Cover, echoed her statements: "I was looking for a group to sing with, cause I'd done a lot of musical theater in high school and also some choral singing. A cappella is very different from both of those, but it was a kind of a way of continuing to sing."
This is a year in the world of UChicago's a cappella scene, from auditions to the national competitions that define the groups' years.
From nearly the moment students arrive on campus, a cappella groups are recruiting their newest members, starting with a showcase the evening of the first day of the quarter. From there, the audition process begins almost immediately, with members posted outside the doors of Mandel Hall, encouraging students—especially first-years—to sign up for auditions.
Third-year Rebecca Koppel, who sings in UW, explained that each group designs their set to give prospective members a sense of their identity and style. "Each group performs a small set, like two songs that represent who they are and their repertoire, and we think of that as a really good opportunity for incoming students and people interested in auditioning to get a sense of all the groups," Koppel said.
Over the next two days, Tuesday and Wednesday, all eight groups hold auditions—often in the same building. This allows students to go from audition to audition. Koppel noted, "It's pretty common for people to audition for at least two groups, if not a handful of them."
"We definitely recommend people audition for multiple groups," she added.
With so many different groups and goals, UChicago appears to have one of the more vibrant and diverse collegiate a cappella communities, especially given its modest size. Ransom Notes, Rhythm and Jews, Run for Cover, and Unaccompanied Women are joined by Chicago Aag, Make a Joyful Noise, Men in Drag, and Voices in Your Head (Voices) for a total of eight groups. Each group has different styles and aims. Run for Cover is an all-male group that focuses on covers of contemporary music, while Aag and Rhythm and Jews seek to blend Western music with South Asian and Jewish music respectively (although they are open to students of all backgrounds). Men in Drag uses its performances to challenge traditional gender roles, and UW, at 30 years old, is the oldest women's group on campus.
Saoirse Ryan, a third-year student and assistant musical director of Ransom Notes, only realized how robust the UChicago a cappella scene was when she looked at other campus music cultures. "UChicago is such a big place for a cappella. I didn't really realize that until I was talking to my friends at other schools," Ryan said.
According to Koppel, the audition process varies from group to group but tends to follow the same general pattern. Auditions last about seven to 10 minutes, and cover tasks like warm-ups, matching pitch, and sight reading, before auditionees perform their prepared solos.
By Wednesday night, all eight groups submit the callback list to their governing body, the A Cappella Council, or Aca-Council. Aca-Council is made up of two voting representatives from each group, overseen by a president and vice president—currently Koppel and third-year Lauren Torian of Voices. The Aca-Council then devises a callback schedule for the next two days.
The auditionees are done, but the hard work of "arbitration" still remains for the groups. Saturday morning, three representatives from each group meet with the president and vice president of Aca-Council to negotiate who gets placed in what group. Koppel compares it to the matching system for medical residency, where auditionees are placed into the group they've ranked highest out of the groups that take them. With only eight groups and a steady increase in interest over the past few years, auditions are competitive. UW had a record number of auditionees this year, and hosted 20 callbacks.
Besides the first-week showcase, regular concerts take place throughout the year. Most groups try to host quarterly or biquarterly concerts, including Arch Sings, which Koppel describes as small, half-hour concerts for people passing by. These often happen under Hull Gate, which has "really beautiful acoustics." Groups also team up with one another for these concerts: Run for Cover and UW are one of the more frequent collaborations on campus.
Several groups also host seasonal concerts, such as Voices' "A Very Voices Christmas" event, which blends Christmas carols with a set of Voices' standard repertoire. Voices puts its own spin on the traditional Arch Sing with its "Bart Sing," a collaborative performance with Brown University's The Higher Keys at the entrance to Bartlett Dining Hall.
Groups also release albums every few years: Men in Drag released Medusa Complex in 2016; Unaccompanied Women released Ampersand in 2017; Run for Cover released Dawn in 2018; and Voices released Begin Again this January. Ransom Notes released Blueprint in 2017 and plans to start working on another album later this year, according to fourth-year student and Ransom Notes president Sharbel Romanos.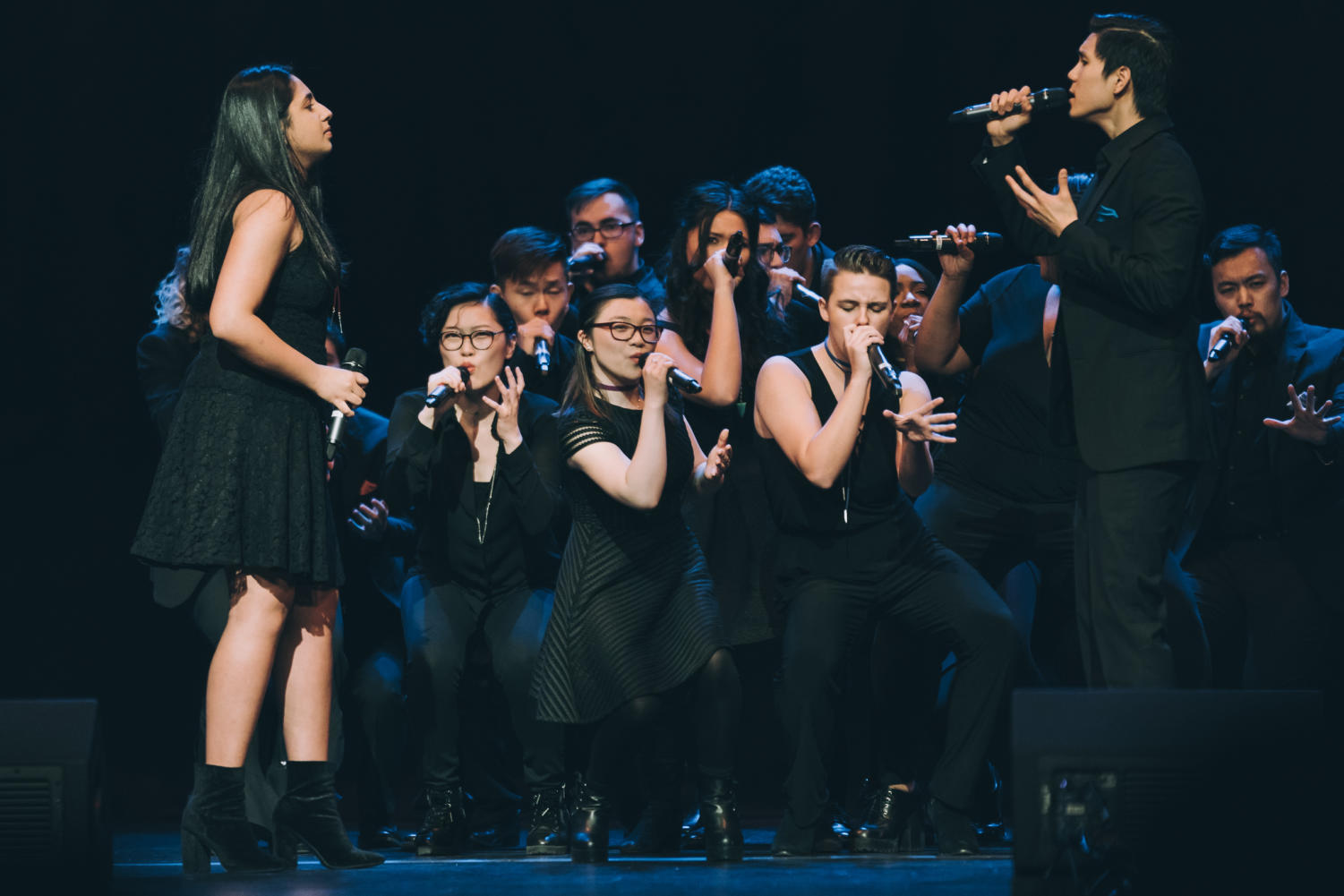 And then of course, there's the ICCA, the event that inspired the 2012 blockbuster Pitch Perfect, which has gone on to shape the perception and popularity of collegiate a cappella all over America. According to Newsweek, in 2015 ICCA finals sold out in a few hours, and the number of groups had increased tenfold—this is known as "the Pitch Perfect effect." Sterkowicz said, "I do get a little annoyed when I tell people I'm in an a cappella group and they say, 'Oh, like Pitch Perfect?'" She feels that "it's very much sensationalized. It doesn't represent all the hard work." UChicago groups frequently compete in the ICCA—Voices advanced to the final round in 2015, 2017, and placed third in 2018 for their entirely original set. This year, Ransom Notes is headed to the Great Lakes Semifinal for the first time ever.
As much work as the groups put in during the school year, preparing for ICCA is a step up, and "in the past has been a more stressful time," Romanos said. "During the year we have three rehearsals a week that are two hours, and then we like people to meet within their own voice sections…an hour or two extra on the side. We added one or two extra rehearsals a week that were two to three hours…and choreo rehearsals on Saturdays [to prepare for ICAA]."
Between weekly rehearsals, concerts, showcases, and group retreats, the groups become exceptionally tight-knit.
"Words don't suffice [to explain how close we are]…. We go through a lot of tough times, a lot of great times and when we're rehearsing almost every day, you're bound to see everyone at every single emotion," Romanos said.
Romanos studied abroad last quarter and says that when it came to rejoining a new iteration of the group, "I was scared. They're already a family, right? But within two, three weeks I felt as close to them as I did with almost everyone else in the group."
Sterkowicz noted that singing specifically and working in "excruciating detail" during rehearsals brings members closer together: "We do an exercise where…you have to exactly match the shape of your mouth…to create exactly the same sound…. So inherently you're going to form really close bonds with the people you sing with," she said.
After auditions conclude, the groups welcome their new members in their own fashions. New members of UW, called "New Dubs," are treated to dinner at Nando's and Chicago's largest ice cream sundae at Margie's Candies. Voices in Your Head welcomes its newest additions by going on a weekend retreat to bond, learn music, and discuss a cappella history. Run for Cover makes an early morning trek to the Point to watch the sunrise and make s'mores.
Participants also find a cappella to be a reprieve from the pressures of school. Koppel said, "Being a UChicago student can be tumultuous and hard at times, but I feel like I personally have been able to turn to the community as a great support structure."
Despite their positive view of the community, the groups are already looking ahead for ways to improve it. Koppel explained that Aca-Council has been working on bringing the groups together more, organizing a pizza party and mixer, as well as helping to plan collaborative concerts. Other singers also share Aca-Council's vision of a more active and unified community: Romanos mentioned his and Ryan's hope of adding another showcase: "I was thinking of…a showcase in the spring, not just [to say] 'this is our group,' but 'this is our community of a cappella on campus.'"
Reflecting on changes in the community over the last four years, Romanos commented that "it definitely has improved so much from my first year, with groups hanging out with each other and people knowing of other groups' events and supporting each other much more."
Even so, Aca-Council is continually looking at ways to connect with wider audiences. As the council vice president, Koppel said, "I would love to open ourselves up to the Chicago community more…. The people who show up for many [concerts] will be direct friends of people who are performing or people in other groups supporting them.
Of course, this is an ongoing process. "The best feeling in the world is when you have a big concert turnout, so it'd be great to increase our outreach to the student body in general and get more support," Koppel said. "But I think that's been a work in progress and is improving."
A cappella has a lot to offer its members: the chance to keep music in their lives, a break from the stress of classes, and a support system of peers. But as an introduction to the music scene on campus, and more broadly, as a model for extracurriculars, it offers a lot to the general student body too. As interest in a cappella expands, so do the possibilities for creativity and experimentation. "It's a really open art form. That uniqueness gives you freedom to explore and innovate," Koppel said. "There are so many possibilities for what a group can do and what their goals can be—what they make of themselves."