Preckwinkle, Lightfoot Talk Consent Decree, Policing Reform at Campus Forum
The candidates agreed on the need for more police training, but appeared to diverge on the future of current superintendent Eddie Johnson.
Mayoral candidates Lori Lightfoot and Toni Preckwinkle debated the fate of police superintendent Eddie Johnson regarding his handling of the Laquan McDonald shooting, and other issues pertaining to the Chicago Police Department (CPD) at the Chicago Public Safety Forum, held on campus on Wednesday.
Lightfoot and opponent Toni Preckwinkle took the stage at the Logan Center for the Arts for the event, which was cohosted by the Institute of Politics, the Harris School of Public Policy, and the University of Chicago Crime Lab. Chicago Sun-Times columnist Laura Washington moderated the forum for the two candidates as they appeared separately for back-to-back 45-minute segments.
Both candidates brought up the importance of rapidly implementing the Chicago Police Consent Decree, a binding document that mandates preventative measures against civil rights violations, like increased officer training and independent oversight. The Illinois Attorney General's office drafted the decree after a Justice Department investigation revealed civil rights violations by the CPD. A federal judge approved it in January.
Preckwinkle didn't mention the recent scandals, such as the Laquan McDonald case, that have implicated CPD other than to stress the need for systemic change within the police department. However, Lightfoot emphasized her priority as mayor would be to support the CPD as it prepares for anticipated summer violence, rather than dismantle its leadership.
"One of the questions and narratives that's been part of this campaign is 'what about Eddie Johnson? What are you going to do?' And I've resisted frankly pandering to the crowd because the police department obviously needs to stay on its mission of serving and protecting us," Lightfoot said. "So I do not believe that it's appropriate to be talking about Eddie Johnson's fate when all those things [lie] before us and they have to stay focused on their mission." Preckwinkle had previously promised to fire Johnson over the cover-up that took place surrounding the shooting of Laquan McDonald.
In the opening remarks, Crime Lab director Jens Ludwig emphasized that pervasive gun violence is a potential threat to Chicago's future since it drives depopulation. Afterward, three experts on crime and public safety questioned Lightfoot and then Preckwinkle on issues ranging from police reform to poverty. The experts were Liz Dozier, CEO of social impact investment company Chicago Beyond, journalist and documentarian Alex Kotlowitz, and former Philadelphia and Washington, D.C. police commissioner Charles Ramsey.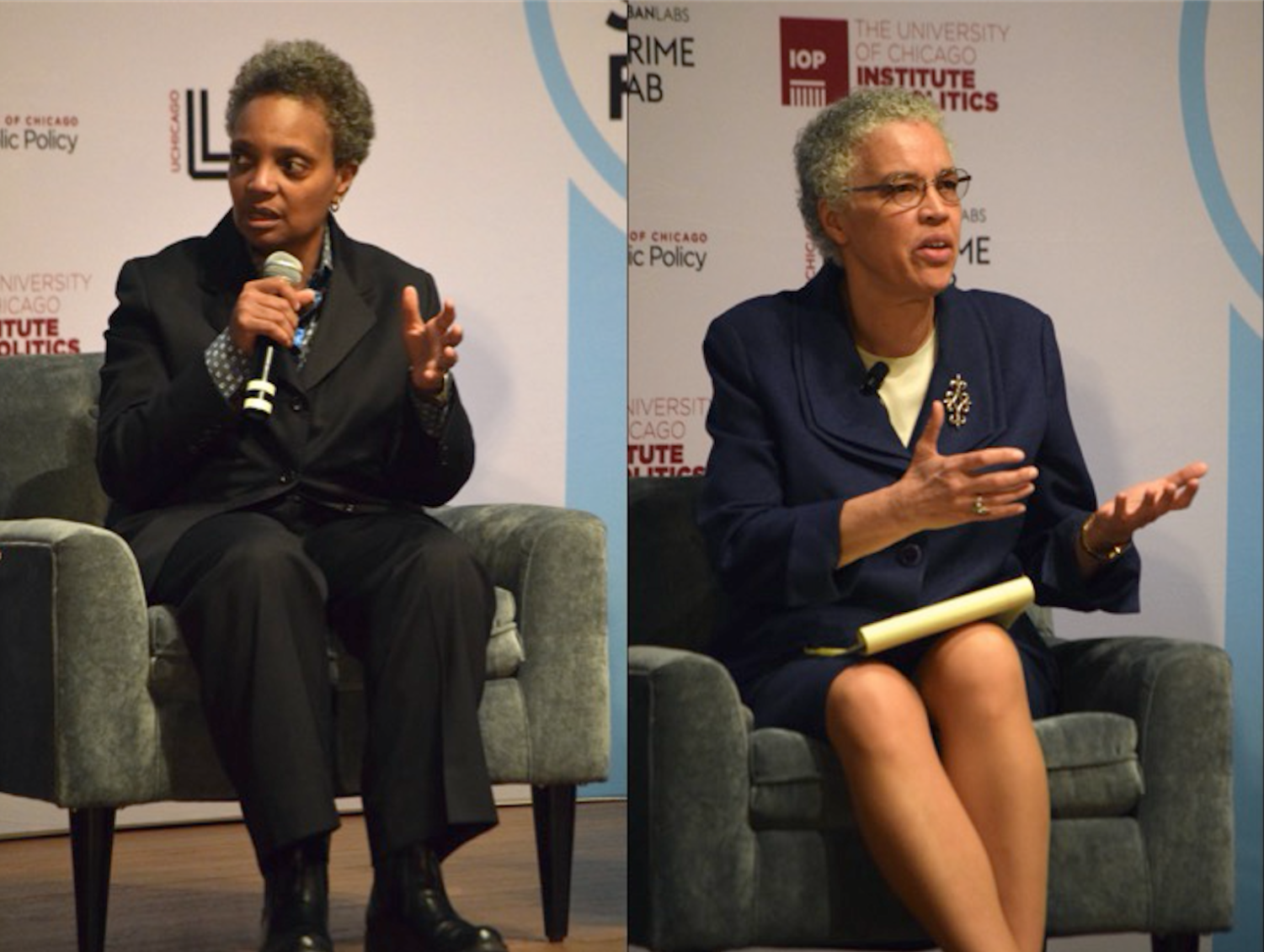 In response to a question about the high suicide rate among Chicago police officers, Lightfoot also declared her support for more resources for officer wellness. She cited a peer assistance program as a possible initiative, explaining that a greater investment in officer well-being would lead to better policing.
"The most important asset that the police department has is its people. We would never have another organization structured like that where the assets are the people where we invest so little in not only their professional development but their health and well-being," Lightfoot said. "Now that's not popular in a lot of circles, but if we don't do that it is going to have real consequences in how these folks perform in discharging their duties every single day on the street. It's in the benefit of the community that we have a good, well-trained, and healthy police department."
Lightfoot and Preckwinkle both discussed the importance of creating trust between communities and the officers who police them, and of giving neighborhood residents a voice in public safety decisions that affect them. Preckwinkle mentioned expanding and diversifying the detective corps as ways to do this, as well as reinvesting in community policing.
"When I was elected alderman in the '90s we invested a considerable amount of money in community policing. We don't do that anymore," Preckwinkle said. "And that was an opportunity for community residents to meet police officers as human beings and police officers to meet community residents, and to share information."
Although both candidates emphasized the need for more and improved police training, as well as a new training facility, each expressed reservations about outgoing mayor Rahm Emanuel's plan to build a new police academy in West Garfield Park. City Council voted to approve a construction contract for the academy earlier on Wednesday.
Preckwinkle questioned the proposed $95 million price tag for the academy, while Lightfoot pointed out that the plan had been made without proper community consultation.
"What we're talking about here is 98 million. It's not going to be 98 million. If you're going to do it right, it's going to be far more than that," Lightfoot said. "It's not just the police academy, it's about we're going to make an investment in this really, really poor West Side neighborhood where tensions between the community and the police are fraught. There hasn't been a plan to think about how that investment could actually spur other economic development in that area that desperately needs it."
Lightfoot and Preckwinkle also agreed that the mayoral Office of Public Safety should be expanded, and that there should be more people to help coordinate resources between departments whose public safety duties might intersect, such as those of the CPD and Chicago Public Schools.
"The communities that suffer most from violence have a multitude of challenges. Violence is one of the many symptoms of the challenges that they face," Preckwinkle said. "There are high levels of unemployment, there's under-resourced schools, low levels of education attainment, they're often food deserts, places where people don't have good access to healthcare. We have to address the multifaceted challenges that these communities face."
The conversation later turned to the root causes of Chicago's gun violence epidemic. Preckwinkle cited Chicago's unique levels of racial segregation and its link to poverty as one reason for the violence. Lightfoot touched on the relationship between poverty and violence as well.
"People are living in shamefully unacceptable conditions where frankly the illegal drug trade is the largest employer in too many neighborhoods. And when that happens, violence is going to follow," Lightfoot said. "We have to give people an opportunity to hope that they can dream beyond their current circumstances and more specifically to connect up with the legitimate economy because it actually exists in their neighborhood."
Preckwinkle pointed to the dearth of investment in Chicago's youth as a factor in producing crime, stressing that access to education and economic opportunity decreases violence.
"We live in a country that doesn't really value our young people. If we valued our young people we would keep our schools open from seven in the morning to seven or eight at night," Preckwinkle said. "One of the things we need to do is invest more in our public schools as an investment in our young people and diminishing violence."