Schulze Seeks Challenges
First-year Karina Schulze has found success, both on field and off, in leading the women's lacrosse team to a 12-2 record in the program's first-ever season.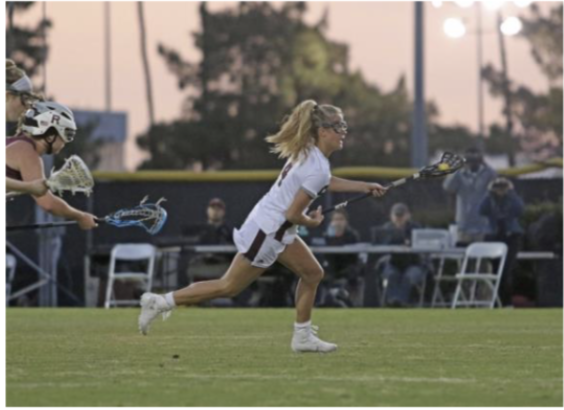 A UChicago athlete is one that excels both on and off the field. Karina Schulze, a midfielder for the UChicago women's lacrosse team, has already made a name for herself through her killer moves on the lacrosse field as well as finishing the Chicago marathon within the first week of school.
Schulze was first introduced to lacrosse by her mom, who had played lacrosse in college. Before she was even eight, she was given her first lacrosse stick and fell in love with the sport. She grew up learning the ropes of lacrosse with her sister as her first teammate. Managing school and sports comes naturally to Schulze. Throughout all four years of high school, Schulze was a three-season athlete. This lifestyle taught Schulze important life lessons like time management. Schulze explains, "[Sport practices were a] perfect time to take a break from school and get [my] mind off of the work waiting for [me] after."
Since then, Schulze has blossomed into a powerhouse on the field. She is a valuable asset for UChicago's women's lacrosse team. She was named the College Conference of Illinois and Wisconsin's (CCIW) Women's Lacrosse Defensive Player of the Week in March and has helped the Maroons to a 12–2 record. With wins over Elmhurst College (20–1), North Central College (19–9), and St. Mary's College (16–10), Schulze scored 11 goals, made four assists, nine ground balls, and 34 draw controls in just one week. Schulze has already been off to a strong start and has achieved something most seasoned players don't get to until their second or third years: passing 100 draw controls in only 11 games. Her favorite memory of the season was the challenge of the team's inaugural game in February. While bad weather heralded the start of their program, her team managed to dominate their opponents through their excellent chemistry. Reflecting on the future of UChicago women's lacrosse, Schulze notes that the team has the potential to "eventually become a strong competitor in the NCAAs" given their already-successful first-year program.
Some of the aspects of lacrosse Schulze enjoys are the "Competitive aspect of it as well as the friendships that are made because of the team."
First-year Kathleen Harrigan, Schulze's teammate, explains, "[Karina is the] ideal teammate, mainly because of her tendency to consistently get the job done. Whether it be on the draw circle or in the classroom, she always holds herself accountable for her responsibilities and exceeds expectations. Karina is fun to watch and somehow can make snatching a lacrosse ball out of the air with one hand look easy. Although I've only been her teammate for a little over half of a season, I can definitely say Karina is one of the best leaders on our team, on and off the field. She is someone you look to for motivation, as she is always full of positive energy, even when the whole team is feeling down. In the classroom Karina holds herself to a similar high standard, exceling in all of her studies. I can't wait to see what is in store for her in the coming years of this program. There is no one who deserves this recognition more than Karina!"
Outside of the lacrosse field, Schulze ran the Chicago Marathon this past fall. Even though she is not currently preparing for an upcoming marathon, Schulze describes the marathon as "one of the most amazing experiences along with the people who were there supporting and cheering the runners on every mile." She was able to accomplish it through her dedication and hard work, as she trained throughout the summer. Schulze also shared, "It was definitely hard at some points to keep running, but after passing mile 20 there was a huge crowd and with that support there was only the last six-mile push." Running 26.2 miles is no joke, and only a true athlete has the mental toughness and athleticism to push herself through every mile.
Schulze exemplifies athletic determination. Her experiences, on and off the field, have shaped her into an individual that looks to challenge herself in all aspects of life. Moreover, Schulze's passion for her team and desire to dedicate both her mind and heart to lacrosse serve as a reminder to athletes that community defines any athletic experience. While her time at UChicago has just begun, Schulze has already begun to cement herself as a student and athlete to be reckoned with.
Their schedule extends to early May, with a home game coming up on Saturday, April 27 against Carthage. Go out and support the UChicago women's lacrosse team. Good luck to them on the rest of their season!