Co-Coach of the Year: Becky Benson, Diving
Diving Coach Becky Benson is named The Chicago Maroon's Co-Coach of 2019.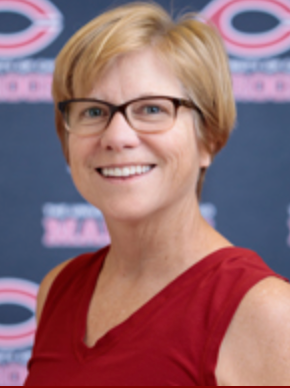 When Becky Benson got the opportunity to come to Chicago to continue coaching collegiately last year, she took it. Being the UChicago head diving coach and assistant director of aquatics, she works with an enormous team, but mainly focuses on a very small microcosm of that team: the divers.
Benson says, "University of Chicago is like no other university I have ever worked at, and I mean that 100 percent in a very encouraging, positive, and vibrating energy." She fits into the department nicely, with athletic director Erin McDermott and swim coach Jason Weber providing her with an environment in which she can succeed and do what she does best, which is helping young athletes become better both inside and out. As a former athlete, Benson states, "Diving for me has been a very personal journey, mirroring my life in terms of events, growth, and friendships. Essentially, you start out not knowing anything like a novice, just like you are in life. With good training and coaches who care about you, you can go as high as you are physically and emotionally able to go in the sport."
Benson has found the encouraging environment and support of the team to be incredible: "We just have a lot of fun; we work very hard. There is discipline, respect for me, there is self-respect and in that thought, we have learnt about each other. And learnt how to support and help each other. And we laugh an awful lot of the time."
This year, the women's diving team had an amazing season. The entire team qualified for the NCAA. Benson took four girls and had them compete for the limited number of places in which to qualify for the championship meet. Given the hard work, dedication, and commitment of the athletes and Benson, the four girls all placed in the top five and qualified. Benson recounts, "My image of them, hugging each other, just standing in front of the results board, with their fingers up with the place they came in was the best thing that's ever happened to me. Because it was a team goal and team achievement."
Reflecting on her time coaching at UChicago, Benson comments, "What I think is very important is that I am at a university, in an athletic and recreation department that values ethics and integrity to the utmost, that follows [its] philosophy without [deviating] from it. For the kids, it is going to be something magical and for the staff, it's going to be a really nice place to come every day. Also, thanks to Jennifer Coleman and her game operations staff for their enormous support. Without them, the swimming and diving meets do not get set up."
As a first-year coach, Benson has allowed the team to get to know her and trust her. Through this, she has formed a vision for the team. Benson says, "I told them at the beginning that we are going to jump off the current train we are on. It's plateaued and we need to exit. We need to jump on a whole new train." Just like Benson hoped, they did. They swept the conference. They scored the most points of any UChicago diving team at the national championships. They all became All-American. After this successful year, Benson highlights, "My goal for the next year is simply to build that powerful foundation, and that is continuing to help [my athletes] believe in themselves in all aspects of their lives." This not only includes diving, but also academics and future careers.
Benson has high hopes for the future of the team. She notes, "There are two young men coming and they are very good. That dynamic of men and women diving together is going to just spark us, again. What I see for the following year for the diving team is more fun, more laughter, and again, great success."