UChicago Med Nurses are Rallying Outside the Hospital on Monday. Here's Why
State Senator Robert Peters and Members of UChicago Labor Council will join the 8:30 a.m. rally.
Allegedly unsafe working conditions and inadequate staffing are driving nurses at the University of Chicago Medical Center to rally outside the hospital on Monday.
The rally, organized by the National Nurses United (NNU) union, is distinct from a strike and not intended to be a work stoppage.
"Most of the nurses who are at our picket will be there on their day off," said Marti Smith, the union's Midwest director. "Working nurses will come down on their break time."
NNU is the largest nurses union in the United States and represents approximately 2,300 nurses at UChicago Medicine.
Politicians, including Illinois State Senator Robert Peters and State Representative Fred Crespo, will be in attendance. Members of the University of Chicago Labor Council, a coalition of Hyde Park labor organizations, will also rally with the nurses at 8:30 a.m.
Union leadership is neither discouraging nurses from attending work nor urging the public not to cross the picket line or seek care at the hospital. Instead, Smith said, "everyone will be at work, but we will be out front talking to the community."
The union is demonstrating against alleged unsafe working conditions and inadequate staffing. Due to legal obligations, nurses are not permitted to abandon their patients, no matter the circumstances. However, when conditions are exceptionally objectionable—for example, if nurses are exposed to situations of extraordinary risk, or if they cannot reach a doctor or another nurse for assistance—nurses are permitted to file an objection.
Smith said that nurses at the hospital have filed over 1,500 objections since January 1, 2017' a figure she claims is a result of understaffing at the hospital.
As a result of this understaffing, NNU has filed two ongoing complaints: one to the Illinois Department of Health, alleging that UChicago Medicine's staffing levels are under the state mandate, and another to the federal Occupational Safety and Health Administration (OSHA), claiming that the hospital is not keeping adequate records of workplace injuries.
Smith said the NNU hopes these concerns will be addressed by a neutral arbitrator whose prescriptions will bind both the union and UChicago Medicine.
Hospital officials dispute that understaffing is an issue at UChicago Medicine. In a written statement to The Maroon, UChicago Medicine spokesperson Lorna Wong said that "staffing on our units continues to average well ahead of the fixed ratios that [the union] advocates."
The union has advocated for UChicago Hospitals to adhere to nurse-patient ratios stipulated by California legislation. California is currently the only state to have set government-mandated nurse-patient ratios. A bill to implement a similar mandate in Illinois was defeated in the State House of Representatives last month.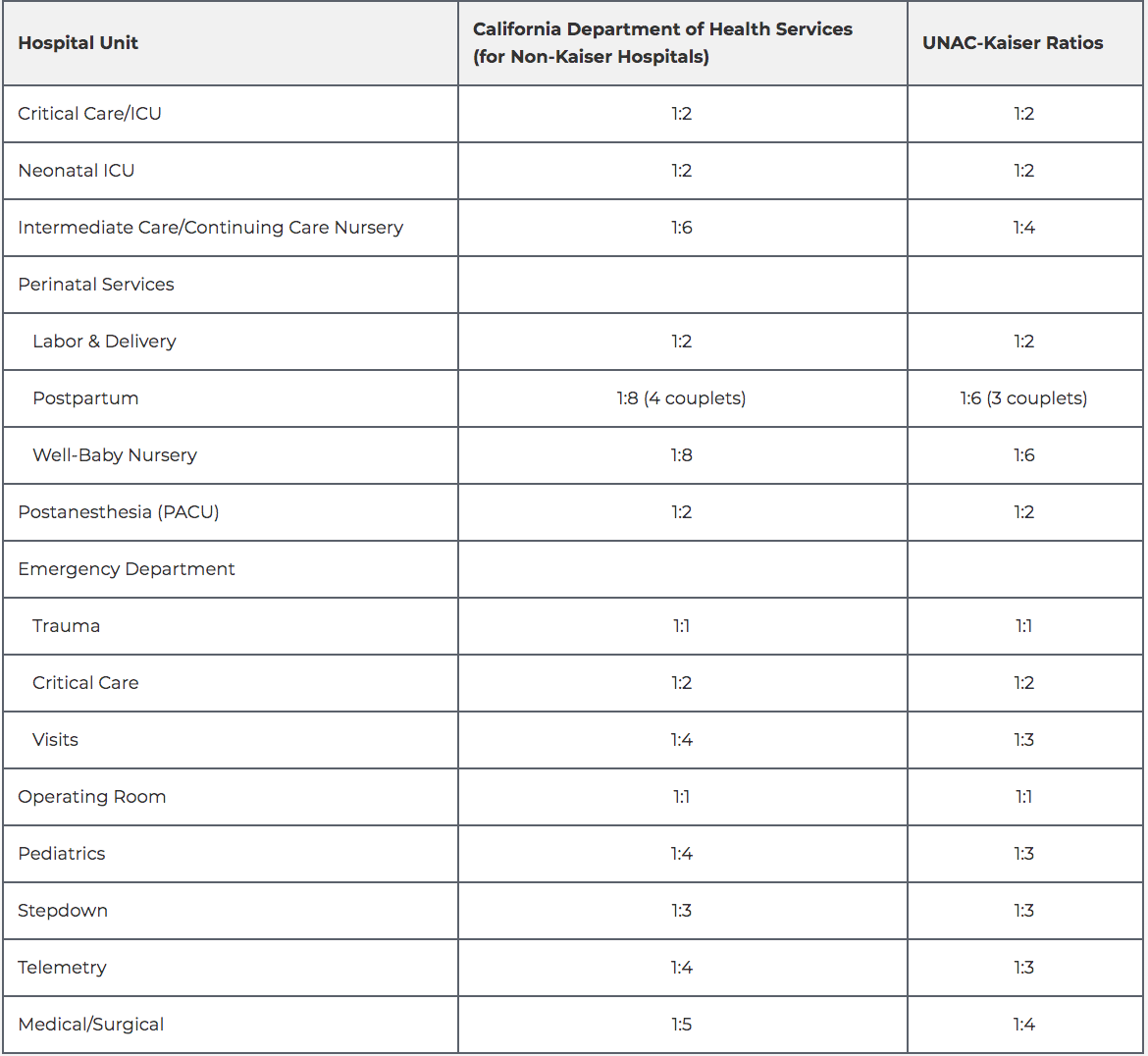 Arguing against the necessity of a stringent mandate, Wong stated that, in some cases, UChiacgo Medicine staffing exceeds the California-mandated ratio shown above. For example, "the [intensive care unit] averages 1.67 patients per nurse, rather than the two-patients-per-nurse model suggested by the [NNU]," said Wong.
Wong's statement also mentioned that nurses at UChicago Medicine receive higher wages relative to their peers at other area hospitals: "Our nurses' average hourly rate under the current CBA [collective bargaining agreement] is over $47 per hour. This is $11 more per hour than the average pay rate that their peers get at acute-care hospitals in the Chicago area."