New Ph.D. Policies Could Mean Hard Trade-Offs for Humanities
New caps to Ph.D. student populations have set off debates over how to reconfigure teaching and coursework requirements under compressed academic timelines.
Faculty members in the humanities and social sciences divisions were taken by surprise earlier this month when provost Daniel Diermeier announced major changes to doctoral education.
The changes, which also apply to the School of Social Service Administration and the Divinity School, include caps on total enrollment and guaranteed funding for the duration of Ph.D. students' programs. Though they are not expected to take full effect until the academic year 2022–23, their announcement has set off debates within departments over how to reconfigure graduate student teaching and coursework requirements under compressed academic timelines.
In conversations with The Maroon, faculty members—several of whom asked not to be named—said the restrictions on department size present a set of difficult trade-offs.
Grad Student Population Expected to Shrink
Faculty in the social sciences and humanities divisions have been told that their graduate student populations will shrink, but it is not yet known how many students individual departments will lose. An FAQ sheet published by the Provost's office following the initial announcement says only to "expect a decrease in the total number of doctoral students once the framework is fully implemented."
The size of the caps has not yet been decided, University spokesperson Jeremy Manier told The Maroon on Wednesday, but "will be determined by the cognizant Dean in discussion with the department chairs and faculty."
According to one tenured professor in the division, the Dean of the Humanities informed department chairs that the humanities division is expected to contract significantly, becoming "on the order of 25 percent smaller" relative to the current size.
Once enrollments have adjusted to meet the new cap sizes, departments will have some autonomy over how they keep enrollment beneath the new ceiling.
Faculty will have the choice of either moving students through programs more quickly—generally within five or six years—or admitting fewer new students.
Faculty members expressed concern that the caps will force professors to compete for students and incentivize professors to allow students to graduate with incomplete dissertations.
"Am I going to have to advocate for my students' having another year, against my colleagues' and their students?" one professor in the Humanities Division asked. "Structurally, there's going to be competition. Each year, we're going to be in the position of having to move people out of the department either by kicking them out or graduating them."
Something's Gotta Give
Professors in several departments said that the enrollment caps will require faculty to choose between graduate students' time in class, teaching time, and dissertation work.
"The administration's saying to us, 'in order to minimize your losses of graduate students, you have to get your graduate students out and defended sooner,'" one professor in the history department told The Maroon.
"Well, something has to give," he went on. "What's gonna give? Coursework might give. I suppose quality of the dissertation might give, but really no one wants to give on that. So really, the likely candidate [to give] is teaching."
With fewer spots available, he added, departments like history are likely to become more risk-averse: recruiting fewer interdisciplinary candidates and more candidates from blue-chip schools at the expense of those from lesser-known programs.
Other departments are concerned that the trade-off between size and time-to-degree could be a blow to smaller programs.
In departments like Near Eastern languages and civilizations (NELC), with highly specialized subfields, professors worry that speeding up degree time might require paring down fundamental coursework.
The pressure to cut down class time is particularly concerning, faculty say, because programs like NELC's Assyriology and Egyptology are only taught comprehensively at a handful of universities, and the breadth of UChicago's curriculum sets the University apart.
"Right now, our Assyriology program requires four years of coursework before you can advance to candidacy, to train in the linguistic skills, the philological skills. There's just a lot of stuff that you also can't learn anywhere else," said NELC professor Na'ama Rokem.
English professor Elaine Hadley, a representative of the UChicago chapter of the American Association of University Professors who, with Rokem, sits on the faculty senate, echoed the concern that shrinking departments could make it harder to offer specialized classes.
"If you have four students, you can't offer eight Ph.D. seminars," she said.
The time-to-degree squeeze, which was already felt before the new policy, is leading programs to outsource specialized training, faculty members say. In departments with intensive language requirements, once-qualified applicants are increasingly turned away and encouraged to attend master's programs before returning, which professors say could discourage low-income students from pursuing graduate studies in many fields.
"We realize that we don't have the time to provide them with all the skills they need while they're in graduate school under our support," Rokem said, "so we basically require them to go and get another $100,000 into debt acquiring an M.A. before they can even come here."
Teaching Decoupled from Stipends
The Graduate Aid Initiative (GAI), the financial aid system which the new funding model will replace, tied the amount of money graduate students earned to the amount of teaching they did. To earn their stipends, students were required to complete various types of teaching, ranging from teaching assistantships to solo course instruction. Students could sometimes complete teaching responsibilities early and earn income ahead of schedule.
In quarters when the supply of graduate students outstripped demand for teaching assistants, however, graduate students sometimes found themselves unable to secure jobs, leading to delays in funding.
A problem with the GAI model, faculty members said, was that students could find themselves in a vicious cycle, teaching additional classes in order to make a living but without enough time to finish their dissertations. This inflated time-to-degree and could lead to attrition—concerns raised in the report of the Committee on Graduate Education and stressed in internal memos by the Provost's office.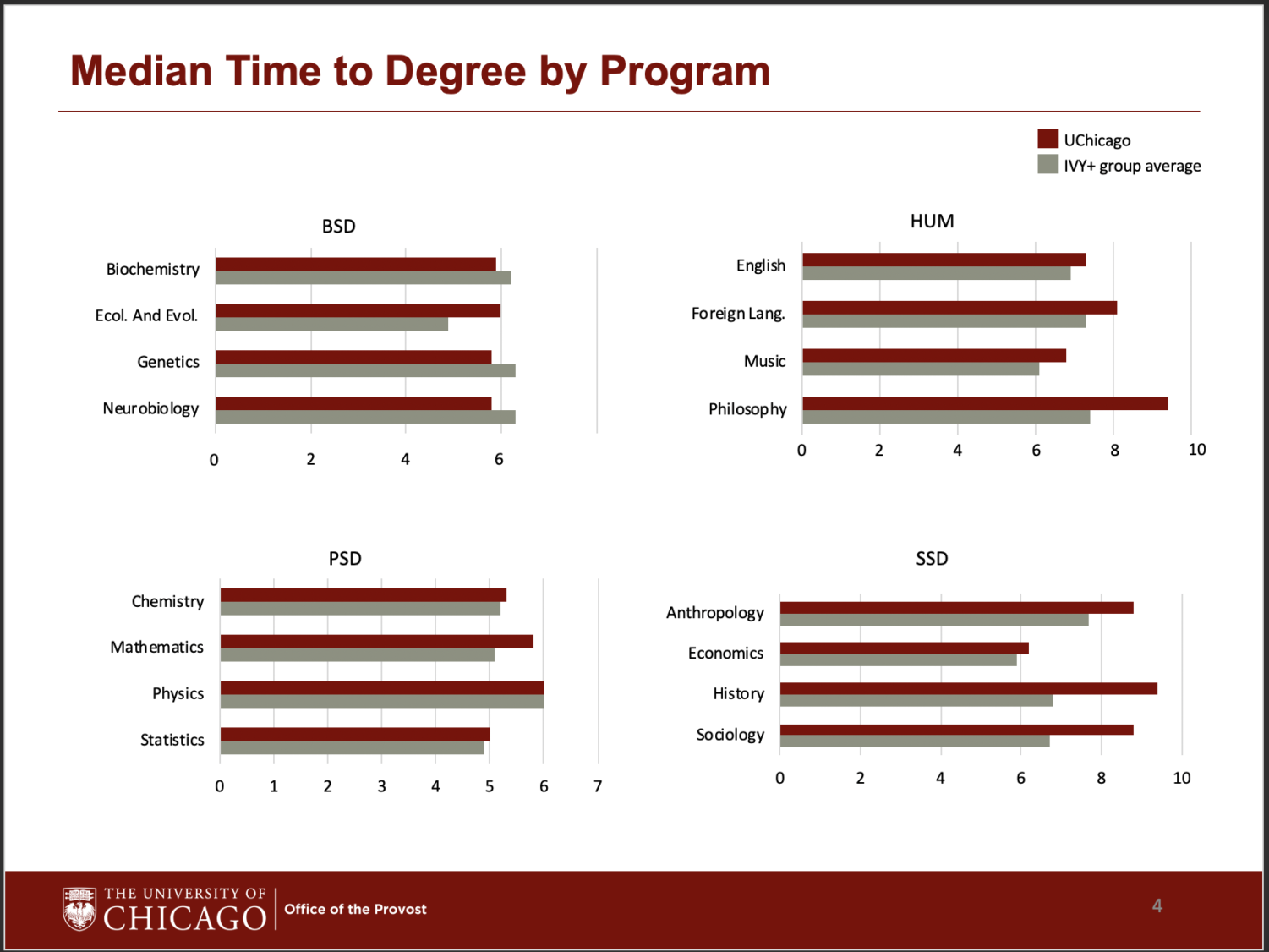 Since professors need no longer worry about providing students teaching duties tied to pay, faculty are now faced with an open question: how to structure teaching requirements. They could decide to increase requirements—or decide that they won't require graduate students to teach at all. In many departments, professors are divided over the question.
Much of the debate revolves around time-to-degree. Some faculty argue that although teaching slows time-to-degree, graduate students need teaching experience to get a job, so departments should accommodate that need. Others point out that before students get a tenure-track job, many will teach during a postdoctoral fellowship.
Diermeier's changes also recast teaching requirements as "mentored teaching opportunities."
Some see this shift as a cynical attempt to make teaching look more like training, and less like work. Claudio Gonzáles, co-president of Graduate Students United, told The Maroon that he thinks the administration has rebranded graduate student teaching requirements as "teaching experiences" in order to discourage an association between graduate students' tasks and work.
"Considering the fact that the Trump administration is trying to take away graduate students' power to bargain, the new policy is clearly trying to say, 'Look, they are students, not workers,'" Gonzáles said.
Still, Gonzáles acknowledged, the new funding guarantee will benefit graduate students.
"There is a big increase in funding for a lot of people, and that is definitely a win," he said.
Labor Shortage
If departments choose to scale back graduate students' teaching obligations, they will also have to figure out who picks up the slack.
Diermeier's changes include an expansion to the Postgraduate Teaching Fellows program, a two-year postdoctoral position intended to serve as a landing pad for students who have completed their research but aren't ready to enter the academic job market. However, the scale of this expansion is unclear.
If faculty decide to reduce requirements for teaching assistantships and instructorships, in order to accelerate students' time-to-degree, they may need to start grading more papers themselves—a task that will compete with their own research time.
Another option, which faculty in some departments in the humanities said is already being relied on more heavily: recruiting recently graduated A.B. and A.M. students to grade exams and lead discussion sections. Several faculty members expressed reservations about the increasing reliance on groups with less formal training.
"I don't have anything against recent College graduates and M.A. students, but it just seems weird to say that our graduate students can no longer do this, and now we're going to hire this other cadre," one faculty member in the humanities division who serves on faculty senate said to The Maroon. "Part of me wonders—what will they do when these people start unionizing? Then they'll just move on to the next population?"
Council of the University Senate Not Consulted on Changes
Diermeier's announcement notes that the changes follow on recommendations made in the report of the Committee on Graduate Education. The Committee included members of faculty chosen by the Provost and graduate students recommended by the Graduate Council.
At a spring quarter meeting of the Council of the University Senate, which consists of 51 elected members from the faculty senate, the Report by the Committee on Graduate Education was discussed. According to faculty members present, Diermeier told the assembled faculty that the report would result in substantive changes to University policy. However, no timeline for changes was discussed, and council members were unaware that administrators were designing an overhaul of graduate student funding.
Upon returning for fall quarter, members of the faculty senate learned of the new changes when Diermeier sent out an all-school email on October 8. This was before the senate had convened for the first meeting of the year, which took place on Tuesday.
Several faculty senators expressed frustration over the lack of University senate input.
"It is stunning that these [changes] are announced to the faculty and students after it has already been decided, and released to the press before to the people that are centrally involved in graduate programs," English professor Zachary Samalin said in a statement to The Maroon.
"If you look at the bylaws of the Council, it is very clear that something like this would have to go up for a vote," Samalin said.
The constitution of the council reads, "The Council shall be the supreme academic body of the University, having all legislative powers except concerning those matters reserved to the Board of Trustees, the Office of the President, or the other Ruling Bodies."
Others noted that, while the role of the faculty senate has varied over the history of the University, the senate's current role is narrow: Faculty senators vote to authorize the creation of degree-granting programs at the University and have little say in other matters.
When asked why the council did not participate in the decision-making process, spokesperson Jeremy Mainer said in a statement to The Maroon, "[T]he Council of the Senate has been updated in recent months and will continue to be updated as the framework is further developed."
Provost Diermeier declined to be interviewed for this article.