Pres. Obama Criticizes Call-Out Culture, Talks Vision for OPC at Foundation Summit
The summit's theme, "Places Reveal Our Purpose," opened the discussion about the Obamas' now-fraught choice to build in Jackson Park.
By Emma Dyer, Co-Editor-in-Chief ('20-'21)
October 31, 2019
Former President Barack Obama defended his vision for the Obama Presidential Center (OPC)—including its placement in Jackson Park—at the third annual Obama Foundation Summit on Tuesday. The comments marked his first public discussion of the OPC plans in over a year.
During the summit, hosted by the Illinois Institute of Technology in Bronzeville, former President Obama and former First Lady Michelle Obama joined activists, filmmakers, musicians, and actors in discussing how places have shaped their characters and their professional pursuits. The summit's theme, "Places Reveal Our Purpose," led the Foundation to heavily promote the OPC plans. This theme is a stark departure from last year's summit, where former President Obama did not discuss or take questions regarding the OPC.
The convention space was filled with new dioramas of the planned buildings and renovations to Jackson Park, immersive augmented reality tours, digital fly-over visualizations of the OPC, and artifacts that will be displayed in the OPC's exhibits.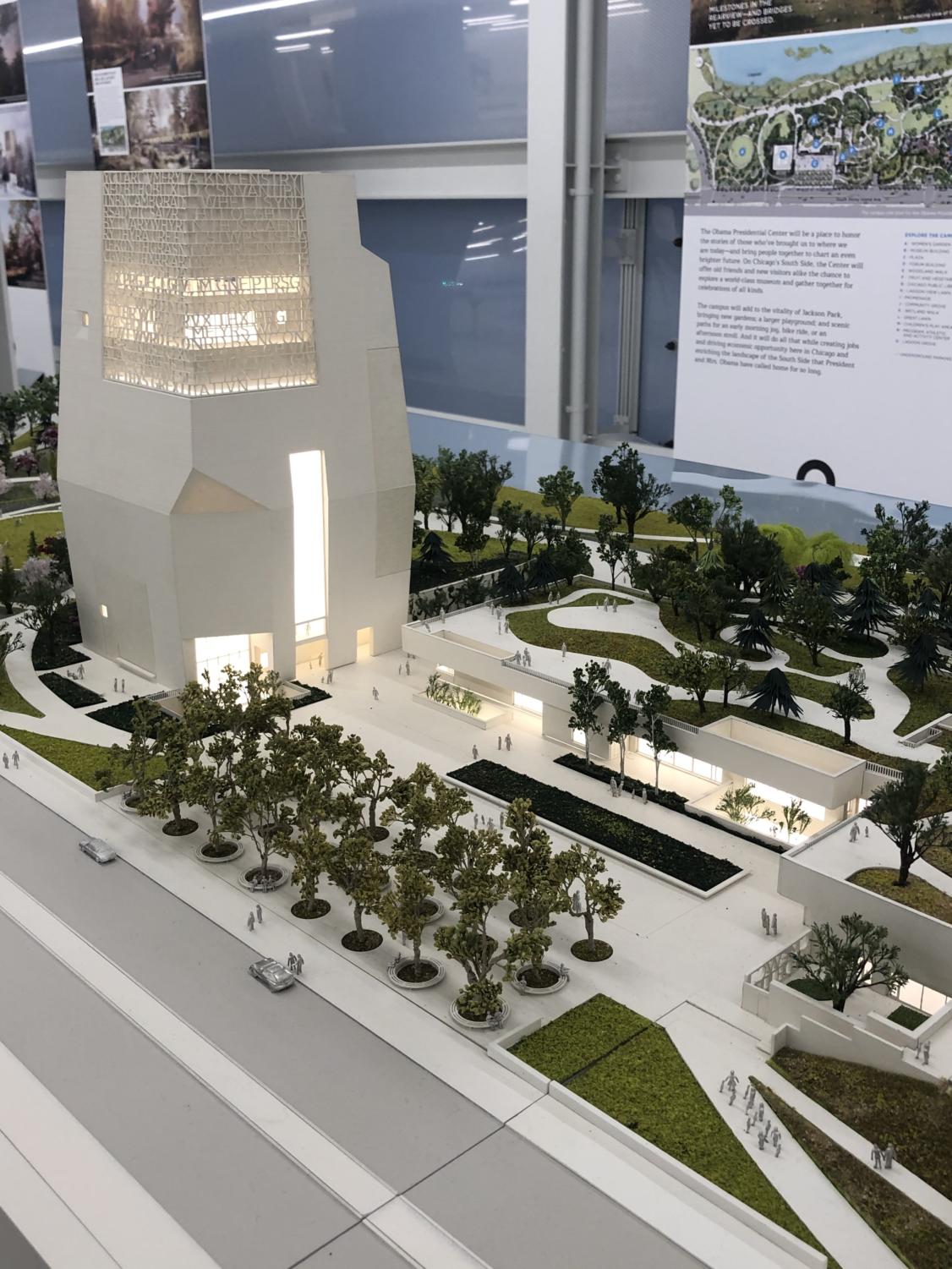 Despite criticism of the OPC's planned location in Jackson Park, including calls for a community benefits agreement (CBA), the Obamas see their project as a revitalization of underutilized space.
"It's about bringing life to a park that may be protected and loved by its friends, but it's not used by the community, the people who live there," Mrs. Obama said. "I hope this is something the community feels is an asset, and it requires the trust of knowing that Barack and I wouldn't bring some crap up into our neighborhood."
At the beginning of the event, Mrs. Obama spoke with her brother, Craig Robinson. The two based their discussion off photographs chronicling the chapters of their lives—from their upbringing on the South Side, which they described as steeped in familial love and a sense of community, to hosting family dinner at the White House.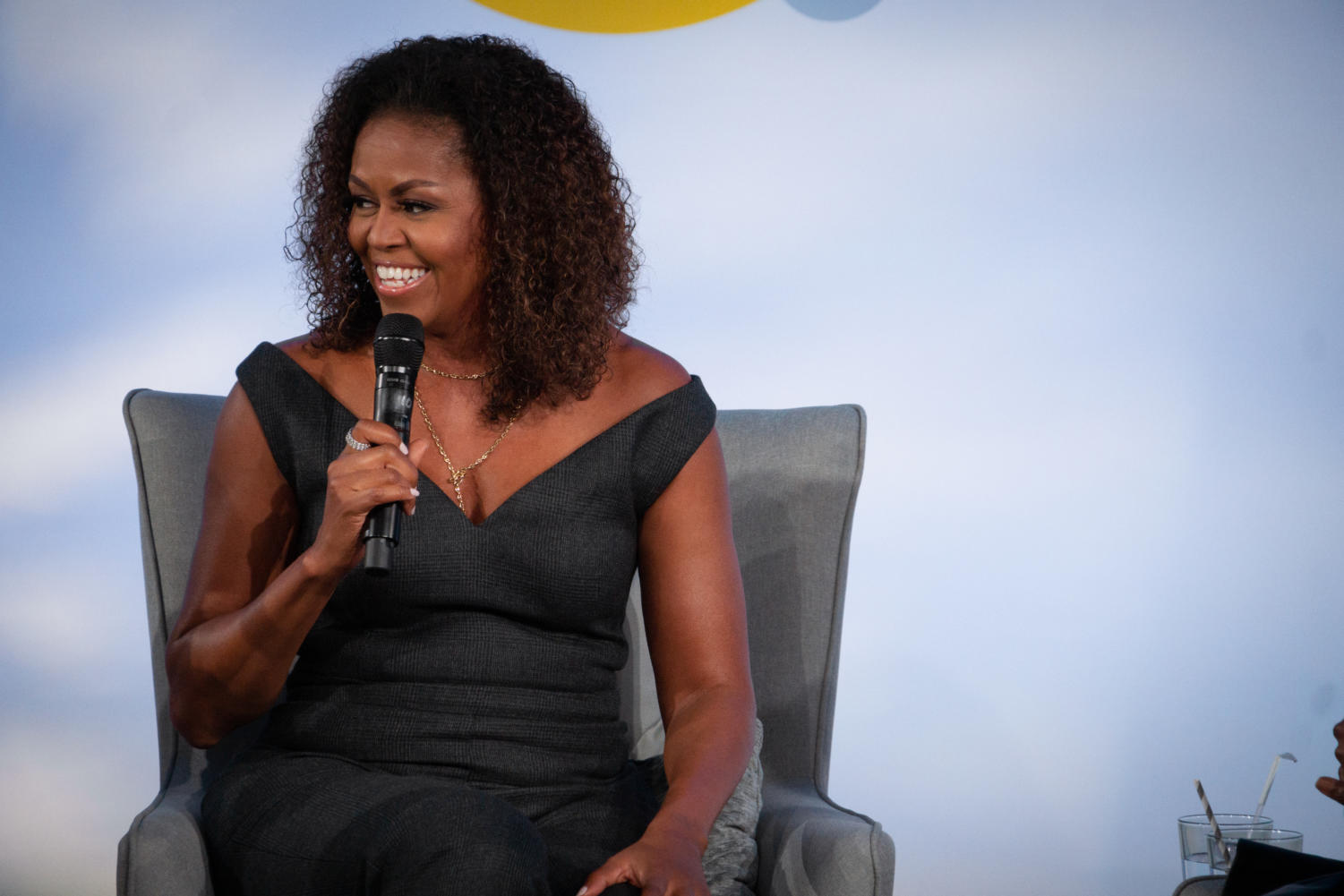 "It was another strange place for the Robinson family to end up, in the White House. What do you do? How do you survive the White House?" Mrs. Obama said. "For us, it was what we normally did, we surrounded ourselves with our truth, with our community. We brought our family and the South Side to the White House."
The siblings also described the challenges of growing up in the South Side at a time when white families began leaving the neighborhood in droves.
"As families like ours, upstanding families like ours, who were doing everything we were supposed to do…moved in, white folks moved out, because they were afraid of what our families represented," Mrs. Obama said.
She added that white flight remains a problem in cities. "I want to remind white folks that y'all were running from us. You were running from us, and you're still running because we are no different from the immigrant families who are moving in," Mrs. Obama said. "I felt a sense of injustice, and you know this when you're young, you know people are running from you."
Robinson and Mrs. Obama also discussed the decision to place the OPC in Jackson Park. Robinson said that he had little exposure to Jackson Park during his childhood, despite growing up less than a mile away from the park.
In Robinson's experience, Jackson Park "was a park that people just didn't congregate at. There wasn't an outdoor access where you did stuff in this park on a regular basis." Jackson Park has a lot of space, he added, but not much to do unless you golf.
"Barack's presidential library could have been anywhere in the world because there are so many people who feel like he is their president all over the world," Mrs. Obama said. "We had to think, where do we put this resource—because it will be a resource. Well, what better place to put it than our backyard?"
Describing the massive projects surrounding Grant Park and the creation of the museum campus for the Field Museum and Shedd Aquarium, Mrs. Obama said she had pondered what it would look like to have the vitality of a museum campus in the Woodlawn area.
"Well wow, wouldn't that be a powerful vision on the South Side, with the Museum of Science and Industry and the Obama Presidential Center, where there would be programming and life," Mrs. Obama said. "That it would be a place where people from around the world would come to visit and see. Not just Grant Park, but the South Side of Chicago—why would we try to do this anywhere else but here?"
In the afternoon, President Obama spoke with four young adult activists: Awah Francisca Mbuli, a member of Leaders: Africa; Community Leadership Corps member Mimi Gonzalez; Obama Foundation Scholar Samira Koujok; and De'Andre Brown of the My Brother's Keeper Alliance.
Obama urged young activists to focus on actions rather than status. "Worry more about what you want to do than want to be," Obama said. "You may spend 10 years just trying to be something, and when you get there it turns out that you have no idea what you want to do with it."
"Organically, out of doing that thing, it may turn out that your influence expands, and you get expertise in that field, and suddenly you're a leader in advancing the thing you cared about," Obama continued. "And by the way, if it doesn't work out perfectly, exactly the way you planned, along the way all these people have been touched, all this good's been done."
Obama also added a word of warning to young people in an age of armchair activism. He remarked that there is an attitude on college campuses that "if I tweet or hashtag about, 'you didn't do something right, or used the wrong word or wrong verb,' than I can sit back and feel pretty good about myself, because, man, you see how woke I am?"
In response to this behavior, Obama was quick to say, "that's not activism. That's not bringing about change. If all you're doing is casting stones, you're probably not going to get that far."
The day's final remarks returned to the OPC. Obama, who has been tight-lipped about ongoing controversies surrounding the construction of the OPC, continued to avoid discussing any of the political entanglements the Foundation has faced during the OPC's planning. Steering clear of discussing CBAs or protected park land, Obama ended the day by asserting his vision for the center.
Grounded in the summit's theme, "Places Reveal Our Purpose," Obama said he wanted the OPC to act as a hub for civic engagement. "The most important thing [Michelle and I] think we can do is to pass the baton to as many people as possible," Obama said.
He directly addressed those in the room, saying, "You are part of that initial effort to build a platform where not only can we provide training and ideas and offer some experience about how to bring about social change, but also how can you connect and learn from each other, which is even more powerful."
The physical space of the OPC, in which community members can access creator spaces and come together, is the bedrock of Obama's vision for the project.
"We want [the OPC] to be a university for activism and social change, and a convening place for reimagining how we solve the problems that your generation will confront. And we will connect with satellites and nodes and branches all around the world, but this is going to be the heartbeat, this will be the beacon."