NCAA Announces Athletes Can Benefit From Name, Image, and Likeness; Maroons React
"No one knows how this story is going to end," economics senior lecturer Allen R. Sanderson said.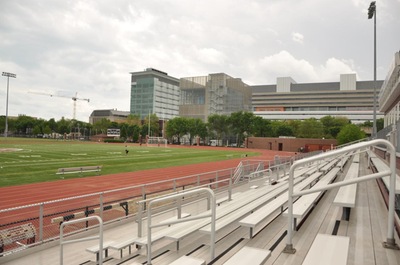 Last Monday, the National Collegiate Athletics Association (NCAA) Board of Governors announced that it will begin to allow athletes to "benefit from the use of their name, image, and likeness in a manner consistent with the collegiate model."
The Board's decision follows California's "Fair Pay to Play Act," which will allow student-athletes to hire agents without running the risk of having their scholarships revoked, and benefit from their name, image, and likeness (NIL) by 2023.
An identical bill is moving through Illinois's legislature, and seven other states are exploring similar legislation as well.
The scope of the NCAA's legislation is still narrower than California's legislation. Although the NCAA plans to let student-athletes profit from their name, image, and likeness, it will still not allow student-athletes hire agents for negotiations with their universities.
This discrepancy between the legislation and the announcement is "going to lead to litigation, and the NCAA will probably lose," said Allen Sanderson, an senior lecturer in economics at the University of Chicago who has researched and written extensively on why universities should pay student-athletes.
In an op-ed in the Chicago Tribune, he wrote that in negotiations between students and universities "on one side of the virtual table are the athletic director, head coach, the NCAA and legal expertise, while on the other side is a 17-year-old kid with his financially struggling mom."
Even if an agent's aid cannot fully rectify this imbalance, it can help make for a fairer fight, he argued. "There's a reason we call them student-athletes," he said. "Because exploited workers—which is what they are—doesn't sound as nice."
According to Sanderson, the players who will attract big-name sponsors will likely be the top players at the winningest schools—but it's difficult to tell how the NCAA's proposed changes "are going to play out."
The kind of compensation a student-athlete can receive from their school is determined by the school's NCAA division. Currently, compensation received by Division I student-athletes can come in the form of full or partial scholarships, as well as grants towards room and board, books, and meals, among other things.
Division II athletic programs are more limited in how much they can provide in scholarships and grants. Division III schools, such as the University of Chicago, cannot offer any kind of scholarship or financial aid for athletics.
Each division's regulations and standards will be different within the new framework. The NCAA has given the groups charged with creating the new rules until January 2021.
Rosalie Resch, the senior associate athletic director at the University, said that "it is too early to comment on what the announcement from the Board of Governors will mean for Division III athletes" in an email to The Maroon.
Sahil Modi, a second-year on the men's soccer team, doesn't think that the changes announced will seriously affect student-athletes at the University. "Our jerseys, our practice shirts, our socks, even our cleats, are all from Adidas," he said. "Maybe someone will try to sponsor a whole team or something, but I don't think anyone will get their own deal."
Third-year runner Ryan Cutter said that he doesn't "anticipate any changes really occurring at the D3 level" either. "Even with the rule change for NIL, the NCAA is still going to follow that model where they do not pay athletes for competing, based on my understanding of the situation. They are simply opening the door to athletes building personal brands through social media and potentially gaining sponsors."
Although it's unlikely that University of Chicago athletes—or other Division III athletes—will see big-money deals, there could still be opportunities to generate some revenue. Sanderson thinks that the effects of the announcement may still "trickle down" to student-athletes here.
Sanderson said that "because the University's name carries a certain cachet," students in certain sports, such as tennis and swimming, could offer private lessons and advertise themselves as University of Chicago athletes.
He emphasized the uncertainty currently surrounding the future of collegiate athletics. College sports are "in a state of flux," he said. "No one knows how this story is going to end."