Grad Unions from Across Chicago Rally against NLRB, Vow to Continue Organizing
Graduate students from several Universities remained undeterred by a proposed NLRB rule that could exclude graduate students from federal labor protections.
Graduate students from universities throughout Chicago protested on Thursday against the National Labor Relations Board's (NLRB) proposal to exclude graduate student teachers and teaching assistants from federal labor protections, yet regardless of the decision outcome, students pledge to further apply pressure concerning labor rights on university administrators.
On the solidarity between graduate student union organizers at different universities, Graduate Students United (GSU) Co-President for Bargaining Claudio Gonzales told The Maroon, "It's critical, I think it's the answer to the fact that this effort to take away our rights goes across the country. These people are coming together to recognize that we're all in this fight together."
Students from UChicago GSU, Northwestern Grad Workers, University of Illinois at Chicago Graduate Employee Organization, and Loyola University Chicago (LUC) Worker Coalition marched at Dirksen Federal Building as part of their efforts in opposing the NLRB's proposed rulemaking and to get their respective university administrations to engage in collective bargaining for students who perform various tasks for the universities, including teaching classes and working as teaching assistants.
You can listen to the podcast version of this story, by Austin Christhilf, on iTunes and Spotify.
The Chicago area graduate students' protest was one of several national protests organized by the American Federation of Teachers (AFT) Academics, the higher education division of the AFT, over the NLRB decision.
The NLRB posted a notice of proposed policy changes in late September. The notice said, "The proposed rule would exempt from the NLRB's jurisdiction undergraduate and graduate students who perform services for financial compensation in connection with their studies."
A month later, the NLRB extended the public comment process required by the rulemaking process, allowing comments to be submitted until December 16, ahead of the NLRB's decision.
Many graduate students who attended the protest are confident that regardless of the NLRB's decision they will be able to continue applying pressure to university administrations to create better working conditions for graduate students.
Alec Stubbs, a fourth-year Ph.D. student at Loyola, commented on the progress of the LUC Worker Coalition, which recently delivered a petition with over 400 signatures to Loyola's dean of the College of Arts and Sciences asking for the administration to bargain with graduate students prior to the NLRB rule change.
"If the rule change does go through, it's not going to change the way we function," Stubbs told The Maroon. "If anything, it's just going to spark our graduate workers to continue to push back against this because when they go to work every day, they see what they're doing as work."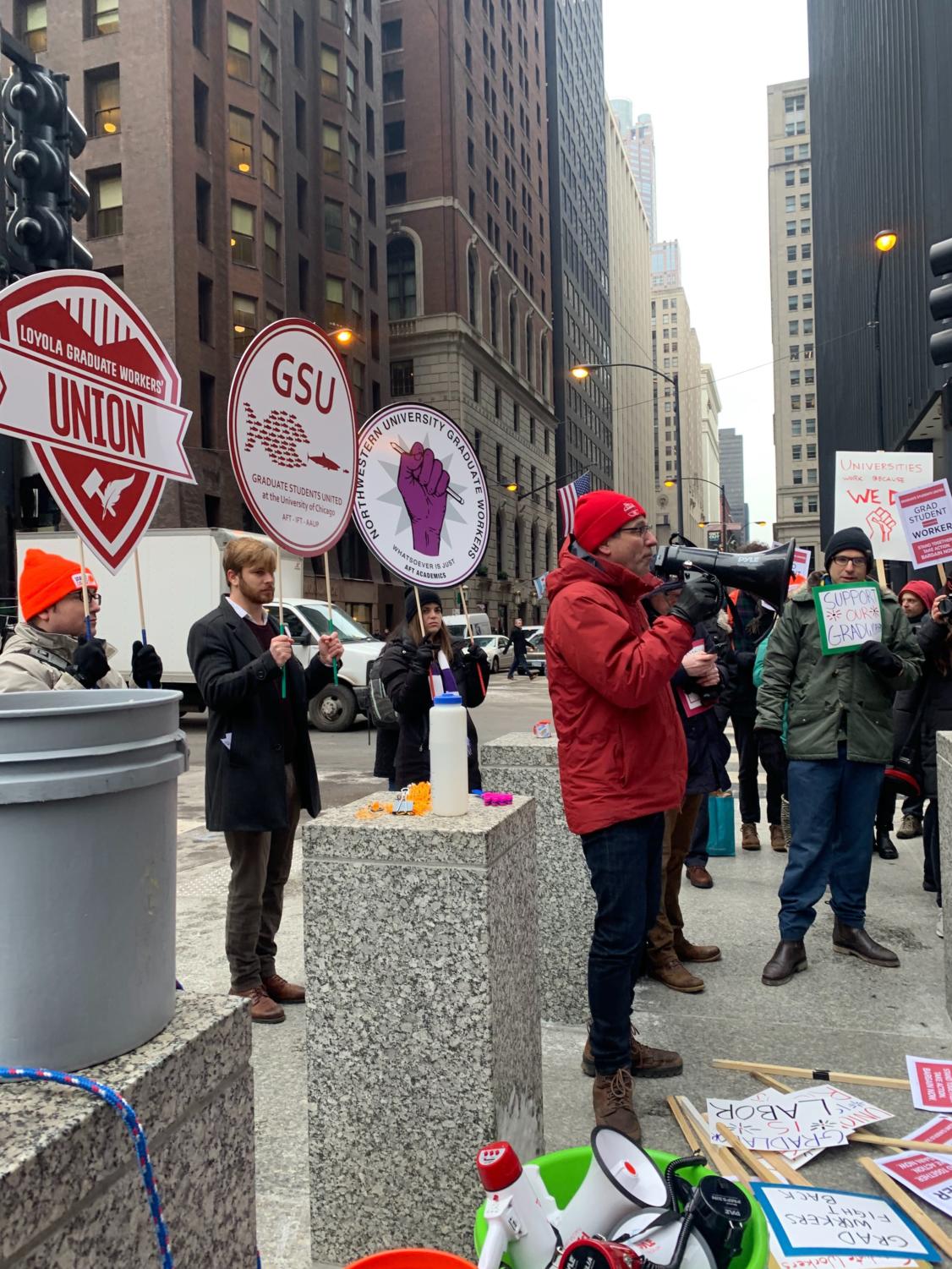 Laura Colaneri of UChicago GSU commented that they noticed certain changes by the UChicago administration during summer quarter, including pay raises and offices for course assistants in certain graduate departments following the strike of graduate students last June on campus.
"What we can do moving forward regardless of the NLRB is [fight] for those issues where we've seen they can make concessions; they can do things to us even if they continue to refuse to recognize it officially, so fighting for those issues-based things the next few months [is] where we're gonna be wanting to put a lot of our energy," Colaneri said.
Benjamin Zucker, membership coordinator for Northwestern Grad Workers, mentioned that the group has been able to press their administration to remove international student fees and implement changes to mental health care policies, and that regardless of the NLRB's decision, the group will continue to advocate for policies like guaranteed six-year funding for graduate students.
"If the regulation does pass, we will continue with these issue-based campaigns and we will be able to do them as effectively as before," Zucker said.
Speakers at the rally raised frustrations, including a lack of administrative recognition and protections, and inadequate stipends and healthcare plans.
Caroline McGraw, a graduate fellow at LUC, said she works four jobs to support herself. "It is insulting to be told that the work I am doing is negligible and it is nothing short of exploitation to refuse me rights as a worker when I routinely operate alongside university faculty and staff," McGraw said to the crowd.
The NLRB declined a request for comment. According to the NLRB rulemaking announcement, "This rulemaking is intended to bring stability to an area of federal labor law in which the Board, through adjudication, has reversed its approach three times since 2000."