College Scorecard Data Reveals Which Majors Fare the Best Post-Graduation
On November 20, the U.S. Department of Education released data on the expected earnings and debt of university graduates, categorized by institution, degree type, and degree field.
Though received wisdom holds that STEM majors make more than their peers in the humanities and social sciences, it would appear that not all sciences yield the same returns. At UChicago, philosophy majors can expect to earn higher starting salaries than both physics majors and biology majors.
Last Wednesday, the U.S. Department of Education released data on the expected earnings and debt of university graduates, categorized by institution, degree type, and degree field. The Maroon parsed through the source data, available at the College Scorecard website, to find out how UChicago compares to its peer institutions.
Previously, College Scorecard, created in 2013 under the Obama administration, only published data by institution. New Trump-administration rules require the inclusion of data by degree field as well.
While the Scorecard data provides an unprecedented granular look at trends in higher education, it represents a mere subset of the overall student population. Information is only available for students who accepted federal financial aid while attending school, causing a potential sampling bias. The data also does not take into account debt taken on by students' parents. The Department of Education notes that its estimates for student debt may be lower than reality.
About 15 percent of all reported programs cite a median debt higher than median earnings one year after graduation, according to a recent report by the Wall Street Journal, but The Maroon's analysis of the source data shows that earnings consistently exceed debt for UChicago grads. The average debt across undergraduate majors at UChicago is $18,213, but many major fields at UChicago, including chemistry and anthropology, do not have data on median debt upon graduation.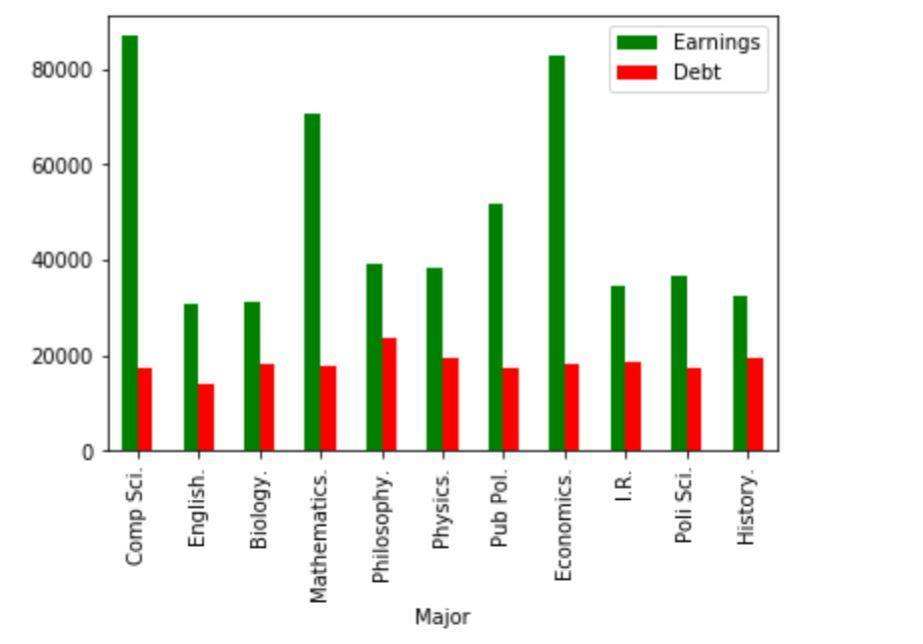 Two of the most popular undergraduate majors at UChicago, computer science and economics, top the list for earnings one year after graduation, with median incomes of $87,000 and $83,000, respectively.
Some of UChicago's peer institutions have higher earnings for the same degrees; at Brown University, for instance, the median income for computer science majors is $141,100. At the University of Illinois, Urbana–Champaign, computer science majors can expect to make $92,200 one year after graduation, $5,200 more than their UChicago counterparts. At UChicago, graduates with a master's degree in computer science can expect $85,200, while Urbana–Champaign graduates can expect $123,100.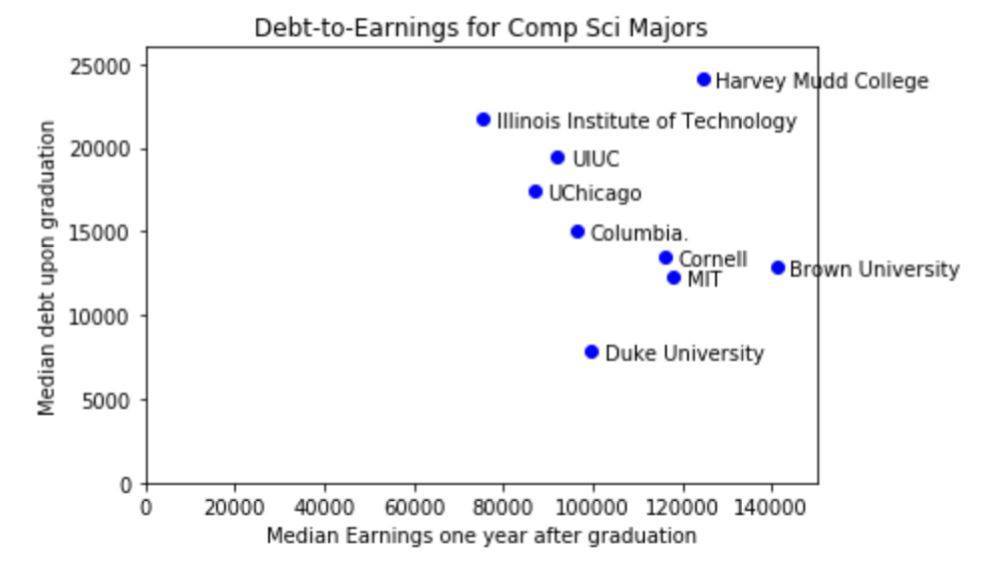 Median salaries for STEM majors also vary widely by field. Physics majors at UChicago make $38,300, similarly to UIUC graduates, who earn $37,900. MIT physics majors earn almost twice that, at $73,900, while biology majors at UChicago earn only $31,100. Math majors average $70,700, and statistics majors make $72,000 a year after graduation.
Psychology majors earn $39,600, which is comparable with other institutions like Duke University and Cornell University, where psychology graduates earn $39,100 and $43,300, respectively. History majors earn only $32,300 with $19,500 in debt, while their Duke counterparts earn $51,400 with only $10,534 in debt. On average, UChicago philosophy majors earn $39,300.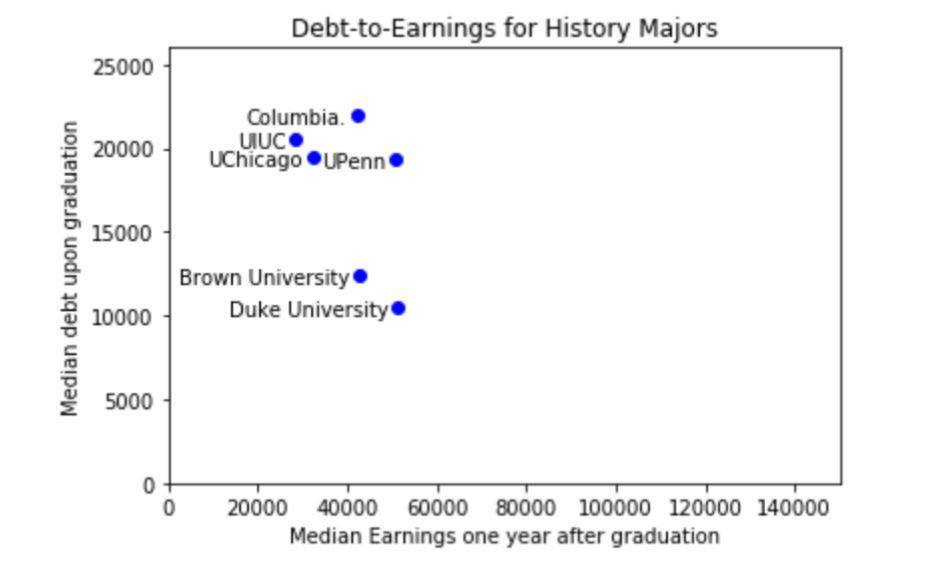 In a press statement on Wednesday, the Department of Education said the agency released more comprehensive College Scorecard data this year in order to improve transparency and access to information. Some students say that access to this information would have influenced their course of study.
"This really reinforces what I've been thinking all year, that I should have been a CS major," Max Marcussen, a fourth-year double majoring in philosophy and economics with a specialization in data science, told The Maroon.
For master's degrees, debt averages $54,024. For seven different degree programs, debt is higher than starting salaries, six of which are master's programs, including the master's in public policy.
Fourth-year Evelyn Xue, an art history major, is currently applying for master's programs in the humanities. She told The Maroon that this data will likely have little impact on her decision, since she already understood the finances of master's programs.
"I am going into [graduate school] knowing that the economic returns aren't going to be a lot," she said. She also explained that the data would not have influenced her choice of undergraduate major. "I'm really just interested in doing what I want to do, and what I wanted to do was art history."
Of non-master's graduate students, only medical students consistently owe more than they make upon graduation. Due to the high cost of medical school and the relatively low salaries of internships and residency programs, most medical students' debt exceeds their earnings during their first year post-graduation. UChicago medical students graduate with $116,791 in debt and with starting salaries of $57,400. In the United States, only Harvard University medical students earn more than they owe immediately post-graduation, with only $48,654 in debt and $62,920 in earnings.
At the Law School, however, graduates earn $170,500 with $146,806 in debt, one of only seven law schools with available data for which first year earnings exceeded debt, our analysis revealed.
Booth School grads with MBAs make $152,900 one year out of school, with $79,602 in debt, which is lower in terms of both income and debt than their Wharton counterparts' average income of $165,700 and $41,000 in debt.