Sanders Has Raised the Most Money From UChicago Donors, Topping Buttigieg, Warren
More than 98 percent of donations went to Democratic candidates.
Bernie Sanders (A.B. '64) has pulled in 26 percent of all donations to presidential candidates by University of Chicago employees, with Pete Buttigieg at 20 percent and Elizabeth Warren at 15 percent. Former Vice President Joe Biden, also a frontrunner in the Democratic primaries, lags behind, drawing just 3 percent of money donated by University affiliates.
University of Chicago affiliates have spent $193,985 on contributions to candidates for the 2020 election cycle as of the last period filing, and $573,345 on candidate contributions during the 2018 election cycle, according to the Center for Responsive Politics (CRP), a government watchdog organization that compiled publicly available data from the Federal Election Commission (FEC). We use CRP data below when discussing total sums raised for each candidate and organization.
The Maroon further examined individual donations by University of Chicago affiliates as listed in public FEC records. Donors to political campaigns are required to disclose their employer and occupation, which allowed The Maroon to see where University of Chicago employees donated.
The Maroon has included donations from all individuals who listed the University of Chicago or one of its constituent schools as their employer, for example the Law School, in this article. Employees who listed the University of Chicago Medical Center as their employer were excluded, in order to isolate trends specific to the University's non-clinical divisions and schools.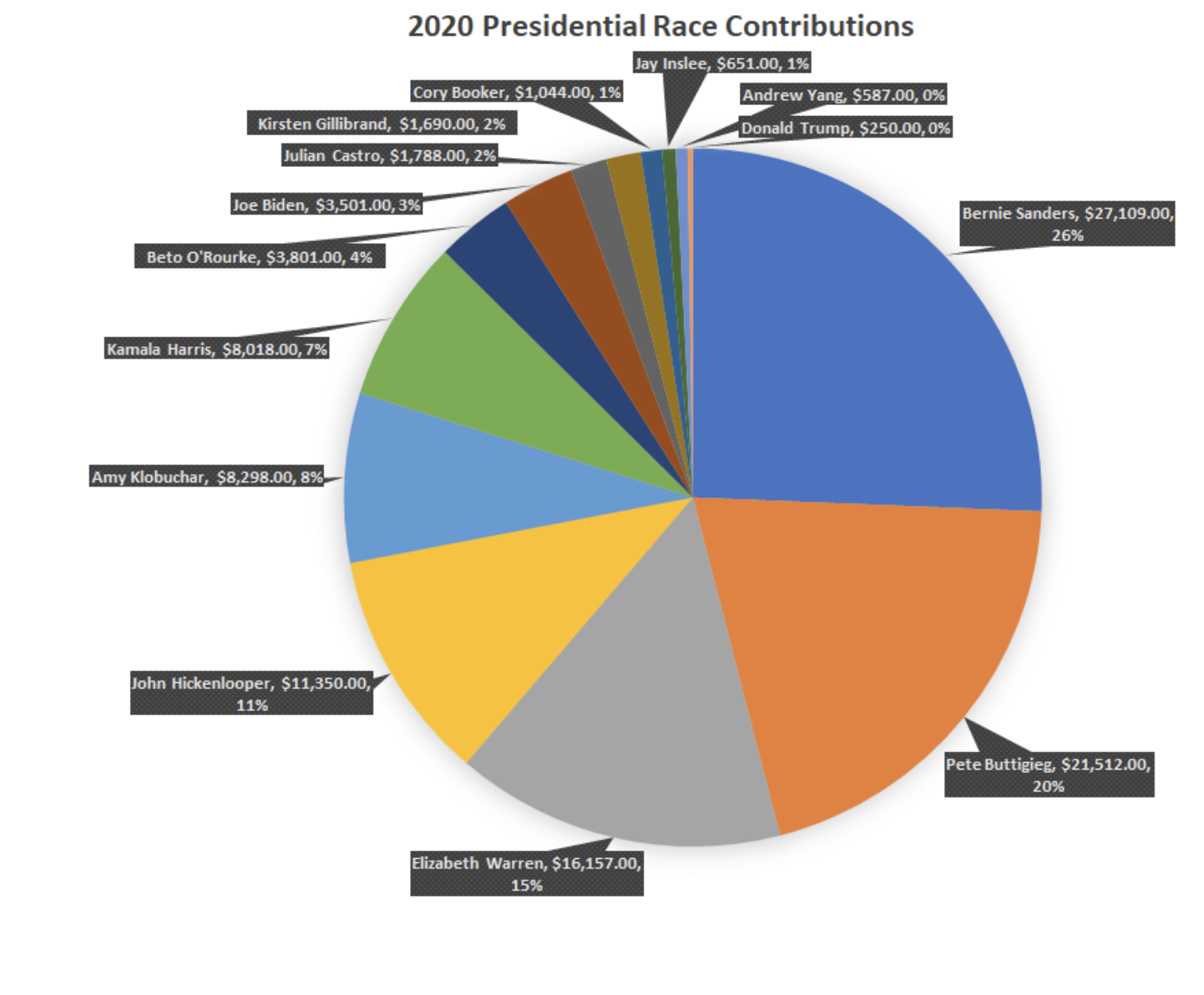 Bernie Sanders
Sanders (A.B. '64) has so far raised the largest dollar amount from UChicago affiliates, totaling $27,109. Donations to Sanders represent 26 percent of all donations made by University employees.
The U.S Senator from Vermont, a self-identified democratic socialist, had already earned a reputation as a left-wing firebrand during his years as a UChicago undergraduate, where he joined the youth wing of the Socialist Party of America, participated in a sit-in organized by the Committee on Racial Equality, and was arrested as a College student during a civil rights march in 1963.
Since graduating, Sanders has kept in touch with his alma mater, visiting the Quadrangle Club for an interview with MSNBC's Chris Matthews during his 2016 presidential bid and writing a letter in support of Graduate Students United in 2017.
Though Sanders has eschewed corporate donations and other traditional fundraising mechanisms, his campaign has led the field in contributions nationally, raising more money than any other campaign so far in the third quarter of this year. According to FEC data, Sanders' donor base is predominantly working-class: Amazon, Walmart, and U.S. Postal Service employees are among his top donors.
Donations to Sanders from University of Chicago affiliates varied in amount. Though small donations predominated, Sanders' largest donation came from a graduate student, who gave $4,600 in a single contribution.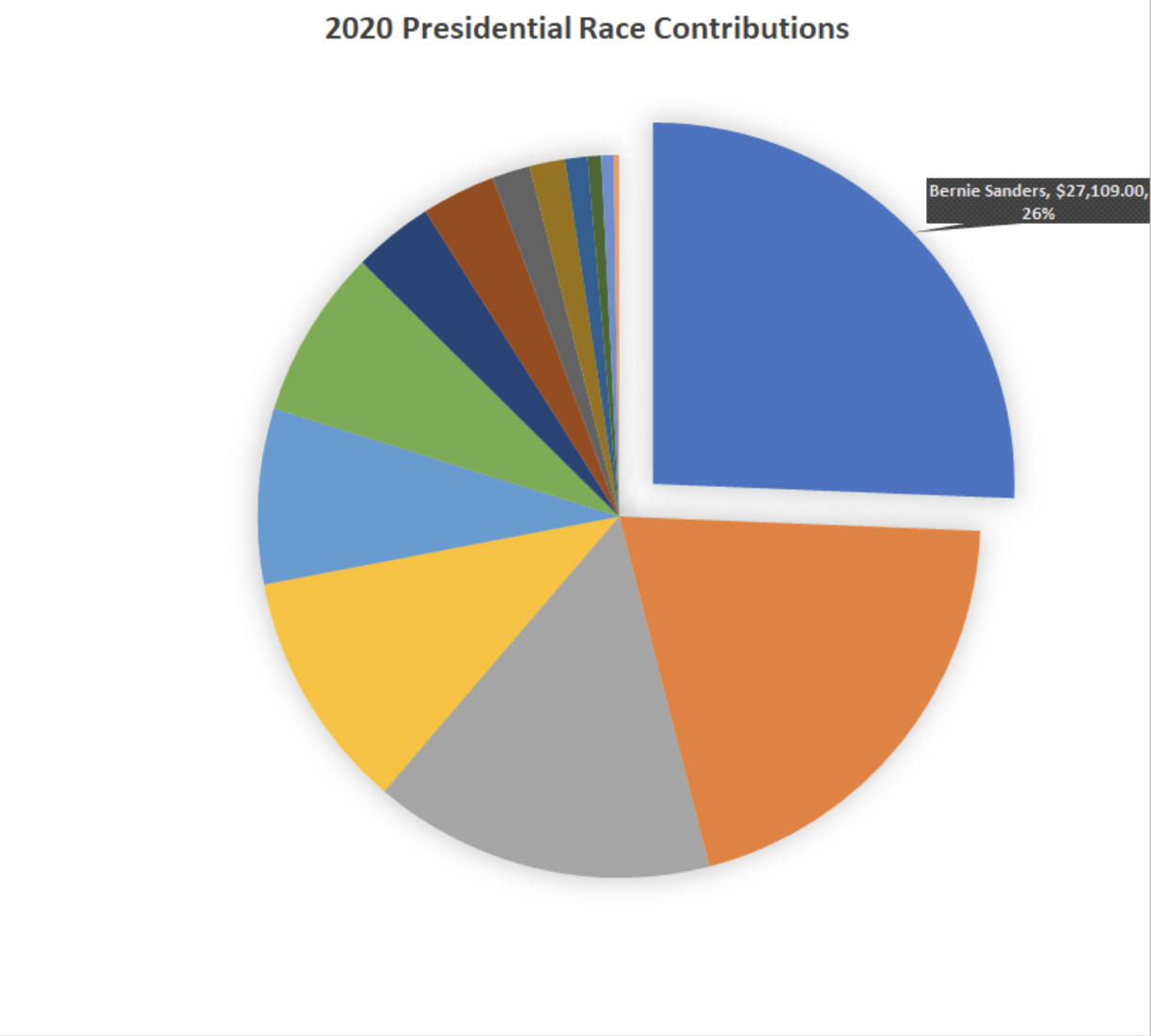 Pete Buttigieg
Buttigieg, the mayor of South Bend, Indiana, has pitched himself as a moderate alternative to the party's left flank, centering his campaign on a platform of "intergenerational justice"—attention to the long-term costs and benefits of present-day policies. At $21,512, Buttigieg's haul makes up 20 percent of the money given to 2020 candidates by UChicago-affiliated donors.
Buttigieg has called for adoption of a public option for health care—a program that would give Americans the option to purchase insurance issued by the government—which he has billed as a more viable alternative to a single-payer system, under which all citizens would have their health insurance provided by the government.
Buttigieg has credited the Institute of Politics (IOP) at Harvard University, his alma mater, with fueling his interest in politics, and has been a frequent guest at UChicago's own IOP, visiting in October and February of this year.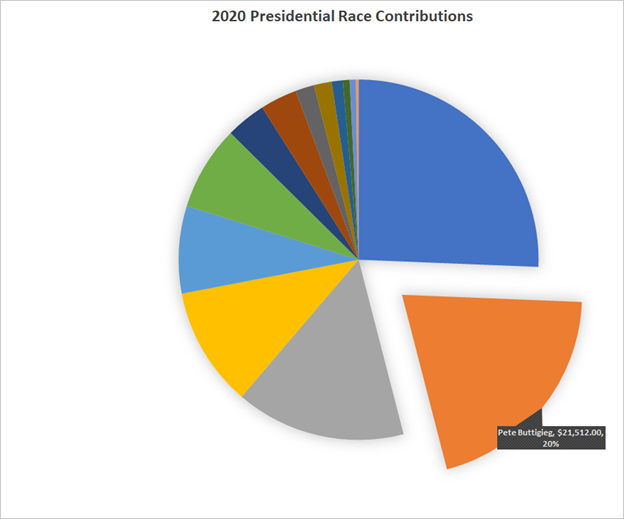 Elizabeth Warren
Warren raised $16,157 from University of Chicago affiliates, ranking her third among presidential candidates at UChicago with 15 percent of all donations. Warren, a U.S. Senator from Massachusetts and Harvard Law professor, has focused her campaign on regulating corporate misconduct, increasing economic equality, and expanding access to health care through a plan that would stop short of eliminating private insurance—at least initially.
Warren's campaign has the support of Renaissance historian Ada Palmer. "As an historian I feel strongly that the most effective leadership comes from people who really understand a system and how it developed," Palmer told The Maroon.
"Just as John Boyer's deep knowledge of the history of our university has helped him set an innovative course for us," she said, "I see in Warren a presidential candidate whose knowledge of U.S. government and history is so robust that her multi-step plan for addressing climate change's inequitable impact on communities of color goes all the way back to fixing loopholes in the original New Deal."
"I see someone who can set a well-thought-through and innovative course for the country, and respond to new challenges by using our extant infrastructure with virtuosity, instead of struggling with unfamiliar tools."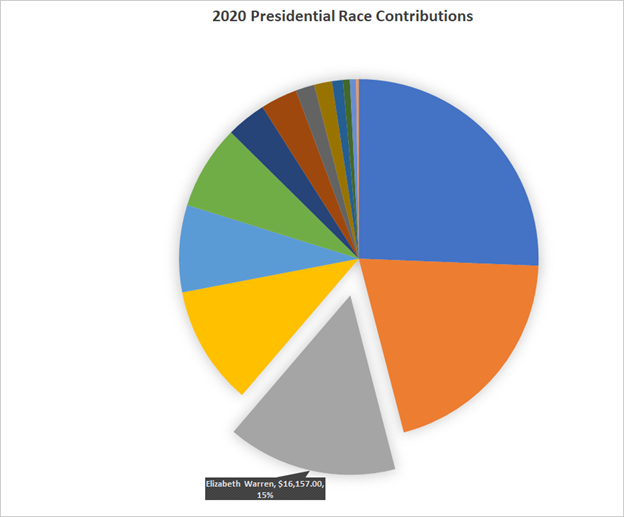 John Hickenlooper
Fourth most popular is John Hickenlooper, the former governor of Colorado whose $11,350 raised from UChicagoans comprised 11 percent of all contributions. Hickenlooper dropped out of the presidential race in August 2019.
A large portion of these donations came from Martha Nussbaum, a prominent philosopher, legal scholar and ethicist at the University. In an email to The Maroon, Nussbaum praised Hickenlooper's record as a legislator, saying, "as mayor, he turned Denver from bankruptcy to a thriving city while increasing equality by putting in light rail to give job opportunities to people in rural areas. He did the same in the state as Governor. As a successful small businessman (craft brewer) he knows how to run things, not just to talk about them. And he has a sense of joy and empathy that is rare."
Since Hickenlooper's withdrawal from the race, Nussbaum now supports the campaigns of Pete Buttigieg and Amy Klobuchar, she said.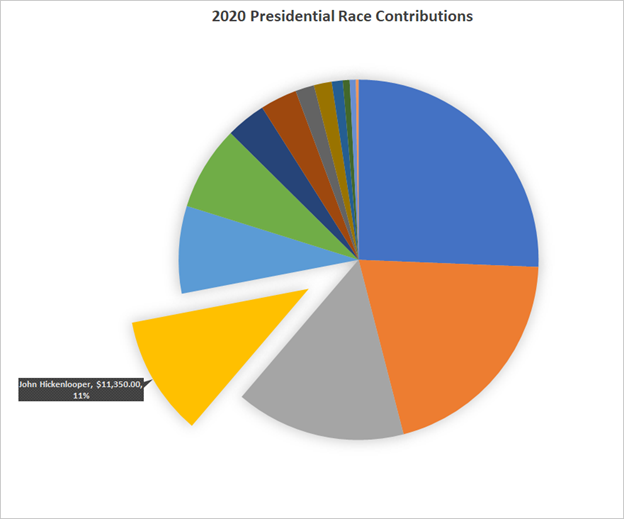 Amy Klobuchar
Klobuchar's (J.D. '85) drew 8 percent of 2020 race donations from the University, pulling in $8,298. Klobuchar, a graduate of the Law School, visited her alma mater in 2016 to discuss her memoir.
The Senator from Minnesota has stressed her background as a Midwestern legislator to pitch herself as a candidate who can appeal to moderates.
Klobuchar's campaign enjoys strong support from Geoffrey Stone, a prominent First Amendment scholar at the Law School. In a statement to The Maroon, Stone cited Klobuchar's intelligence, experience, and values as key to his support.
Stone, who has taught at the University of Chicago since 1973, also cited his personal relationship with Klobuchar, who was his student at the Law School, as a reason for his support. "I knew her well in those days and always respected and admired her. And, of course, I always try to support my current and former students," he said.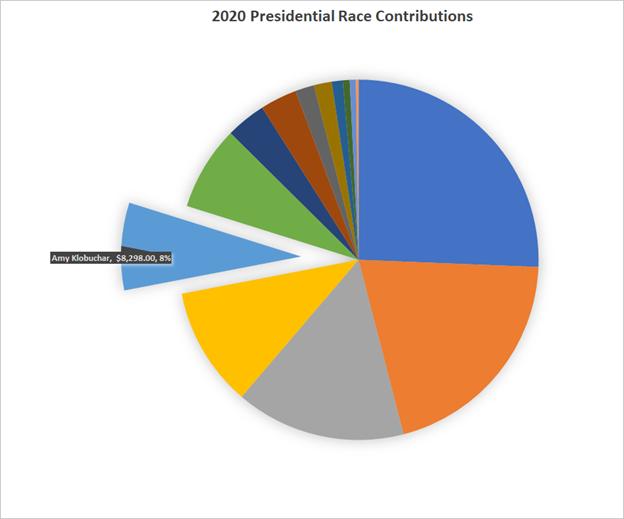 Donald Trump
Incumbent President Donald Trump's campaign has thus far been unpersuasive with University of Chicago affiliated donors, raising just $250—0.24 percent of all donations to presidential candidates. The gift came from a single individual, a commander in the University of Chicago Police Department.
Trump has stressed his first-term record to make his case to voters, citing a strong economy, his repeal of Obamacare's individual mandate, and appointment of conservative Supreme Court Justices, among others.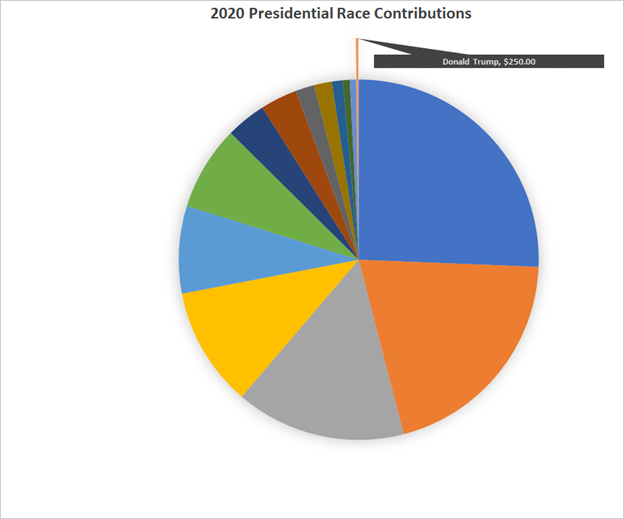 Overwhelming Preference for Democratic Legislators and Organizations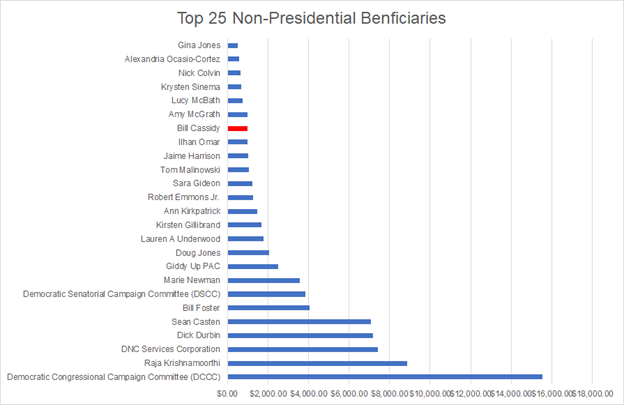 University of Chicago affiliates also gave $83,570 to non-presidential candidates, leadership PACs, parties, 527 committees, and outside-spending groups, mostly to incumbent legislators. Democratic Party affiliates were the most frequent beneficiaries.
When asked to comment on the the overwhelmingly Democratic distribution of donations, University spokesperson Gerald McSwiggan said, "members of the UChicago community are free to donate to or otherwise engage in causes that interest them, in their individual capacities. The University does not track individuals' donations, political activities, associations, or other non-employment activities, and does not support or oppose individual candidates, campaigns or political parties."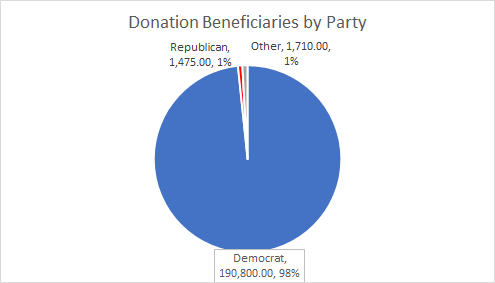 The top five non-presidential candidates, leadership PACs, parties, 527 committees, and outside spending groups supported by University affiliates included: $15,537 to the Democratic Congressional Campaign Committee (DNCC), which raises money to create and support Democratic candidates for the House of Representatives; $8,870 to Representative Raja Krishnamoorthi (D-IL); $7,409 to the Democratic National Committee; $7,174 to Senator Dick Durbin (D–IL); and $7,064 to Representative Sean Casten (D–IL).
Senator Bill Cassidy (R-LA), who raised $1,000, was the only Republican represented among the University of Chicago's top 25 contributions to non-presidential candidates, leadership PACs, parties, 527 committees, and outside spending groups.
In all, of the total of $193,985 raised from University of Chicago employees during the 2020 cycle, only $1,475, or 0.76 percent, went to Republican causes and candidates.