Local Market Opens, Becoming First New Grocery Store in South Shore in Six Years
The branch of Chicagoland-based chain Shop & Save, beset by delays, finally greeted customers on December 11.
On Wednesday, December 11, South Shore residents welcomed the long-anticipated Local Market, a branch of the Chicagoland-based chain Shop & Save, after delays stalled the grand opening of the neighborhood's first grocery store in six years. The Shop & Save is located in Jeffery Plaza on East 71st Street and South Jeffery Avenue.
At 7 a.m., longtime South Shore resident Kenneth Smith—bundled in a hat and gloves and with a smile on his face—was the first of 500 people to receive a free bag of groceries to celebrate the store's opening.
Smith told The Maroon he was very excited for the store and what it could mean for the community.
"It should mean a lot. You won't have to go too far [for groceries]," Smith said. "It took us a long time getting a store over [here]."
The store was initially planned to open around Thanksgiving, but problems with developers led store owners to buy the entire shopping mall, Fifth Ward Alderman Leslie Hairston explained in a speech at the opening ceremony.
Hairston worked directly with Local Market owners Eva and Cezary Jakubowski and the City of Chicago, using taxpayer dollars to provide $10 million in Tax Increment Financing (TIF) funds and $12 million in tax credits in order to bring the store to South Shore.
"You may know that much of the delay was a result of out-of-state owners who didn't see the grocery store in terms of people, convenience, and quality of life, but as a business. So I asked Eva and Cezary Jakubowksi to buy the entire shopping mall [Jeffery Plaza]," Hairston said at the opening ceremony.
"We used TIF money in the way late Mayor Harold Washington intended: to reserve local tax dollars for spending in blighted areas," she added. TIF use in Chicago began in 1984 during Washington's mayorship. "Control of the entire plaza will allow the community to have input in the types of businesses that will open in the future."
In her remarks at the opening, Eva Jakubowksi stressed the store's commitment to being a productive presence for the community.
"Local Market is built for this community. Local Market was created for South Shore…. We have one goal in mind and that is to have a vibrant, thriving community around us and we hope that this store will be part of that expansion," Jakubowksi said.
Chicago Planning and Development Commissioner Maurice Cox spoke on behalf of Mayor Lightfoot's office, explaining how the store is an example of the kind of future economic development the City is hoping to roll out this year in the INVEST South/West initiative. The initiative is designed to invest in underserved communities on the South and West Sides of Chicago.
"This is exactly the kind of investment that Mayor Lightfoot has been talking about…. This is the first down payment on what we hope will be many, many, many more that will populate our neighborhoods," Cox said.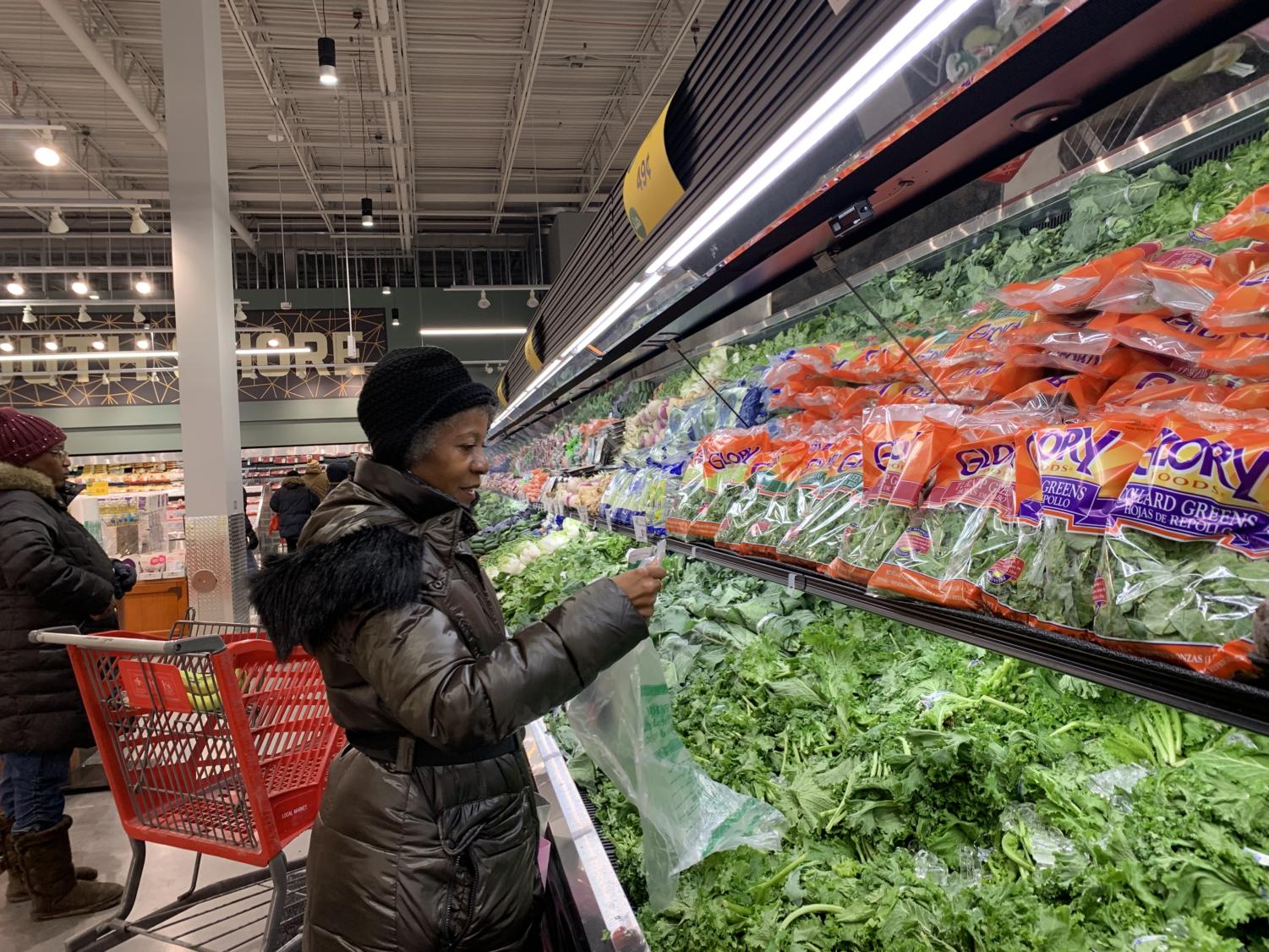 Throughout the morning, customers moved around the grocery store with bright red carts filled with a wide selection of fresh fruit and vegetables located by the entrance to the store.
South Shore resident Barbara Honeycut was impressed by the selection of food available. A diabetic, Honeycut said she is especially happy to finally see fresh, reasonably priced fruit at a grocer close to her home.
"We need this. We really need this, I am hoping it stays…because we need this in this area," Honeycut told The Maroon.