With No Official Announcement, Resident Assistants Learn: No Spring Quarter Pay
The students, who work in College Housing and are guaranteed a place to stay, have cobbled together enough information to realize that they will not be paid next quarter.
Resident Assistants (RAs) in College Housing will not be paid next quarter, administrators told senior housing staff at a virtual meeting on Friday. They have also been asked to evacuate housing along with other students.
Residential Life administrators made the announcement at a meeting over Zoom—a videoconference platform—for Resident Deans and Resident Heads (RHs), according to a fourth-year RA who was told by RHs who attended the meeting. RAs were not invited to attend. Prior to the meeting, some individual administrators had already told students one-on-one that there would be no RA stipend spring quarter.
The move comes shortly after the University's announcement early Thursday morning that academic classes will switch to remote learning for the entire spring quarter. Students in College Housing must vacate their dormitories by March 22, unless they successfully apply to stay on campus in Max Palevsky due to extenuating circumstances.
As of Saturday afternoon, RAs had not been officially notified, as a group, about the lack of spring quarter pay. Meanwhile, a petition for RAs to be paid spring quarter circulated online, drawing more than 1,000 signatures less than 24 hours after it was posted Friday night.
Some administrators had communicated individually with students about the stipend situation on Thursday, after the University's announcement.
Gabbie Griffen, a fourth-year RA in Wendt House and a senior RA for South, sent a text message asking about stipends to Jessica Beaver-Hollman, assistant director of Residential Life for Snell-Hitchcock and South dormitories.
"At this point RAs will not be getting stipends for spring quarter. If there are concerns contact Heath," Beaver-Hollman wrote back on Thursday. Heath Rossner is the senior associate director of Residential Life.
"No official communication was made from Housing to the RAs at any point in the process," Griffen wrote to The Maroon. "Any information we had was accumulated by individual RAs texting and emailing directors in Housing and sharing it among us. The only reason we even knew that the Housing Office was meeting with RDs and RHs was a conference call link accidentally sent to us."
RAs usually earn a quarterly stipend equivalent to the first-year room rate—$3,404 in the current academic year.
The stipend system, started in 2017, replaced an earlier scheme in which all RAs received lodging and dining free of charge, but RAs getting need-based financial aid saw their grants decrease by an amount equivalent to the room and board costs. This meant those students were paying the same total amount to the University as they would if they were not RAs.
Some RAs, like fourth-year Thomas Noriega, say the current system has allowed UChicago to alternately label RA compensation as either pay or as part of a student's financial aid package, "when it's convenient."
Noriega, an RA in Dougan-Niklason House in North, noted that unlike many other student jobs, RAs sign a one-year contract at the beginning of the year. He thinks UChicago may be violating this contract, especially since the vast majority of—if not all—third-year RAs are expected to return to their positions in the fall.
"We're contracted for the year. The only thing that can stop us from getting paid is to get fired, and we haven't been fired."
The contract for RAs specifies that "the period of employment is for one academic year, beginning with the first day of RA Staff Training and concluding when the RA has fulfilled all job responsibilities including fourth year move-out the day following convocation." The current period of employment, according to the contract, is from September 10, 2019, to June 14, 2020.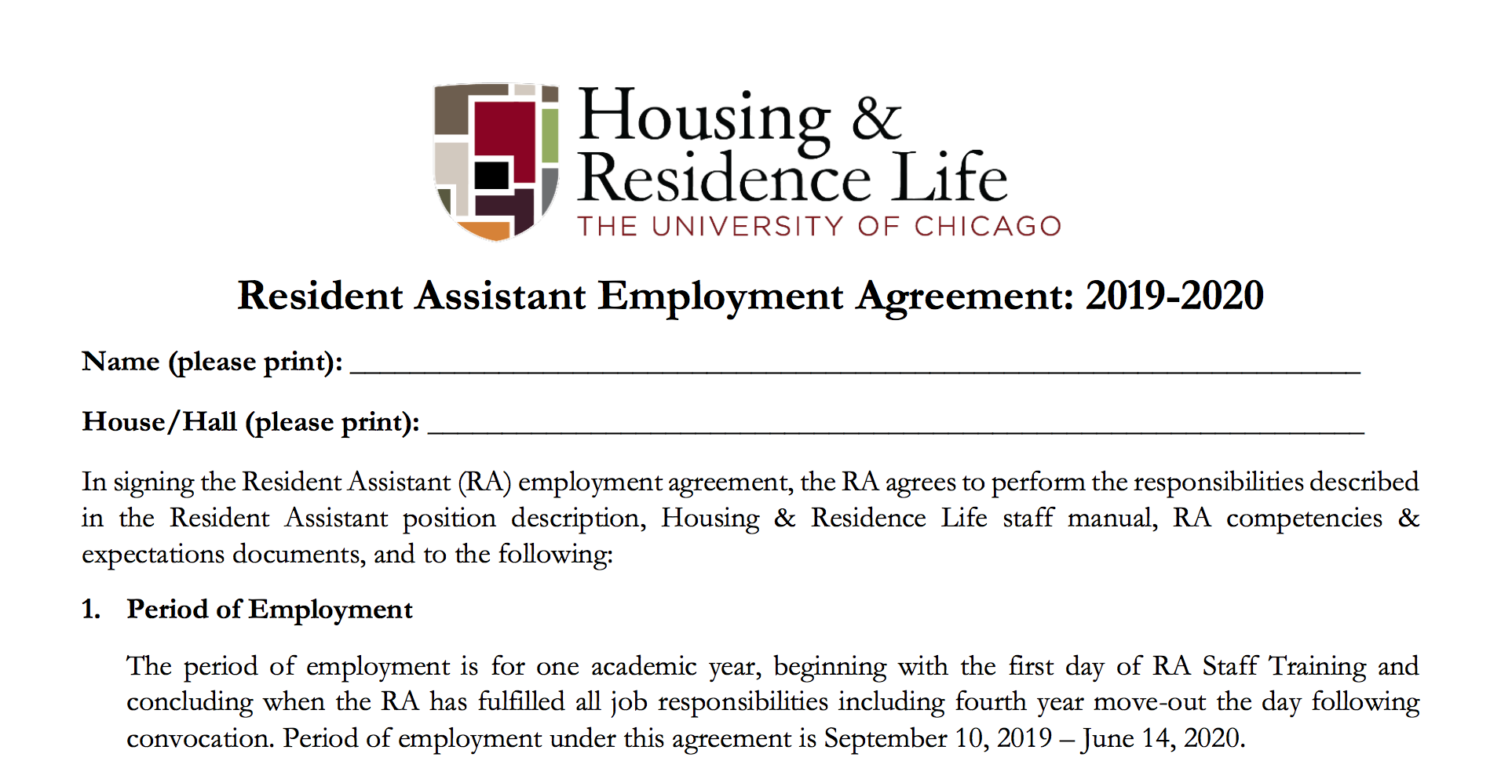 In explaining the decision not to pay RAs next quarter, administrators have framed the stipend as simply offsetting the cost of staying in the dorms. When third-year Jason Lalljee, an RA in Keller House in South, emailed Rossner on Thursday to ask about the stipend, Rossner answered only that students will not be asked to pay for housing and dining next quarter.
"We will share the message more broadly to make sure students/RAs know, but you should know that no student will be charged for room or board for Spring Quarter (unless they are approved to stay in the Residence Halls)," Rossner wrote to Lalljee.
But students say the stipend is a substantial amount of money that many RAs depend on—beyond defraying housing expenses.
"I'm attempting to go to grad school," Noriega said, "and I need all the money I can get. We're paid, after taxes, about $3,500—paid back the cost of housing—and having that in my account is something I was really banking on."
Multiple RAs also pointed to the fact that even as students pack up from the dormitories, RAs will continue to be a resource for their residents. Throughout the rest of the year, RAs say, they expect to be rallying residents virtually and making themselves available to discuss concerns from afar.
"Obviously, none of us are going to be on campus, but this is still our job," Noriega said. "We do movie nights, we're thinking about doing Facebook watch parties for stuff—just to simulate some of these things, to have that sense of community persist."
One third-year RA, who asked not to be named out of fears of jeopardizing employment with Housing, said he sees ongoing communication with his residents during spring quarter as essential to successfully resuming his official duties in the fall.
"I know that sure, I'm not gonna get paid next quarter. But I imagine that we're gonna stay in touch, that the house community isn't gonna fall apart," he said. "If a resident wants to talk about something…I'm not going to tell them to go somewhere else."
"This isn't the kind of job where you can just stop responding," a fourth-year RA said, adding that spring quarter is also a crucial transition period for introducing new RAs to the house.
Residents "will be reaching out to us for emotional labor," said another fourth-year RA. "We should be compensated with some wage, maybe not all three or four thousand, but something. People rely on this money."
One RA described the stipend situation as reflective of a broader pattern of difficulties for RAs from low-income backgrounds especially.
He said that in meetings and conversations with administrators, RAs have repeatedly pushed for dining plans—$2,264 per quarter as of this academic year—to be paid as a stipend, rather than deducted from financial aid packages. Students have also asked for financial aid letters for new RAs to be updated earlier in the summer, among other requests.
"You want lower-income students to apply to be an RA because that perspective adds a lot," he said, to what information and insight RAs can provide. "I just don't think [administrators] understand specifically what lower-income RAs are going to have to deal with."
Another RA, a fourth-year, characterized the lack of spring quarter compensation as a reason for a formalized system of hourly pay, rather than only a stipend for room cost, throughout the year.
"On their own terms, the logics are tight. They're just paying us for housing, so if they're not giving us housing, they're not giving us pay. It works out perfectly, we could never sue them over that…. The logic's perfectly good, but this is another reason why we should be getting hourly pay."
Editor's Note: Jason Lalljee is a former News editor.
Lee Harris contributed reporting.