Director Miki Dezaki Screens Documentary Exploring the Issue of Comfort Women
Shusenjo: The Main Battleground of the Comfort Women Issue was screened by the Center for East Asian Studies and explores the perspectives of both supporters and detractors of comfort women.
At a screening of his documentary Shusenjo: The Main Battleground of the Comfort Women Issue by the Center for East Asian Studies in February, director Miki Dezaki discussed the backlash he faced upon its release and its significance in the current era.
Comfort women were women from Korea, China, the Philippines, and other Southeast Asian countries who were forced into becoming sex slaves for Japanese soldiers during World War II. They are currently the central topic of an ongoing diplomatic dispute between Korea and Japan, who disagree on whether comfort women were prostitutes or sex slaves and whether they were coercively recruited. Korean officials believe Japan has legal responsibility to apologize to former Korean comfort women, a view not shared by Japanese officials.
Through planned and man-on-the-street style interviews, historical documents, and news articles, Dezaki's documentary juxtaposes the perspectives of both supporters of comfort women and their detractors on the Japanese political right. Detractors claim that Korean comfort women in particular were prostitutes because there is no evidence of them being physically forced into the brothels.
"Usually the right-wingers are attacking Korea, and I think part of that has to do with how in China and Southeast Asia, there are documented cases of women being kidnapped, basically." Dezaki said. "But in South Korea it's mostly, like, deception."
Dezaki's film sheds light on how Korean comfort women were typically tricked into thinking they were accepting a different job, or threatened by Japanese soldiers before being brought to the brothels. In a 1944 American Army document, which is frequently cited by Japanese right-wingers, the U.S. Office of War concluded that the Korean comfort women they interviewed were "nothing more than [prostitutes]" who were "attached to the Japanese Army for the benefit of the soldiers." Yet, the same document also states that the comfort women enlisted due to the "false representations" of the job, and their "'service' was not specified but…was assumed to be work connected with visiting the wounded in hospitals."
Much of Dezaki's film also focuses on how being coerced still counts as doing something against one's will. "I think for the Japanese right, it's easier to target and argue and say, well, there's a lot of women who got paid, they just wanted to do this, they were prostitutes. So it's easier for them to attack that argument. And I wanted to go after the most contentious arguments to clear up the error on this."
Dezaki's film has been extremely controversial in Japan. He is currently being sued by five people who were interviewed in the film, including Tony Marano— an American YouTuber also known as "Texas Daddy" who supports right-wing Japanese views; Marano's manager Kent Gilbert, an American actor working in Japan; and Nobukatsu Fujioka, a professor at Tokyo University. They claim that they were uninformed about the film's commercialization, as it was originally a graduate film project, despite having signed public release forms.
"I kind of see this as a SLAPP lawsuit," Dezaki said during the Q&A session after the screening. A SLAPP stands for "strategic lawsuit against public participation," and can be used to silence or intimidate opposing voices by burdening them with the costs of legal defense.
"When I told [the interviewees] about [the film's] theatrical release in Japan, a few people who are suing me now [initially] congratulated me on the theatrical release," Dezaki said. According to Dezaki, among these people was Gilbert, who shared the trailer of the movie on Facebook and Twitter around March 1st, and played the trailer at a right-wing political event at around the same time.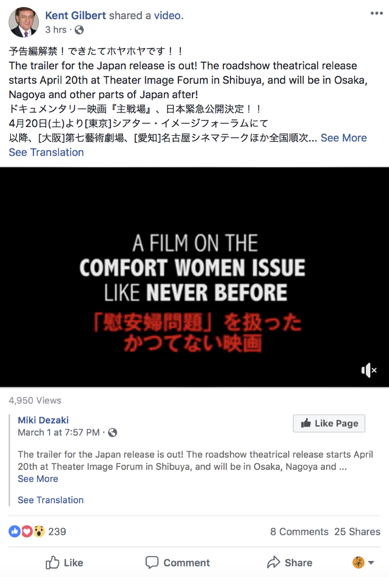 In response to an audience question regarding the effectiveness of these SLAPP lawsuits in discouraging audiences from watching the film, Dezaki said that "it's very effective in trying to silence the film, and the Japanese consulate has actually used the lawsuit as well."
Currently, Shusenjo has been screened in some European universities, and is in the midst of a U.S. and Canada university tour. However, according to Dezaki, "[The Japanese consulate have] called a number of universities telling [them] not to show the film, or that they're disappointed that they're showing the film." These universities have included UCLA and UC Berkeley, who still chose to screen the film.
Dezaki shared his concerns over what he sees as the declining freedom of expression in Japan, citing the initial censorship of his film from the Aichi Triennale 2019, an international contemporary art festival in Japan. According to Dezaki, what allowed *Shusenjo* to be screened in the end was his film's vocal support from prominent Japanese director Hirokazu Koreeda. Koreeda directed the film Shoplifters, which won the Palme d'Or at the Cannes Film Festival in 2018.
"We have to rely on these super famous people to speak up for us," Dezaki said. "And if they don't, then what happens?"
Among the audience at Shusenjo's screening was Norma Field, an emeritus professor of East Asian studies at the University. During the Q&A session with Dezaki, Field commented on her own experiences witnessing the Kono Statement made by Japan's Chief Cabinet Secretary Yōhei Kōno in 1993, which occurred after the first comfort women testimonies in 1991. Kōno acknowledged that the Japanese military recruited comfort women from other countries against their own will, and declared that Japan would be sure "never to repeat the same mistake by forever engraving such issues in our memories through the study and teaching of history."
Yet Dezaki's film features interviews with students who claim to have not learned about comfort women in school.
"I can really remember [19]90, [19]91, that period, and feeling like, in a certain sense, this issue has taken a certain solidity; people are not going to go back on the Kono Statement," Field said. "But [the film] really nicely shows what happens when junior high school textbooks took [comfort women] out, and what a trigger that was for the right to mobilize. How foolish it was of me to think that a certain kind of consolidation of post-war Japanese settlement took place, and we can admit to these crimes."
Field and Dezaki also touched on the film's significance in the current era, citing the similarities between the testimonies of the comfort women, and the testimonies of victims of sexual assault during the #MeToo movement of 2017. "[The #MeToo movement] actually taught me a lot because it was actually during making the film that it all happened," Dezaki said. The movement also informs why he thinks a sexual abuse victim might have inconsistencies in testimony in his film.
"[There were] women [in the #MeToo movement] who were coming out 30, 40 years later, and then finding it so difficult to come out about their sexual abuse that they faced," Dezaki said. "The fact that they found it very difficult to come out in 2017…. I can't imagine what it was like for these women to come out in the '90s. The right-wingers say, 'Well, why didn't they come out in the '50s or '60s or '70s or '80s?' I mean that must've been impossible in Korea's patriarchal society at the time. So that really informed me a lot about testimony and what these women were going through possibly."
In Japan, audiences of Shusenjo have been diverse, partially due to the confusion over the trailer, which was interpreted as an anti-right-wing film by supporters of comfort women, and a right-wing film by their detractors, especially after Kent Gilbert's support of the trailer on social media. According to Dezaki, there were many misconceptions held about the film by people discussing the film on Twitter, and people who had seen the trailer in theaters. "The two most recognizable or famous people in the film happen to be right-wingers so I think that people watching the trailer just focused on them without noticing there were left-wing, comfort women supporters in it too," said Dezaki. Audiences have also been composed of students, many of whom were given extra credit to see the film by their professors.
Dezaki hopes more people will be able to watch the film, and for both supporters and detractors of comfort women to be better informed about the misinformation spread on both sides.
"I thought maybe if [Korean and Japanese people] had more context on the issue, maybe if I dedicated two hours to this and really gave some details about it, maybe after that they could have more productive discussions about it," Dezaki said. "This isn't a nation versus nation thing; this is a human rights, women's rights issue, and no longer something we should fight over."