Student Organizers Sit in at UCPD Headquarters
Organizers were not able to use the building's bathrooms or bring in supplies. Although organizers were able to leave the building, that would have ended their action to "defund, disarm, disclose, and disband" UCPD.
Student organizers with #CareNotCops, UChicago United, Students Working Against Prisons, and UChicago Student Action staged an overnight sit-in at the headquarters of University of Chicago Police Department (UCPD) at 850 East 61st Street on Friday night. About 20 activists spent the entire night in the building, refusing to leave until they had secured a public, in-person meeting with Provost Ka Yee Lee and UCPD Chief Kenton Rainey. The protest began with over 100 participants, and around 40 stayed for at least part of the night.
A back door was kept unlocked and protesters could exit the building at any time. However, they would not have been allowed back in after business hours, so leaving would have ended their action. Though many protesters left, about half of the original occupying group spent from 5 p.m. until 10:30 a.m. on Saturday, June 13 on the floor of the lobby.
Protesters had brought in some water and snacks, but the pizza they ordered was not allowed into the building, as it arrived after business hours. They were also not able to access a bathroom without leaving the building, as the building's restrooms were locked after business hours.
Their demands were "defund," "disarm," "disclose," and "disband": for the University to reduce the UCPD budget by at least 50 percent for the 2020-21 school year; entirely disarm the police force; make the organization's budget from the past 20 years and all future years public; and dissolve the force altogether by 2022.
The demonstration began with a rally on the main quad shortly after 2:30 p.m.. UChicago students and local organizers gave speeches about the University's controversial relationship with the South Side.
Third-year organizer Yessica Vargas referenced the University's use of racially discriminating housing covenants in the '50s and '60s and recent disengagement with organizers for a Community Benefits Agreement between locals and the Obama Presidential Center.
"The University of Chicago is supposed to have a complicated history with the South Side," Vargas said. "It is a violent history."
Vargas said that University students were both associated with the prestige of the institution and its behavior toward South Siders, which she characterized as "colonizing the entire fucking South Side in buying up buildings away from the locals and hyper-policing them with their private police force."
She also accused the University of being disingenuous with its intentions. "They do all of this with a smile in the front and a thick-ass wallet in their pocket and say, 'We help the South Side,' and say, 'Protection and safety,'" she said.
Former student Charles Soji Thomas addressed the crowd remotely by phone. UCPD officers shot Thomas two years ago during what his family and friends have identified as a mental health crisis. Thomas has since spent time in jail and is currently under house arrest after being released on bond in April.
"I think it goes without saying that this is an incredibly emotional time for everybody," Thomas said, before discussing the potential for change he saw in the civic actions of the last several weeks.
"It reminds me of the natural frequency of a bridge, right, where the wind is hitting it just right and it's swinging back and forth with greater and greater intensity until it collapses in on itself. And in this corny metaphor, of course, the bridge has been swinging for a long time," he said.
After a short march from the quad to UCPD headquarters at 6054 S. Drexel Ave, protesters filed into the building and organizers announced that they intended to occupy the space.
Katie Kasperian (A.B. '19), a College alumna, was present at the protest because of her desire to push the University in a different direction regarding policing.
"As an alum, I think I have a responsibility to show up and make the university confront the fact that alumni do not support the continued occupation of the South Side…and do not support the violent presence [of the UCPD] with South Side community members and even students like Soji Thomas," Kasperian said.
Before the building closed and UCPD began to man the front entryways, Kasperian noted that this protest of the university would likely receive a different response from law enforcement than the protests taking place downtown because it was student-run.
"Protests do require institutional legitimation. We're protesting UCPD. There's one cop car and maybe three [officers] inside. In various protests that have been happening around Chicago, they would have been met with violence," she said. "As students, we get away with a lot because of UCPD and because of our status as students on the South Side, that nobody else would get away with."
The building formally closed at 5 p.m.. Shortly afterwards, two UCPD officers wearing face masks entered the lobby to stand by the doors, which were unlocked from the inside, and told protesters that if they wished to leave the building, they could do so through a back exit. As a crowd of supporters gathered on the other side of the doors, more officers joined them and eventually cordoned off the block.
Vargas told The Maroon that organizers planned to stay in the lobby unless UCPD Chief Rainey or a top-level administrator came out to negotiate with them. She said that the administration had a history of closed-door meetings with activists with no accountability mechanism.
"We want a powerful figure to come out and agree to our demands, and if not agree to our demands, commit to try to push for our demands from the inside," Vargas said.
"We are prepared to stay for 24 hours," she continued. "We have programming, we're going to do arts and crafts, share and learn more about UCPD, inspire people to reimagine what it would look like if that budget were allocated to more care initiatives."
A Dean-on-Call was on the premises for the beginning of the protest. According to the University's website, the Dean-on-Call is meant to facilitate support for students in emergency or conflict situations. At one point, UCPD officers let her into the building to address the students to remind them that they were violating Illinois regulations about social distancing and gathering sizes.
A crowd gathered outside the headquarters on Drexel Avenue, carrying tents, crates of water, and other equipment after the building doors closed. They stacked it outside the headquarters alongside boxes of pizza that organizers had ordered earlier and began setting up tents.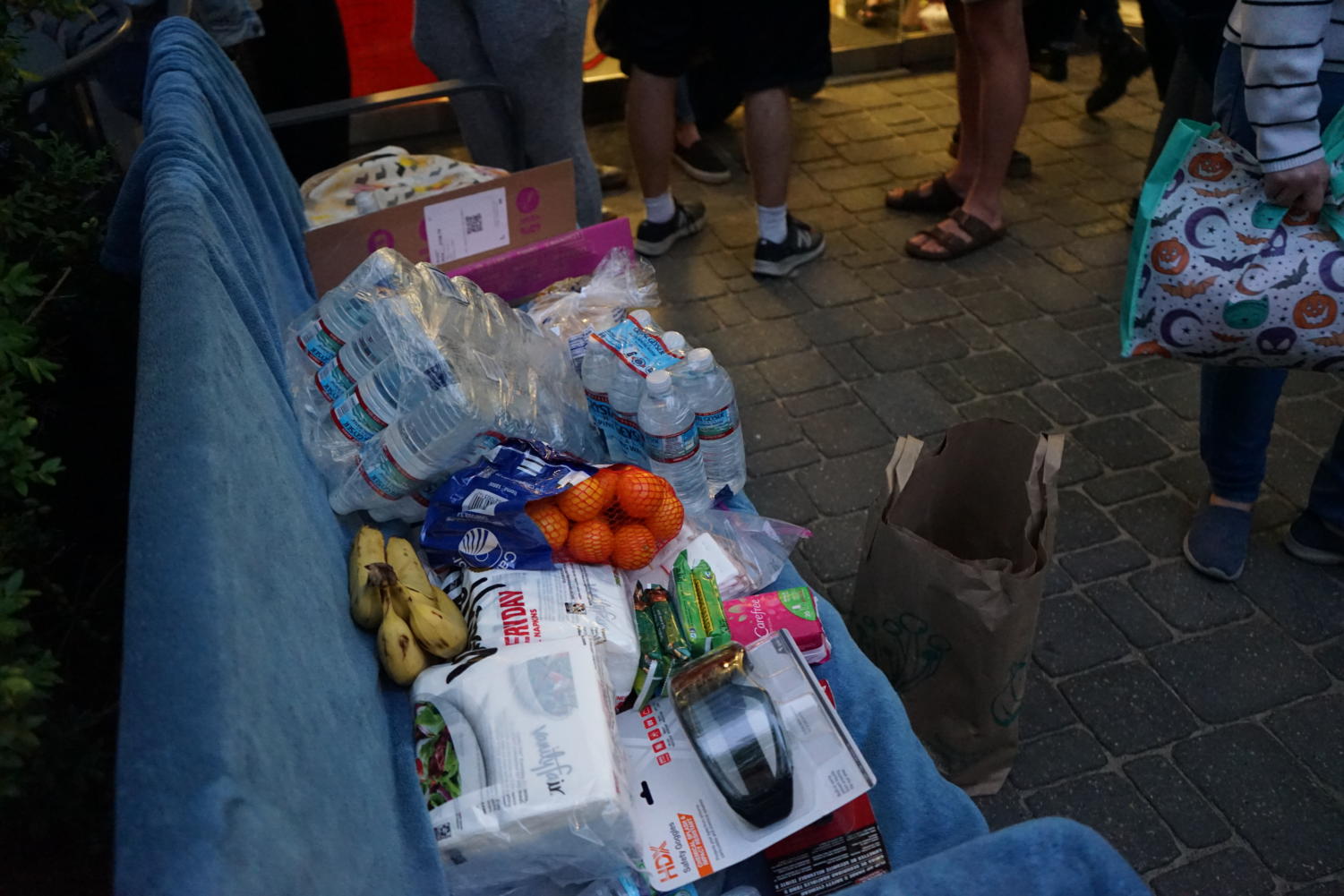 Second-year Roma Linares told The Maroon that the main goal of those outside was to get food and supplies into the lobby for those sitting in.
"We're trying to figure out a way to get supplies to the people inside because the cops are, like, making it really impossible. Right now, I think we have a way to do that," Linares said.
"I know that people are willing to stay overnight in there. But a lot of people have also been helping out with supplies in terms of tents and sleeping supplies and food," she said. "We got a bunch of offers to buy pizza and medical equipment. We also have a bunch of medics, people from the National Lawyers Guild."
University officials posted a statement on the doors of the building at 7:15 p.m. on Friday night, saying that "The building you are in is now closed and you are trespassing," that protesters needed to respect social distancing guidelines, and that the students were not allowed to eat in the building due to COVID-19 social distancing guidelines.
The University has just posted this sign on the outside of UCPD headquarters. pic.twitter.com/OJRA4Lvh5k

— The Chicago Maroon (@ChicagoMaroon) June 13, 2020
University spokesperson Jeremy Manier emailed a similar document to The Maroon shortly afterward.
"As part of our commitment to free expression, the University is fundamentally committed to upholding the rights of protesters to express a wide range of views," the statement said. "University policies also make it clear that demonstrations cannot jeopardize safety or disrupt the University's operations and the ability of people in the University to carry out their work. As UCPD Chief Kenton Rainey stated in a recent University Town Hall, he remains committed to having a dialogue about the best ways to uphold public safety."
About an hour later, protesters distracted a UCPD officer guarding the door enough to edge it open and throw a pack of children's diapers to those in the lobby. Organizers inside the building quickly set up a bathroom tent (termed the "supply tent") for those staying the night.
Around 11 p.m., the mood inside the station seemed celebratory, as protesters inside and outside sang and danced, and supporters in the makeshift tent city set up outside played instruments, hung banners, and formed a makeshift barricade out of dumpsters on either end of the block. Organizers on either side of the glass doors led call and response chants, at one point chanting "We love you."
After midnight, organizer Michelle Yang tried to call the Dean-on-Call, but was unable to get through. Officers told her that they could take her number and have the Dean call her back, but after one phone call was dropped due to technical issues, organizers were not able to get in touch with the Dean until morning.
Later in the night, people outside the building either went home or camped in their tents. Protestors huddled in small groups or tried to sleep on the lobby floor, using jackets—or in one case, copies of the South Side Weekly magazine—as blankets for warmth.
Every half hour from approximately 9:30 p.m. onward, a UCPD officer would enter the room and loudly read the notice that had been posted announcing that protesters were trespassing and in violation of social distancing guidelines. As students grew increasingly frustrated at being repeatedly woken or prevented from falling asleep, they began chanting over the officer, yelling "Quit your job," or reciting lyrics from Nicki Minaj's "Super Bass."
Around 9:20 in the morning, Chief Rainey entered the room, telling protestors that while he appreciated their support for Black Lives Matter, he was concerned about their safety due to COVID-19 and would have a meeting with them on Monday.
"COVID-19 is real," Rainey told jeering protesters. "I appreciate what you guys are doing, this is democracy. We're going to meet on Monday if you guys want to."
When pressed by organizers to publicly commit on the spot to meeting their demands, Rainey declined and left.
"He, after depriving us of our dignity and depriving us of our safety [by not allowing food in and keeping the bathrooms locked], felt that it was right for him to ask us if we were safe, to say that he's concerned with our safety; the whole time skirting the reason we were there in the first place, which was to demand that he use his power to disarm the UCPD," said organizer Jo Sabath.
While many protesters had left at some point during the night or early morning, at 10:30 a.m. the final group of around 15 protestors cleaned up the lobby and emerged through the front doors to cheers from the waiting crowd, composed of undergraduates, graduate students, community members, and faculty.
Organizers held a brief press conference for the supporters and camera crews present, giving a series of statements on their experiences over the past 19-plus hours and ending with chants of "We'll be back."
"We were planning to stay there until Kenton Rainey came to talk to us then and there. They cut off our access to the Dean-on-Call, then she came inside and she said, 'Now I'm worried about you guys not being able to social-distance,'" said fourth-year Anna Attie. "The cops closed the doors on us, the police made it so that we couldn't have a safe action. We were committed to protesting and they infringed on our right to do so safely."
Yiwen Lu contributed reporting.