Art Around for Black Lives Matter
A (nowhere near exhaustive) list of ways the UChicago community can support Black Lives Matter, ranging from YouTube videos to Black-owned local businesses to student artist commissions.
Below is a list of ways the UChicago community can support Black Lives Matter, ranging from YouTube videos to Black-owned local businesses to student artist commissions.
Stream to Donate – 24/7 Hip Hop Music – Donate with No Money by Listening #BlackLivesMatter
Youtube Video, Free
Compiled by YouTube content creator Revive Music, this video serves as a way to both (1) support Black artists and (2) raise funds for the Black Lives Matter movement. Check the description for full tips, but a couple reminders: do not skip the ads, do not loop, and share the video.
A Few Media Tips for the Protesters…
Free
Art is a voice of the silenced. The main link in the caption title is an invaluable resource for those who will go outside to protest, with posters, songs, and chants. Here are a few tips on how to delete your social media footprint; how to blur photos and videos; and some books to read on your way there. While we encourage you to buy books from local bookstores, here are more books from the Black History Month Library.
The Center for Artistic Activism: Resources
Free
From a user-generated database of creative activism to podcasts about artistic protest, the Center for Artistic Activism provides free resources for you to read, listen, and watch, to learn, educate others, and inspire your community.
Experimental Station: Market Box
Donations and Volunteering
The Experimental Station builds their own programming in the South Side community, ranging from the 61st St Farmers Market to South Side Weekly to Build Coffee. They have begun a collaboration with Star Farms Chicago to provide locally sourced produce to South Side residents in need. Feel free to donate a box, or, if in the South Side area, sign up to volunteer for the Experimental Station!
Donations
Circles & Ciphers is a restorative justice program centered around the arts to aid people impacted by violence. With hip-hop infused workshops and weekly circles, they advocate for the abolishment of the prison industrial complex. Donate to their cause here.
Donations
A Black-led organization that advocates for prison abolishment, the collective's members include local Chicago artists and activists. Support their cause here.
Donations
UChicago dance RSO Ex Crew has started a fundraiser for the Chicago Community Bond Fund and Brave Space Alliance. They will match up to $500 in donations. Venmo at @ExDanceCrew.
Artist Commissions
Donations
Some UChicago students and alumni have offered art commissions and will match donations (with proof/receipt).
Supreme Hinton is accepting commission requests in exchange for BLM donations. He draws digital portraits and makes abstracts. Contact Supreme at supreme@uchicago.edu.
Shannon Sheu will match donations to any organization listed here. $14.41 will be a head-only commission, and $27.82 for a waist-up commission. Send Shannon a proof of donation and one to three reference images. She will draw you, your friends, your D&D character, and other fanart—animals and complex armor generally excluded. Email Shannon at ssheu@uchicago.edu for more details and art samples.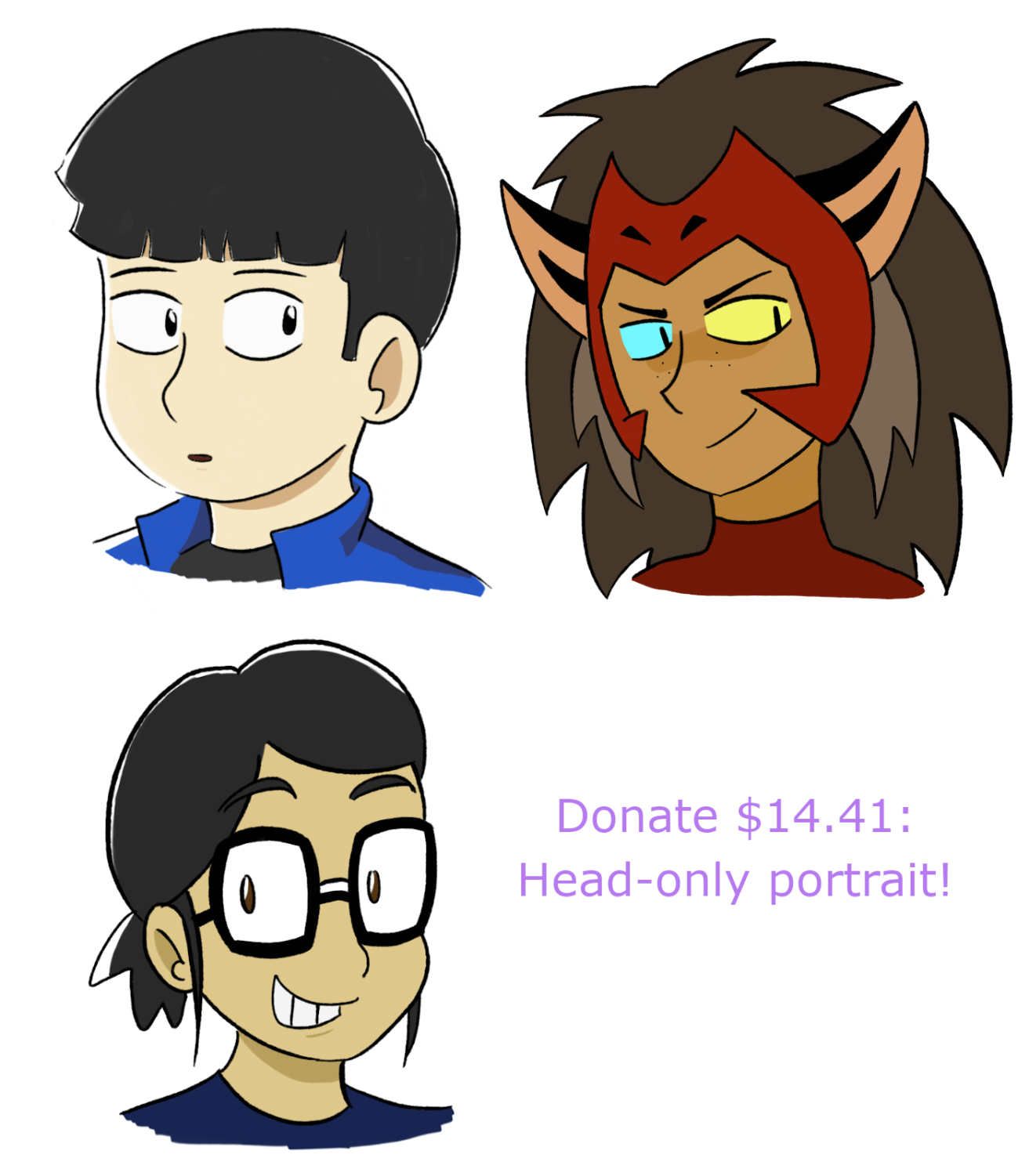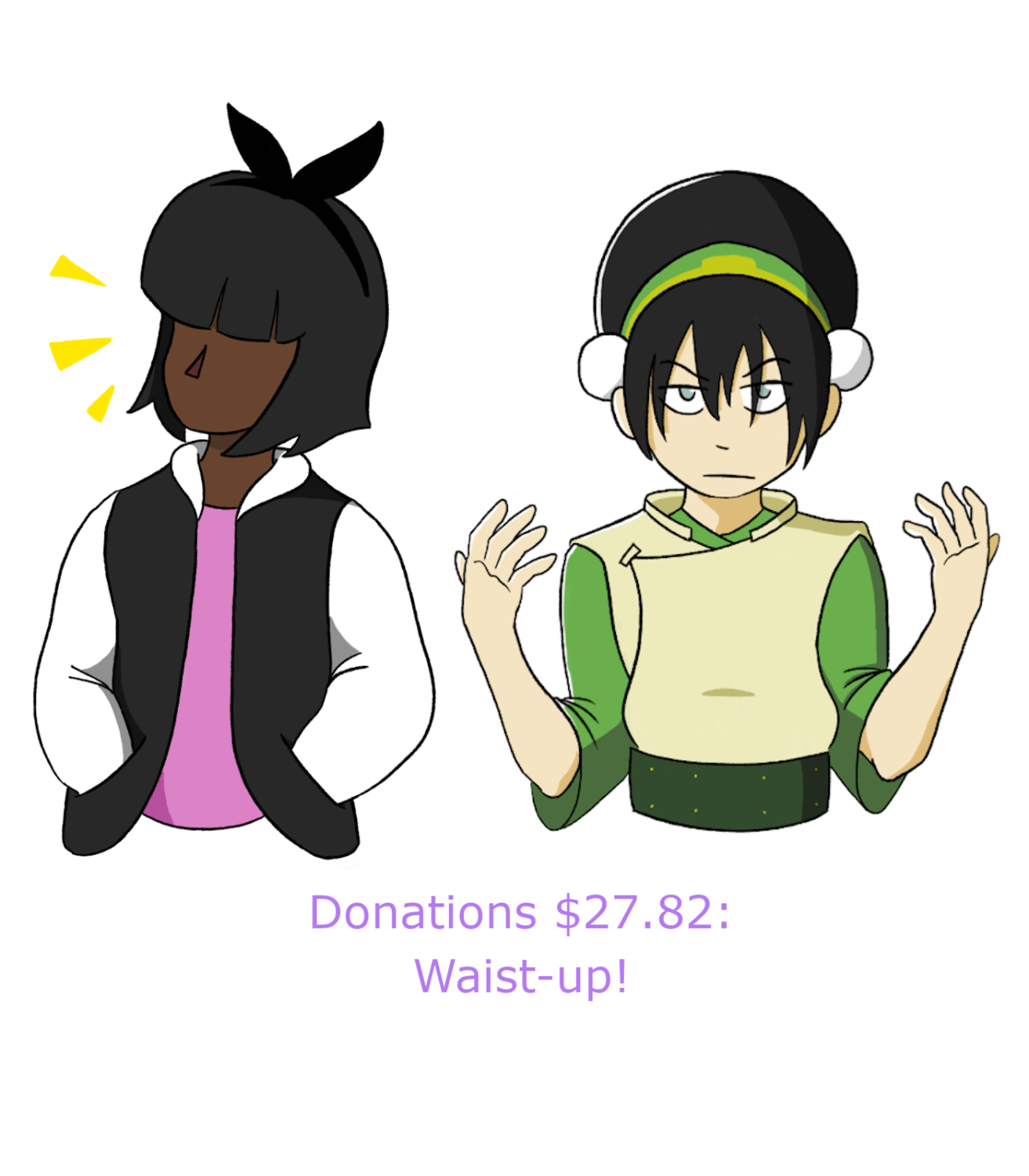 Iris Jacobs is accepting commission requests as BLM donations. She coordinates her commissions and bids on her Instagram account, @buymydamnart. She can also be reached on Facebook, or emailed at ilrj748@gmail.com.
UChicomics will donate all their proceeds from commissions to the Okra Project, which addresses food insecurity among Black trans people. Venmo @uchicomics $15 or send a screenshot of a receipt of a $15+ donation to a Black organization. Request a commission here. If you yourself are an artist who would like to get involved with their commission fundraiser, don't hesitate to message them at UChicomics.
Varies
Eat at local Black-owned restaurants in Chicago. We would like to highlight some of our Hyde Park favorites, while at it: Virtue Restaurant, Can't Believe It's Not Meat Inc., Flippin Flavors, Litehouse Whole Food Grill, B'Gabs Vegan Kitchen, Sir and Madame, Jerk 48, Soul Shack, 14 Parish, Grail Cafe, Teapot Brew Bakery, Powerhouse Restaurant, and Sweet Maple Cafe.
Varies
This is a worldwide virtual sale of our favorite baked goods, and some Chicago bakeries have agreed to participate! Favorites include: Flaky Bakers, s.k.y. restaurant, and big.fat.cookie. Each individual baker has chosen a specific organization to donate to, but beneficiaries include Brave Space Alliance, Assata's Daughters, and My Block My Hood My City. Check Twitter and Instagram with #bakersagainstracism for more local bakers!
Hyde Park Bake Sale, featuring Harris Student Bakers
Saturday 6/20/20, 3 pm
Dorchester Ave. and Hyde Park Blvd.
Harris graduates have organized a bake sale as part of #bakersagainstracism. From lemon bars to Rice Krispies, you can grab treats during the Juneteenth weekend, or simply preorder for a $15 bundle. All proceeds will be given to Brave Space Alliance. Also available, brown butter pear bars, orange ginger turmeric cookies, and homemade bagels. Contact Daniella Choi for more details.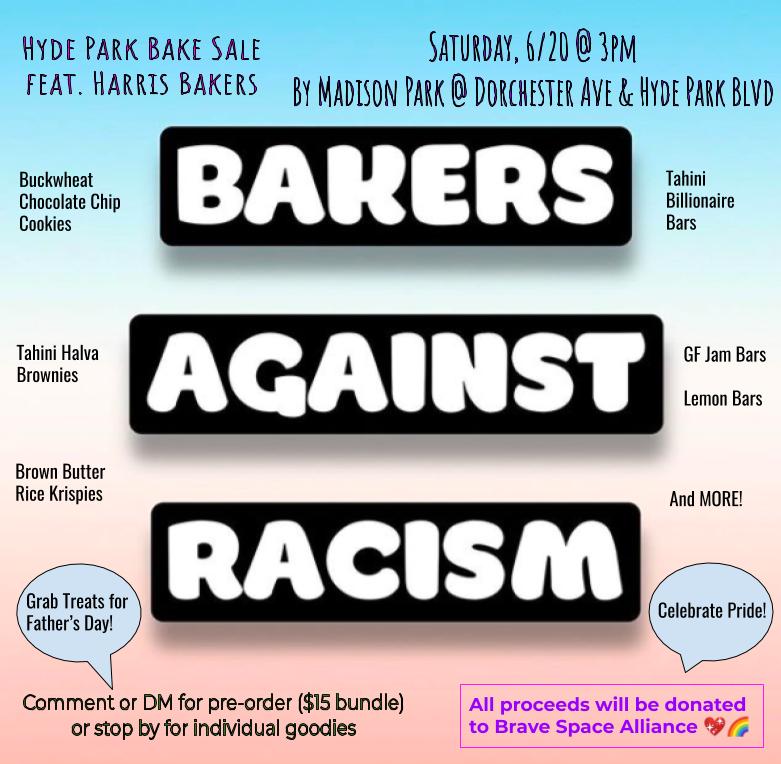 Varies
The only Black woman-owned bookstore in Chicago, Semicolon boasts an impressive collection of novels and artworks. They are currently taking online orders! While you're at it, may I recommend any novel by Black author Colson Whitehead?
Streaming and Texting
Free
A homebody? No worries – you can help out too.
Text (409) 404-0403 for a recommendation of a book written by a Black author based on genre and a link to a Black-owned bookstore to buy it.
Or stream the Black Ensemble Theater's rendition of Jackie Taylor's Soul of a Powerful Woman on Facebook. This was a benefit performance by influential women in Chicago, starring Black women artists from the company.