University Sends off the Class of 2020 in First-Ever Remote Convocation Weekend
The event, which included speeches by administrators and students, was held remotely because an in-person Convocation Weekend was impossible in light of the COVID-19 pandemic.
UChicago's first-ever virtual Convocation Weekend took place on June 12 and 13, honoring the Class of 2020. Although an in-person Convocation Weekend was impossible in light of the COVID-19 pandemic, people around the world joined Class Day and the 533rd Convocation through live webcasts.
Class Day, which the University describes as "a student-orchestrated event that celebrates the graduating class, its achievements, and its unique contributions to the UChicago community," was live-streamed on Friday, June 12 at 2 p.m., kicking off the first virtual Convocation Weekend.
The event opened with a "Well Wishes" video with congratulations from students, faculty members, and alumni.
Dean John W. Boyer then gave opening remarks, emphasizing the importance of scholarly qualities and courage that can help with navigating through difficult times.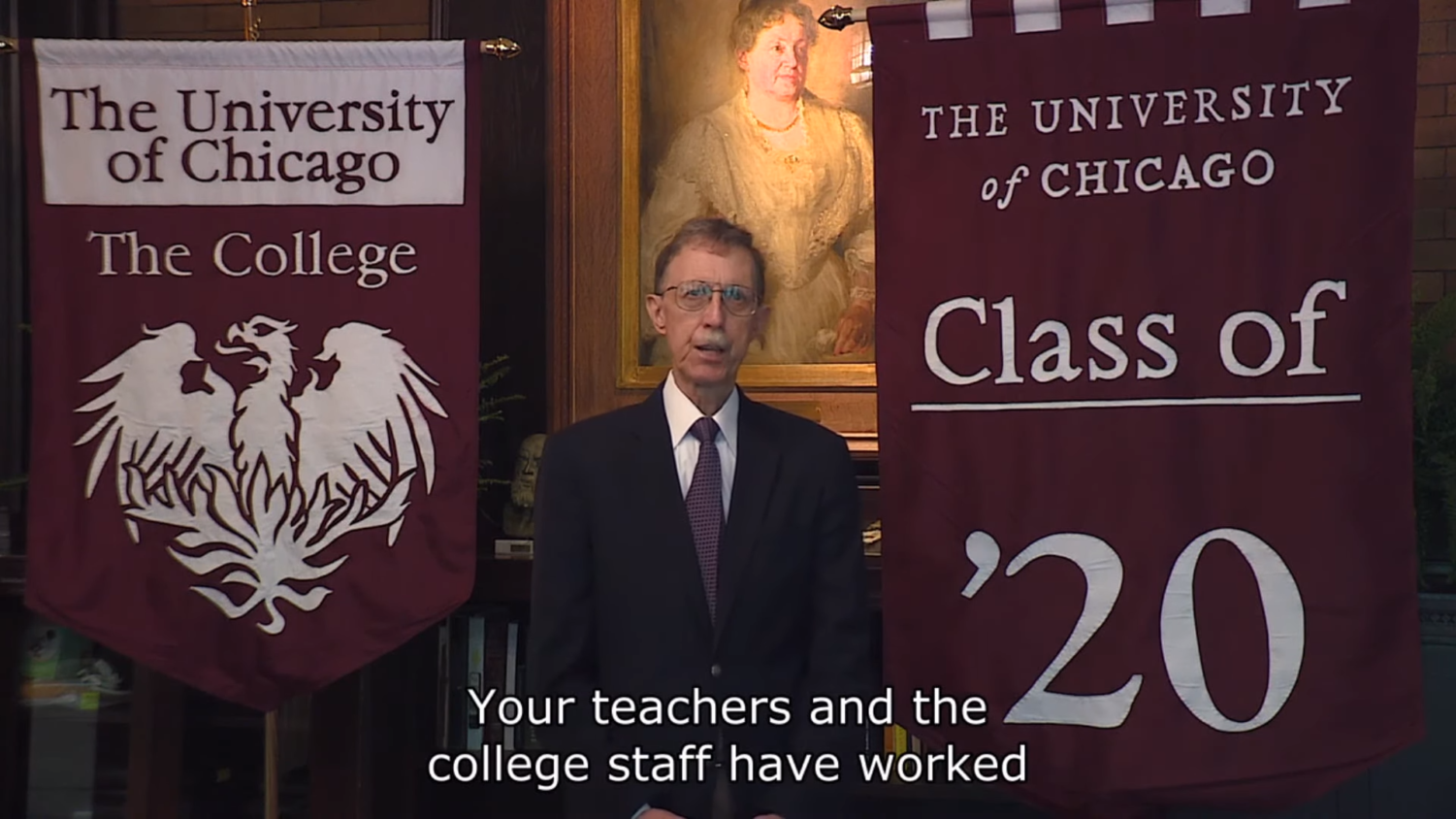 "None of these qualities have simply materialized in the spring quarter of 2020. They are rooted, rather, in the liberal arts culture that you have absorbed and circulated back through the university with your curiosity, independence of mind, and pursuit of knowledge," Boyer said.
Fourth-years Emily Stevens, Annie Geng, and Greer Baxter then presented student addresses.
Stevens recalled her memories at the university and talked about how the UChicago community has altered her life's trajectory. "I miss long walks in the bitter cold and empty laundry room and the dear old Brutalist Regenstein. These things were taken away too soon but what we have is each other and what can never be taken away from us is ourselves, what we have learned and who we have become," Stevens said.
Geng encouraged everyone to keep believing in and loving the world, and to keep fighting for their ideals. "The fight to make the world a better place continues with you. The world needs you now more than ever to believe in it and to move with courage and hope. It needs your love," she said.
Baxter talked about the "contagious passion" shared by people at UChicago, and how it made her think and rethink. "UChicago students have the courage to be themselves, because we are amazing human beings in the making, and this university and the people we have been surrounded by here helped form who we are. And now we are ready to go," she said.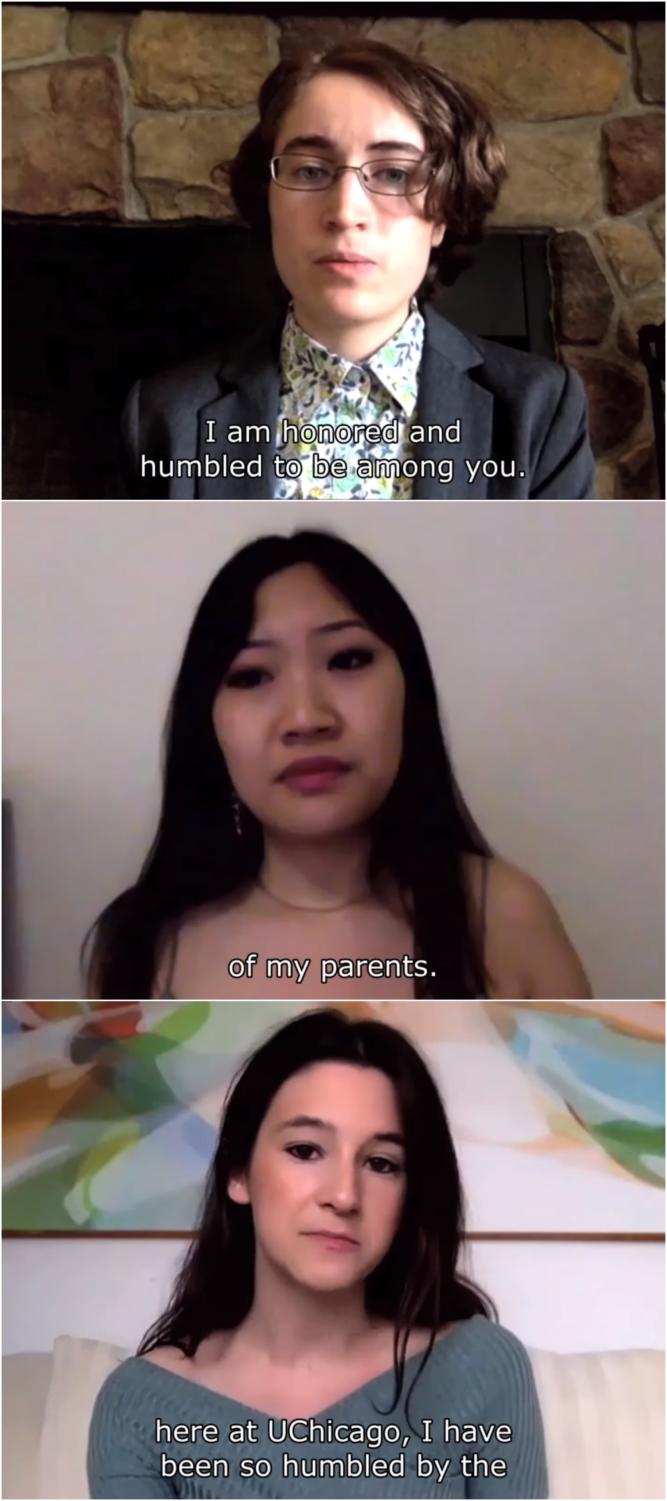 Dr. Otis W. Brawley (S.B. '81, M.D. '85), who had been announced as a speaker before graduation became virtual, delivered the keynote speech. He is a professor of Oncology and Epidemiology at Johns Hopkins University and the former Chief Medical and Scientific Officer of the American Cancer Society.
Brawley emphasized the importance of mentorship, positive influence, love for intellectual rigor, and the responsibility that comes with the privilege of being educated.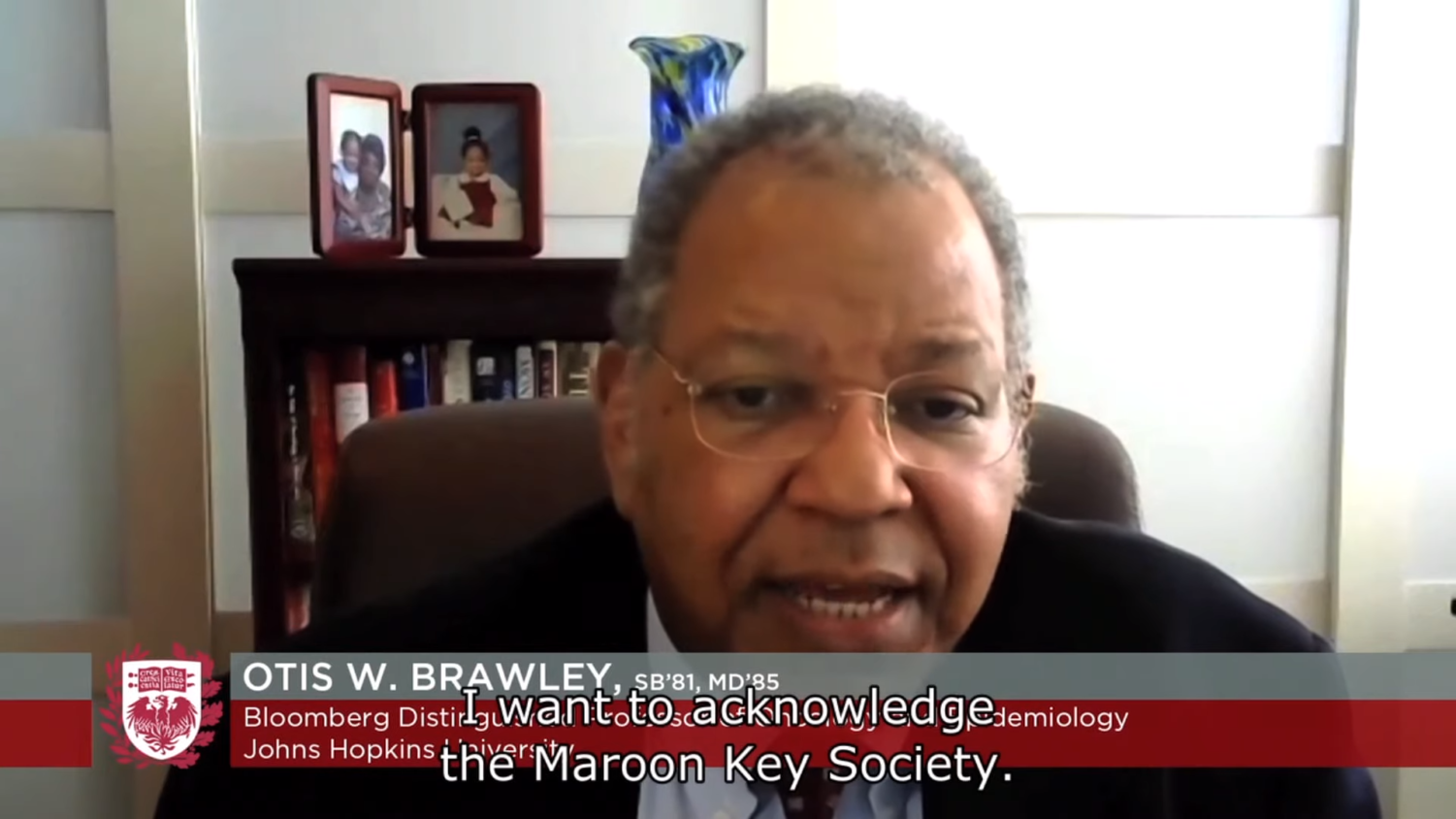 "Try to create a new kind of world. Affirm the value of every human being. Have empathy and respect for others. Have intolerance only of intolerance. Remember ethics. Remember right and wrong…Don't become indifferent. Stay hopeful. Hope is a superpower," Brawley said.
Afterward, Dean of Students in the College, John "Jay" Ellison, congratulated the graduating class for their achievements and presented the annual Howell Murray Alumni Association Awards. The event concluded with a previously recorded musical performance by UChicago's Dirt Red Brass Band.
On Saturday morning, the 533rd Convocation, which included all degree candidates across divisions and schools of the University, continued the weekend's ceremonies online.
To open Convocation, the student A Capella group "Voices" presented a rendition of Son Lox's "Remedy."
Afterward, provost Ka Yee Lee explained that the video was filmed in May, at a time "before all the injustices happening," referring to the recent killing of George Floyd and Breonna Taylor, which has sparked protests nationwide.
She emphasized that this is an important moment for the students to learn and take pride in their graduation.
University Marshal Victoria E. Prince then declared the proceedings of the convocation as beginning, and she introduced University President Robert J. Zimmer.
Zimmer acknowledged the distinctive nature of the virtual convocation and re-extended the invitation to the graduating class of 2020 to return to campus in June 2021 for an in-person celebration.
"Most of today's convocation is about reflecting upon the whole of what we do across the University, including the many achievements and contributions made by students, faculty, researchers, staff, and partners who comprise our community," Zimmer said.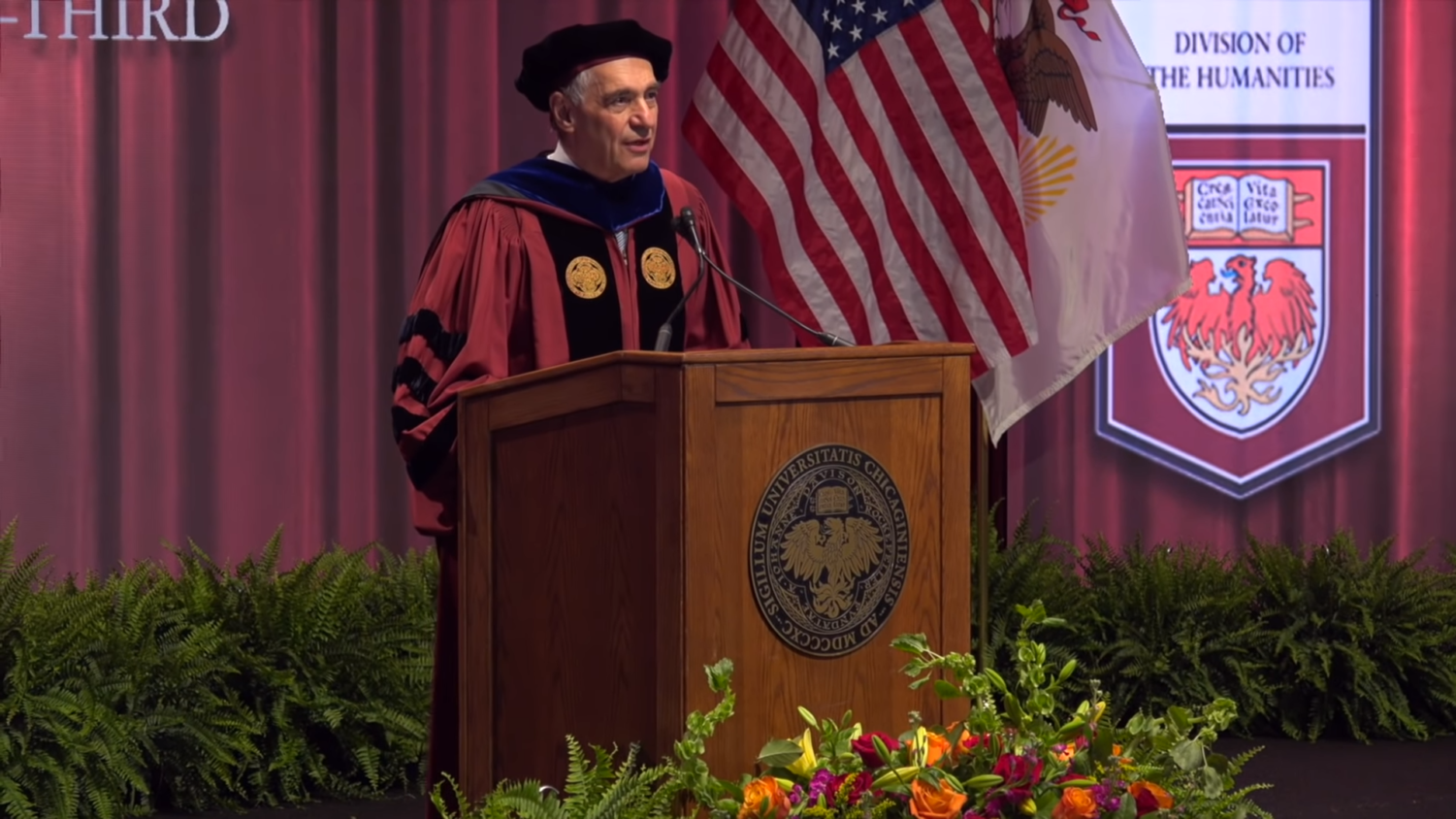 There was no formal convocation speaker at the 553rd convocation. "The tradition of convocation speakers is somewhat unconventional, unlike most other universities, we do not invite celebrities, politicians, or business leaders to speak at the convocation ceremony. Instead, we call upon a member of the faculty to speak on a matter of intellectual substance, as dominated by our faculty," Lee explained. However, there was no faculty speaker this year; Lee did not explain why.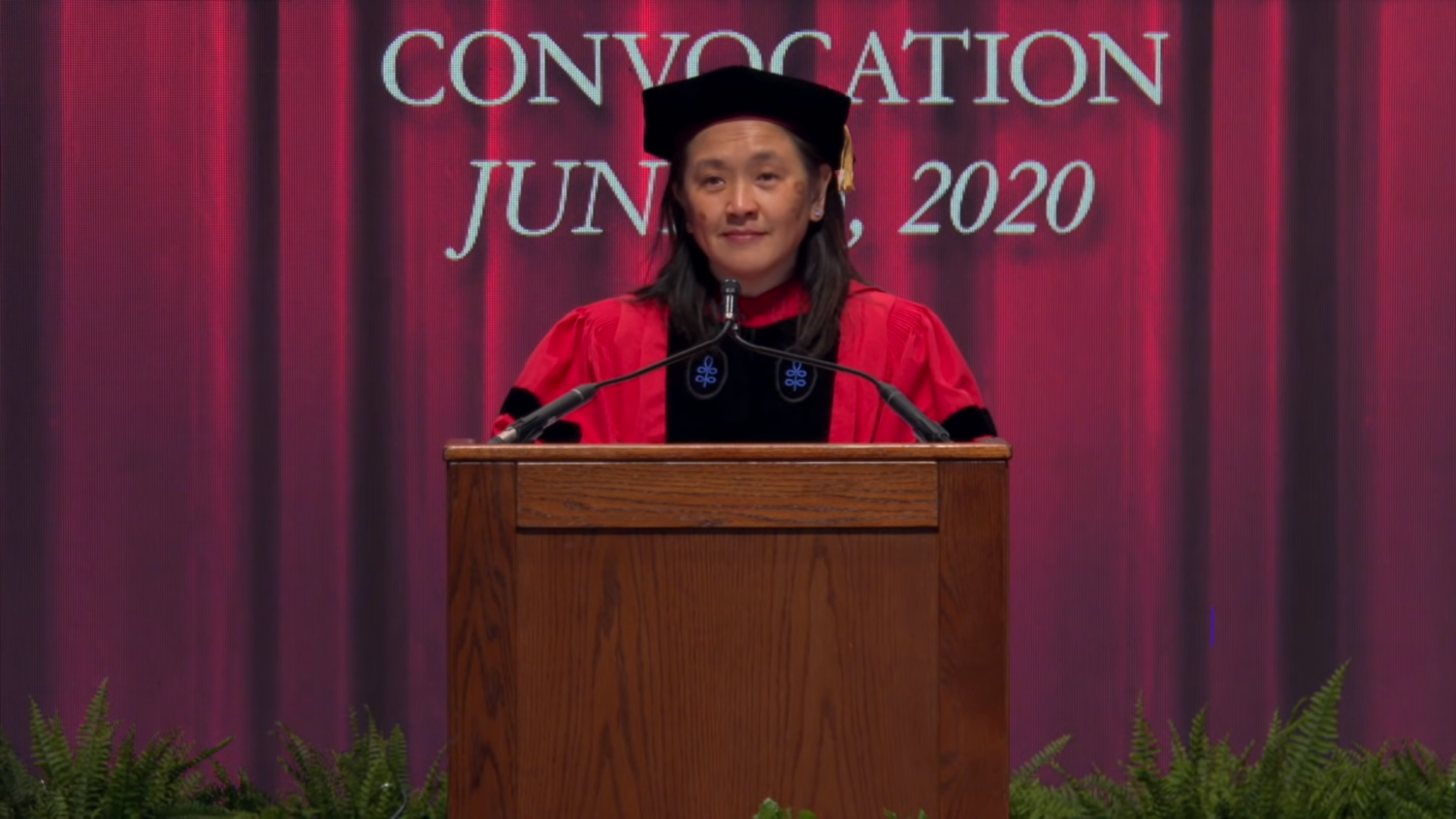 After her speech, Lee presented the Quantrell Awards for Excellence in Undergraduate Teaching and Graduate Teaching to faculty winners, and President Zimmer conferred degrees to the students across divisions and schools.
Zimmer concluded the virtual Convocation with his congratulations and wishes for the graduating Class of 2020.
Degree-granting ceremonies for various schools and the College were held on Saturday and Sunday throughout the day.