In #Strike4BlackLives March and Meetings, STEM Departments and Students Call for Change
The Astronomy and Astrophysics Department's March Was a Part of the Day's Broader #Strike4BlackLives and #ShutDownSTEM Movements Led by the Particles for Justice Organization.
Members of UChicago's physical science and biological science departments participated in a march for Black lives and academia on Wednesday, June 10. UChicago's Department of Astronomy and Astrophysics organized the march on campus, following a call to action by the Particles for Justice organization, a global collection of physicists advocating for social change in academia.
The department's march was a part of the day's broader #Strike4BlackLives and #ShutDownSTEM movements led by Particles for Justice.
In a Facebook post advertising the march, the department wrote to address anti-Black racism within academic communities, as well as to express a message of support for their Black colleagues.
"#ShutDownSTEM is a day where academics are supposed to stop working, stop doing business as usual, and actually adjust the systemic racism in the institution," Adina Feinstein, a graduate student at the UChicago Department of Astronomy and Astrophysics and the outreach organizer for the Wednesday march, told The Maroon.
"These are conversations that we should have been having way before Wednesday. The idea was that we cannot just continue research as normal; we have to start actually adjusting all of the issues that we are facing currently," Feinstein said, regretting that the department had not been as engaged in these issues before being shocked into action.
According to Feinstein, over the past two weeks, graduate students and postdocs within the department have written a petition to faculty with a list of demands, such as hiring Black faculty or making fee waivers available for Ph.D. applications. So far, the petition has received approximately 150 signatures from current undergrads, graduate students, postdocs, and alumni. The full list of demands has not yet been released to the public.
"This is something that has been driven by the students," Feinstein said. "We presented this to the faculty and have had discussions [with them] last Monday, Tuesday, and then also all day Wednesday—which was the strike for STEM."
The idea for the march came about during one of the discussions on Monday, where the department was planning for the activities on Wednesday. Astronomy and astrophysics professor Alex Drlica-Wagner suggested the idea of a physical demonstration. According to Feinstein, it was meant to show the university and the physical sciences division that things needed to change.
The march began in the main quadrangle, and then went down 58th Street, passing by where the provost allegedly lives, and down the Midway. It ended in the quad in front of the Biological Sciences Learning Center, where participants took a knee for eight minutes and 46 seconds, to symbolize the duration of time for which a police officer kneeled on George Floyd's neck on May 25.
"I was really encouraged to see all the signs. To see professors who I didn't know were so adamant, shouting and walking along, documenting this moment, and being happy and proud that they were there; I could see that they were excited," Andrea Bryant, an attendee and one of the three Black graduate students within the department, told The Maroon. "It was a beautiful moment. At one point, when we were walking down the Midway, there were almost two blocks' worth of people. There were a lot of people supporting, honking their horns, and yelling 'Black Students Matter' and different chants like that."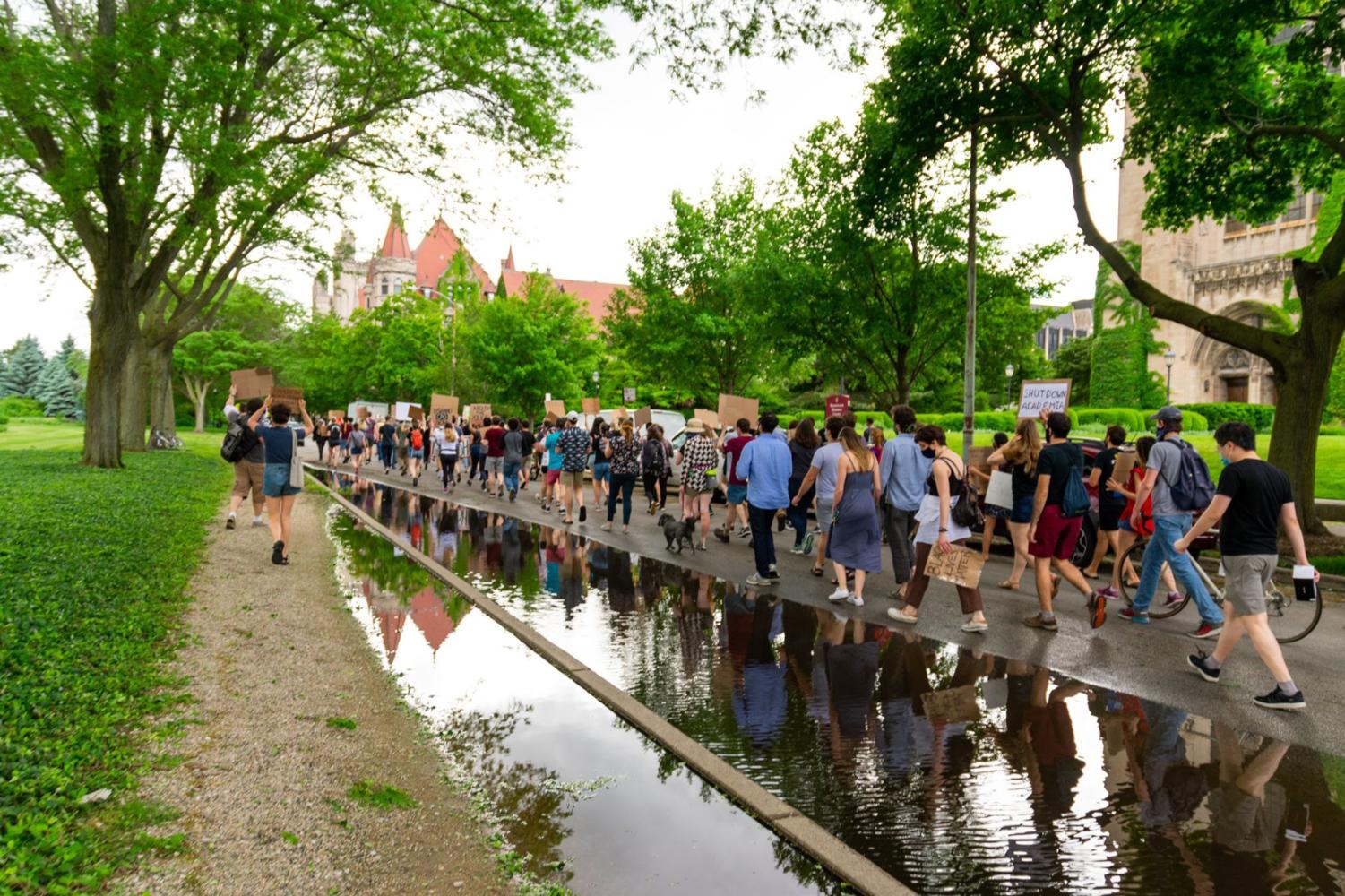 The organizers had notified the University of Chicago Police Department ahead of time about the march. There were no issues between protestors and police during the event.
"I am hoping that the strike really motivates other departments to do things similarly to what Astro is doing, specifically with writing a petition to the faculty," Feinstein said. "I am hoping that everybody who came out wants to continue to have these conversations with their advisors, with their department chairs, and with other people.… There are some things on this list that we have written that are immediate action items that can be done, right now. So, things like making fee waivers available for Ph.D. applications, things that would make it more accessible."
"This event, this whole movement that is happening, is really an awakening of people to really see what has been going on for centuries," Bryant said. "I feel like, if people have this same passion a year from now, then change will happen.… Time will tell if we do have Black faculty members hired; time will tell if Black students come and will stay and get their degree in Ph.D. at UChicago, and if people will step up and mentor them and mentor Black students like myself and help us to feel welcome in the department."
Besides the march, the departments and students held a number of other activities and discussions on Wednesday, as part of the #Strike4BlackLives and #ShutDownSTEM movements.
In the morning, the Department of Astronomy and Astrophysics hosted research topic group meetings on Zoom that Feinstein said were meant "to see what we can do as a group to address and improve on anti-racism in the department and as individuals," Feinstein said.
During these discussions, the exoplanet group, which Feinstein is a part of, made a list of actionable items, such as creating outreach opportunities for high school students and other people in the Hyde Park community. The group also looked into developing a code of conduct, and decided to start reading more papers from people of color who are going into the job market.
In the afternoon, before the march, the department broke out into sessions, also through Zoom, to address some of the demands of the petition.
"I led the discussion on graduate admissions and how we can improve that," Feinstein said. "There were also groups who talked about how to go forward, with maybe a cluster faculty hire—so we hire, like, two or three Black people for faculty positions—or how to improve outreach to the community, and things like that. Then we came together, discussed all of the main points from these breakout sessions, and went to protest together."
According to Feinstein, the march itself was not focused on the petition. "Black lives matter, Black students matter, and that we need to build the infrastructure here to support Black students and keep them in STEM," she said.