East 53rd Street saw a heavy police presence this year on Halloween as officers used bicycles and squad cars to herd groups of teenagers toward Lake Michigan, resulting in at least one arrest. Earlier in the night, several activist groups staged demonstrations in support of defunding the University of Chicago Police Department (UCPD) and reducing policing of neighborhoods by the Chicago Police Department.
Previous Halloweens in Hyde Park have seen significant police activity and property damage in the neighborhood, prompting counterprogramming efforts by local organizations.
At around 8 p.m., a large group of teens gathered on 53rd Street and S. Blackstone Avenue, near the United Church of Hyde Park. The scene was jovial, with participants socializing and no incidents of property damage, although police gathered nearby.
By 9:30 p.m., however, police on bicycles began to gradually push the group eastwards on 53rd Street. Corralled by police, a fight broke out between teens within the group, prompting swift police response as officers surrounded an injured individual and blocked access to the street. An ambulance arrived to transport the injured person.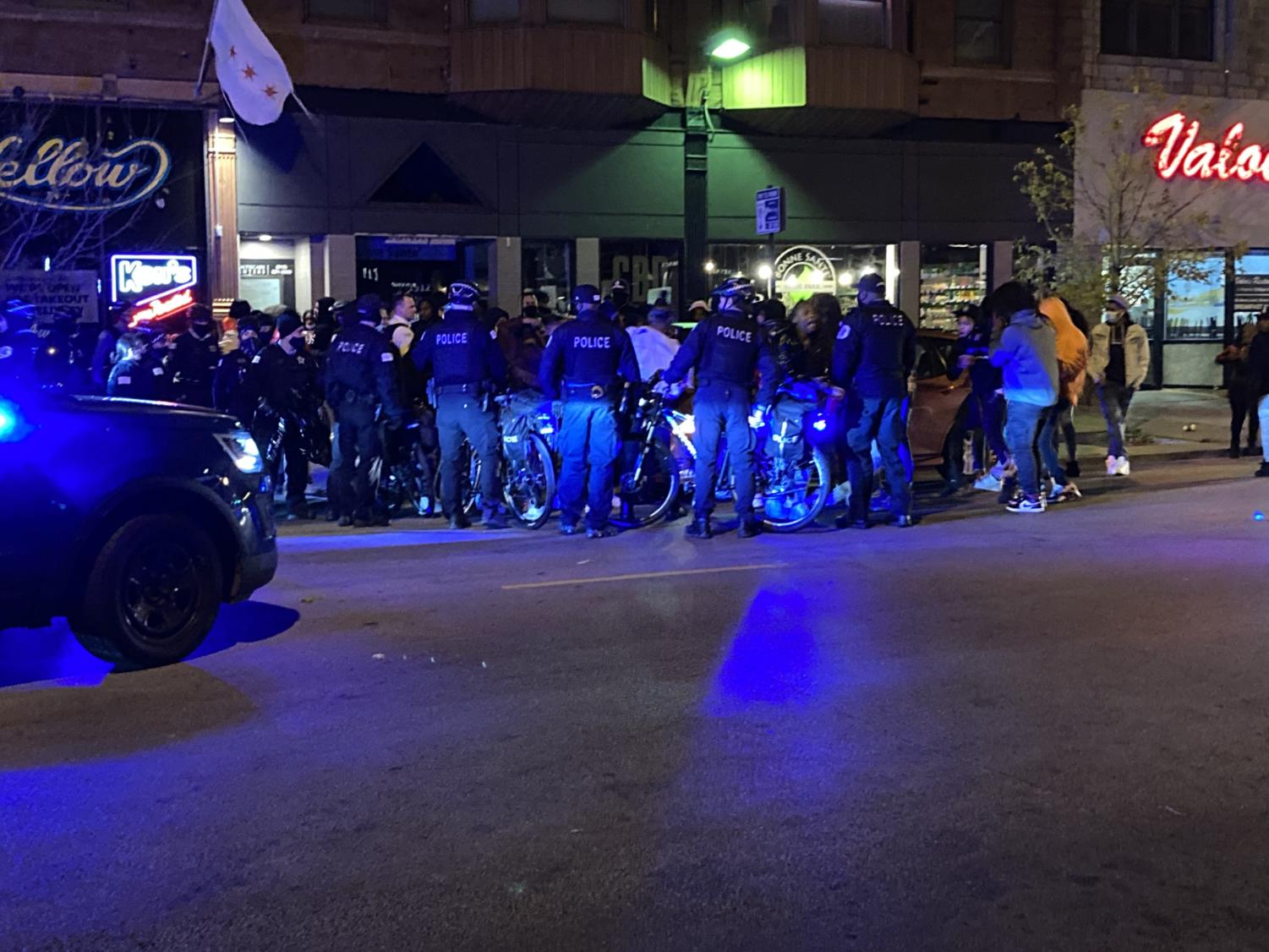 Police then adopted a much more aggressive stance towards the group, forming a bicycle line and advancing the group of teens eastwards towards S. Lake Park Avenue. From there, officers moved the group north on S. Lake Park towards the BP gas station, then back south onto 53rd Street.
At 10:30 p.m., as the group moved south, continually pushed back by police, a second fight broke out. Police detained a teenage male for allegedly striking another teen.
Police in a bicycle line continued to push the group further west on 53rd Street until 11 p.m. By then, much of the group had dispersed. No property damage occurred during the night's events.
Earlier in the night, two activist groups, Good Kids Mad City and #CareNotCops, a joint campaign of UChicago groups Students Working Against Prisons and UC United, held events in Hyde Park in opposition to police.
#CareNotCops held a costumed rally on the UChicago quad, burning a banner with the UChicago crest on it and throwing toilet paper on bushes outside Levi Hall. Protesters also spray painted "Is a racist POS" underneath the building's sign.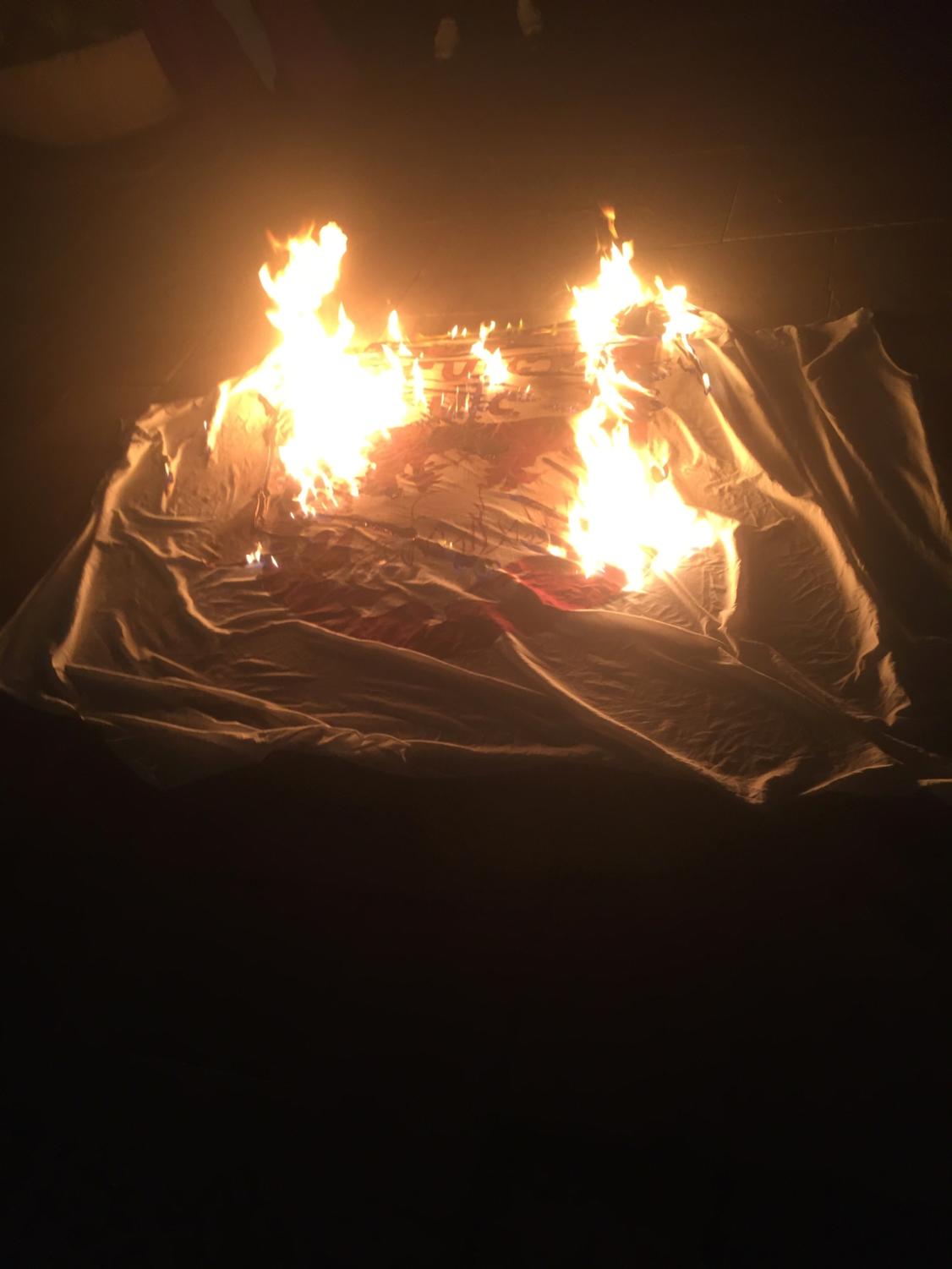 Deans-on-Call were present at the rally, and declined to give their names to The Maroon. The Deans said that starting fires and spray-painting the quad constituted destruction of property and violated University rules; however, they said they did not know the identities of students at the demonstration and could not press disciplinary action. Organizers with #CareNotCops wore masks and asked not to have names attached to the statements they made to The Maroon.
"On Halloween, the University of Chicago Police Department over-polices the South Side and Black and Brown community members, and the recent emails, they claim that they support and are invested in public safety and care about student safety and community member safety," one organizer told The Maroon. "We all know that's a lie."
Several undergraduates involved with the Chicago Thinker, a new conservative publication on campus, came upon the aftermath of #CareNotCops' demonstration on their way back from Hutchinson Commons, and shared their views on the action with The Maroon.
First-year Eden Negussie took a dim view of the protestors' actions.
"The sheer privilege that it takes for them to stand here and destroy property, private property, and vandalize the university that I'm paying to go to all just to protest a police force that is here to keep them safe and protect them from the dangerous surrounding area," Negussie said.
First-year Kevin Flores said he thinks UCPD helps keep UChicago students safe.
"Every interaction I've had with an officer has been completely professional, very civil," Flores said. "As a person of color, I'm a Latino, I do not feel threatened. I know that some other people do. And I mean, I respect that, but I just personally do not. "
Four blocks north, at 53rd and University, organizers with Good Kids, Mad City staked out the street corner with snacks, water bottles, and legal observers. Organizer Jalen Kobayashi said the group was there to prevent violence and escalation with police.
"In Chicago, Halloween is one of the deadliest days like every year, because of our hyper-policed city," he said. "Some neighborhoods are so overly focused on and over policed, that [other] neighborhoods are completely neglected."
Organizers with Good Kids Mad City, he said, were trying to show how community organizing could help locals de-escalate conflicts without involving police.
"What we're trying to do today is basically show people that you can have an alternative to policing on the most deadly night," Kobayashi said.