Finding the Right Note: How UChicago's A Cappella Groups are Making it Work
All of UChicago's a cappella groups are up and running, jumping hurdle after hurdle to find new ways to create content and community.
If you've ever tried to sing happy birthday on Zoom, you'll know that it sounds bad. Like, really bad. Don't take it personally, though. It has nothing to do with the quality of singers (I'm sure you all sound great IRL) but is because of how Zoom highlights only the loudest speaker, muting everyone else. As you can imagine, this is a problem for a cappella groups, which rely on blending the voices of many people together. Still, all of UChicago's a cappella groups are up and running, jumping hurdle after hurdle to find new ways to create content and community.
Spring quarter is a huge deal to many a cappella groups, so of course, its cancellation last year was a huge blow. For Medusa, this meant losing Pie, their most important fundraiser where the group auctions off pies for up to three or four hundred dollars. And for Aag, the University's South Asian and Western fusion group, it meant losing the South Asian Students Association (SASA) show, their biggest event of the year. Still, each of these groups took these losses in stride, heading home to regroup and figure out how they could perform virtually.
While most groups cut down their rehearsal times to maybe twice a week, Ransom Notes decided to retain their regular weekly schedule of three two-hour rehearsals and one one-hour sectional rehearsal. Seven hours a week on Zoom is a big ask, taking up more structured time than two classes, but it has worked for Ransom Notes. They experimented with flipping the learning environment, having members showcase something instead of just singing along. For them and many other groups, despite the difficulties of going entirely virtual, it was easy to keep up the bonds they had formed earlier in the year.
The real challenge came with the realization that fall quarter would look almost the same as spring quarter. New member recruitment for all of the groups usually relies a lot on the fall quarter showcase featuring all the a cappella groups, but that event went virtual this year. And yet they made it work, getting the word out and holding auditions both over Zoom and through audio clips because, as we all know, Zoom audio is iffy at best. With their new members in tow, the groups got to work.
Little has remained the same about what a cappella looks like from pre-COVID times. Practices have changed dramatically, with both Aag and Run for Cover shifting to more workshop-based practices that focus on music theory and arranging. To deal with the shortcomings of Zoom, most groups warm up with only the music director unmuted, and everyone else sings along on their own, inaudible to other group members. Medusa has learned to utilize breakout rooms to their fullest extent and has even experimented with TikTok to practice blending. And as far as their big projects go, groups have largely pivoted towards creating online content. Run for Cover recently released a music video, and according to Vice President Rajeev, they are considering making more. Medusa is also in the process of releasing their first album under their new name, and it's all about self-empowerment (featuring both classic Ariana Grande and a few intense rock ballads).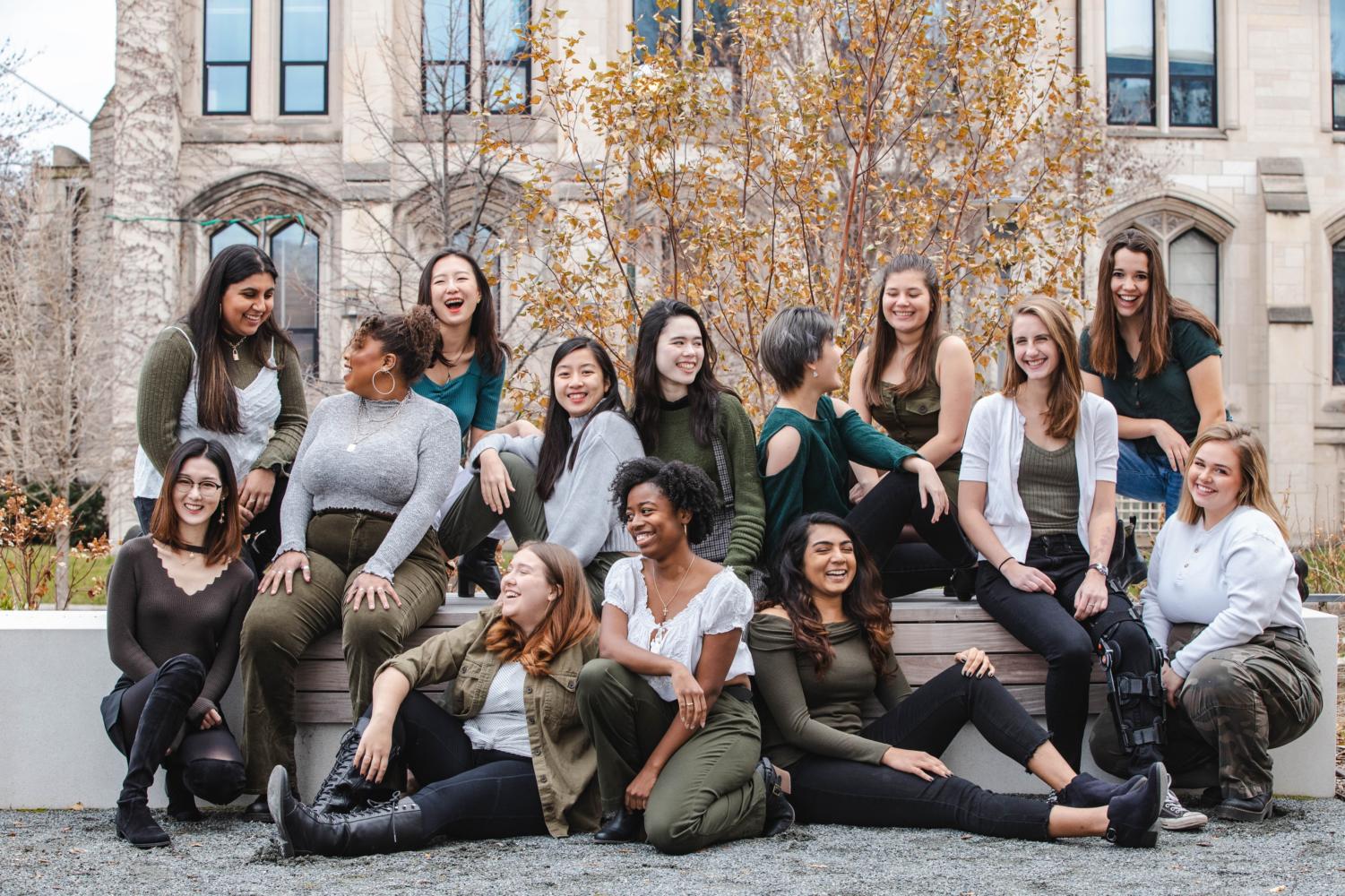 A few groups have even found a way to continue fundraising, with Ransom Notes working virtual, pre-recorded gigs, and Unaccompanied Women shifting over one of their most popular fundraisers, Singing Valentines, to a virtual format (so come February, you'll be able to purchase a video for that special someone). For each of these groups, there is real opportunity in virtual interaction, whether that's in finding the time to teach new members the theoretical aspects of music that previously took a backburner, or learning how to record, mix, and edit music and video to create exciting and engaging content.
At the same time, a handful of groups are preparing to compete in the International Championship of Collegiate A Cappella, or the ICCAs. Even if you're new to the a cappella world, you may recognize this competition from Pitch Perfect. But this year the ICCAs are going to look different. Instead of arranging a twelve-minute performance, groups are tasked with creating a four-minute video. Because it's so much less work, Unaccompanied Women, a group which usually competes every other year and which hosted the quarterfinals here on campus last year, has decided to throw their hat back in the ring. Ransom Notes has also decided to compete, and they're in the process of rehearsing and putting together video and audio.
In the midst of all this creation, each group has also been forging connections with their new members, which is no easy task. Even just finding times to meet has become a hassle as they struggle to work out times that work for members spread across the globe. But of course, there's something fundamentally bringing members together: music. According to Ransom Notes Music Director Wonyoung Jang, everything comes naturally after that. Their social chair organized a few games of Among Us, which soon became a weekly event. The Slack is full of jokes and memes. "Even if it's over Zoom, there's never a shortage of care and love for each other…We've still had the same sort of culture building that we do every year." Other groups expressed a similar sentiment, with strategies ranging from highlighting a few members to sing solos in practice to hosting game nights.
For many of the members, a cappella—both the community and the singing—feels almost therapeutic. For Lily Everett, a member of Unaccompanied Women and an AcaCouncil representative, that's exactly the point. While creating content that entertains viewers and showcases incredible talent, a cappella also provides a respite for the performers themselves. "I think we provide that needed break from school and academic stress to get together and sing in the best way we can…just to hear other people's voices and see other people's faces and provide a sense of creativity in a time of insanity."