"It's a serious, serious problem:" Hyde Park Residents Say Park District Doesn't Care Enough About South Side Parks
Hyde Park residents believe that the Chicago Park District focuses too much on building new parks and hasn't allocated enough resources to maintain existing parks on the South Side.
Hyde Park residents say the Chicago Park District is failing to maintain parks on the South Side.
The Nichols Park Advisory Council (NPAC) has long struggled to convince the Park District to provide regular landscaping and plumbing crews for Nichols (John Fountain) Park, which spans from East 53rd Street to East 55th Street, between South Kimbark Avenue and South Kenwood Avenue. The trees there are rarely trimmed, and repairs to the sprinkler system near the park's Fieldhouse are years overdue, according to NPAC President Stephanie Franklin.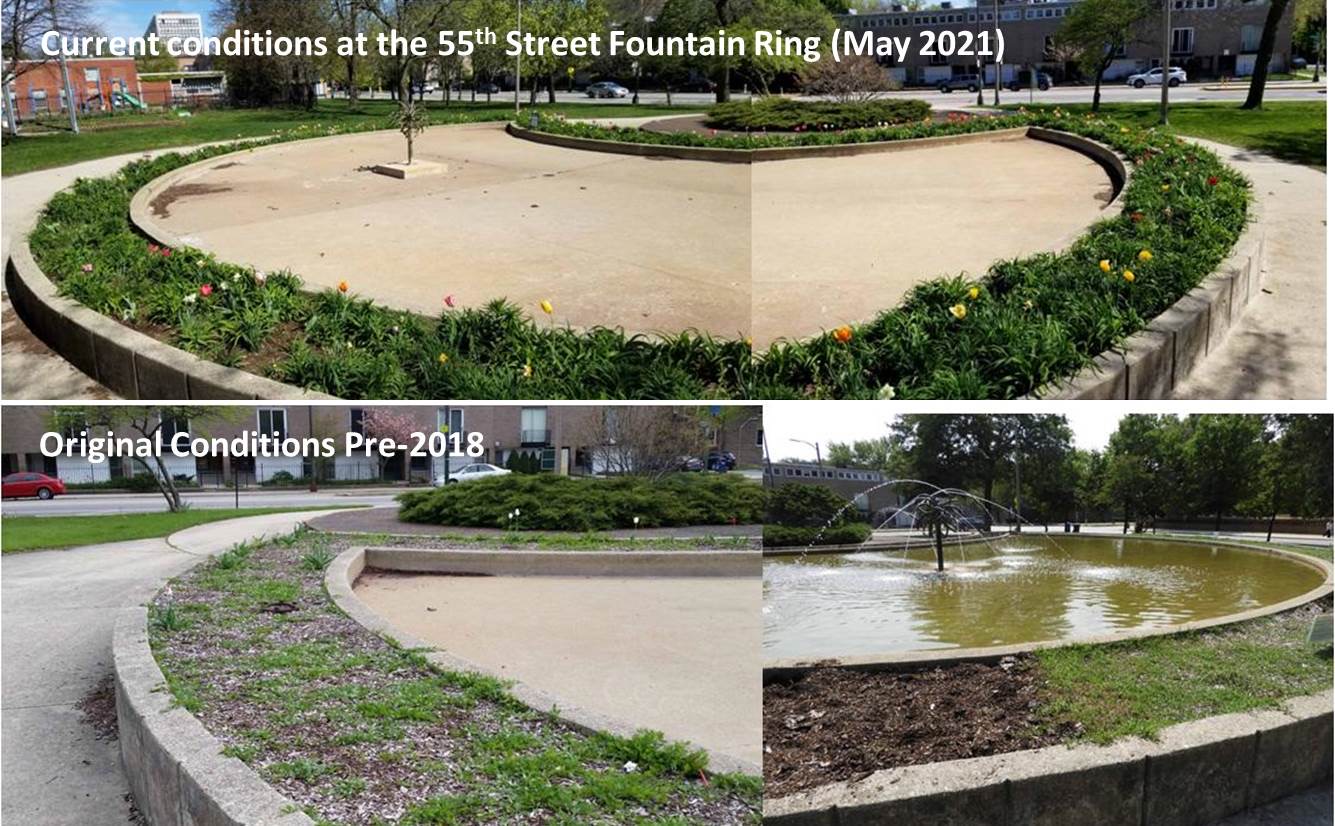 "The biggest problem we have is the lack of resources put into parks that already exist. It's a serious, serious problem. The Park District manages to find money for what it wants to build, but it doesn't seem to be able to find the money to do the maintenance," Franklin said, pointing to large gaps in the hedges that surround the playground on South Kimbark Avenue.
But the lack of regular maintenance crews isn't the only problem, she adds.
"A lot of the crew depends on seasonal workers, and [the Park District] doesn't hire those until sometime in the spring and fall," she said. "They aren't properly trained on how to do things like maintain the trees, so they cut grass and they supposedly pick up trash, but even that hasn't been done to the extent it needs to be done."
Hyde Park resident Mary Langley says that much of the park's current upkeep relies on volunteers who pick up trash and water the plants.
"I have to say, I'm a spouse of a Nichols Park Advisory Council member, and he does a lot of the work himself to keep the park clean. He and a lot of other volunteers put in a lot of effort to keep the place up," she said.
On Saturday, local volunteers planted 450 flower bulbs around the South Fountain at Nichols Park as part of an ongoing beautification project that began in 2018. By spring, the fountain will be surrounded with daffodils, Asiatic lilies, hyacinths, tulips, and crocuses.
But when it comes to actually maintaining the park, volunteer efforts like this aren't enough, says Franklin.
"I don't know the details, but when you have more parks on the North Side, it follows in a way that more resources have to go there to maintain them," NPAC Vice President Van Bistrow said. "And so it's a constant struggle to try to influence the Park District, which has a separate budget from the City [of Chicago], to spend the resources on the South Side."
Former Chicago Park District superintendent Michael Kelly resigned on October 9 following accusations that he overlooked sexual abuse allegations involving Park District lifeguards. On October 13, the Park District Board of Commissioners appointed Rosa Escareno as interim general superintendent and CEO of the Park District.
When asked about the future of the Park District Board of Commissioners, Franklin responded, "You need a superintendent who's going to be able to stand up and say, no, we're not using this public land for condominiums or private uses. It's just a matter of the strength of the leader."
In a statement released on October 13, Mayor Lori Lightfoot said that Escareno is "the right leader for this moment to bring confidence back into our Park District and to ensure it continues to provide crucial services to our community."