New south campus dorm on target for opening next year
There are several types of singles—some almost as large as a Max Palevsky double's bedroom, others with entire walls of glass overlooking a courtyard still piled high with tons of steel beams.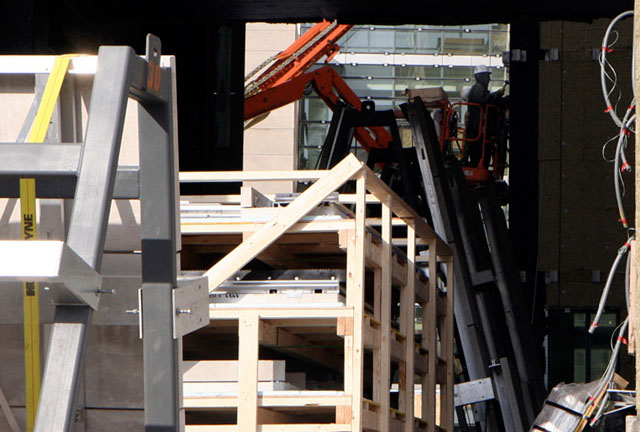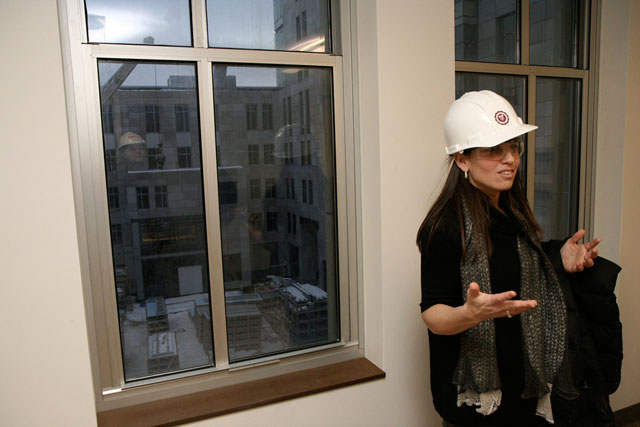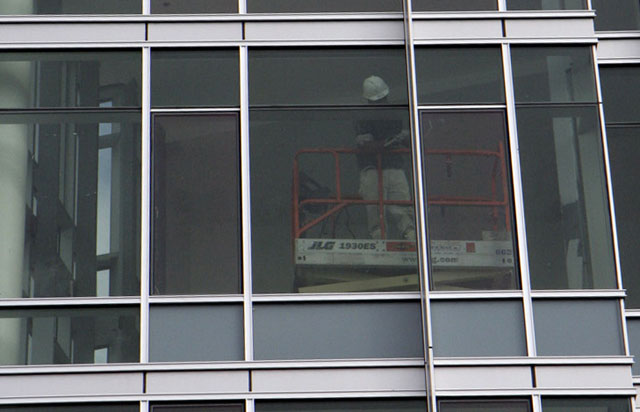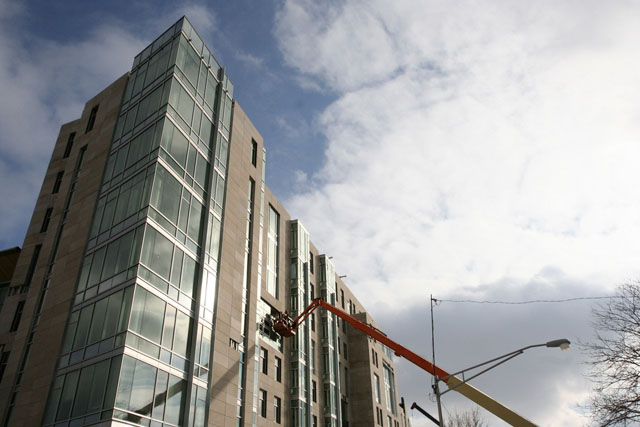 The new dorm across the Midway will open on time this summer, one of the construction projects that will not be delayed following the administration's budget cuts this quarter.
As the dorm receives its final touches and the interior begins to be decorated, Director of Undergraduate Students Katie Callow-Wright went on site last week to show off the dorm's progress and detail the policies that are being formed to deal with transferring Shoreland residents to the new houses. One thing she made sure to point out was the bookshelves in the rooms.
"We were very finicky about the bookshelves," she said. "The standard is to have 12 linear feet of bookshelves per student. At a place where you give awards to people who have the best book collection, you really need to be cognizant of these things."
The dorm, which looks similar to Burton-Judson when viewed from above, consists of west, east, and central towers. The west is the furthest along, with tall glass plates covering the facade; the east tower is still being finished. The new dining hall facilities, still metal cage, have the most work to be done.
The rooms run the gamut from standard college single to spacious quad apartments. While there are several types of singles—some almost as large as a Max Palevsky double's bedroom, others with entire walls of glass overlooking a courtyard still piled high with tons of steel beams—there are far more of the economy variety; the same is true for doubles. A little over half of the new dorm will be singles, one-third doubles, and the rest apartments.
"The rooms are definitely smaller than the Shoreland," Callow-Wright said in one of the apartments on the top floor. "That's one of the things I've wanted to make sure people understand. The Shoreland just had gads of square footage." While the rooms' sizes are on average closer to those of the rest of the dorm system, there are several rooms—such as a four-bedroom apartment with a 180-degree panorama view of Hyde Park, with the spires of downtown peaking above the local skyline—that will likely be the envy of first-years for years to come.
Callow-Wright said that while the new dorm is certainly more efficient in its use of space, it has other features that she hopes will attract new students.
"It's architecturally interesting," she said. "The walls curve, so you're not looking down a plain hallway. I'm not like an architecture geek, but I think that makes a building looking really nice.
"But it won't be for everyone," she added.
Incoming first-years will have some company as many current Shoreland residents are expected to move in next year. The new dorm will have two fewer houses than the former luxury hotel, so four Shoreland houses will be forced to merge, meaning that some resident heads (R.H.s) will have to be relocated somewhere in the system. The decision of which houses will be combined will be made by Callow-Wright's office with consideration for RHs planning on leaving the house system anyway.
Even those houses that remain intact will be losing their names, replaced with those of a donor. So far, only one house name has been announced, following a $5 million donation by alumnus Bernard DelGiorno (A.B. '54, M.B.A. '55) toward the new dorm, the Logan Performing Arts Center, and a renovation of Stagg Field. Two other donors will have houses named after them, though their names have not been made public. According to Callow-Wright, donors who give $2 million or more get a house named after them, though University spokesman Steve Kloehn later clarified her point.
"The University is not soliciting funds specifically for the new dormitory. Naming houses is a way the University can honor those who have contributed to a wide variety of efforts across campus in recent years," Kloehn said. He added that some of the people who have contributed toward the Odyssey Scholarship fund will have houses named after them.
As she showed off the "house stairs"—flights of stairs that run only through a single, three-story tall house and with a balcony overlooking the house lounge—Callow-Wright mentioned that she's still unsure how many students will be attracted by the new dorm's appeal.
"I wouldn't call it the million dollar question, but maybe the $5,000 question," she said. "It's hard to predict."
Callow-Wright said her office will be giving tours of the new dorm to Shoreland residents at the end of the month and the beginning of March. The tours will not be open to other students.