Since 2016, the Chicago Chicken Rescue has been a haven for homeless chickens, ducks, and other birds. Per its website, the organization's goal is "rescuing hens, ducks, pea fowls and roosters, providing rehabilitation care and finding forever homes for chickens who are neglected, abused or discarded." The website provides forms to surrender or adopt birds and a link to donate.
Vincent Hermosilla and his wife Christina Zelano, who run the rescue, said in an interview with The Maroon that they wished for their organization to remain relatively low profile because they are focused on providing care for their animals.
The Chicago Chicken Rescue currently has around 80 animals in a backyard in Woodlawn. There's a small man-made pond, grassy space, and two large coops. Birds are everywhere. Ducks drink from a kiddie pool, chickens roost and squawk, a turkey lurks in the background, and a peacock sitting atop a fence watches over the scene. According to the rescue, that peacock is the king of the yard, guarding the other birds from predators; he once killed a raccoon, and he regularly scares off rats and other pests.
Birds rarely escape from the yard, and when they do, they never go far. The rescue acknowledged that there have been scattered noise complaints but said that overall, their neighbors "have been amazing." Caring for chickens and ducks in a residential neighborhood is difficult, the rescue said, though Hermosilla acknowledged that "if you take care of the birds and you sit down and put the time in, it's possible." The rescue's owners said they spend between $15,000 and $20,000 out of pocket on the rescue each year, and both owners spend 10 or more hours working for the rescue per week.
Most of that money goes to feed. The chickens are fed a mix of barley, corn, and sunflower seeds, and the ducks eat that feed along with kitchen leftovers. "Every time we have leftover food, we just give it to the ducks, and they have a field day," Hermosilla said. He recalled a story from his early days operating the rescue.
"I had this idealistic image of putting lily pads and water lettuces in the pond," he said, "and I thought, 'It's going to be this beautiful green live pond, right?' So I got like $200 worth of these beautiful aquatic plants. I was super excited.… I set it all up and I went inside. I come back 10 minutes later, and the ducks had [gotten into] the pond and [eaten] every little bit of lettuce.… They had a wonderful treat."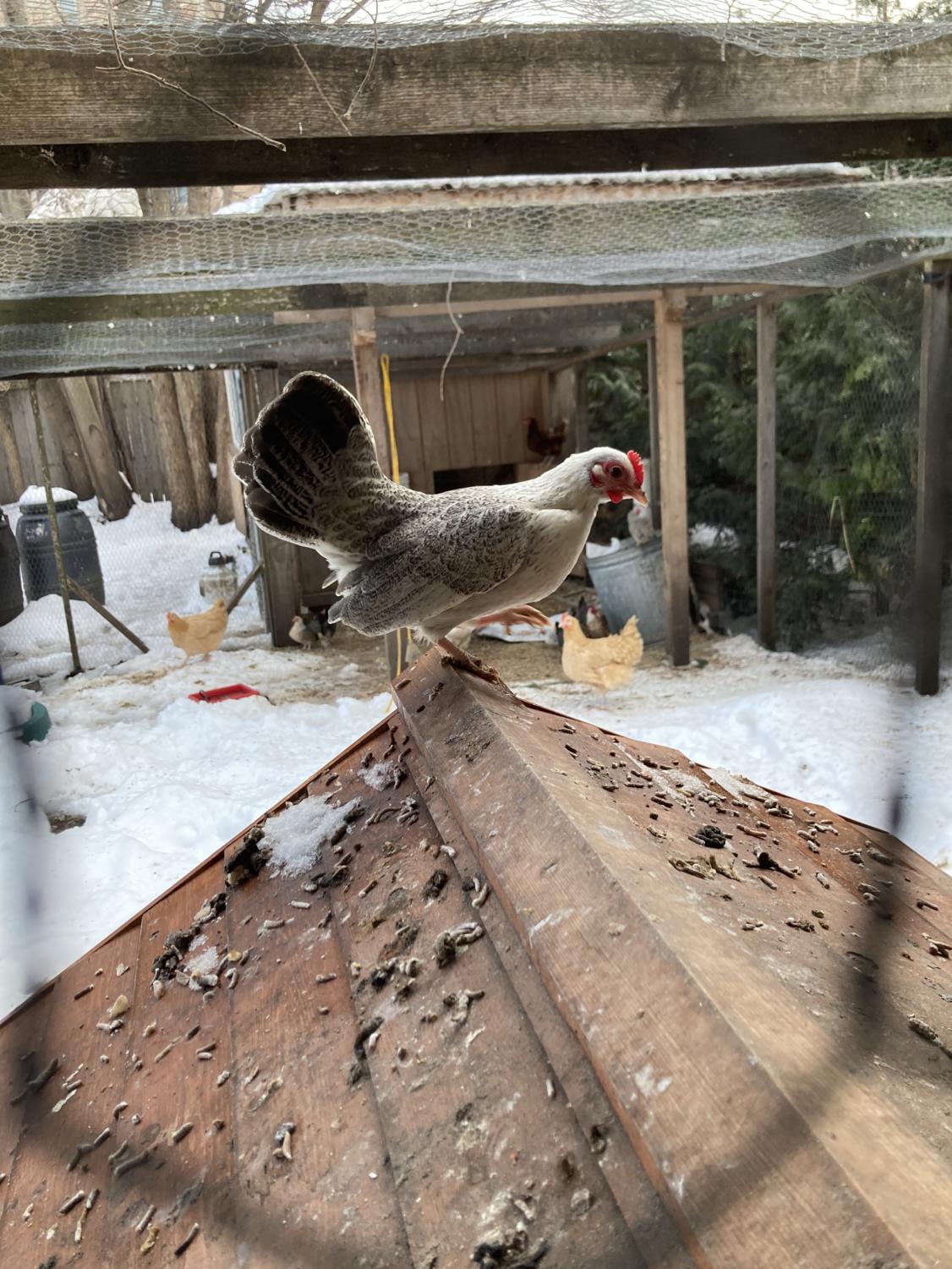 The Maroon also visited Chicago Animal Care and Control (CACC) and spoke with CACC Assistant Director Jenny Schlueter about the Chicago Chicken Rescue and bird care efforts in Chicago. A department of the Chicago City Government, CACC works to "[protect] public safety and [ensure] the humane care of animals through sheltering, pet placement, education, and animal law enforcement." CACC accepts stray and owner-surrendered animals by appointment from 12–7 p.m. daily. Intake appointments can be scheduled by phone at (312) 747–1406 or by emailing visitcacc@cityofchicago.org.
Schlueter emphasized the work CACC has done to reform its reputation as a "kill shelter." In 2019, CACC busted a major cockfighting ring west of Chicago, rescuing 120 or 130 chickens in the process. "Most of the time, roosters and chickens from cockfighting births are just euthanized," Schlueter said, but—with the help of the Chicken Rescue—CACC fostered or adopted away all of that bust's birds. For four years running, CACC has euthanized fewer than 10 percent of its animals.
Schlueter said that in the last five years, the number of birds turned over to CACC has consistently increased. She attributes the increase largely to the rising popularity of keeping nontraditional pets. Though most of CACC's birds come from backyard coops, Schlueter said some came from cockfighting. "There have been some times where chickens seem like they may have come off of trucks headed to slaughterhouses."
Schlueter is not concerned that the Chicago Chicken Rescue would inspire unprepared homeowners to try to raise chickens themselves. She expressed gratitude to the rescue for its work to provide for lost and neglected birds and to educate the public about proper animal care. Many of the birds turned over to CACC are taken by the rescue; the remainder of the rescue's birds come from individuals in the Chicago community who are unable to care for the birds.
Schlueter spoke about the popularity of keeping backyard chickens and her advice to prospective bird owners. "I know people's hearts [are] in the right place," she said. But she cautioned that caring for chickens or other birds can be "messy" and time-consuming. "It can draw flies in the summer, and you have to stay on top of it. Yes, they're cute and they're fun to watch, but just like any other pets, do your research first and make sure you're up for it before you dive in."
Schlueter said that prospective owners should check with their neighbors before getting chickens and stressed the importance of researching bird care. Anyone with questions about owning birds, Schlueter said, should talk to the rescue.
"It's really important to us to maintain really good relationships with our rescue partners," she said. "We don't know when we're going to have a chicken bust or [get a stray chicken]. We can't anticipate when we're going to get [birds] that we need help with, and we don't really have facilities set up to keep them long term. So we can literally just call and text [the Chicago Chicken Rescue] any time, and we know that they're there to help us.… I can't say enough good things about our relationship and about what they do."
The owners of the rescue emphasized that though they have sympathy for the birds, they are not activists. "If there's a bird that's injured or it's hurt or it's hungry or mistreated, we'll take care of that bird. We'll give it a good home." As Hermosilla said of the rescue, "We do it for the birds."