Intimidating but Rewarding: How UChicago's New International Students Are Adjusting to Campus
International students share their experiences of transitioning to UChicago and beyond.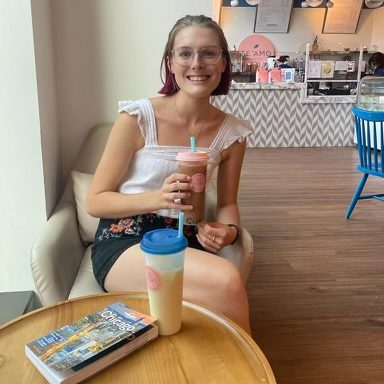 1UChicago welcomed international students from 68 countries to the Class of 2026. For these students, who make up 16% of the first-year class, the transition to college includes adapting to both a new school and a new country. The Maroon sat down with two first-year international students to hear their experiences with moving to UChicago and the United States.
Ana Elias is an international student from Buenos Aires, Argentina, and although she was born in Chicago, she has lived outside of the U.S. for the last 14 years.
Elias attended the French-Argentinean school Lycée Franco-Argentin Jean Mermoz, where classes are mostly taught in French and Spanish. "I chose to study in the U.S. because I thought it would open up more opportunities for me in the future within the field I am interested in rather than if I had stayed in Argentina," Elias said. "However, I still really miss my friends, family, and homemade meals such as empanadas and milanesas."
Elias, who plans to double major in physics and molecular engineering, said that the academic system at UChicago differs from those found in Buenos Aires and that she is enjoying the opportunity to participate in the wide selection of RSOs offered at the University.
"There is more freedom in selecting your major, and you even have the choice of double majors, which is not the case for most universities in my hometown," Elias said. "I also really enjoy being a part of RSOs here, which is not really a thing back in my hometown."
Elias continues to maintain contact with her friends and family back in Buenos Aires and plans to visit them during winter break. She said she mainly keeps in contact with her family through calls and messages.
"Luckily the time difference is only two hours, so when my family and I are both free we talk through video-calls on Whatsapp," Elias said. "Sometimes they're really short calls, but they help me miss them a little less."
Maddie Calvesbert-Sharp was born and raised in Blackpool, a city located on the northwest coast of England. 
Calvesbert-Sharp said the transition to the U.S. has been difficult, albeit in ways that she did not expect. "In terms of education, the way that the American education system works is different to the way the U.K. system works," she said.
In the U.K., the first year of university does not count towards one's final grade, whereas at UChicago, first-year grades contribute to the cumulative GPA. Calvesbert-Sharp has not studied any sciences since she was 16; in the U.K., she chose four subjects to study for the rest of high school. "It has been a bigger cultural shock than I thought it was going to be, and living in the city is very different compared to my hometown."
"Being with people who have studied a more diverse range of subjects for a longer period of time is certainly intimidating, especially when you're going through the Core," Calvesbert-Sharp said. "Navigating a different education system is challenging, but I think the reason I chose to come to the U.S., especially UChicago, was so that I could participate in science and languages again. Even though that's a really hard part of the adjustment period, it's the most rewarding."
Calvesbert-Sharp said that keeping in contact with her friends and family is also quite difficult because of the time difference, though she has lunch with her mom while her mom eats dinner over FaceTime every day. With her friends, Calvesbert-Sharp has weekly FaceTime calls on Saturdays.
"Me and my mom like to speak multiple times a day, which is lovely," Calvesbert-Sharp said. "I also like to WhatsApp my dad random pictures and videos of UChicago and use Facebook with the rest of my family."
Calvesbert-Sharp said that when moving to the U.S. her most difficult experience was navigating health insurance procedures. She said this is because she was not sure of what her health insurance would allow her to do in terms of copay and deductibles. 
"Even though we have Student Wellness it's very complicated and very different to the UK," Calvesbert-Sharp said. "This is because we have a national healthcare service, so we have a primary healthcare physician who is in charge of all care and then they refer us to all of our desired services."