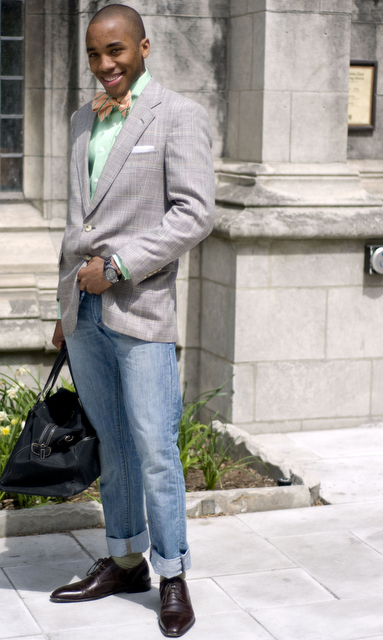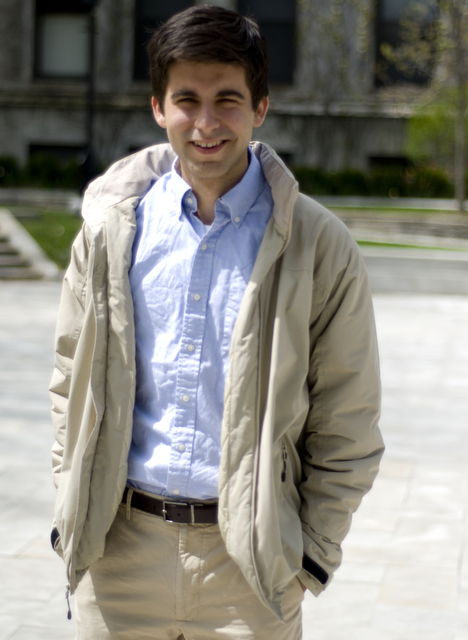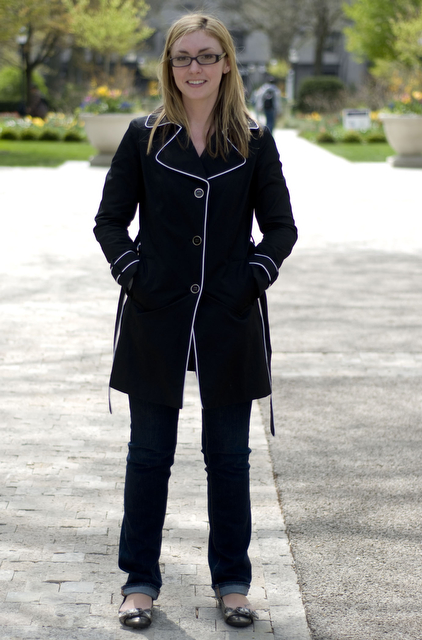 Spring is tricky. It's kind of like all of the seasons rolled into one. It might be chilly in the morning and sweltering in the afternoon, with freezing rain or snow flurries in the evening. The sandals and sundress you put on when you awake might leave you wet and shivering by the end of the day. Likewise, the bulky sweater that kept you warm during your morning coffee run might have you overheating by lunchtime. Though spring trends like prints, pastels, florals, and nautical themes usually involve flimsy fabric or short sleeves, these aren't necessarily viable options when the forecast calls for a 15-degree range between morning and night. I asked some stylish students how they dress to impress with the season's unpredictable weather in mind.
Heather Tatroff, M.B.A. student at the Booth School
Clothes: Coat from Tommy Hilfiger, shoes from Burberry.
Spring Fashion Forecast: "Versatile pieces. I'll be working in an office, so I'm looking for skirt suits that are classy, plain, and easy to match, like Michael Kors stuff."
This Vancouver native is used to rainy days, so she always totes an umbrella in her bag. Her crisply tailored coat, which references spring nautical trends, keeps her looking stylish rain or shine.
Ben Halbig, fourth-year in the College
Clothes: Pants from Banana Republic, shirt from Goodwill, shoes from Austria, coat from Lands End.
Spring Fashion Forecast: "Long shirts, short pants. I like the look of long-sleeved collared shirts and shorts."
Halbig expertly mixes laid-back and preppy styles, here pairing structured pants with a loose-fitting, fisherman-style coat. This utilitarian take on nautical style is well suited for spring's weather. "Wear comfortable, sturdy clothes that you're not afraid to get dirty or wet," suggests Halbig. "It will come in handy when the temperature suddenly drops 40 degrees without warning."
James McKinney, fourth-year in the College
Clothes: Bow tie from Ralph Lauren, shirt from Brooks Brothers.
Spring Fashion Forecast: "Bright colors." McKinney pairs spring-inspired, pastel-colored basics with heavier outer layers. His bow tie and shirt remind me of brightly colored Easter eggs, but his tweed jacket adds an edge to the look and also keeps him warm on cooler days. His look is fun, fresh, and functional.
Catherine Stollar, fourth-year in the College
Clothes: Sweater, dress, and tights from Anthropologie, necklace and earrings from India, shoes from a Brooklyn flea market.
Spring Fashion Forecast: "Patterns. These tights and sweater have sort of common patterns and a similar color palate, but the clash makes it interesting."
Stollar's eclectic, artsy look perfectly embodies the spring trend of high-voltage patterns thrown together in one ensemble. But how do you keep the outfit looking cool, rather than crazy? "Pick a solid-color staple piece," suggested Stollar. "I really like the yellow dress, so I use that as a base and use other pieces around it," she said. This layered look helps her prepare for any temperature fluctuations. Short-sleeve dresses topped with cute cardigans are perfect for days when the weather changes from freezing to really-freaking-hot.
Anna Tenuta, fourth-year in the College
Clothes: Shoes from Steve Madden, cardigan from Ann Taylor Loft, jacket from H&M, sunglasses from Forever 21
Spring Fashion Forecast: "Florals and fun shorts."
Tenuta takes on two trends in one outfit, and the result is a totally chic ensemble that is perfect for spring weather. Since spring is a transitional season, it's a good time to mix textures, and Tenuta does so with aplomb. Her delicate floral cardigan is diaphanous and feminine as well as a cool contrast to the structured style of the leather jacket. "Wearing layers is a good idea whether you're going to be outside or in air conditioned buildings like the Reg," says Tenuta.