The Tao of Zhang
Basketball and Philosophy with Chicago Basketball League commissioner Taotao Zhang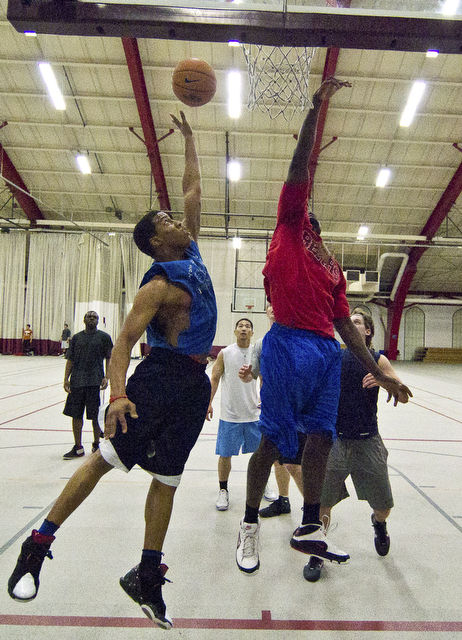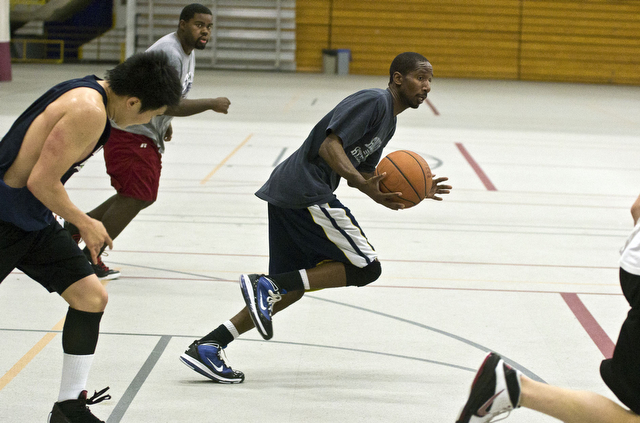 Henry Crowd Field House is buzzing. It's March 29, and the basketball courts on the second floor are filled with young men in gym shorts and warm-ups. Guys are walking around, saying hello to old friends and making introductions with players they've never met. Everyone is straining to look comfortable and at ease, but there's an unmistakable sense of anticipation in the gym—it's opening day for the latest season of the Chicago Basketball League (CBL), and it's the league's biggest year yet.
Play begins on three different courts, without a referee in sight. Taotao Zhang (A.B. '08) is bouncing around happily and directing traffic, letting people know where they're playing and who they're playing against. In an hour, Zhang will play in his own game, but for now he wants to make sure that the first games go off without a hitch. The league is extremely well-organized, thanks largely to Zhang's work as comissioner. It's the first night, but teams know exactly where they need to be and when.
Not only well-organized, CBL also features some of the most competitive basketball on the South Side. Talent ranges from undergrads hand-picked for their play in intramural games, to varsity basketball players finishing their fourth years, all the way to former D-I basketball players now in graduate programs at the University. A couple years back, CBL was even able to recruit an NBA Development League player. At the games and the organizational meetings, you'll hear players say, "If you don't play in the CBL, you suck at basketball." It's half a joke, but no more than half.
CBL rules are simple: shots inside the arc are one point, anything outside the arc counts for two, first team to 30 wins, call your own fouls. It's the "call your own fouls" rule that differentiates CBL from so many other basketball leagues. The rule is partly practical: CBL is entirely free to its participants. Despite small sponsorships from Citibank, 7-10 Bowling, and the U of C Bookstore that pay for prizes given to league champions, there's no money to hire referees. But it's also a philosophical gamble on the part of Zhang, the commissioner.
Zhang has a tattoo on his back of the Chinese charcter for "honor," which, not coincidentally, is the principle upon which CBL is based. (The two on his shoulders mean "ambition" and, roughly, "good Chinese person.") As commissioner, Zhang trusts his players in every facet of league play: They have to call all fouls, they have to give accurate information to the general managers who draft them, and they can't game the system. "When people play pick-up, they tend to be pretty honest because they're regulating themselves. That's the social contract of the basketball court," Zhang said.
Though league play doesn't always go smoothly—there are arguments about fouls in most games—over four years of league play, punches have been thrown only once. Of course, not every player believes in Zhang's system. "I completely disagree with the league not having referees," said James McGhee, general manager of 'The Monstars,' a CBL team. "People come to the table with different standards and knowledge, and some people will do anything to win. Some will try to bend the rules to their advantage."
But Zhang says that keeping refs away encourages respect for the game and for other players. "If refs are added to the equation, players are no longer responsible for themselves," he said. "Not only are they not responsible for themselves, they're not allowed to be responsible for themselves."
Playing without refs is a gamble which rests on Zhang's hope that players will view basketball as reverentially as he does, and that they'll play honestly instead of indulging their own desires to win. For the most part, Zhang is right. "I would say basketball is definitely bigger than just a game," fourth-year Ji-Hoon Hwang said. "It brings a community of people together through cooperation and friendship."
Zhang's obsessive dedication is a large part of what makes the league tick. As commissioner, Zhang is in charge of everything, including acquiring sponsors, registering and scouting players, and keeping schedules.
Zhang also runs the draft, CBL's second most important event behind the championship game. General managers congregate and pick their teams from a pool, which this year included over 140 players. A winning team is built on draft day, but scouting all the available players and drafting them in the right spots is a long, daunting task—that is, it would be, if the general managers didn't have Zhang around.
Weeks before this year's draft, Zhang visited each of the 14 general managers. One by one, he presented them with his scouting report, a massive compendium of information on all registered players. Zhang's files are complete with a short summary of every player's skill set, attribute scores for things like speed and shooting, and a comparison to an NBA player with a similar style of play. The scouting report also includes other vital player information like height, weight, and what kind of availability the player will have during the regular season.
"I think we are all a little obsessed with something, and for Taotao, basketball is that obsession," said fourth-year Paul Vithayathil, who managed a team for the first time this year.
Vithayathil and fourth-year Jake Grubman agreed that Zhang's presence and commitment are key reasons why they took on the additional work of being general managers. "Once I decided to be a general manager, I was able to talk over some draft strategies [with Zhang]. He was just fully immersed in the league," said Grubman, a former managing editor of the maroon.
The league's success had Zhang dreaming of expansion. He wants to see CBL branches popping up at other Chicago area schools, like DePaul, Loyola, and Northwestern, and have the winners of each league come together to play in a city-wide tournament. Zhang even had visions of that final city-wide tournament being played at the United Center, home of the Chicago Bulls. But for the first time in league history, he won't be making the calls alone.
"You don't care if you mess it up for everyone else!" Zhang yelled at Marcus Board, a Monstars guard. He had stewed the whole game he played May 3. The Monstars crushed Zhang's team 30—15, the Monstars' sixth win in a row. Zhang ripped into several of the Monstars, accusing them of trying to game the system and ruining the league for everyone.
This year, more than a few players listed limited availability but ended up becoming regulars, showing up at every game. The Monstars were able to take advantage of players listing incorrect availabilities for the draft and then steamrolled through the regular season, beating teams by an average of seven points a game.
Zhang later apologized for his outburst. "Even if I was a nobody, [what I did] still wouldn't be appropriate," Zhang admitted.
CBL was created four years ago, the brainchild of Zhang and Keenan Pontoni (A.B '08). As undergraduates, they played pick-up games twice a week during the school year at Ratner Athletic Center, often staying until the building manager threw them out. Games were a microcosm of the Hyde Park community: a mix of undergraduates, graduates, and community members. Teams were created on the fly, and players played until they got tired and left.
It was Pontoni in 2008 who first suggested formalizing the outings at Ratner with "keeper" teams that would carry over from one game to the next. Zhang ran with the idea, expanding on Pontoni's vision with the idea of a league complete with a regular season and playoffs, general managers, and even a serpentine draft to allocate players to different teams. The regulars at Ratner loved the idea, and the 40 players who had signed up to play were chosen by eight different teams at the first ever draft at Pontoni's house, with Zhang handling the administrative duties as commissioner. The 12-game regular season culminated with team Bigtime defeating The Wet Bandits in the championship game. They earned the honor of being named the first-ever CBL champions, and Zhang and Pontoni graduated thinking that their CBL days were over.
But the following year, all the old players still living in Chicago started asking Zhang and Pontoni when CBL was going to start up again. "It was supposed to be one and done. It was never supposed to get beyond that," Zhang said. But as more and more players from the previous year approached him, Zhang became convinced that the league had a place in Hyde Park.
A long-time intramural basketball referee, Zhang was already familiar with every undergraduate and graduate who played. He recruited the best to CBL, and its second year was an enormous success: The league more than doubled in size, to 96 players and 12 teams in two conferences. CBL formalized even further, adding sponsors and prizes for league winners.
But after that May 3 outburst, Zhang sent out a league-wide e-mail that threatened to destroy all of his accomplishments.
"Dear Leaguers:
I apologize for my behavior tonight. It was certainly not befitting someone in my position. None of you needed to see that. I represent the school, the neighborhood, you guys, and above all the League to our sponsors and our community.
In light of this, I have decided to announce my resignation as CBL Commissioner effective immediately."
In a phone interview minutes after he sent out his resignation, Zhang said he had lost faith in the league and the system upon which it was based. "I just don't believe in it anymore," he sighed.
Zhang said that he had been considering resigning from his position for some time, even as he was planning on expanding the league across Chicago. "I didn't consider my vision strong enough anymore. And when that happened, I felt like it was a bad idea for me to be the number-one guy," Zhang said. The altercation, however, expedited the process, and Zhang felt he had to step down.
Zhang will still be an important member of the new administration, taking over as chief strategy officer. Next year, all the responsibilities that previously went with the title of commissioner will be split into six, with different commissioners in charge of different aspects of the league, such as scouting and finding sponsors.
Taotao's resignation sent a shock wave through the league, with many worrying whether the CBL would be able to continue without its commissioner of four years. Some general managers, notably McGhee, felt the altercation was not reason enough to resign. "Taotao was a well-liked guy, and still is," McGhee said.
The trophy in Zhang's hands commemorating the 2002 champions of the American Badminton League Great Lakes College Regional has nothing to do with basketball. Like many of the other aspects of CBL, it's symbolic, giving the champions a chance to hoist something over their heads.
Zhang cheers and hollers with onlookers. Zhang's team was knocked out Tuesday in the semi-final, and he jokes with another player about how he's the one who should be out there. His team lost by only two points, after all. Even after all that's happened, Zhang's competitive streak is as fiery as ever.
The Warm-up All Stars, led by second-year general manager Jordan Green, won the title Thursday in a thriller over the Ballers. The championship game was just as it had been in previous years: a reminder that the league is bigger than the people that run it.
Still, it's hard to ignore the increasing rigidity of the league. Changes have been introduced every year since its creation, and a voucher system is currently being discussed which would prevent players next season from showing up to more games than what they list on their availability. Zhang mentioned the "social contract of the basketball court," and it's easy to wonder whether bringing the league out of its would-be state of nature and imposing more structure will hamper the league's free spirit.
But at the end of the day, CBL is about players coming together to celebrate their unwavering love of basketball, which the players insist isn't going to change, regardless of who is at the top. If the league is going down, it's not going down without a fight.
"We let everything else out. We just ball," said second-year Thomas Chun. "Hopefully it'll keep going, and if it does, I'll be here every year."