Mature acting, direction drive UT production
Inspired by Vladimir Nabokov's Lolita, How I Learned to Drive tries to illustrate what Lolita would look like if told from the title character's perspective. University Theater manages a production of the play relatively free of the heebie-jeebies.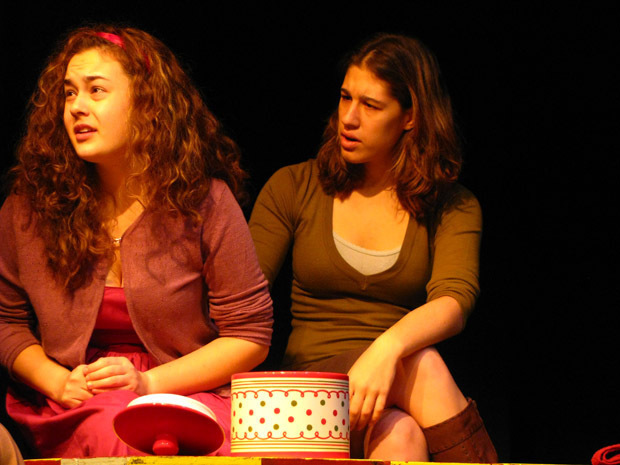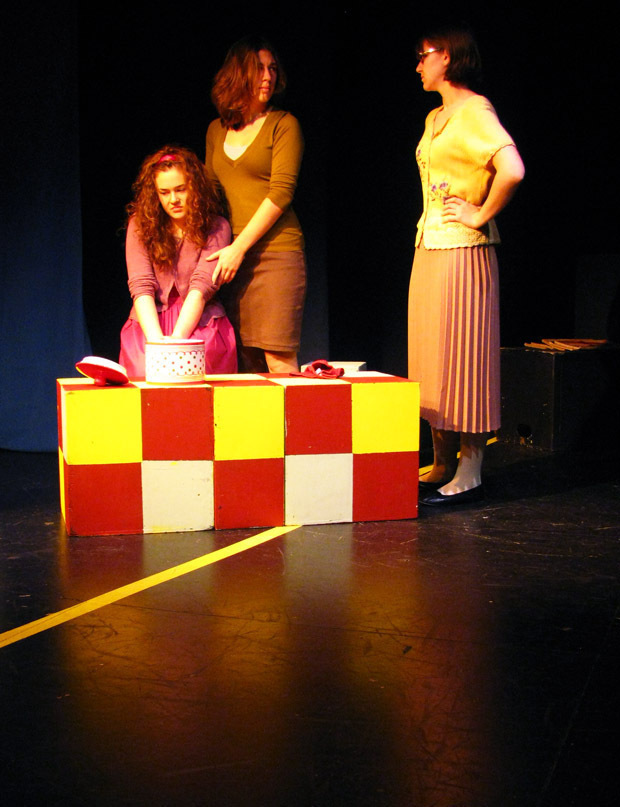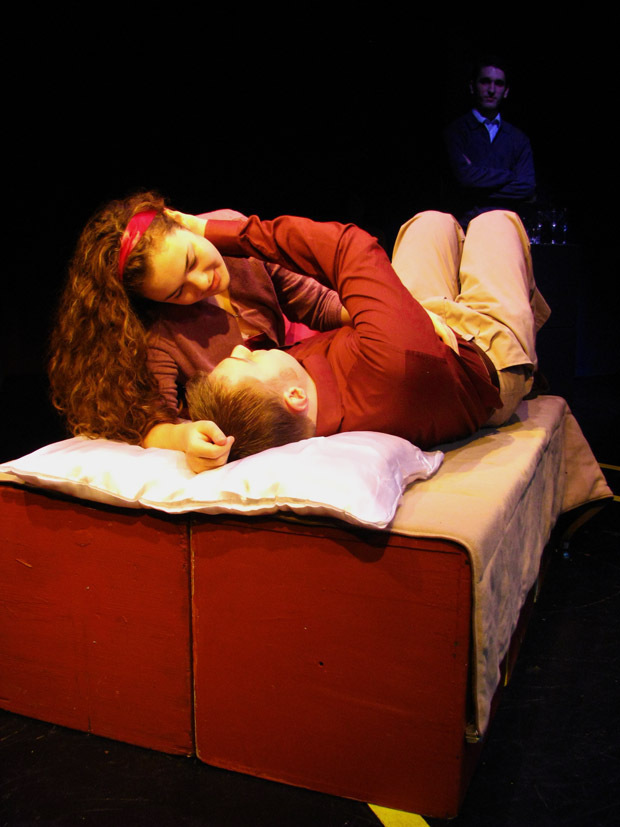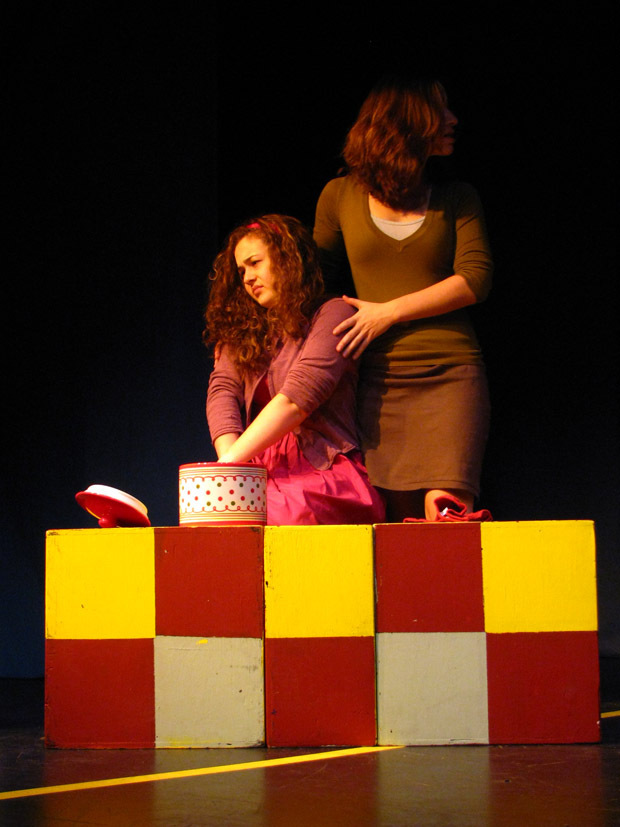 Is it for possible for someone to live a happy life after something truly horrible has happened to her? That is the question the Pulitzer Prize– winning play How I Learned to Drive, now a University Theater production, attempts to answer. Inspired by Vladimir Nabokov's Lolita, playwright Paula Vogel tries to illustrate what Lolita would look like if told from the title character's perspective. A memory play describing the thoughts and feelings of a woman who was sexually abused as a child, How I Learned to Drive addresses both the power of the past to influence the future, and the power that forgiveness has in helping people accept painful experiences.
The play follows Uncle Peck (Jacob Marshall) and his niece Li'l Bit (Molly Fitz-Maurice) through their incestuous romantic relationship over the course of Li'l Bit's adolescence and into her early adulthood. According to both Marshall and Fitz-Maurice, playing their respective parts posed a particular challenge because of the peculiar relationship between their characters. Yet, where others might have failed, these two actors succeed. They convey both the love and hate between their characters in a way that is both engaging and entertaining.
Marshall gives a very honest portrayal of Uncle Peck, showing us the character's redeeming qualities, such as his perceptiveness and sensitivity, without sugarcoating his obvious flaws. Marshall shows how creepy his character is in many one-on-one scenes between himself and Fitz-Maurice without even talking; often, he simply licks his lips and looks at his niece in a lustful way. Marshall delivers a particularly chilling and effective performance during a scene in which Uncle Peck takes pictures of Li'l Bit. But he also manages to make his character likeable at times—oddly enough, this is especially true in a bedroom scene between Marshall and Fitz-Maurice.
Fitz-Maurice's performance, however, is probably the best part of the show. Her interpretation of Li'l Bit captures not only her character's innocence and idealism, but also her character's corruption and cynicism. There is something about the way she delivers wise words in a soft, naïve way that is very special and moving. There is also something charming about the way Fitz-Maurice giggles because it shows the audience not only Li'l Bit's discomfort in certain situations, but also demonstrates her need to find humor in her life in spite of everything.
Fitz-Maurice presents the audience with a picture of adolescence which they can believe by presenting herself as a person who bridges the gap between childhood and adulthood—as a person who partially inhabits both worlds and who feels at home in neither world. Fitz-Maurice shows us exactly what it would be like if you want to be younger and older at the same time, if you are both rebellious and afraid of change.
She also does a wonderful job of presenting Li'l Bit's discomfort with her body and her sexuality. Fitz-Maurice delivers several powerful speeches about how she longs to be taken seriously as an intellectual in spite of her pretty appearance, and how she wishes that people would think of her as her own woman rather than merely as a woman. In her final monologue, Fitz-Maurice shows us how profoundly hurt she is by her experiences, while at the same time showing us how she has learned to cope with her past. Li'l Bit's character is full of contradictions, and Fitz-Maurice conveys these contradictions eloquently.
Student-director Kat Lieder said that she wants to convey "what it is to be female," and she has done a fabulous job. UT's production of How I Learned to Drive is an elegant and heartfelt rendition of a play that can easily be cheapened by an overly vulgar or maudlin portrayal. Against expectations, Lieder refrains from using an excessive amount of physical contact, artfully reserving it for moments when it is especially meaningful. In doing so, Lieder sets an example which ought to be emulated; she deals with a mature subject in a mature way, and as a result, her production is much more compelling than it would otherwise be.
The supporting actors in the cast (Nadji Allan, Katie Mock, and Kelsey Glass-Johnston) each play multiple roles, and—in general—their performances are very good. Although it is at times hard to tell which parts they are playing at any particular time, these moments are rare, and for the most part their transformations from one character to another are very convincing. Kelsey Glass-Johnston does a particularly impressive job cycling among her multiple roles as Li'l Bit's grandmother, Li'l Bit's teenage peer, and Li'l Bit as a little girl. However, because the transitions between different memories and different characters are occasionally awkward, the play does not always convincingly communicate the passage of time and change of setting.
These problems notwithstanding, How I Learned to Drive is a beautiful production. Lieder's outstanding direction coupled with the rich, poignant portrayal of an unsettling relationship created by two phenomenal lead actors makes the play a must-see.