Grad students twiddle thumbs for University commitment to maintain teaching positions
Admin says there is no indication students seeking T.A. positions will be turned down.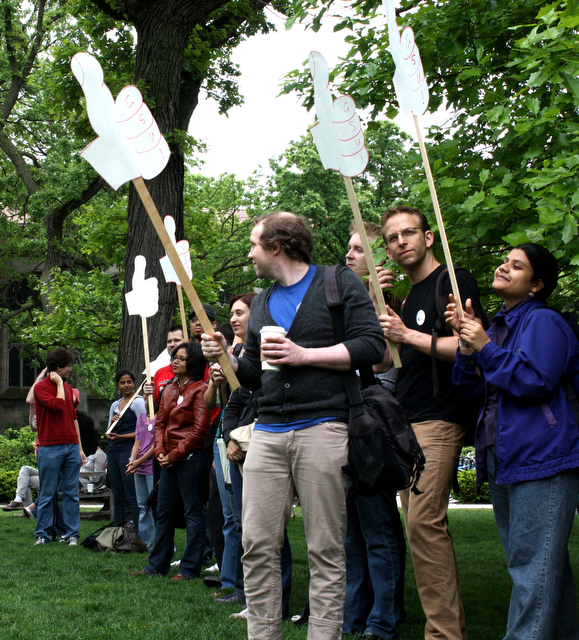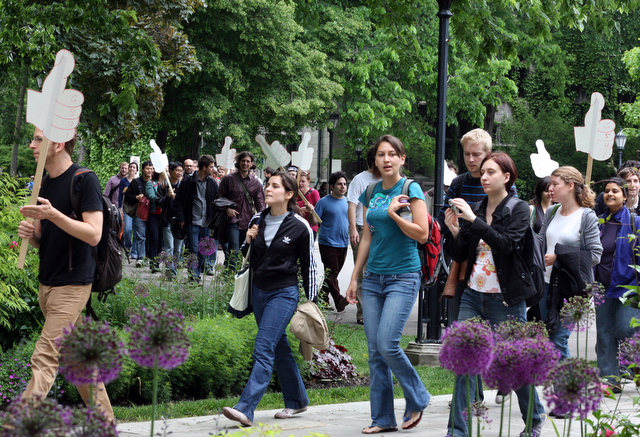 Nearly 100 graduate students and undergrads gathered in front of the administration building Wednesday to twiddle their thumbs in protest of what they perceive to be a lack of transparency and clarity about the number of teaching positions available for next year.
Students marched from the Regenstein Library to the Quad, some carrying signs in the shape of thumbs, in a rally cosponsored by Graduate Students United (GSU) and the Graduate Funding Committee (GFC) of Student Government. The thumb twiddle parodied what some grad students see as the administration's lack of action to ensure the availability of teaching positions as demand for them increases.
"It's what the administrators have been doing the last year. We won't do it as well as they do; they have a lot of practice," said anthropology graduate student Jay Sosa, one of the protest's organizers.
"The prospect of shrinking availability of jobs is a scary one for students in the Humanities and Social Sciences especially," Sosa said in a phone interview after the rally. "Graduate students put in a lot of work at this University, and we just want make sure we're treated fairly."
The main source of concern is the increased teaching requirements under the Graduate Aid Initiative, a financial aid system for humanities and social science students implemented two years ago. Many of the graduate students who started at the University under the initiative will begin to fulfill their teaching requirements next fall; some are worried that the supply of student teachers will exceed the University's demand. Budget cuts have contributed to anxiety that the University will not have the flexibility to increase the number of available positions.
"The administration has known about this for two years and has never come up with a plan to explain how the positions will be filled," said anthropology graduate student Duff Morton.
The protestors demanded that the administration guarantee all graduate students who need teaching positions for "contractual, healthcare, or financial reasons" be able to teach, and that the administration issue a public report detailing the number of students who need teaching positions and the number of positions actually awarded. In an internal survey, these demands were supported by 87 percent and 93 percent of GSU voters, respectively. GSU currently has about 250 signed members.
GSU and GFC also detailed these demands in an e-mail to Deputy Provost for Graduate Affairs Cathy Cohen. "I've always been willing to meet with graduate students and share numbers with them. But I hadn't received a request for a meeting until 9:00 last night," Cohen said Wednesday. Cohen has also presented figures on the number of available teaching positions at open forums with the Graduate Council. She said there has been no indication so far that students with teaching requirements will not be able to find positions next year.
"Any time you suggest that there's a teaching requirement and it seems to increase the amount of teaching, people worry they will be displaced," Cohen said. "More of them will be teaching, but that's again why we've been paying very close attention to the numbers, so that particular students who have a requirement will be able to find a position, and that our new teachers won't crowd out more advanced graduate students. We're trying to approach monitoring from both perspectives."
Cohen also said that while the effect of budget cuts on teaching positions is on the administration's radar, there is no indication it will have a significant impact. "There may be a few cutbacks through the College on T.A.s, and a few on lectureships, but overall it won't have a major impact on graduate teaching," she said.
Sosa noted that teaching positions are especially important to advanced graduate students, because teaching is the only way to avoid paying tuition and healthcare fees beyond the fourth year of study.
Students are concerned that the administration has not been working fast enough to disseminate information to students.
"We want things to move faster than administrations can move. If we don't apply pressure, it will go slower," said anthropology graduate student Joe Bonni, who is also a member of the Graduate Council and next year's Graduate Liaison to the Board of Trustees.
In an e-mail interview after the protest, Bonni said that while Cohen's presentation to the Graduate Council indicated there would not be a shortage of positions available for teaching assistants, the Council brought up several scenarios that her calculations could not account for. Cohen has since worked with current Graduate Liaison Brian Cody to re-evaluate these calculations.
The rally's organizers are hopeful that the protest was successful in getting the administration's attention. Cohen approached Bonni before the rally in order to try to set up a meeting about the teaching concerns.
"I think it shows a good faith effort on the part of the deputy provost to help ensure that graduate students have these jobs and are able to sustain themselves," said Andrew Yale, an English Language and Literature graduate student and a member of the Graduate Teaching Committee through the Office of the Provost.
Cohen said that the University is already working to create a database to track the number of available teaching positions, and that she plans to create a student and faculty advisory board that will have access to this database. But she said that the group's other demand—that the University guarantee teaching jobs for any that want them—is less likely to be realized.
"The University has never guaranteed jobs and we're not going to now. We will make sure that students that have a teaching requirement will have a teaching opportunity," she said.