Obama wins presidency
Former U of C professor Barack Obama won the 44th presidency of the United States last night and addressed the world from Chicago's Grant Park.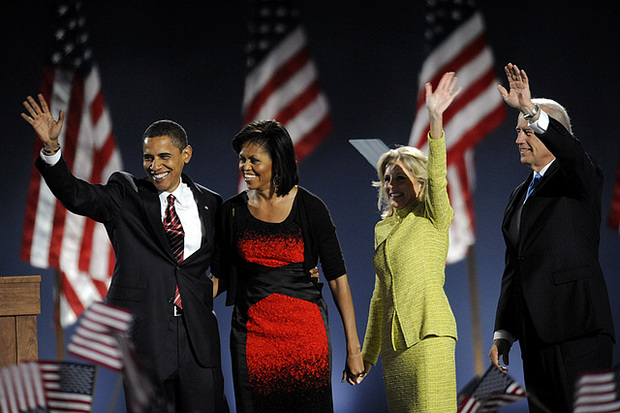 Barack Obama accepted the 44th presidency of the United States in a speech in Grant Park last night, surrounded by tens of thousands of supporters.
Obama will become the first African-American president in the nation's history. He is a first-term senator from Illinois and a former professor at the University's Law School.
Obama's victory speech brought together a proud and exhilarated Chicago as the world watched and visitors poured into the city limits to experience the competitive national race turn into a local victory.
Obama's speech was infused with the eloquence for which he has been admired and criticized, repeating what has become a rallying cry and reassuring chord to his supporters, "Yes we can."
He used the story of a 106-year-old woman who voted for him to connect the current economic crisis to depression-era hardship and the need to endure.
"And tonight, I think about all that she's seen throughout her century in America – the heartache and the hope; the struggle and the progress; the times we were told that we can't, and the people who pressed on with that American creed: Yes we can," he said.
Tickets to the event were scarce this week, with only 75,000 passes allocated to supporters nation-wide. A ticket granted access to the area around the stage, but estimates placed the number of people who flocked downtown to surround the event's periphery at over a million.
U of C students and Hyde Park residents began the trek to Grant Park in the late afternoon, riding the north-bound Metra in droves. At the site, large screens broadcasting CNN flanked a stage adorned by over 20 American flags.
The crowd watched state-by-state voting results roll in throughout the evening and erupted with heightening fervor as the most uncertain states, including Ohio and Virginia, were called for the Democratic nominee.
When the crowd watched Republican rival Senator John McCain's concession speech at around 10:30 p.m., the Republican nominee's pleas for supporters to cooperate with the President-elect prompted applause in Grant Park, though McCain's commendations of his running mate, Alaska governor Sarah Palin elicited Park-wide boos.
Obama took the stage at around 11 p.m. and spoke for over 15 minutes.
The festivities spread downtown after the speech, where supporters flooded Michigan Avenue to celebrate the victory.