Café Society serves up pop culture buzz
Hyde Park neighbors keep each other hip to the times at Valois.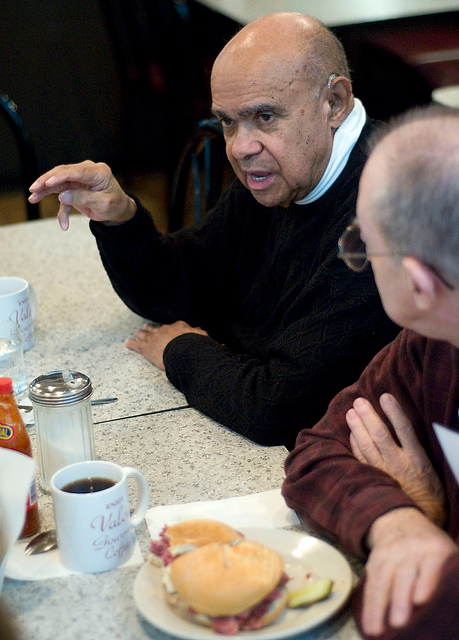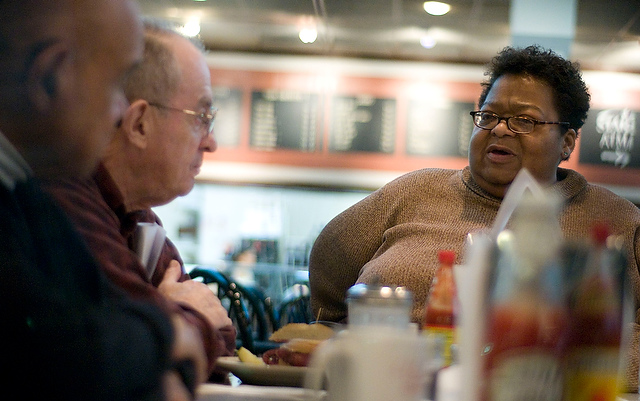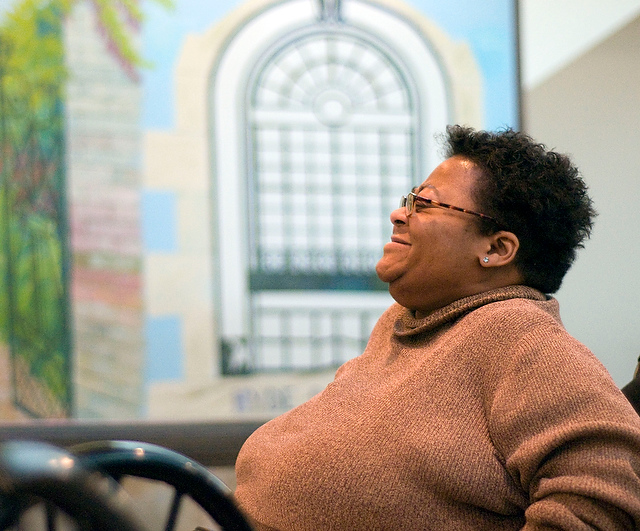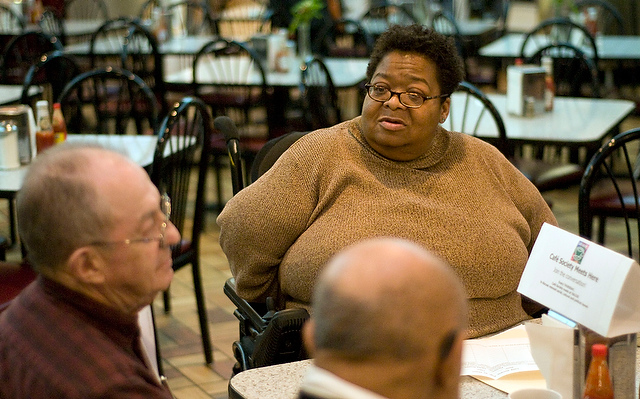 Valois Cafeteria is usually a mellow and quiet place on a typical weeknight. But every Thursday, the diner is home to an open forum for community members to debate issues in today's popular culture. On a recent Thursday, the Hyde Park branch of Café Society met over burgers and coffee to talk about Facebook friendships. Bill Browning, a retired government employee, sparked the conversation."I've heard of it but I'm not a fan of it," he said. "Facebook is not for me. I prefer to interact with people face to face."Carlos Drazen, an academic advisor and Ph.D. candidate at the University of Illinois, agreed. "I like e-mail better than Facebook. Facebook is always, what are you doing at the moment?""I'm staring at the computer screen," retired engineer Leo Herzenberg responded as the group burst into laughter.The lively group doesn't gather at Valois on 53rd Street every week just for laughs. The Café Society is a city-wide program that's part of an Illinois Humanities Council initiative called The Public Square. The Public Square's website says Café Society is a way to "promote media literacy and encourage citizens to be more than mere consumers of mass media."Past topics of discussion have ranged from the new Notorious BIG biopic to same-sex marriage. Next week's topic is the media storm surrounding Nadya Suleman, the California mother of octuplets. Additional resources on each topic are provided online to supplement and enhance the discussion. The group sometimes invites members of the advisory board, community activists, artists, and journalists to sit in on a talk and offer their insights and expertise. Most of the outspoken members of the Café Society in attendance at last Thursday's discussion were retired professionals who want to stay in the loop when it comes to pop culture."I went to the first meeting because my wife forced me—and then I became hooked," Herzenberg said. But keeping up with today's culture is no idle hobby for the members of the society. Media literacy is important to them because they are worried about those that the media targets: today's youth."I worry about young people," Drazen said. "One of my athletes is now doing petty crimes instead of going to school." Browning shook his head in understanding. "The kids have it hard these days. The lucky ones get to college. A whole lot depends upon the family that you come from. Kids who come from parents with no education have little to no chance."The Public Square program aims at fostering "a more informed and engaged citizenry" through the Café Society programs. The Society serves as a venue for citizens to express their frustrations with the government and talk about political and economic problems. At last Thursday's meeting, the conversation often turned into a forum for political dissent. "Bush should be in a hole in Texas," Drazen said passionately. "He committed so many war crimes, and the American people allowed him to get away with it." "And you can tell by the way Bush communicates that he's not a reader," Drazen said. "I disagree. I'm sure he's an avid reader," Herzenberg said. "Dr. Seuss books don't count," Drazen said dryly, taking a sip of her water. The group continued to return to America's problems throughout the evening."If you want to know about the latest political scandal, we're the group to come to," Drazen said. "We usually stay on topic for the first 30 minutes, and then our conversation always drifts towards politics." The Café Society provides a unique forum for Chicago's citizens to come together in a relaxed, non-institutional atmosphere and discuss the pressing issues of the day. "Keeping the mind engaged is the key to producing successful citizens," Drazen said.