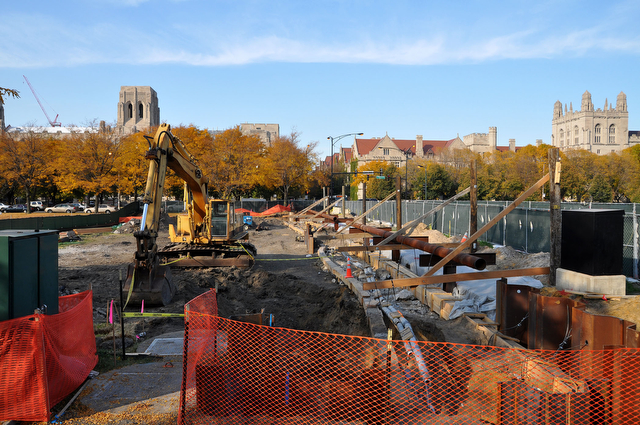 A $6-million project to improve the safety and walkability of the Midway Plaisance is underway, as part of the University's efforts to improve the continuity of campus south of the Midway. The Midway Crossings Project (MCP) consists of the reconstruction of two passageways, at South Ellis Avenue and South Woodlawn Avenue, as main thoroughfares for pedestrians.
Originally slated to be finished this fall, the project is now scheduled for completion in spring 2011. Construction should be complete prior to the onset of winter, but landscaping will be completed in the spring.
Main features of the project include the addition of emergency call stations and security cameras. Visibility will increase with waist-high LED lighting poles as well as more overarching lighting. "The improved lighting acts as a deterrent," project manager Desiree DiLucente said in an e-mail, adding that lighting is designed to keep energy expenditures to a minimum.
An eight-foot sidewalk with a six-foot tree and grass buffer zone is designed to protect pedestrians from car traffic and make crossing the Midway a more pleasant experience. "The project will allow more pedestrians to safely cross the Midway at the same time, improving flow and the pedestrian experience," DiLucente said.
According to DiLucente, the project will also include the planting of 19 trees and was designed to minimize the impact on bird migration patterns.
"The shapes [will] visually evoke a floating bridge," DiLucente said, making an allusion to the plans of Midway Plaisance architect Frederick Law Olmsted. In the original 1871 plans, Olmsted envisioned gondola-filled canals connecting Lake Michigan, Jackson Park, and Washington Park.
Undertaken in partnership with the Chicago Park District and the Chicago District of Transportation, the project was originally conceived in 2000 by community members as part of the Chicago Park District Midway Plaisance master plan.
The University became interested in the proposal as the campus began to expand south. Over the course of 18 months, three community meetings were held by Alderman Leslie Hariston and one campus meeting was held by the University to solicit community and University feedback, DiLucente wrote.
Local organizations like the Woodlawn Community Development Corporation and the Jackson Park Advisory Council worked with University of Chicago students and faculty to refine the originally proposed plan.
The passageways, DiLucente said, were designed with "Midway's potential as a destination."
While current construction obstructs access across the Midway, alternate routes equipped with e-phones have been posted in the residence halls and students are encouraged to use these routes for the duration of the construction.
MCP aims to improve safety while emphasizing green technology and historic preservation of the area, which was home to the 1893 World's Columbian Exposition and is also on the National Register of Historic Places.